We may not have flying cars or hoverboards but we've got new comics for Back to the Future day!

We've still got Zendikar packs!!!

Don't forget we've got Battle for Zendikar packs!
TOMORROW THERE'S A SIGNING IN WILLOW GROVE!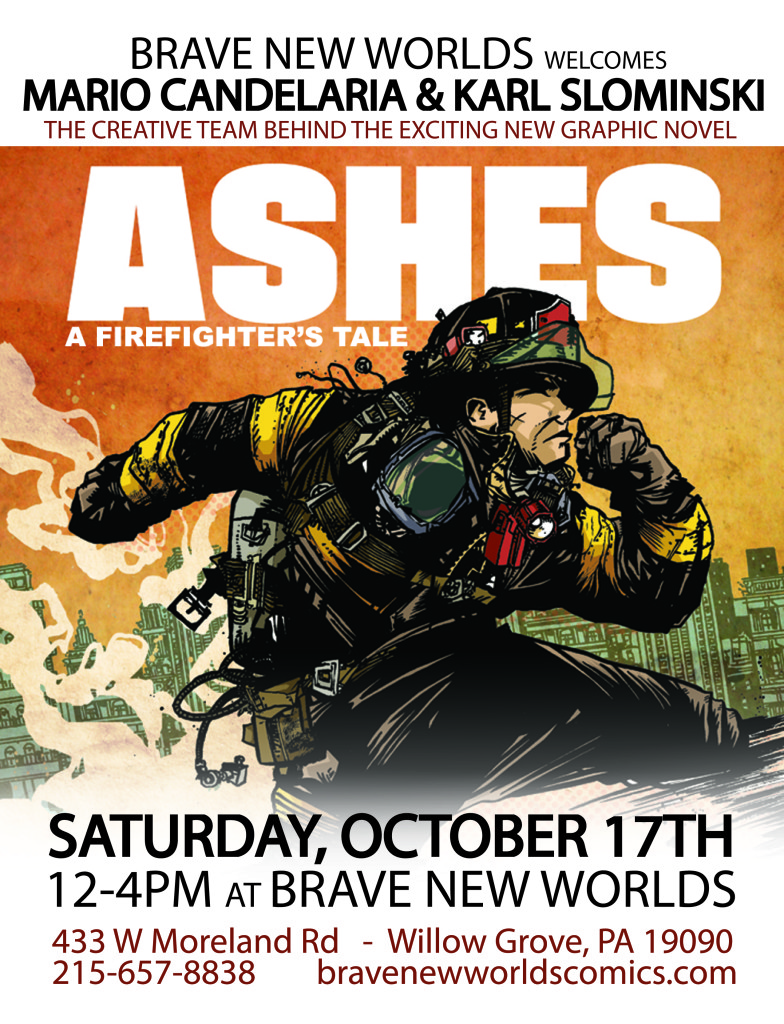 Tomorrow our Willow Grove location will be hosting a signing from 12-4pm for the book Ashes A Firefighter's Tale (which is out October 7th!)! Be sure to be there to meet the creators!
BNW CUSTOM DICE!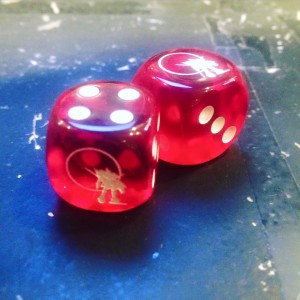 Now available at both shops! Dice with our logo on them! Get these 6-siders for a buck a piece ASAP!
WEDNESDAY IS THE DAY MARTY AND DOC TRAVEL TO IN BTTF 2!!!
Get the NEW Back To The Future comic this week!!!
BACK TO THE FUTURE #1 (OF 5)

IDW PUBLISHING
(W) Bob Gale & Various (A) Brent Schoonover, Dan Schoening (CA) Dan Schoening
"Untold Tales and Alternate Timelines," Part 1: Back to the Future creator/screenwriter Bob Gale returns with all-new tales from the twisting and turning timeline that made Back to the Future a, well… timeless pop-culture phenomenon! Take a trip back to 1985 and be there when Doc Brown and Marty McFly first meet, and then jump even farther back, to 1945, to witness Doc's involvement in the super-secret Manhattan Project!
 NEW FUNKO MYSTERY MINIS!
WWE Mystery Minis and Horror Mystery Minis Series 2 are here and at both shops!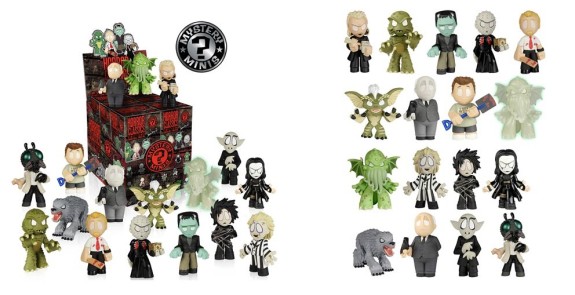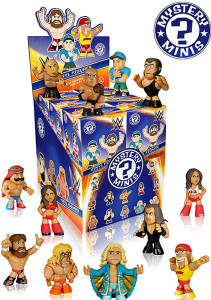 THE 1st EVER LCS DAY IS COMING THIS NOVEMBER!
It's just like Record Store Day but for Comics!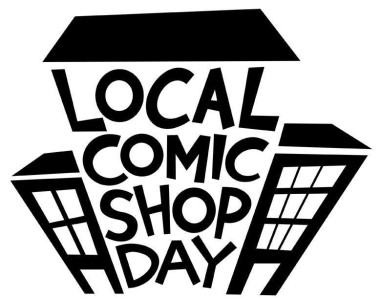 What's Local Comic Shop Day!?
"Local Comic Shop Day™ is a new event designed to call attention to locally owned independent comic book specialty stores, celebrating their unique and vital role in being the primary fire-starters of pop culture. The first Local Comic Shop Day™ will be Saturday, November 28th, two days after Thanksgiving and coinciding with the day American Express has labeled "Small Business Saturday."
Participating retailers will sell exclusive releases from participating publishers. Some items offered will be limited editions, others will be "first day of release" items debuting on LCSD, released on that Saturday – outside of the traditional Wednesday routine. The goal of Local Comic Shop Day™ is to jump start the holiday buying season for storefront comics specialty retailers while also giving comics fans more of what they most desire."
MORE INFO:
our FACEBOOK EVENT is OVER HERE

New Vertigo series by Gail Simone AND a new Marvel series by Warren Ellis! Let's do this!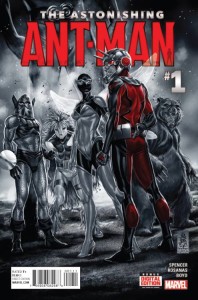 ASTONISHING ANT-MAN #1
MARVEL COMICS
(W) Nick Spencer (A) Ramon Rosanas (CA) Mark Brooks
Scott Lang was a down-on-his-luck, divorced ex-con — until he stole renowned scientist and super hero Hank Pym's size-altering technology in the hopes of saving his daughter's life. Through that act of doing wrong for the right reasons, Scott inadvertently learned how to be a hero himself. With Pym's blessing and his daughter Cassie at his side, he became… The Astonishing Ant-Man! But when a curveball upends Scott's life, will he continue to be a hero, or will he return to his former life of crime?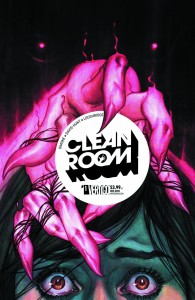 CLEAN ROOM #1
DC COMICS
(W) Gail Simone (A) Jon Davis-Hunt, Jenny Frison
  It's the start of the first Vertigo series from fan-favorite writer Gail Simone, with 2000AD artist Jon Davis-Hunt! Astrid Mueller is the enigmatic and compelling guru of a giant self-help organization-a devastatingly powerful figure in the industry between psychology and religion. Journalist Chloe Pierce's fiancé decided to pick up Astrid's book, and within three months he was dead. Something in Astrid Mueller's book made Philip blow his brains out all over Chloe's new kitchen.
Now Chloe is on a mission to find out who Astrid Mueller really is. What is this Clean Room she's been hearing about where your deepest fear and worst moments are revealed? Chloe intends to immerse herself in the Clean Room and wreak havoc on Astrid's empire.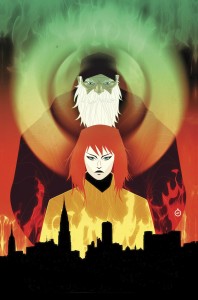 COGNETIC #1

BOOM! STUDIOS
(W) James TynionIV (A/CA) Eryk Donovan
What's to Love: The creative team behind the award-nominated Memetic are back with another apocalyptic tale! We obviously love working with James Tynion IV (see The Woods, UFOlogy, and the aforementioned Memetic), and we know partnering him once again with artist Eryk Donovan will lead to another great-looking story. In Cognetic, Tynion and Donovan offer a look at the fundamentally human desire for control-that deep-seated belief we all feel in our darkest moments that if we had total, absolute power, we would be able to create a perfect world.
What It Is: Every human believes that they are self-reliant, self-determined individuals, each set on their own course. They've built civilizations, they've built culture, they've built lives… But what if that isn't the right track? What if there is a singular mind ready to take back control and finally right the destiny of mankind and build a better tomorrow? Cognetic is the story of a powerful psychic being that once controlled one-third of the world's population as a part of its hivemind, and his return to humanity in modern-day New York City. It's a psychic action thriller, precariously positioned on the edge of outright apocalypse. It's also the story of a young woman, the assistant to the director of the FBI, who might be the only one who can save humanity, but at a terrible, terrible cost. Each issue in this miniseries is oversized with 48 pages!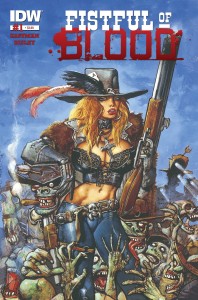 FISTFUL OF BLOOD #1 (OF 4)
IDW PUBLISHING
(W) Kevin Eastman (A/CA) Simon Bisley
"She drifted into town with a few days to kill…" Re-releasing the crazed adventure from Kevin Eastman and Simon Bisley! Every issue of this special edition will feature artwork re-mastered by Kevin Eastman, all-new colors, and a plethora of sketches, process work and other bonus material, too!
KARNAK #1
MARVEL COMICS
(W) Warren Ellis (A) Gerardo Zaffino (CA) David Aja
THE FLAW IN ALL THINGS
"My curse is that I see the flaw in all things. Systems. Philosophies. Structures. People. Everything. Never forget who I am. I am Karnak of the Inhumans." You may not know who Karnak is now, but you will when Warren Ellis (MOON KNIGHT, Planetary) and Gerardo Zaffino are done with you. Phil Coulson goes to Karnak to help with a SHIELD case with Inhuman implications and what he's going to find will terrify you.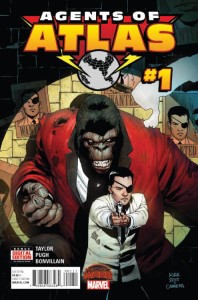 SECRET WARS AGENTS OF ATLAS #1
MARVEL COMICS
(W) Tom Taylor (A) Steve Pugh (CA) Leonard Kirk
SON OF ANARCHY!
•  An oppressive domain run by BARON ZEMO!
•  The peoples' only hope? An underground group of rebels… GORILLA-MAN! M-11! NAMORA! VENUS! MARVEL BOY!
•  But their leader JIMMY WOO…captured!
Can AGENT COULSON help save the resistance or will he lead them to their doom?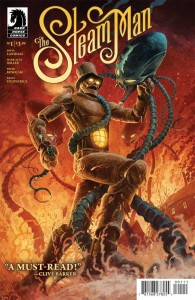 STEAM MAN #1 (OF 5)
DARK HORSE COMICS
(W) Mark Alan Miller, Joe R. Lansdale (A/CA) Piotr Kowalski
The Old West, but not as we know it. Giant steam-powered robots are created to take down invading Martians and armies of killer albino apes in an all-out brawl. The Steam Man, a giant metal man operated by a team of monster hunters, seems to have the town protected and the West under control, until a crazed and powerful vampire comes to town to bring forth the apocalypse!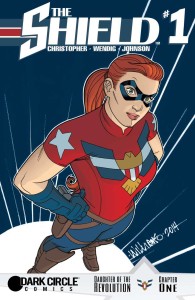 SHIELD (DARK CIRCLE) #1
ARCHIE COMIC PUBLICATIONS
(W) Adam Christopher, Chuck Wendig (A) David Williams, Gary Martin
New ongoing series from Dark Circle! "Daughter of the Revolution": Part 1-Since the dawn of the republic, whenever her country faces its blackest days, she returns: a spirit of the revolution sent to fight for what is right. But when she reappears for the first time in a generation with no memories – not even of her own identity – and encounters an evil force expecting her arrival, all The Shield can do is run!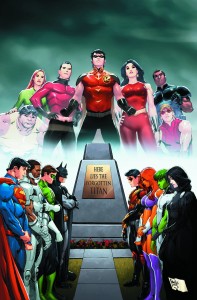 TITANS HUNT #1 (OF 12)
DC COMICS
(W) Dan Abnett (A/CA) Paulo Siqueira
CONVERGENCE is over, but the ripples are still being felt, especially by a young precog named Lilith. What are these visions she's having of a Teen Titans team the world never knew? And why does she feel compelled to seek out Dick Grayson, Roy Harper, Donna Troy and an Atlantean named Garth and warn them that something dark and sinister is coming after them? Who are Mal, Gnarrk, Hank Hall and Dawn Granger, and what is their connection to the others-and to the fate of every soul on Earth? This is the Secret History of the TEEN TITANS!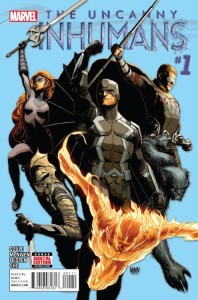 UNCANNY INHUMANS #1
MARVEL COMICS
(W) Charles Soule (A) Steve McNiven, Brandon Peterson (CA) Steve McNiven
Meet the Uncanny Inhumans. MEDUSA! BLACK BOLT! TRITON! READER! HUMAN TORCH?! BEAST?! It's eight months later and everything is different for the Inhumans. Medusa and Johnny Storm are an item. Black Bolt is running covert missions of his own. And something so big happened between the Inhumans and the X-Men that Beast is now on the side of the Inhumans. And if that's not enough, the most dangerous villain throughout Marvel's history is against them-KANG THE CONQUEROR. Don't miss what the epic team behind DEATH OF WOLVERINE (Charles Soule and Steve McNiven) have in store for you. All this plus a bonus story by Charles and Brandon Peterson (UNCANNY X-MEN).
NOW HERE'S THE FULL LIST!
If you want a full visual list of everything click this link whydonthca (tho this might not update til Monday or something)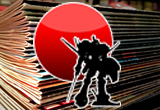 (the following list of comics reflects all the comics coming into both locations. If there's something on this list that's not in stock at your favorite BNW location do not hesitate to ask for us to order it for you!)
COMICS AND MAGAZINES
1872 #4
Adventure Time Fionna & Cake Card Wars #4 (OF 6)
Age Of Apocalypse #5
Amazing Spider-Man #2
Astonishing Ant-Man #1
Astro City #28
Back To The Future #1 (OF 5)
Batman And Robin Eternal #3
Batman Arkham Knight Genesis #3 (OF 6)
Beauty #3
Betty & Veronica #278
Big Trouble In Little China #17
Bizarro #5 (OF 6)
Black Canary #5
Blacklist #4
Book Of Death Fall Of X-O Manowar #1
BPRD Hell On Earth #136
BTVS Season 10 #20
Clean Room #1
Cognetic #1
Crossed Dead Or Alive #1 (OF 2)
Crossed Dead Or Alive #2 (OF 2)
Danger Girl Renegade #2 (OF 4)
Dark Horse Presents 2014 #15
Darth Vader #11
Dawn Vampirella #5 (OF 5)
Death Head #4 (OF 6)
Doctor Fate #5
Doctor Who 10th Year Two #2
Doctor Who 12th #13
Doctor Who 9th #4 (OF 5)
Doomed #5
Empty Zone #5
Escape From New York #11
Fade Out #10
Fistful Of Blood #1 (OF 4)
Giant Days #7 (OF 12)
Godzilla In Hell #4 (OF 5)
Gotham Academy #11
Green Lantern The Lost Army #5
Groo Friends And Foes #10
Hacktivist Vol 2 #4 (OF 6)
Hip Hop Family Tree #3
Hobby Japan Sep 2015
Injustice Gods Among Us Year Four #12
Invader Zim #4
Invincible #124
Invincible Iron Man #2
Ivar Timewalker #10
Journey Star Wars FASE #4 (OF 4)
Justice League #45
Karnak #1
Looking For Group #7
Lumberjanes #19
Martian Manhunter #5
Marvel Universe Ult Spider-Man Web Warriors #12
Mega Man #54
Midnight Society The Black Lake #4 (OF 4)
My Little Pony Friendship Is Magic #35
Plants Vs Zombies Ongoing #5
Public Relations #1 (OF 5)
Rai #11
Reyn #9
Secret Six #7
Secret Wars Agents Of Atlas #1
Shield #11
Shield (DARK Circle) #1
Shutter #16
Simpsons Comics #224
Sonic The Hedgehog #277
Star Trek Ongoing #50
Steam Man #1 (OF 5)
Superman Wonder Woman #22
Tales Of Honor Bred To Kill #3
Teen Titans #12
Teen Titans Go #12
Titans Hunt #1 (OF 12)
Tithe #6
TMNT Amazing Adventures #3
Tokyo Ghost #2
Transformers #46
Uncanny Inhumans #1
Usagi Yojimbo #149
Voltron From The Ashes #2 (OF 6)
Walking Dead Magazine #14 Px Ed
We Can Never Go Home #1 (OF 5) 3rd Ptg
Weirdworld #5
What If Infinity Guardians Of Galaxy #1
Will Eisner Spirit #4
Wolf #4
Wonder Woman #45
TRADE PAPERBACKS, GRAPHIC NOVELS, HARDCOVERS AND MANGA
Adventure Time Tp Vol 07
Bucky Barnes Winter Soldier Tp Vol 02
Doctor Who Offical Annual 2016 Hc
Fear & Loathing In Las Vegas Hc
Get Jiro Blood And Sushi Hc
Jessica Jones Tp Vol 02 Alias
Kill La Kill Gn Vol 01
Multiversity Dlx Ed Hc
Oddly Normal Tp Vol 02
Sleepy Hollow Tp Vol 01
Smallville Season 11 Lantern Tp
Star Wars Legends Epic Collection Tp Vol 02 Empire
Teen Titans Earth One Tp
Transformers More Than Meets The Eye Tp Vol 08
Wilds End Tp Vol 01 First Light
TOYS
Batman The Animated Series Batmobile
DC Comics Swamp Thing Af
Mortal Kombat X Raiden 6in Af
Mortal Kombat X Scorpion 6in Af
Mortal Kombat X Sub-Zero 6in Af
NBX Select Jack Af
NBX Select Oogie Boogie Af
NBX Select Sally Af
ODDS AND ENDS
Halo USNC Infinity 9 Inch Replica