It's September and the kids are all going back to school! Let's see what's coming out!

GOING BACK TO ZENDIKAR
Join us at our Willow Grove Location on September 25th-27th for 3 Pre-release events featuring the newest Magic the Gathering set.
Friday 9/25/15 (into Saturday) @Midnight
Saturday 9/26/15 @ Noon
Sunday 9/27/15 @ Noon
There's plenty more info OVER HERE in the post about this event! Some sorta Vancouver rule will be in effect…ya got me what that is tho…
SIGNING IN WILLOW GROVE!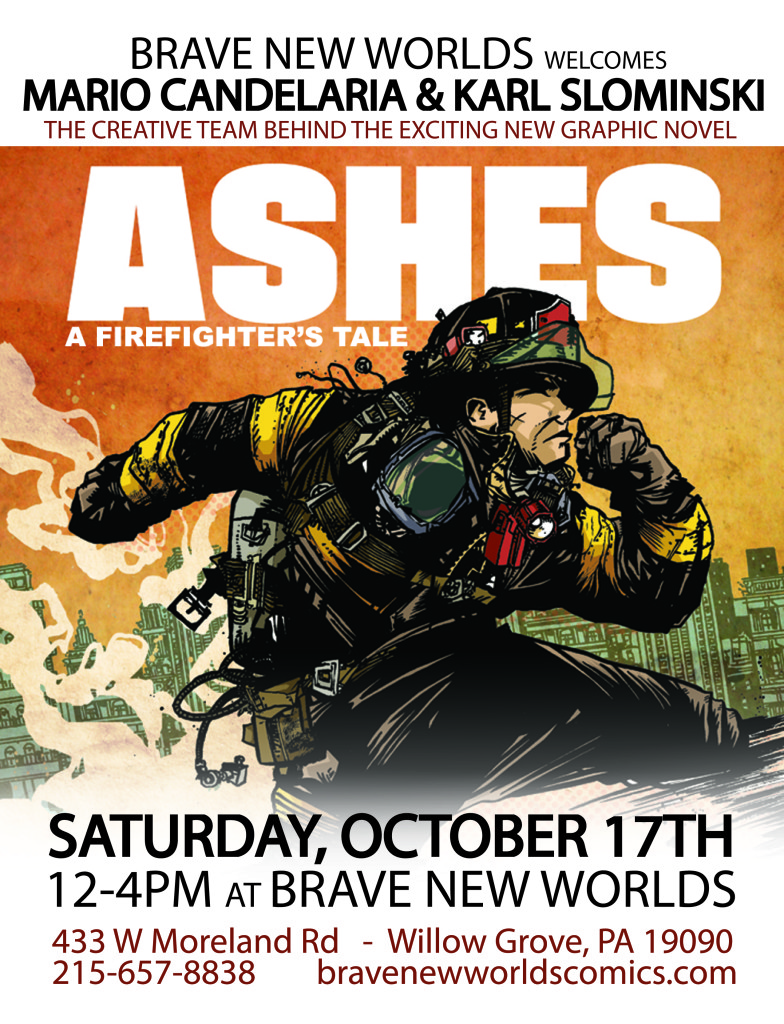 More details will be made available as we get them but there will be a signing in Willow Grove on Saturday October 17th from 12-4pm for the book Ashes A Firefighter's Tale (which is out October 7th!)!
THIS COMES OUT THIS WEEK!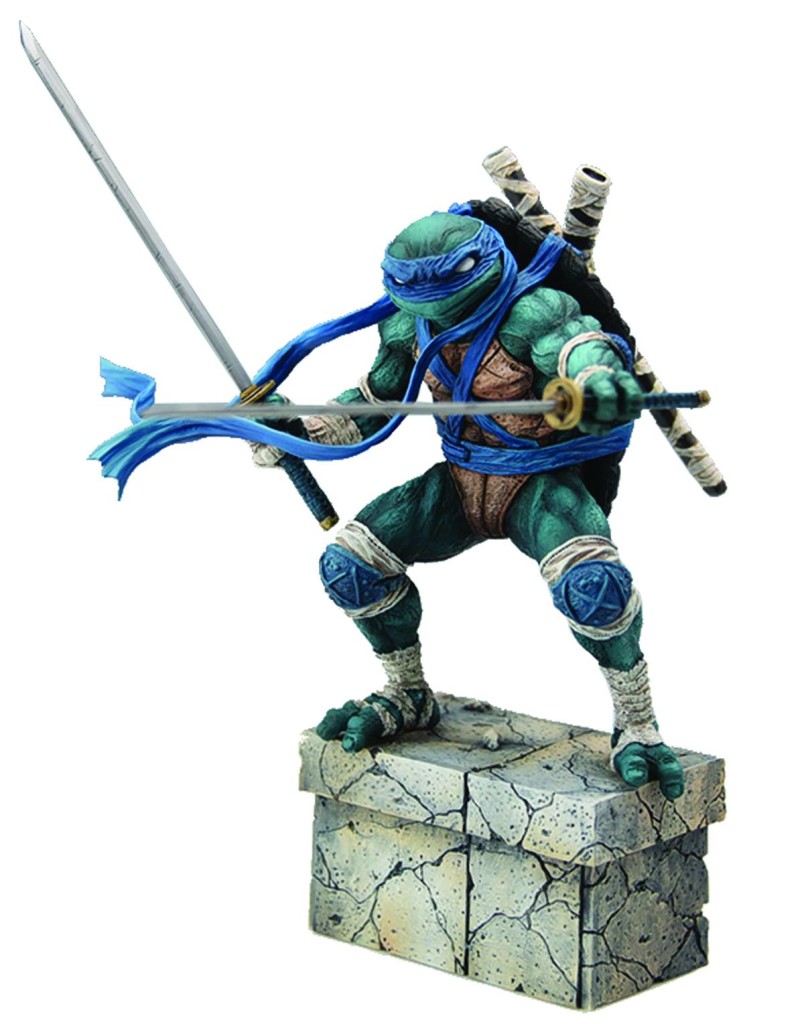 TMNT LEONARDO PVC FIG

GOOD SMILE COMPANY
From Good Smile Company. Based on acclaimed fine artist James Jean's original rendition of the Teenage Mutant Ninja Turtles, Good Smile Company is making four individual sculptures that combine into one large diorama! Each figure boasts outstanding detail, right down to the battle damage on his shell, and is posed on a faux marble rooftop base that connects to the others in the series.
CHECK THESE OUT!

COMICS!
TYSON HESSE'S DIESEL #1 (OF 4)
BOOM! STUDIOS
(W/A/CA) Tyson Hesse
What's to Love: We've been big fans of Tyson Hesse ever since we first discovered his webcomic Boxer Hockey. After cover stints on Adventure Time and Bravest Warriors, we put him to the test with the tricky mixed-media art style of The Amazing World of Gumball and he just crushed it. Now, we're excited to be working with him on his first original series, a coming-of-age story with a cool fantasy airship twist that fans of Tank Girl, Rocket Girl, or Hayao Miyazaki's Howl's Moving Castle are sure to enjoy!
What It Is: Diandra Diesel isn't very good at anything. The daughter of the late Tungston Diesel, she has yet to live up to her father's great reputation. Her childhood rival has inherited control of her family's airship and left Diandra the only job she's qualified for: picking up the trash. But all that changes when a mysterious flying engine crashes into Diesel's life and takes her on a journey through the skies.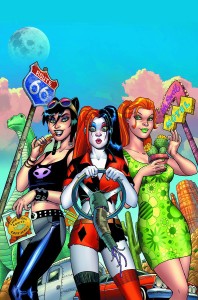 HARLEY QUINN ROAD TRIP SPECIAL #1
DC COMICS
(W) Amanda Conner, Jimmy Palmiotti (A) Bret Blevins (CA) Amanda Conner
It's the great American summer tradition, but you've never seen a road trip quite like this before! Harley, Ivy, and Catwoman are burning rubber across the U.S. of A! We recommend you all stay off the roads for the month of August, just to be safe.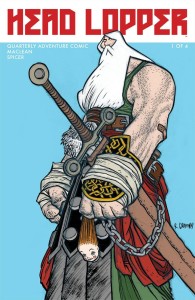 HEAD LOPPER #1
IMAGE COMICS
(W/A) Andrew MacLean (CA) Rafael Grampá
Action. Adventure. Fantasy. Decapitation!
ApocalyptiGirl creator ANDREW MACLEAN brings this critically acclaimed indie hit to Image Comics! The dark humored quarterly adventure begins with a double-sized first issue, with eighty pages of story and a premium pin-up gallery for the regular price of just $5.99!
"HEAD LOPPER is what you'd get if Mike Mignola wrote an issue of Brian Wood's Northlanders by way of James Stokoe's ORC STAIN." – Multiversity Comics.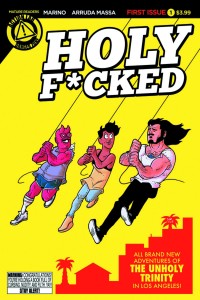 HOLY F*CKED #1 (OF 4)

ACTION LAB – DANGER ZONE
(W) Nick Marino (A/CA) Daniel Arruda Massa
After recklessly killing tons of gods in HOLY F*CK, Jesus is back, again, and chilling with Satan in domestic bliss. And their best bud, Sister Maria, is managing a local homeless shelter.
Sounds great, right? Not for Hercules! The "Muscles from Mt. Olympus" is pissed and he wants revenge.
Plus… what shocking news does Satan have for his macho messiah?
COLLECTED EDITIONS!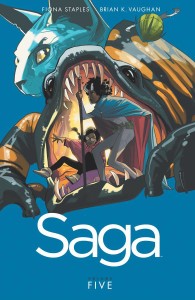 SAGA TP VOL 05
IMAGE COMICS
(W) Brian K. Vaughan (A/CA) Fiona Staples
While Gwendolyn and Lying Cat risk everything to find a cure for The Will, Marko makes an uneasy alliance with Prince Robot IV to find their missing children, who are trapped on a strange world with terrifying new enemies.
Collects SAGA #25-30
CHRONONAUTS TP VOL 01
IMAGE COMICS
(W) Mark Millar (A/CA) Sean Murphy
SPECIAL LOW INTRODUCTORY PRICE OF $9.99!
Corbin Quinn and Danny Reilly are time travelers whose plans go off-course, leading to wild adventures in the time-stream.
Collects CHRONONAUTS #1-4
NOW HERE'S THE FULL LIST!
If you want a full visual list of everything click this link whydonthca (tho this might not update til Monday or something)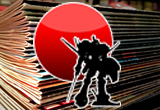 (the following list of comics reflects all the comics coming into both locations. If there's something on this list that's not in stock at your favorite BNW location do not hesitate to ask for us to order it for you!)
COMICS AND MAGAZINES
1602 Witch Hunter Angela #3
A-Force #4
Abe Sapien #26
Action Comics #44
Alice Cooper Vs Chaos #1 (OF 5)
All Star Section 8 #4 (OF 6)
Amazing Spider-Man Renew Your Vows #5
Angry Birds Super Angry Birds #1 (OF 4)
Arrow Season 2.5 #12
Atomic Robo & The Ring Of Fire #1 (OF 5)
Batman #44
Batman Superman #24
Bitch Planet #5
Bloodstrike #2
Bravest Warriors #36
Bunker #14
Catwoman #44
Civil War #4
Clarence #4
Crossed Badlands #85
Crossed Plus 100 #8
Darth Vader #9
Deadly Class #16
Doctor Who 12th #11
Doctor Who Special #41
Earth 2 Society #4
Fables The Wolf Among Us #9
Faster Than Light #1
Giant Size Little Marvel Avx #4
God Is Dead #42
Gotham Academy #10
Harley Quinn Road Trip Special #1
Harrow County #5
Haunted Horror #18
Head Lopper #
Holy F*Cked #1 (OF 4)
Injection #5
Insufferable #5
Journey Star Wars Fase #1 (OF 4)
Justice League United #13
King Mandrake Magician #4 (OF 4)
Korvac Saga #4
Lantern City #5 (OF 12)
Legacy Of Luther Strode #3
Letter 44 #20
Marvel Universe Avengers Assemble Season Two #11
Maxx Maxximized #23
Mercury Heat #3
Mice Templar V Nights End #5 (OF 5)
Mirrors Edge Exordium #1
Mrs Deadpool And Howling Commandos #4
Ms Marvel #18
My Little Pony Friends Forever #20
New Suicide Squad #12
Ninjak #7
Onyx #2 (OF 4)
Outcast By Kirkman & Azaceta #12
Phonogram The Immaterial Girl #2 (OF 6)
Planet Hulk #5
Popeye Classics Ongoing #38
Quake Shield 50th Anniversary #1
Rebels #6
Red Hood Arsenal #4
Red Skull #3 (OF 3)
Red Sonja Conan #2 (OF 4)
Rick & Morty #2 3rd Ptg
Rick & Morty #3 2nd Ptg
Savior #6
Scooby Doo Where Are You #61
Secret Wars 2099 #5 (OF 5)
Sherlock Holmes 7 Per-Cent Solution #2 (OF 5)
Siege #3
Sleepy Hollow Providence #2 (OF 4)
Sonic The Hedgehog #27
Spongebob Comics #48
Star Trek Green Lantern #3 (OF 6)
Starfire #4
Starve #4
Suiciders #6
Swords Of Sorrow #5 (OF 6)
Tyson Hesse Diesel #1 (OF 4)
Unity #22
Vampirella Army Of Darkness #3 (OF 4)
Walking Dead #146
Walt Disney Comics & Stories #723
Wicked & Divine #14
X-Files Season 11 #2
TRADE PAPERBACKS, GRAPHIC NOVELS, HARDCOVERS AND MANGA
Archie Giant Comics Spotlight Tp
Avengers Time Runs Out Tp Vol 01
Batman Beyond 2.0 Tp Vol 03 Mark Of The Phantasm
Bloodshot Reborn Tp Vol 01 Colorado
BTVS Season 10 Tp Vol 03 Love Dares You
Chrononauts Tp Vol 01
D4ve Tp Vol 01
Dark Tower Drawing Of Three House Of Cards Tp
Descender Tp Vol 01 Tin Stars
Doctor Who Essential Guide #5 Monsters
Green Lantern New Gods Godhead Hc
Luke Cage Tp Vol 01 Second Chances
Moorcock Lib Hc Vol 02 (OF 15)
My Little Pony Omnibus Tp Vol 02
Neil Gaiman Graveyard Book Gn Vol 01
Neil Gaiman Graveyard Book Gn Vol 02
New Lone Wolf And Cub Tp Vol 06
Saga Tp Vol 05
Star Trek New Visions Survival Equation
Star Trek Ongoing Tp Vol 10
Superior Iron Man Prem Hc Vol 02 Stark Contrast
Uncle Scrooge Tp Vol 01 Pure Viewing Satisfaction
William Shakespeare Tragedy Of Siths Revenge Hc
TOYS
Arkham Batman Action Figure 5 Pack
ODDS AND ENDS
James Jean TMNT Leonardo PVC Fig