Today's Doctor Who Day at both of our shops! Save on Whovian items galore. Also here's what's coming out on Wednesday!

Who Day!

We hope you swing by either or both locations today to take advantage of the Dr Who Day savings!
HERE'S SOME STUFF WORTH LOOKIN' AT!

Well not everything this week is a number 2…Hip Hop Family Tree starts it's monthly series this week with a #1!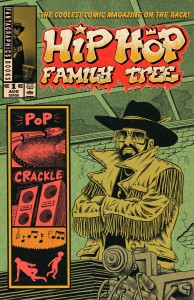 HIP HOP FAMILY TREE #1 
FANTAGRAPHICS BOOKS
The New York Times bestselling book series debuts as a  monthly  comic book (!) with new covers, artwork, a "director's commentary" section that describes the motivation, process, and research involved in making this masterpiece, plus other surprises! This first issue highlights the breakdancers, graffiti artists, DJs and MCs who formed hip hop culture beginning in the tenement rec rooms of the south Bronx in the 1970s. You'll discover who invented the term "Hip Hop". You'll see names you recognize like Grandmaster Flash and Afrika Bambaataa and you'll discover where they fit into the culture as pioneers… every month!
SOME #2s!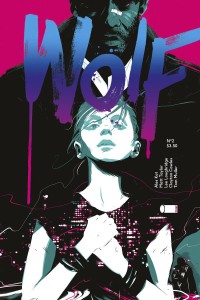 WOLF #2 
IMAGE COMICS
(W) Ales Kot (A/CA) Matt Taylor
History comes alive. The investigation thickens.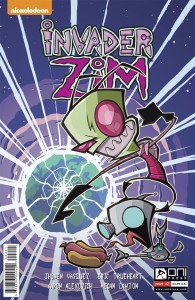 INVADER ZIM #2 
ONI PRESS INC.
(W) Eric Trueheart, Jhonen Vasquez (A) Aaron Alexovich & Various (CA) Aaron Alexovich
"Dib knows ZIM's suddeb disappearance from Earth can only mean bad news for the human race. Can Dib stop him before Earth is just another alien-infested spaceside attraction like the universe's biggest doughnut?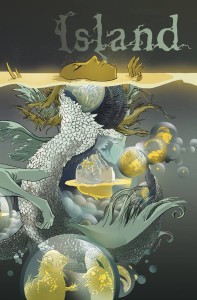 ISLAND #2
IMAGE COMICS
(W/A) Emma Rios & Various (CA) Emma Rios
SECOND ISSUE OF THE OVERSIZED COMICS MAGAZINE!
This issue introduces SIMON ROY'S (PROPHET, Tiger Lung) tale of cannibals in space.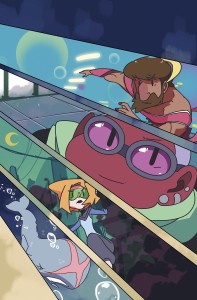 POWER UP #2 (OF 6)
BOOM! STUDIOS
(W) Kate Leth (A/CA) Matt Cummings
A traffic jam turns into a battlefield as Amie, Sandy, Kevin, and Silas fight together as a team for the first time!
There are a few BRAND NEW NUMBER 1s this week on Battleworld!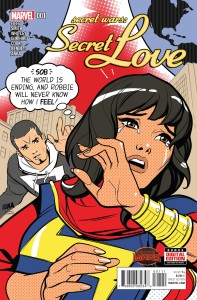 SECRET WARS SECRET LOVE #1
MARVEL COMICS
(W/A) Various (CA) David Nakayama
• WHEN WORLDS COLLIDE, CAN THEIR LOVE SURVIVE?
•  ROBBIE REYES/KAMALA KHAN!
•  TYPHOID MARY/KAREN PAGE/MATT MURDOCK!
•  AND MANY MORE SECRET LOVE AFFAIRS…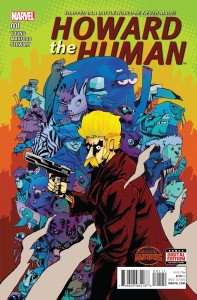 HOWARD THE HUMAN #1
MARVEL COMICS
(W) Skottie Young (A/CA) Jim Mahfood
Spend a day with Howard, a private investigator and the only human living in city full of animals. But not, like, criminals and lowlifes. We're talking elephants, apes, ducks and kitty cats. Catching a case, grinding a few gears, dodging some bullets and almost getting killed by an anthropomorchic monstrosity. It's just another Monday for Howard the Human brought to you by Skottie Young (ROCKET RACCOON) and Jim Mahfood (MIAMI VICE REMIX).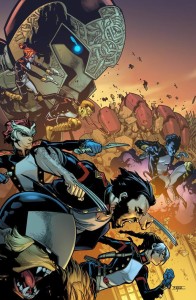 HOUSE OF M #1
MARVEL COMICS
(W) Dennis Hopeless (A) Marco Failla (CA) Mahmud A. Asrar
From Marvel Comics. The House of Magnus controls all, having crushed all resistance to their reign. Magneto rules with an iron fist, while his children and grandchildren live their lives as royals – with all the privileges and pit-falls that come with their titles. But is Magneto's control as all-encompassing as it seems? And what happens to a conqueror when there is no one left to conquer? Rated T+.
AND THE REST!
JAE LEE TOYS!
This week sees the release of the Jae Lee designer series action figures and they look awesome!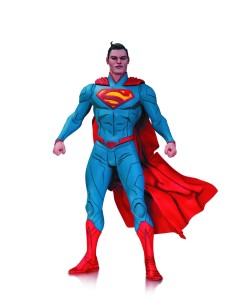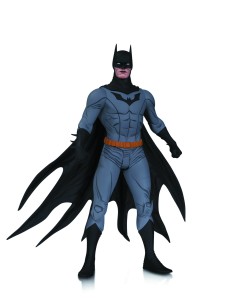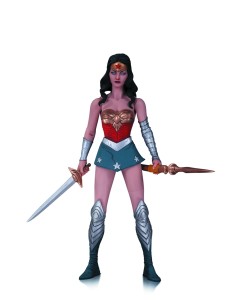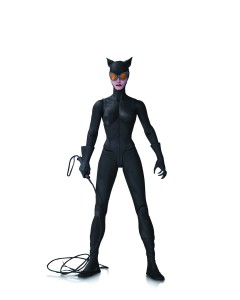 NOW HERE'S THE FULL LIST!
If you want a full visual list of everything click this link whydonthca (tho this might not update til Monday or something)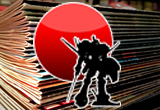 (the following list of comics reflects all the comics coming into both locations. If there's something on this list that's not in stock at your favorite BNW location do not hesitate to ask for us to order it for you!)
COMICS AND MAGAZINES
1872 #2
Adventure Time Fionna & Cake Card Wars #2 (OF 6)
Age Of Ultron Vs Marvel Zombies #3
Amazing Spider-Man Renew Your Vows #4
Archie #2
Armor Wars #4
Astro City #26
Batman Arkham Knight #7
Birthright #10
Bizarro #3 (OF 6)
Black Canary #3
Blacklist #2
Book Of Death #2 (OF 4)
BPRD Hell On Earth #134
BTVS Season 10 #18
Burning Fields #7 (OF 8)
Captain Britain And Mighty Defenders #2 (OF 2)
Dark Horse Presents 2014 #13
Death Head #2 (OF 6)
Doctor Fate #3
Doctor Who 2015 Four Doctors #2 (OF 5)
Donald Duck #4
Doomed #3
Empty Zone #3
Escape From New York #9
Garbage Pail Kids Go Hollywood Dlx Ed (ONE Shot)
George Romeros Empire Of Dead Act Three #4 (OF 5)
GI Joe A Real American Hero #217
Giant Days #6 (OF 12)
God Is Dead #41
Green Lantern The Lost Army #3
Groo Friends And Foes #8
Guardians Of Knowhere #3
Guardians Team-Up #10
Harley Quinn & Power Girl #3 (OF 6)
Hellbreak #6
Hexed #12
Hip Hop Family Tree #1
Hit Pen & Ink #2
House Of M #1
Howard The Human #1
Inferno #4
Injustice Gods Among Us Year Four #8
Invader Zim #1 2nd Ptg
Invader Zim #2
Invincible #122
Island #2
Ivar Timewalker #8
JLA Gods And Monsters #2 (OF 3)
Justice League #43
Kanan #5
Loki Agent Of Asgard #17
Mad Magazine #535
Manifest Destiny #16
Mantle #4
Martian Manhunter #3
Mega Man #52
Midnight Society The Black Lake #2 (OF 4)
My Little Pony Friendship Is Magic #33
New Vampirella #13
Oddly Normal #9
Postal #6
Power Up #2 (OF 6)
Rai #9
Rat Queens #11
Revival #32
Rick & Morty #5
Robin Son Of Batman #3
Runaways #3
Savage Dragon #206
Secret Six #5
Secret Wars Journal #4 (OF 5)
Secret Wars Secret Love #1
Sensation Comics Featuring Wonder Woman #13
Silk #6
Simpsons Comics #223
Spider-Verse #4
Star Wars #8
Strain Night Eternal #12
Stray Bullets Sunshine & Roses #7
Superman Wonder Woman #20
Swords Of Sorrow Vampirella Jennifer Blood #4
Teen Titans Go #11
TMNT Amazing Adventures #1
TMNT Ongoing #49
Transformers Windblade #6
Trees #12
Weirdworld #3
Welcome Back #1
Wolf #2
Wonder Woman #43
X-Tinction Agenda #3
Trade Paperbacks, Graphic Novels, Hardcovers And Manga
Annihilator Hc Vol 01
Avengers World Tp Vol 04 Before Time Runs Out
Bravest Warriors Tp Vol 05
Captain America Tp Vol 05 Tomorrow Soldier
Captain Marvel Tp Vol 03 Alis Volat Propriis
Constantine Tp Vol 04 The Apocalypse Road Tp
Empowered Tp Vol 09
Ex-Con Tp Vol 01 Fading Lights
Fairest Tp Vol 05 The Clamor For Glamour
Gotham By Midnight Tp Vol 01 We Do Not Sleep
Green Lantern New Guardians Tp Vol 06
Guardians Of Galaxy Best Story Ever Tp
Jason If You Steal Hc
Ms Marvel Hc Vol 01
Mu Ult Spider-Man Web Warriors Digest Tp Vol 02
Oemnibus Tp
Space Dumplins Gn Vol 01
Street Fighter Legends Chun Li Hc
Superman Hc Vol 06 The Men Of Tomorrow
Sword Art Online Novel Vol 05
The Last Broadcast Hc
TMNT Mutanimals Tp
Tokyo Ghoul Gn Vol 02
Ultraman Gn Vol 01
Unbeatable Squirrel Girl Tp Vol 01 Squirrel Power
X-Men Age Of Apocalypse Tp Vol 01 Alpha
TOYS
DBZ Rebirth Of F Master Stars Piece Son Goku Fig
DC Comics Designer Jae Lee Ser 1 Batman Af
DC Comics Designer Jae Lee Ser 1 Catwoman Af
DC Comics Designer Jae Lee Ser 1 Superman Af
DC Comics Designer Jae Lee Ser 1 Wonder Woman Af
Marvel Select Abomination Af (RESTOCK)
Marvel Select Spider-Man Af (RESTOCK)
Marvel Select Thanos Af (RESTOCK)
ODDS AND ENDS
Batman Arkham Knight 1/4 Scale Af
DC Superhero Chess Fig Coll Mag #88 Wonder Woman
DC Superhero Chess Fig Coll Mag #89 Larfleeze
DC Superhero Chess Fig Coll Mag #90 Swamp Thing
Marvel Chess Fig Coll Mag #39 Magneto
Marvel Fact Files Special #7 Ultron