Three years ago today our Old City shop was busy moving locations! Whew…thanks the comics gods we're not doing that again right now!

REMEMBER MOVING?!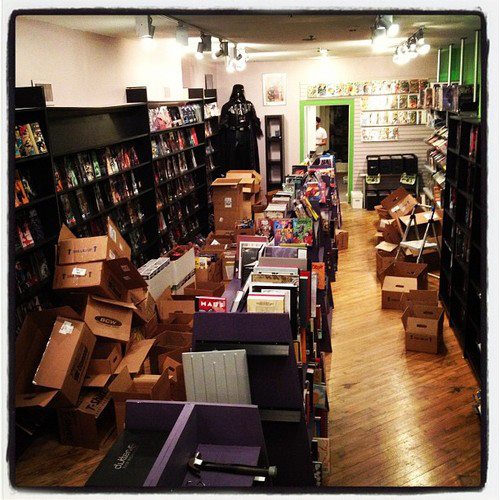 What a crazy weekend that was…three years later we're still thankful for all the help moving!
FROM THE VAULT!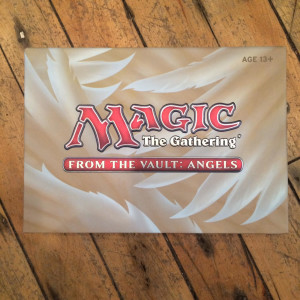 Now available at both locations! The Magic the Gathering From the Vault: Angels has arrived!
BACK ISSUE MADNESS!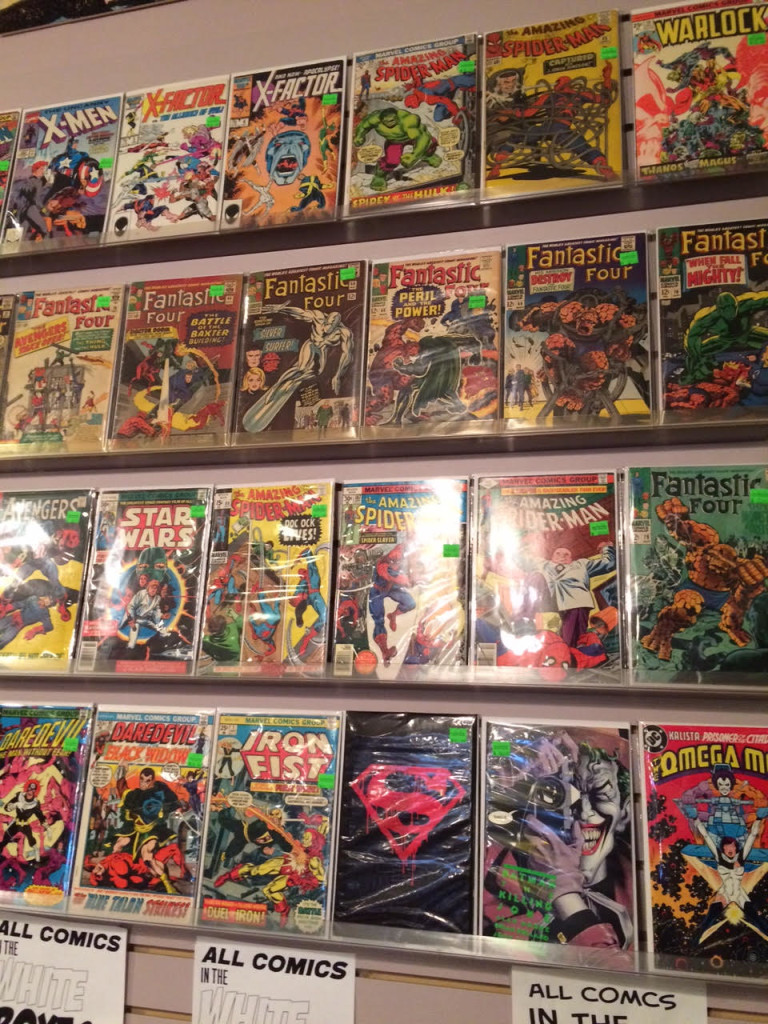 Both shops are bursting with awesome and fresh new back issues of some pretty awesome comics! Get 'em while they're still here!
ONE MORE AVENGER IN POP FORM!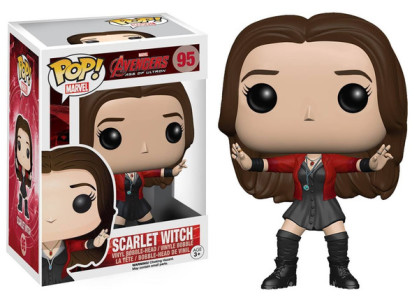 Scarlet Witch joined the ranks of the POP Avengers the other day!
COMICS!

There are all kinds of comics coming out this week that are worth looking into! Check em out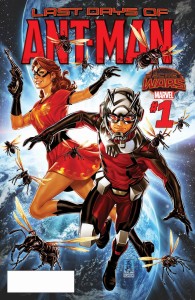 ANT-MAN LAST DAYS #1
MARVEL COMICS
(W) Nick Spencer (A) Ramon Rosanas (CA) Mark Brooks
• When a local clairvoyant predicts the end of the world, a mysterious woman sends Scott on a vital mission!
•  An old foe (okay, maybe more like annoyance) shows up – and Scott's going to regret it!
•  What do you do when you think the world is about to end? What do you think? Doesn't anybody else remember 1999? You party! Everything dies? Pfft. Everything DANCES.
DRIVE #1 Of(4)
IDW PUBLISHING
(W) Michael Benedetto (A/CA) Antonio Fuso
A hard-boiled pop-culture sensation re-created for comics. In L.A., there's one man you want behind the wheel. Just tell him where and when. He doesn't take part, doesn't know anyone, doesn't carry a weapon. He drives, and he's the best. Ride along as James Sallis' lean nü-noir masterpiece unfolds onto the sun-bleached streets of Los Angeles in this exciting 4-part comic book adaptation.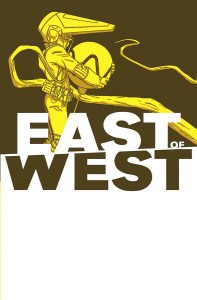 EAST OF WEST #20
IMAGE COMICS
(W) Jonathan Hickman (A/CA) Nick Dragotta
NEW STORY ARC
In "THE NATION RISES," we finally get a good look deep inside the Endless Nation and the machinations of the great Machine State.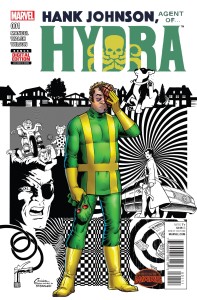 HANK JOHNSON AGENT OF HYDRA #1
MARVEL COMICS
(W) David Mandel (A) Michael Walsh (CA) Amanda Conner
Hey there, comic reader! Have you ever wondered what Hydra agents do during their downtime? No? Well…then, uh, go read HAIL HYDRA. For everyone else with a burning desire to see a Hydra agent letting it all hang out, THIS IS THE BOOK FOR YOU! BE THRILLED as Hank picks up his kids from school! BE AMAZED as Hank talks with Hydra's HR department! And BE STUPEFIED as Hank wishes he had picked a different line of work! From CURB YOUR ENTHUSIASM executive producer David Mandel, Hank Johnson, Agent of Hydra will have you looking at faceless henchmen in a whole new light.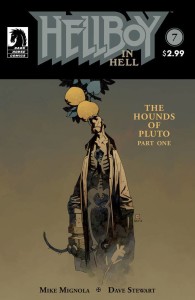 HELLBOY IN HELL #7
DARK HORSE COMICS
(W/A/CA) Mike Mignola
"The Hounds of Pluto" Part 1 of 2.
A sickness eats away at Hellboy. Though he's dead, he risks losing himself and becoming one of the hollow phantoms that haunt Hell. A team of doctors promise a cure, but they need something from him first . . .
"[Mike Mignola] has lost none of his touch, delivering page after page with cinematic action sequences, haunting imagery, and inventive layouts that all contribute to the sense that Hellboy is on the cusp of something huge."-IGN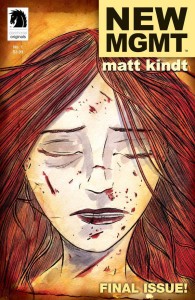 NEW MGMT #1
DARK HORSE COMICS
(W/A/CA) Matt Kindt
Matt Kindt brings his game-changing masterpiece MIND MGMT to its astonishing conclusion in this unforgettable one-shot!
The war is over. The world has been changed. But into what?!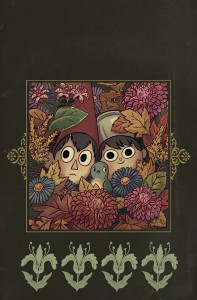 OVER THE GARDEN WALL #1
BOOM! STUDIOS
(W) Pat McHale (A) Jim Campbell (CA) Jim Campbell, Carey Pietsch
What's to Love: Airing last November, Pat McHale's Over the Garden Wall was Cartoon Network's first-ever original animated miniseries. We loved the eerily sweet story of two half-brothers trying to find their way home so much we published a companion one-shot that was quickly snapped up by folks who just wanted more of this world to experience. Now, we're expanding the world of Over the Garden Wall with McHale and returning artist Jim Campbell with a full-length story.
What It Is: A new Over the Garden Wall story set between episodes 3 and 4 of the animated series! Wirt and Greg are trying to hitch a ride out of schooltown but end up having to walk. Soon, they come upon two girls playing, and wind up having to keep them entertained so that they don't wake their giant father!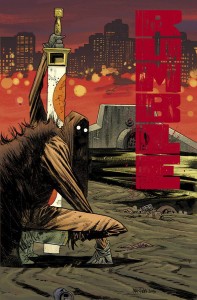 RUMBLE #6
IMAGE COMICS
(W) John Arcudi (A/CA) James Harren
NEW STORY ARC
RUMBLE #6 is a stand-alone story that is also the first chapter of the next big arc. Featuring a wraparound cover by JAMES HARREN and a variant cover by superstar LEE BERMEJO!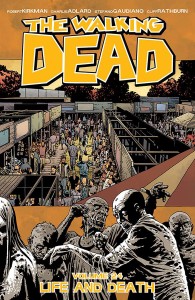 WALKING DEAD TP VOL 24 LIFE AND DEATH
IMAGE COMICS
(W) Robert Kirkman (A) Charlie Adlard & Various (CA) Charlie Adlard, Dave Steward
As the fair opens at Alexandria, old friends return from afar and new adversaries make their introductions.
Collects THE WALKING DEAD #139-144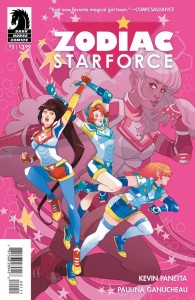 ZODIAC STARFORCE #1
DARK HORSE COMICS
(W) Kevin Panetta (A) Paulina Ganucheau (CA) Marguerite Sauvage
An elite group of teenage girls with magical powers have sworn to protect our planet against dark creatures . . . as long as they can get out of class!
These high-school girls aren't just combating math tests. They're also battling monsters! But when an evil force infects leader Emma, she must work with her team to save herself-and the world-from the evil Diana and her mean-girl minions!
ZOMBIE SABRETOOTH!
Sabretooth is hard to spell…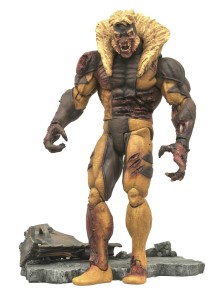 MARVEL SELECT ZOMBIE SABRETOOTH AF
DIAMOND SELECT TOYS LLC
A Diamond Select Toys release! From the world of Marvel's Villain Zombies, it's wolverine's deadliest – and deadest! – foe, Sabretooth! Looking like he went a couple hundred rounds with Wolverine (and the rest of the X-Men), an eviscerated Victor Creed joins Magneto as the second Villain Zombie figure in the Marvel Select line. Standing nearly 8 inches tall, the figure comes packaged in oversized Select packaging with spine artwork, and includes a diorama base that features a damaged chunk of Green Goblin's Goblin Glider. Sculpted by Phil Ramirez!
NOW HERE'S THE FULL LIST!
If you want a full visual list of everything click this link whydonthca (tho this might not update til Monday or something)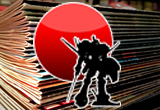 (the following list of comics reflects all the comics coming into both locations. If there's something on this list that's not in stock at your favorite BNW location do not hesitate to ask for us to order it for you!)
COMICS AND MAGAZINES
21st Century Tank Girl #1 (OF 3) 2nd Ptg
Adventure Time #43
Alter Ego #135
Ant-Man Last Days #1
Aquaman #43
Back Issue #83
Batgirl #43
Batman 66 #26
Batman Arkham Knight Genesis #1 (OF 6)
Betty & Veronica #277
Big Trouble In Little China #15
Book Of Death Fall Of Ninjak #1
Captain Marvel And Carol Corps #3
Civil War #3
Conan The Avenger #17
Covenant #3
Cyborg #2
Dead Drop #4 (OF 4)
Deadpools Secret Secret Wars #4 (OF 4)
Deathstroke #9
Dirk Gentlys Holistic Detective Agency #3 (OF 5)
Doctor Who 2015 Four Doctors #3 (OF 5)
Drive #1 (OF 4)
E Is For Extinction #3
East Of West #20
Fight Club 2 #4
Flash #43
Ghostbusters Get Real #3 (OF 4)
Godzilla In Hell #2 (OF 5)
Gotham By Midnight #8
Grayson #11
Grindhouse Drive In Bleed Out #8
Hacktivist Vol 2 #2 (OF 6)
Halo Escalation #21
Hank Johnson Agent Of Hydra #1
Harley Quinn #19
He Man The Eternity War #9
Hellboy In Hell #7
JLA Gods And Monsters #3 (OF 3)
John Carter Warlord #10
Justice League 3001 #3
Justice League Of America #3
Lady Mechanika #0 (OF 5)
Low #9
Lumberjanes #17
Magneto #21
Marvel Zombies #3
Maxx Maxximized #22
Mickey Mouse #3
Minions #1 (OF 4) 2nd Ptg (
Modok Assassin #4 (OF 5)
Munchkin #8
New MGMT #1
Ninjak #6
Old Man Logan #4
Over The Garden Wall #1
Pastaways #6
Peanuts Vol 2 #16
Previews #324 September 2015
Marvel Previews September 2015 Extras
Prez #3 (OF 6)
Ragnarok #6
Rasputin #8
Roche Limit Clandestiny #4
Rumble #6
Sherlock Holmes 7 Per-Cent Solution #1 (OF 5)
Shield #9
Sinestro #14
Sixth Gun Valley Of Death #3 (OF 3)
Skylanders #12
Sonic Super Digest #13
Sonic Universe #79
Sons Of Anarchy #24
Sons Of The Devil #4
Spawn #255
Spider-Woman #10
Spread #9
Star Wars Lando #3 (OF 5)
Superman #43
Swords Of Sorrow Sonja Jungle #2 (OF 3)
Teen Titans #11
Theyre Not Like Us #7
Thief Of Thieves #30
TMNT Casey & April #3 (OF 4)
Transformers Robots In Disguise Animated #2
Walt Disney Comics & Stories #722
We Are Robin #3
We Can Never Go Home #4 (OF 5)
Where Monsters Dwell #4 (OF 5)
X-Men 92 #3
Zodiac Starforce #1
TRADE PAPERBACKS, GRAPHIC NOVELS, HARDCOVERS AND MANGA
Amazing Spider-Man Tp Vol 04 Graveyard Shift
Cowl Tp Vol 02 The Greater Goo
Five Ghosts Tp Vol 03 Monsters & Men
Gigant Hc
GI Zombie A Star Spangled War Story Tp
Image Giant Sized Artists Proof Ed Walking Dead #1
Inhumans By Paul Jenkins And Jae Lee Tp New Ptg
Invisible Republic Tp Vol 01
Iron Fist Living Weapon Tp Vol 02 Redemption
Justice League Dark Tp Vol 06 Lost In Forever
KoDT Bundle Of Trouble Tp Vol 50
Kurosagi Corpse Delivery Service Omnibus Ed Tp Book 1
My Little Pony Pageants & Ponies Tp
Nextwave Agents Of Hate Complete Collection Tp New Printing
Priest & Brights Quantum & Woody Tp Vol 01
Prison Island Graphic Memoir
Return Of Living Deadpool Tp
Runlovekill Tp Vol 01
Scalped Hc 2
Star Wars Legends Epic Collection Rise Of Sith Tp
Uncanny Avengers Tp Vol 01 Counter Evolutionary
Usagi Yojimbo Saga Tp Vol 04
Walking Dead Tp Vol 24 Life And Death
Wayward Tp Vol 02
X-O Manowar Tp Vol 09 Dead Hand
TOYS
Avengers 6in Infinite Legends Af Asst
Ghostbusters Titans Mini Fig Blind Box
Marvel Select Punisher Af (RESTOCK)
Marvel Select Zombie Sabretooth Af
Sailor Moon Sailor Chibi Moon S.H.Figuarts Af
Sons Of Anarchy 12in Jax Teller Af
ODDS AND ENDS
Avengers Age Of Ultron Group Shot Coffee Mug
AND LASTLY THIS WAS MAKING IT'S ROUNDS ON THE INTERNET THIS WEEK SO WE HAD TO SHARE