Happy Fourth of July! Willow Grove is having a SALE til 7pm today and Old City may be calling it quits earlier than normal today but right now everything is up and running!
 HAPPY FOURTH OF JULY!

SEE ANT-MAN WITH US!

We're doing another private screening!  Join us on Thursday July 16, 2015 for Ant-Man at the Regal Warrington! Next time you're in the shops ask about tickets! CLICK FOR DETAILS!
MAGIC ORIGINS!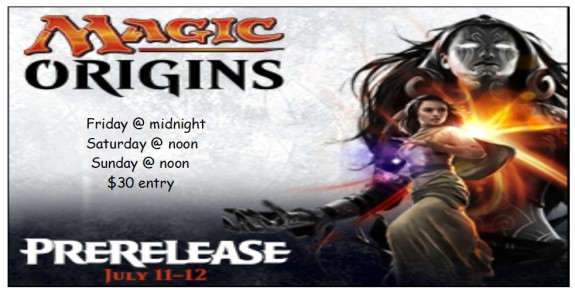 The Willow Grove shop has got some Magic prerelease tournaments going on for the new Magic set. THERE ARE DETAILS OVER HERE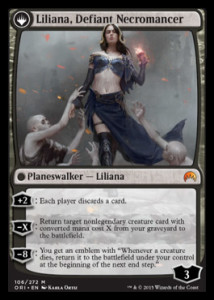 Look a NEW card!
DON'T FORGET ZIM!

The INVADER ZIM Ghost  Variant is now looking like it will finally be on shelves on July 8th… We'll have the comic and the GV ASA(Humanly)P.
We apologize for this event which is out of our control. (But I mean you've waited this one for anything new Invader Zim what's just one more week? Amiright?!)


NEW #1s ON BATTLWORLD!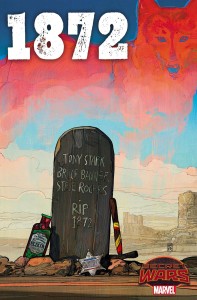 1872 #1
MARVEL COMICS
(W) Gerry Duggan (A) Nicole Virella (CA) Alex Maleev
REAL HEROES DIE WITH THEIR BOOTS ON
•  SHERIFF STEVE ROGERS faces corruption and fear in the boom town of TIMELY.
•  The only thing ANTHONY STARK seems capable of is pulling a cork, so can he pull Rogers' fat from the fire?
•  But…a stranger comes to town that will change Timely forever…for anyone left standing, that is.
MARVEL COMICS
(W) Fabian Nicieza (A/CA) Gerardo Sandoval
SECRET WARS SERIES
•  His war has been won. The few humans left alive are enslaved, the mutant rebellion crushed. EN SABAH NUR, the APOCALYPSE, rules his BATTLEWORLD kingdom without mercy, but the terrorist X-MEN plan to end his reign. Success means finding one very special mutant named CYPHER and unleashing a weapon that will kill Apocalypse — and possibly all mutants, too!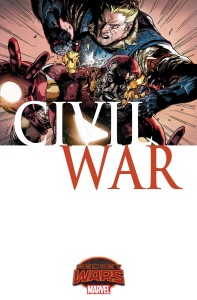 CIVIL WAR #1
MARVEL COMICS
(W) Charles Soule (A/CA) Leinil Francis Yu
• The Civil War never ended. Welcome to the Warzone, where six years of non-stop battle between the forces of the Blue and the Iron have split the nation down its center, utterly transforming it. In a world of new alliances and strange enemies, President Tony Stark and General Steve Rogers meet to make one last attempt at peace.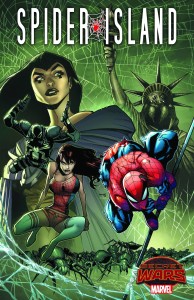 SPIDER-ISLAND #1 (OF 5)
MARVEL COMICS
(W) Christos N. Gage, Tom DeFalco (A) Paco Diaz, Ron Frenz (CA) Humberto Ramos
• The Spider-Queen has turned Manhattan into an island of Spider-Madness and Peter Parker has lost, thanks to Spider-Scribe CHRISTOS GAGE (AMAZING SPIDER-MAN, SUPERIOR SPIDER-MAN) & rising star artist PACO DIAZ (WOLVERINE, SCARLET SPIDERS).
•  With Spider-Man defeated and captive, does Flash Thompson, A.K.A. VENOM stand a chance?
•  All this, plus visit the MC2 patch of BATTLEWORLD! Mayday Parker and her Spider-Family are back courtesy of classic Spider-Girl team TOM DEFALCO, RON FRENZ & SAL BUSCEMA!

NEW ARCHIE, REPRINT OF THE BALTIMORE NOVEL & LANDO!!!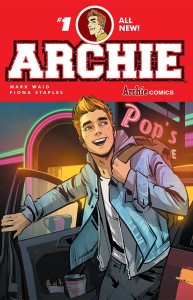 ARCHIE #1
ARCHIE COMIC PUBLICATIONS
(W) Mark Waid (A/CA) Fiona Staples
Comic superstars Mark Waid and Fiona Staples reimagine an icon! Change is coming to Riverdale in this can't-miss kick-off to Archie's new ongoing series! Familiar faces return in new and unexpected ways in this must-have #1 issue! As the new school year approaches, you'd think Archie Andrews would be looking forward to classes and fun-but nothing is as it seems in the little town of Riverdale. But is this a one-off or a sign of bigger changes awaiting for America's favorite teens – and the entire town? Find out in this exciting and remarkable first issue!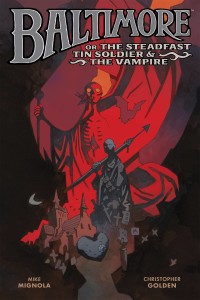 BALTIMORE STEADFAST TIN SOLDIER & VAMPIRE SC NOVEL
DARK HORSE COMICS
(W) Mike Mignola, Christopher Golden (A) Ben Stenbeck (CA) Mike Mignola
When Lord Baltimore awakens the wrath of a powerful vampire on the hellish battlefields of World War I, the world is forever changed. A deadly plague has been unleashed-one that even death cannot end.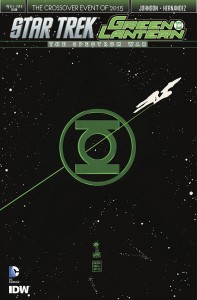 STAR TREK GREEN LANTERN #1 (OF 6)
IDW PUBLISHING
(W) Mike Johnson (A) Angel Hernandez (CA) Francesco Francavilla
Two iconic franchises collide for the blockbuster crossover event of 2015! The crew of the U.S.S. Enterprise meets the Green Lantern Corps for the first time in an all-new adventure that spans the cosmos! Don't miss the thrilling first chapter of THE SPECTRUM WAR, as Kirk and Spock make a most unusual discovery on a lost world… igniting events that will change the fate of empires!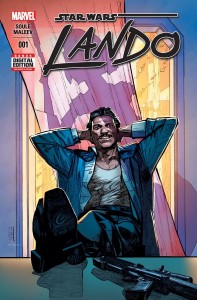 STAR WARS LANDO #1 (OF 5)
MARVEL COMICS
(W) Charles Soule (A) Alex Maleev (CA) TBD
You know him…you love him…now, join him for his biggest caper as master of charm Lando Calrissian gets his very own comic book! Before he joined the rebellion, before he ran Cloud City, Lando made his way in the galaxy getting by on some swindles, some swagger, and a smile. Lobot at his side, Lando has a plan to steal a very valuable ship…but has he bitten off more than he can chew? Writer Charles Soule (DEATH OF WOLVERINE, INHUMAN, SHE-HULK) and artist Alex Maleev (DAREDEVIL, SPIDER-WOMAN, MOON KNIGHT) bring us the tale of a scoundrel in his natural element-trouble!
STRANGE FRUIT #1
BOOM! STUDIOS
(W) Mark Waid, J. G. Jones (A/CA) J. G. Jones
What's to Love: Two of the industry's most respected and prolific creators come together for the first time in a deeply personal passion project. J.G. Jones (52, Wanted, Y: The Last Man) and Mark Waid (Irredeemable, Superman: Birthright, Kingdom Come) take on a powerful, beautifully painted story set during the Great Mississippi Flood of 1927. Strange Fruit is a challenging, provocative examination of the heroic myth confronting the themes of racism, cultural legacy, and human nature  through a literary lens, John Steinbeck's classic novel, Of Mice and Men.What It Is: It's 1927 in the town of Chatterlee, Mississippi, drowned by heavy rains. The Mississippi River is rising, threatening to break open not only the levees, but also the racial and social divisions of this former plantation town. A fiery messenger from the skies heralds the appearance of a being, one that will rip open the tensions in Chatterlee. Savior, or threat? It depends on where you stand. All the while, the waters are still rapidly rising…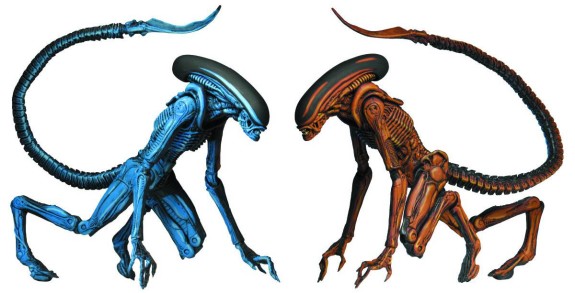 ALIEN 3 DOG ALIEN VG 7IN AF
NECA
NECA's line of classic video game tribute figures continues with the Dog Alien from Alien 3! The game was released in 1992 for the popular 8-bit home console. The Dog Alien stands almost 10″ tall with over 30 points of articulation, including an extendable inner mouth and bendable tail. Special two-tone paint deco reproduces the game's stylized look. Comes in special window box packaging to re-create the look and feel of the classic video game cartridge box.
NOW HERE'S THE FULL LIST!
If you want a full visual list of everything click this link whydonthca (tho this might not update til Monday or something)
COMICS AND MAGAZINES

1872 #1
21st Century Tank Girl #2 (OF 3)
Abe Sapien #24
Age Of Apocalypse #1
All Star Section 8 #2 (OF 6)
Amazing Spider-Man Renew Your Vows #2
Archie #1
Arrow Season 2.5 #10
B & V Friends Comics Double Digest #244
Batman #42
Batman Superman #22
Big Man Plans #4 (OF 4)
Bill & Ted Most Triumphant Return #5 (OF 6)
Black Science #16
Bloodshot Reborn #4
Bloodstrike #1
Catwoman #42
Civil War #1
Clarence #2
Coffin Hill #20
Constantine The Hellblazer #2
Covenant #2
Descender #5
Dirk Gentlys Holistic Detective Agency #2 (OF 5)
Doctor Who 11th #14
Earth 2 Society #2
Eerie Comics #7
Fables The Wolf Among Us #7
Fox (DARK Circle) #4
Fubar Mother Russia #3 (OF 3)
George Perez Sirens #4
Ghost Racers #2
God Is Dead #38
Godzilla Rulers Of The Earth #25
Gotham Academy #8
Harrow County #3
Inferno #3
Injection #3
Injustice Gods Among Us Year Four #5
Invader Zim #1
Justice League #41 2nd Ptg
Justice League Of America #2
Justice League United #11
Lady Death Apocalypse #6
Lantern City #3 (OF 12)
Mad Max Fury Road Max #1 Of(2)
Marvel Universe Avengers Assemble Season Two #9
Master Of Kung Fu #3 (OF 4)
Max Ride First Flight #4 (OF 5)
Maxx Maxximized #21
Minions #2 (OF 4)
Mrs Deadpool And Howling Commandos #2
New Suicide Squad #10
Pisces #3
Popeye Classics Ongoing #36
Providence #2 (OF 12)
Rebels #4
Red Hood Arsenal #2
Runaways #2
Saga #30
Savior #4
Scooby Doo Where Are You #59
Secret Wars #1 (OF 8) 2nd Ptg
Secret Wars 2099 #3 (OF 5)
Shutter #13
Sonic The Hedgehog #274
Sparks Nevada Marshal On Mars #3 (OF 4)
Spider-Island #1 (OF 5)
Spider-Verse #3
Spongebob Comics #46
Squadron Sinister #2
Star Trek Green Lantern #1 (OF 6)
Star Trek New Visions 1971
Star Wars #1 6th Ptg
Star Wars Lando #1 (OF 5)
Starfire #2
Starve #2
Strange Fruit #1
Swords Of Sorrow #3 (OF 6)
Unity #20
Vampirella Army Of Darkness #1 (OF 4)
Walking Dead #144
Witchblade #183
TRADE PAPERBACKS, GRAPHIC NOVELS, HARDCOVERS AND MANGA
Amazing Spider-Man Tp Vol 03 Spider-Verse
Baltimore Steadfast Tin Soldier & Vampire Sc Novel (BACK In Print!)
Batman Arkham Knight Hc Vol 01
Batman Eternal Tp Vol 02
Batman The Jiro Kuwata Batmanga Tp Vol 02 (OF 3)
Creepy Presents Alex Toth Hc
Crossed Tp Vol 13
East Of West The Apocalypse Year One Hc
Ghostbusters Mass Hysteria Hc
Godzilla Hc Half Century War
Marvel Universe Guardians Of Galaxy Digest Tp
Monster Mash Craze In America Hc
New Avengers Tp Vol 04 Perfect World
Nowhere Men Tp Vol 01 Fates Worse Than Death (RESTOCK!)
Overstreet Comic Bk Pg Hc Vol 45
Overstreet Comic Bk Pg Sc Vol 45
Secret History Of Wonder Woman Sc
Shutter Tp Vol 02 Way Of The World
Sinestro Tp Vol 02 Sacrific
Skylanders Rtn Of Dragon King Hc
Solar Man Of Atom Tp Vol 02 Intergalactic
Star Wars Jedi Academy Yr Hc Vol 03 Phantom Bully
Storm Tp Vol 02 Bring Thunder
Tales Of TMNT Tp Vol 07
Theyre Not Like Us Tp Vol 01
Thor Prem Hc Vol 02 Who Holds Hammer
Valiant Zeroes & Origins Tp Vol 01
Will Eisners The Spirit A Celebration Of 75 Years
William Shakespeare Clone Army Attacketh Hc
TOYS
Alien 3 Dog Alien Vg 7in Af
FFAC Play Arts Kai Cloud Strife Af
MGS V Phantom Pain Play Arts Kai Quiet Af
ODDS AND ENDS
Arrow 2016 16 Month Wall Calendar
Batman Arkham Knight 16 Month 2015 Wall Cal
Star Trek Iii Movie Phaser