All eyes are on San Diego for comic con news…we've got the list of what's coming out this week and it includes the final issue of Matt Fraction's Hawkguy!

DON'T SWEAT THE SMALL STUFF!!!
TICKETS ARE STILL AVAILABLE (BUT THAT WONT BE THE CASE FOR LONG!!!)
We're doing another private screening!  Join us on Thursday July 16, 2015 for Ant-Man at the Regal Warrington! Next time you're in the shops ask about tickets! CLICK FOR DETAILS!
MAGIC ORIGINS TONIGHT AND ALL WEEKEND!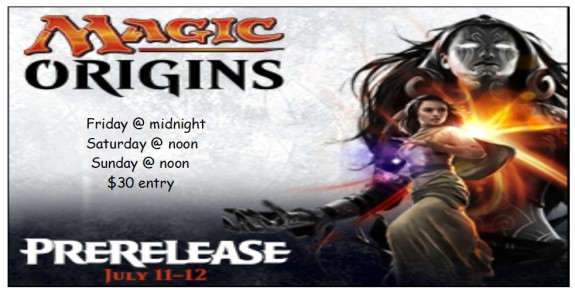 The Willow Grove shop has got some Magic prerelease tournaments going on for the new Magic set. Stuff is getting started at Midnight Friday night aka Saturday morning!
THERE ARE MORE DETAILS OVER HERE
BOX BROWN VS PAT AULISIO

On Saturday July 18th from Noon to 2pm our Old City shop will have West  AND South Philly's own (respectively) Box Brown and Pat Aulisio in store!
More slightly more details over HERE and over HERE on the Facebook event


LOOKIT THESE NEW #1s ON BATTLWORLD!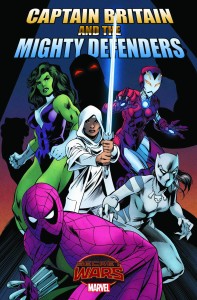 CAPTAIN BRITAIN AND MIGHTY DEFENDERS #1 (OF 2)
MARVEL COMICS
(W) Al Ewing (A/CA) Alan Davis
• Welcome to Battleworld – where, in what's left of Mondo-City One, Boss Cage is the law!
•  When the fascist futuropolis annexes neighboring Yinsen City, who'll stand up for Ho Yinsen's dream of universal peace?
•  If you liked the Mighty Avengers — you'll love the Mighty Defenders!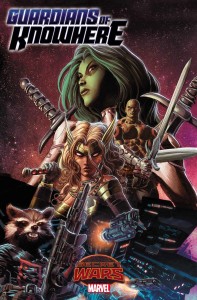 GUARDIANS OF KNOWHERE #1
MARVEL COMICS
(W) Brian Michael Bendis (A/CA) Mike Deodato
•A single moon orbits Battleworld. But no, that's no moon. It's a space station. It's Knowhere.
• The head of a dead Celestial, somehow saved in the universal collapse, a colony brimming with convicts and criminals.
• The Galaxy may be gone, but that doesn't mean there aren't places that still need heroes. Places that need champions. That need GUARDIANS.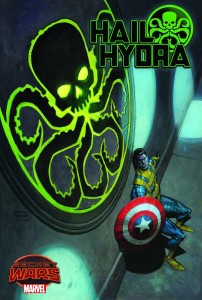 HAIL HYDRA #1
MARVEL COMICS
(W) Rick Remender (A) Roland Boschi (CA) Andrew Robinson
• Peace Through Strength! Honor Through Obedience! Continuance Through Conformity!
•  Hail Hydra! Immortal Hydra! We shall never be destroyed!
•  Cut off one limb, and two shall take its place!
•  We serve none but the Master-as the world shall soon serve us!
•  It is a beautiful Utopia that Hydra has created.
•  But when a lone figure from outside the Regime appears, could his very presence be enough to bring this perfect society to its ruin?
SIEGE #1
MARVEL COMICS
(W) Kieron Gillen (A) Filipe Andrade (CA) W. Scott Forbes
THEY CAN'T EVER WIN. THEY CAN'T AFFORD TO LOSE.
•  THE SHIELD is the only thing that protects the more civilized areas of Battleworld from the ZOMBIE HORDES, DEATH MACHINES, AND ANNIHILATION WAVES.
•   Anyone who annoys Doom gets sent to The Shield. Anyone who gets sent to the Shield deals with ABIGAIL BRAND.
•  Miss America, Lady Katherine, Kang the Conqueror, Leah Shieldmen, the Endless Summers Company, Leonardo Da Vinci and a cast of thousands will fight to the death to keep Battleworld safe. But don't worry, Kieron Gillen is writing this book, so I'm sure everything will end happily for everyone.
•  "Imagine NextWave as a tragedy," says Kieron, if anyone asks him about it.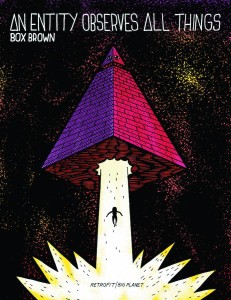 (THE BOOK BOX WILL BE SIGNING!)
AN ENTITY OBSERVES ALL THINGS
(W/A/CA) Box Brown
Stories of science fiction and mental exploration from Box Brown, New York Times-bestselling author of Andre the Giant: Life and Legend. Lizard aliens! New Physics! Electromages! Wastelands! Star Warrior robots! Social media cults! And pizza!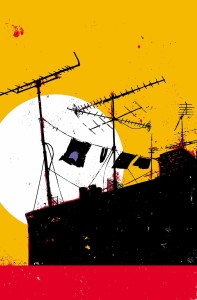 HAWKEYE #22
MARVEL COMICS
(W) Matt Fraction (A/CA) David Aja
• Hawkeyes vs. Tracksuits. Final Round!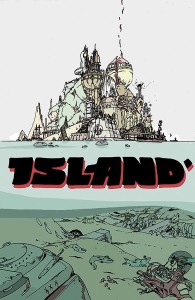 ISLAND #1
IMAGE COMICS
(W/A) Brandon Graham & Various (CA) Brandon Graham
PRETTY DEADLY artist EMMA RIOS and KING CITY, PROPHET, and MULTIPLE WARHEADS writer/artist BRANDON GRAHAM bring you a new ONGOING COMICS MAGAZINE. Each issue holds three issue-length chapters of new work from various creators around the globe. PRINTED OVERSIZED WITH NO ADS!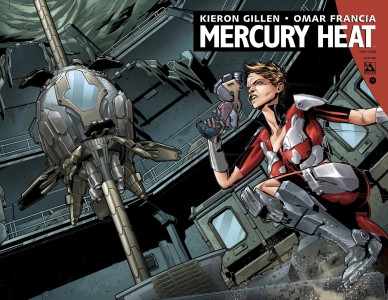 MERCURY HEAT #1
AVATAR PRESS INC
(W) Kieron Gillen (A/CA) Omar Francia
Blasting out of the incredible Free Comic Book Day Mercury Heat Debut comes Kieron Gillen's World-building space epic!  This ongoing monthly is pure Gillen, Mercury Heat introduces the sci-fi world of the future where individuals are identified by genetic markers and personality types to fill roles in society, the troublemakers end up on Mercury.  Luiza wanted to help people, she wanted with all her heart to be a police officer.  But the automated Grapevine system had other plans for her.  There are only a few legal options for someone branded with her neuroprofile. As an adult Luiza's dream came true – just on Mercury where she enforces laws with extreme prejudice as a bounty agent in a world of hard-as-nails miners and cyborgs.  Available with Regular, Wraparound, Art Nouveau, Excessive Force, and a special Designs Incentive Cover by series artist Omar Francia.  This first issue also has a Black Leather cover, limited to just 750 copies!
NOW HERE'S THE FULL LIST!
If you want a full visual list of everything click this link whydonthca (tho this might not update til Monday or something)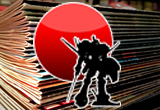 (the following list of comics reflects all the comics coming into both locations. If there's something on this list that's not in stock at your favorite BNW location do not hesitate to ask for us to order it for you!)
COMICS AND MAGAZINES

Adventure Time Fionna & Cake Card Wars #1 (OF 6)
Ant-Man Annual #1
Armor Wars #3
Astro City #25
Astronauts In Trouble #2
Big Trouble In Little China #13
Black Canary #2
Blacklist #1
Book Of Death #1 (OF 4)
BPRD Hell On Earth #133
Captain Britain And Mighty Defenders #1 (OF 2)
Captain Marvel And Carol Corps #2
Crossed Badlands #80
Crossed Plus 100 #6
Dark Horse Presents 2014 #12
Dark Tower Drawing Three House Cards #5 (OF 5)
Dead Drop #3 (OF 4)
Doomed #2
Dr Fate #2
Drifter #6
Elephantmen #65
Empty #5
Empty Zone #2
Giant Days #5 (OF 6)
Godzilla In Hell #1 (OF 5)
Green Lantern The Lost Army #2
Groo Friends And Foes #7
Groot #2
Guardians Of Knowhere #1
Hail Hydra #1
Harley Quinn #18
Hawkeye #22
Hi Fructose Magazine Quarterly #36
Inhumans Attilan Rising #3
Invincible #121
Island #1
It Will All Hurt #2
Justice League #42
Kaijumax #4
King Prince Valiant #3 (OF 4)
King The Phantom #4 (OF 4)
Korvac Saga #2
Lady Rawhide Lady Zorro #4 (OF 4)
Letter 44 #18
Lumberjanes #16
Mantle #3
Martian Manhunter #2
Mega Man #51
Mercury Heat #1
Moon Knight #17
Oddly Normal #8
Planet Hulk #3
Plants Vs Zombies #2
Postal #5
Rachel Rising #35
Reanimator #4 (OF 4)
Red Sonja #1973
Revival #31
Reyn #6
Robin Son Of Batman #2
Roche Limit Clandestiny #3
Secret Identities #6
Secret Six #4
Secret Wars Battleworld #3 (OF 4)
Siege #1
Silver Surfer #13
Simpsons Comics #222
Sonic Worlds Unite Battles #1
Star Wars #4 2nd Ptg
Strain Night Eternal #11
Superman Wonder Woman #19
Swords Of Sorrow Vampirella Jennifer Blood #3
Tarot Witch Of The Black Rose #93
Trees #11
Ultimate End #1 (OF 5) 2nd Ptg
Ultimate End #2 (OF 5) 2nd Ptg
Usagi Yojimbo #147
Walking Dead Magazine #13 Px Ed
Where Monsters Dwell #3 (OF 5)
Years Of Future Past #3
TRADE PAPERBACKS, GRAPHIC NOVELS, HARDCOVERS AND MANGA
Abe Sapien Tp Vol 06 Darkness So Great
All New X-Men Prem Hc Vol 07 Utopians
An Entity Observes All Things Gn
Batman Harley Quinn Tp
Batman Second Chances Tp
Divine Gn
Divinity Tp
Final Fantasy Type 0 Side Story Gn Vol 01 Reaper I
Green Lantern Corps Tp Vol 06 Reckoning
Invisibles Hc Book 04 Deluxe Edition
Long Walk To Valhalla Orignial Gn Hc
My Little Pony Adventures In Friendship Hc Vol 03
New 52 Futures End Tp Vol 02
New Suicide Squad Tp Vol 01 Pure Insanity
Penny Dora And The Wishing Box Tp Vol 01
Predator Fire & Stone Tp
Red One Hc Welcome To America
Simpsons Comics Colossal Compendium Tp Vol 03
Spider-Man 2099 Tp Vol 02 Spider-Verse
Steven Universe Tp Vol 01
Supergirl Tp Vol 06 Crucible
Thor God Of Thunder Tp Vol 04 Last Days Of Midgard
Wolverines Tp Vol 03 Living And The Dead
X-Men Tp Vol 05 Burning Earth
Zenith Hc Phase Four
TOYS
Dc Comics New 52 Green Lantern John Stewart Af
Godzilla 12-In Long Vg Ver Af
Silent Hill 2 Red Pyramid Thing Figma
Spider-Man Titan Hero Af Cs
ODDS AND ENDS
Batman Black & White Statue By Mike Mignola
Simpsons Bongo Comics 2016 Wall Cal