There's a brand spakin' new Magic set out today, a new list of comics contained within this post and what looks like a heatwave on the horizon! July!

MAGIC ORIGINS!
The new Magic set dropped today! Get your hands on intro packs, boosters packs, fat packs, tournament packs, clash packs and deckbuilder's toolkits now at both shops!
TOMORROW IN OLD CITY!
BOX BROWN VS PAT AULISIO

On Saturday July 18th from Noon to 2pm our Old City shop will have West  AND South Philly's own (respectively) Box Brown and Pat Aulisio in store!
More slightly more details over HERE and over HERE on the Facebook event


LOOKIT THE ONLY NEW #1 ON BATTLWORLD!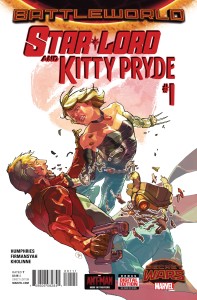 STAR-LORD AND KITTY PRYDE #1
MARVEL COMICS
(W) Sam Humphries (A) Alti Firmansyah (CA) Yasmine Putri
• STAR-LORD AND KITTY PRYDE–finally in their own series together! But are they TOGETHER together?! And is this the Kitty Pryde that Peter loves or one from a completely different reality.
•  This series takes place right in the thick of things on BATTLEWORLD and is sure to be a wild ride!
OTHER SECRET WARS BOOKS OUT THIS WEEK!

Cyborg get's his own series, Batman's a Vampire, Kate Leth's Power Up is here and a new horror noir!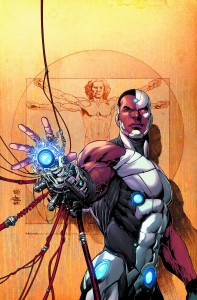 CYBORG #1
DC COMICS
(W) David Walker (A/CA) Ivan Reis, Joe Prado
  The machine that gives Cyborg his powers is evolving! The only problem is that machine is his body and he has no idea what's causing these changes!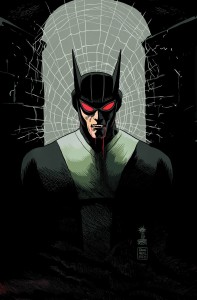 JLA GODS AND MONSTERS BATMAN #1
DC COMICS
(W) Bruce Timm, J. M. DeMatteis (A) Matthew Dow Smith (CA) Francesco Francavilla
  Prequel to the DC Universe movie Justice League: Gods and Monsters!
In this story, Kirk Langstrom has been transformed into a blood-sucking creature of the night, preying on society's dregs. Will a new friendship allow him to find his lost humanity or turn him into a soulless monster once and for all?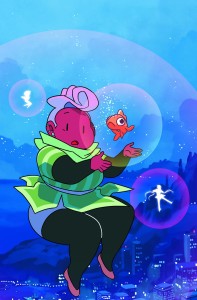 POWER UP #1 (OF 6)
BOOM! STUDIOS
(W) Kate Leth (A/CA) Matt Cummings
It has been foretold that four noble warriors of incredible strength would be gifted with cosmic abilities at a moment of planetary alignment…which, yeah, something definitely went wrong here. Amie is a disaffected twentysomething with a lot of attitude, Kevin is a washed-up athlete way past his prime, Sandy's a mother of two teenagers, and Silas…is a goldfish. Just a normal goldfish. Are we sure we read that prophecy right?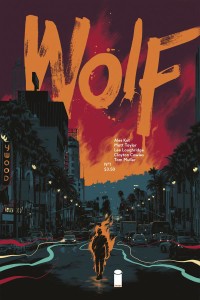 WOLF #1
IMAGE COMICS
(W) Ales Kot (A) Matt Taylor, Lee Loughridge (CA) Matt Taylor
Bestselling new star writer ALES KOT teams up with white-hot artist MATT TAYLOR and DEADLY CLASS colorist extraordinaire LEE LOUGHRIDGE for an all-new ONGOING SERIES! The crime noir thrills and characters reminiscent of True Detective meet with mythical stakes worthy of Neil Gaiman's Sandman in this original fantasy/horror/crime saga for mature readers. Antoine Wolfe, a hard-boiled paranormal detective with a death wish, has to cope with sudden responsibility for an orphaned teenage girl who might be the key to the impending apocalypse, California-style. The road to hell and back begins in a MAX-SIZED FIRST ISSUE, with fifty-eight pages of story and no ads!
NEW JOKER ACTION FIGURE!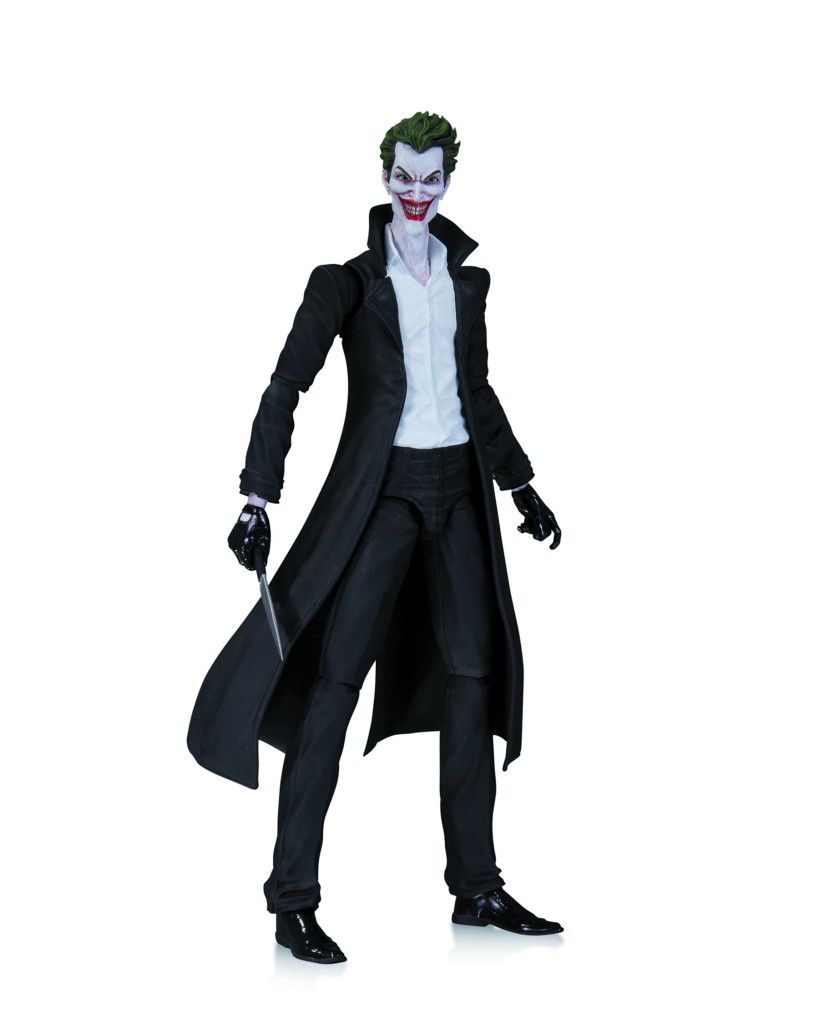 There's a NEW Joker action figure out this week!
NOW HERE'S THE FULL LIST!
If you want a full visual list of everything click this link whydonthca (tho this might not update til Monday or something)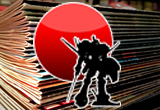 (the following list of comics reflects all the comics coming into both locations. If there's something on this list that's not in stock at your favorite BNW location do not hesitate to ask for us to order it for you!)
COMICS AND MAGAZINES
68 Last Rights #1 (OF 4)
Adventure Time #42
All New Hawkeye #4
Aquaman #42
Archie Vs Predator #4 (OF 4)
Archie Vs Sharknado One Shot
Bart Simpson Comics #97
Batman 66 #25
Birthright #9
Book Of Death Fall Of Bloodshot #1
BTVS Season 10 #17
Burning Fields #6 (OF 8)
Cowl #11
Cyborg #1
Deathstroke #8
E Is For Extinction #2
Edward Scissorhands #10
Effigy #7
Elfquest Final Quest #10
Fight Club 2 #3
Five Ghosts #17
Flash #42
Fly Outbreak #4 (OF 5)
Frankenstein Underground #5 (OF 5)
Future Imperfect #3
G Fan #109
GI Joe A Real American Hero #216
God Is Dead #39
Gotham By Midnight #7
Grayson #10
Harley Quinn & Power Girl #2 (OF 6)
Hellbreak #5
Infinite Loop #4 (OF 6)
Injustice Gods Among Us Year Four #6
Insufferable #3
Ivar Timewalker #7
Jem & The Holograms #1 Plugged In Ed 3rd Ptg
JLA Gods And Monsters Batman #1
Justice League 3001 #2
Kanan #4
Loki Agent Of Asgard #16
Magneto #20
Marvel Zombies #2
Mickey Mouse #2
Mind MGMT #35
My Little Pony Friendship Is Magic #32
Old Man Logan #3
Power Up #1 (OF 6)
Previews #323 August 2015
Marvel Previews August 2015 Extras
Prez #2 (OF 12)
Punisher #20
Rick & Morty #1 3rd Ptg
Rick & Morty #4
Runlovekill #4
Sensation Comics Featuring Wonder Woman #12
Sidekick #11
Sinestro #13
Sonic Universe #78
Sons Of Anarchy #23
Sons Of The Devil #3
Spider-Woman #9
Star-Lord And Kitty Pryde #1
Stray Bullets Sunshine & Roses #6
Teen Titans #10
TMNT Casey & April #2 (OF 4)
Transformers #43
Transformers Robots In Disguise Animated #1
Uncanny X-Men #35
Uncle Scrooge #4
Walt Disney Comics & Stories #721
We Are Robin #2
Weirdworld #2
Wolf #1
Wonder Woman #42
TRADE PAPERBACKS, GRAPHIC NOVELS, HARDCOVERS AND MANGA
Archies Favorite High School Comics Tp
Archie Comics Spectacular Friends Forever Tp
Arkham Manor Tp Vol 01
Baby Sitters Club Color Ed Gn Vol 02
Batman Gothic Deluxe Edition Hc
Daredevil Tp Vol 03 Daredevil You Know
Dead At 17 Tp Vol 07 Blasphemy Throne
Deadpool Classic Tp Vol 12 Deadpool Corps
Doctor Who 10th Hc Vol 02
Durarara Yellow Scarves Gn Vol 03
Eric Powells The Goon Chinatown Artist Ed Hc
Fables Tp Vol 22
Fante Bukowski Gn
Galaxy Quest Journey Continues Tp
Gantz Tp Vol 36
GI Joe (2014) Fall Of Gi Joe Tp Vol 02
Girl Who Kicked The Hornets Nest Hc
Guardians Of Galaxy Tp Vol 03
Hulk Tp Vol 03 Omega Hulk Book 02
KoDT Bundle Of Trouble Tp Vol 49
Legendary Star-Lord Tp Vol 02 Rise Of Black Vortex
Lil Depressed Boy Tp Vol 05
Log Horizon Light Novel Vol 02
Mind MGMT Hc Vol 05 The Eraser
Motorcycle Samurai Tp Vol 01
October Faction Tp Vol 01
Rocket Raccoon Prem Hc Vol 02 Storytailer
Sixth Gun Tp Vol 08 Hell And High Water
Spider-Man And X-Men Tp
Spider-Man Big Time Tp Vol 04 Complete Collection
Tim Ginger Tp
Vertigo CMYK Tp
TOYS
Dc Comics New 52 The Joker Af
ODDS AND ENDS
Avengers Age Of Ultron 19 Month 2016 Wall Cal
Dc Comics Cover Girls Wonder Woman Statue