Old City's gonna have a good time with some awesome local comics duders! Don't miss it!

On Saturday July 18th from Noon to 2pm our Old City shop will have West  AND South Philly's own (respectively) Box Brown and Pat Aulisio in store! They're be here signing all sorts of stuff and maybe doing drawings and getting into shenanigans or whatnot…seriously what else will you be doing with your early afternoon on a Saturday in July? It's gonna be hot and we'll have AC + Comics…Be there!
PAT!
INFINITE BOWMAN
(W/A/CA) Pat Aulisio
Infinite Bowman tracks the story of a lost astronaut wandering through the wastedlands, making his way through the infinite city, battling demons, and calling his buddies jerks. Aulisio's manic spattery squiggly style pairs magnificently with his unique breed of inter-galactic toilet humor. A Hic + Hoc production. (W/A/CA)
BOX!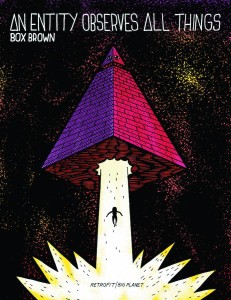 AN ENTITY OBSERVES ALL THINGS
(W/A/CA) Box Brown
Stories of science fiction and mental exploration from Box Brown, New York Times-bestselling author of Andre the Giant: Life and Legend. Lizard aliens! New Physics! Electromages! Wastelands! Star Warrior robots! Social media cults! And pizza!
Don't miss out on meeting and hanging out with these sweet dudes. Just be sure to brush up on your current (and classic) Wrestling continuity.
Also there's a facebook event. Feel free to click attending…if you're gonna attend…or just do nothing like everyone normally does.