There's no new Secret Wars #1s this week (plenty of 2s or 3s or whatnot) but there are DC Annuals and the new issue of Southern Bastards benefits the Mother Emanuel Hope Fund in Charleston South Carolina!

BASTARDS FOR CHARITY!
This week's issue of Southern Bastards (number ten!) has a charity cover that will benefit the Mother Emanuel Hope Fund in Charleston South Carolina! This means that you should maybe just grab a copy…it's for a GREAT cause and it's a fantastic comic anyways!
Here's what those Southern Bastards themselves have to say (over on their Tumblr):
"I believe all the info for ordering our SOUTHERN BASTARDS Charleston Charity variant is correct here. Proceeds from the variant will go to the Mother Emanuel Hope Fund:
http://www.charleston-sc.gov/index.aspx?NID=1330
The variant is available in as high a quantity as your retailer wants to order. But please keep in mind that Southern Bastards remains an unabashedly rated R plus comic book. It wasn't the plan but this one maybe more so."
SOUTHERN BASTARDS #10
IMAGE COMICS
(W) Jason Aaron (A/CA) Jason Latour
On the eve of the most important game of the season, Esaw Goings is having a hard time juggling his duties as enforcer of Coach Boss's criminal empire, as well being an assistant coach for the Runnin' Rebs. Football or murder, blood's gonna get spilled either way.
So just remember: when you buy a copy keep it outta reach of children…seriously
ANOTHER SPECIAL COVER (but for completely different reasons)
Want one more comic to keep out of reach of the kids (and maybe elders) then pick up the latest variant for Sex Criminals! Those Sex Crimz are coming back this week (FINALLY amiright) with a special XXX variant cover by, Scott Pilgrim and Seconds creator, Bryan Lee O'Malley!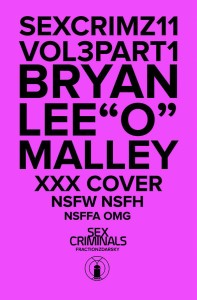 (it's so secret we don't even know how XXX it is)
SEX CRIMINALS #11 BRYAN LEE OMALLEY XXX VAR
IMAGE COMICS
(W) Matt Fraction (A) Chip Zdarsky (CA) Bryan Lee O'Malley
The same comic as SEX CRIMINALS #11 only with the first of five XXX variant covers shipped in a solid polybag so it cannot be seen until opened. Ever want to see Scott Pilgrim's business? What about the bing-bong? What if you could see his floober, too? WHO KNOWS WHAT "MAL" WILL 'DRAW!!!' ONE PRINT RUN ONLY.
DC ANNUALS!
DC is delivering those Annuals this week!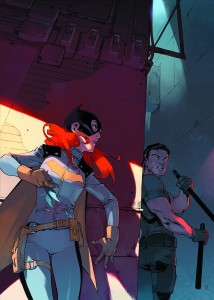 BATGIRL ANNUAL #3
DC COMICS
(W) Cameron Stewart, Brendan Fletcher (A/CA) Bengal
On her latest mission, Batgirl finds herself mixing it up with Helena Bertinelli of Spyral…but who is the mysterious Spyral agent who seems to be one step ahead of her at every turn without ever showing his face? She's determined to crack this mystery – but Grayson is just as determined not to get caught! Plus: Batgirl visits Gotham Academy – and there are plenty of surprises in store for her!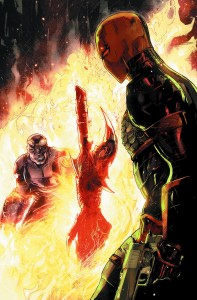 DEATHSTROKE ANNUAL #1
DC COMICS
(W) Tony S. Daniel, James Bonny (A) Tyler Kirkham (CA) Joe Prado
The "Godkiller" bloodbath continues as Slade uses his new weapon to cleave through the world of the supernatural! And which side of this conflict will Superman and Wonder Woman fall on?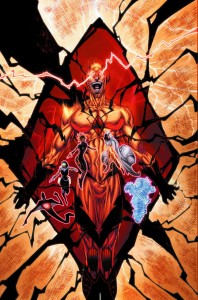 FLASH ANNUAL #4
DC COMICS
(W) Robert Venditti, Van Jensen (A) Bong Davo, Norm Rapmund (CA) Brett Booth, Norm Rapmund
Meet the new hunting party gathered by Professor Zoom – and see how The Flash's nemesis recruited each of these deadly players to plague the life of Barry Allen.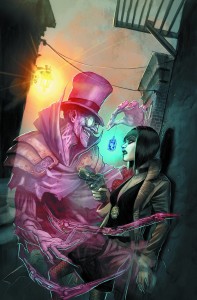 GOTHAM BY MIDNIGHT ANNUAL #1
DC COMICS
(W) Ray Fawkes (A) Christian Duce (CA) Juan Ferreyra
Get set for a tale of love and vengeance in this centuries-old mystery for the Midnight Shift – and the Gentlemen Ghost!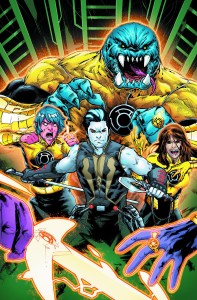 LOBO ANNUAL #1
DC COMICS
(W) Cullen Bunn (A) Robson Rocha (CA) Leonardo Manco
Lobo's faced murderers, thieves and tyrants as he slaughtered his way across the universe, but now he meets the one group that might shut down his work for good: the Sinestro Corps!
NOW HERE'S THE FULL LIST!
If you want a full visual list of everything click this link whydonthca (tho this might not update til Monday or something)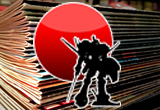 (the following list of comics reflects all the comics coming into both locations. If there's something on this list that's not in stock at your favorite BNW location do not hesitate to ask for us to order it for you!)
COMICS AND MAGAZINES
1602 Witch Hunter Angela #2
Accelerators Momentum #3 (OF 4)
Age Of Ultron Vs Marvel Zombies #2
Auteur Sister Bambi #3
Batgirl #42
Batgirl Annual #3
Black Widow #20
Casanova Acedia #3
Conan The Avenger #16
Copperhead #9
Crossed Badlands #81
Crossed Badlands #82
Daredevil #17
Deadpools Secret Secret Wars #3 (OF 4)
Deathlok #10
Deathstroke Annual #1
Deep State #8
Doctor Who 10th #13
Doctor Who 12th #10
Doctor Who 9th #3 (OF 5)
Doctor Who Magazine #488
Donald Duck #3
Escape From New York #8
Flash Annual #4
Ghostbusters Get Real #2 (OF 4)
God Hates Astronauts #10
Gotham By Midnight Annual #1
Grindhouse Drive In Bleed Out #7
Guardians Team-Up #8
Hacktivist Vol 2 #1 (OF 6)
Halo Escalation #20
He Man The Eternity War #8
Help Us Great Warrior #6 (OF 6)
Hit 1957 #4 (OF 4)
Hoax Hunters 2015 #5 (OF 5)
Howard The Duck #3 2nd Ptg
Invisible Republic #5
Jem & The Holograms #5
JLA Gods And Monsters Superman #1
Jungle Girl Season 3 #4 (OF 4)
Lazarus #18
Lobo Annual #1
Lobster Johnson A Chain Forged In Life One Shot
Low #8
Mad Max Fury Road Furiosa #1 2nd Ptg
Manhattan Projects Sun Beyond The Stars #2
Marvel Universe Ult Spider-Man Web Warriors #9
Material #3
Modok Assassin #3 (OF 5)
Munchkin #7
Mythic #3
Ninjak #5
Pastaways #5
Powers #4
Rasputin #7
Red Sonja #17
Resident Alien Sam Hain Mystery #3 (OF 3)
Sabrina #4
Sandman Overture #5 Special Edition
Scarlett Couture #4 (OF 4)
Sex Criminals #11
Sex Criminals #11 Bryan Lee Omalley XXX Var
Shield #8
Shrinking Man #1 (OF 4)
Simpsons Illustrated #18
Skylanders #11
Sonic Boom #10
Southern Bastards #10 Charleston Charity Var
Sparks Nevada Marshal On Mars #4 (OF 4)
Spawn #254
Star Wars #7
Superman #42
Thors #2
THUNDER Agents 50th Annv Special
Tithe #4
TMNT Ongoing #48
Tomb Raider #18
Transformers Combiner Hunters Spec (ONE Shot)
Transformers More Than Meets Eye #43
Transformers Vs GI Joe #8
Transformers Windblade #5
Wayward #10
Weird Love #8
X-Files Annual 2015
X-Men 92 #2
TRADE PAPERBACKS, GRAPHIC NOVELS, HARDCOVERS AND MANGA
Catwoman Tp Vol 06 Keeper Of The Castle
Conan Red Sonja Hc
Fubar Declassified Tp
Hawkeye Tp Vol 04 Rio Bravo
Imperium Tp Vol 01 Collecting Monsters
Inhuman Tp Vol 03 Lineage
Magneto Tp Vol 03 Shadow Games
Oh My Goddess Omnibus Tp Vol 01
Punky Brewster Tp Vol 01
Red Lanterns Tp Vol 06 Forged In Blood
Sea Urchin Gn
Swamp Thing The Root Of All Evil Tp
TMNT Animated Tp Vol 06 Vengeance Is Mine
Uncanny Avengers Tp Vol 05 Axis Prelude
Zero Tp Vol 04 Who By Fir
ODDS AND ENDS
Darth Vader & Friends 2016 Wall Calendar
DC Superhero Chess Fig Coll Mag #86 Owlman
DC Superhero Chess Fig Coll Mag #87 Cap Boomerang
Doctor Who Special Ed 2016 Wall Calendar
Hammer Christopher Lee Count Dracula Maxi Bust
Star Trek Starships Fig Mag #46
Star Trek Starships Fig Mag #47