It's Friday and the Weekend is quickly approaching! Distract yourself from those last few hours at the office with what's coming out next week! (or if it's already the weekend by the time you see this sit back and relax…it's the weekend!)

ZIM!

Don't forget about the Invader Zim Ghost Variant that's coming on July 1st! Details!
WE'VE GOT MODERN MASTERS 2015!
Good news everyone! Modern Masters Booster Packs are now just $9.99 and Booster Boxes are now $215! Ya can't beat that
NEW STUFF OVER AT DC AND BATMAN 41!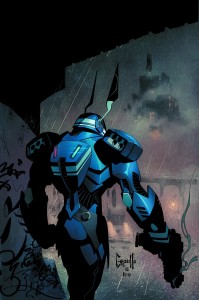 BATMAN #41
DC COMICS
(W) Scott Snyder (A) Greg Capullo, Danny Miki (CA) Greg Capullo
The all-new Batman makes his debut! Who is he, and what happens next? Find out here as a new era begins in Gotham City!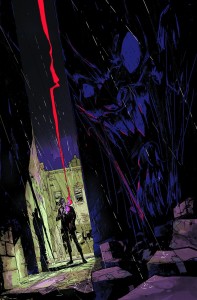 CONSTANTINE THE HELLBLAZER #1
DC COMICS
(W) Ming Doyle (A/CA) Riley Rossmo
The dark adventures of DC's foremost occult detective continue in an all-new series as he investigates the cruelest case he's ever come across – his own dark history!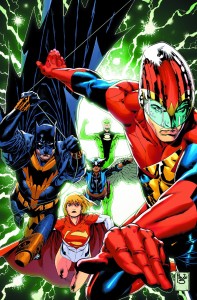 EARTH 2 SOCIETY #1
DC COMICS
(W) Daniel H. Wilson (A/CA) Jorge Jimenez
The survivors of Earth-2's war with Apokolips find themselves on a new world, but can Green Lantern, Power Girl, a new Batman and the other heroes of Earth-2 create a new world that's better than the last, or will their interference and good intentions doom this world, just like the old one?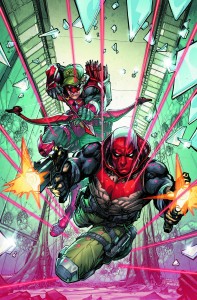 RED HOOD ARSENAL #1
DC COMICS
(W) Scott Lobdell (A) Denis Medri (CA) Howard Porter
These brothers in arms face off against incredible odds while burning their way through the underbelly of the DC Universe – and it's only a matter of time until they get gunned down in return!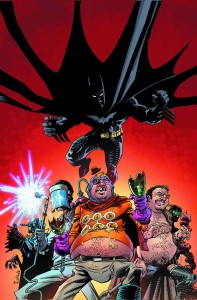 ALL STAR SECTION 8 #1 Of(6)
DC COMICS
(W) Garth Ennis (A) John McCrea (CA) Amanda Conner
The greatest super heroes of all time, unseen since the end of the hit series HITMAN, have returned for the greatest super hero story ever told!
Befuddled hero Sixpack returns to Gotham City, desperate to rebuild the all-star team known as Section Eight in the face of a deadly threat. He gathers old friends Bueno Excellente, Baytor and the seemingly reborn Dogwelder, along with some new faces – but he still needs that elusive eighth member. And that's when the Dark Knight Detective gets an offer he can't refuse in part one of this unforgettable six-issue miniseries.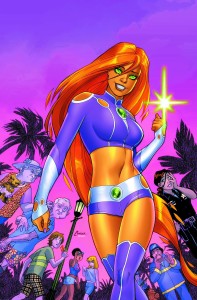 STARFIRE #1
DC COMICS
(W) Amanda Conner, Jimmy Palmiotti (A) Emanuela Lupacchino (CA) Amanda Conner
From the writers of the outrageous smash hit HARLEY QUINN comes former Outlaw Starfire in her all-new ongoing series! She's an alien warrior princess trying to find peace on Earth, and she'll fight anyone and anything to get it!
WHAT'S NEW IN BATTLEWORLD THIS WEEK!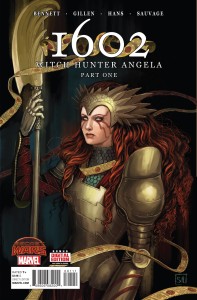 1602 WITCH HUNTER ANGELA #1
MARVEL COMICS
(W) Marguerite Bennett, Kieron Gillen (A) Stephanie Hans, Marguerite Sauvage (CA) Stephanie Hans
• In the altered realms of BATTLEWORLD, Angela and Sera are WITCH HUNTERS, the scourges of King James' England, 1602.
•  In a land beset by magic and monstrosity, they seek a new and seductive evil-not witchbreed, but deal-making FAUSTIANS, who bargain with ancient creatures for unnatural power!
•  Moral ambiguity? Fancy allusions? Marguerite making the most of that English degree?
•  tl;dr – try 1602 WITCH HUNTER ANGELA #1!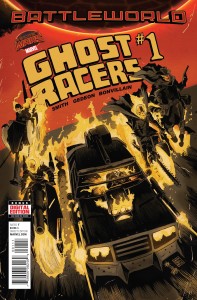 GHOST RACERS #1
MARVEL COMICS
(W) Felipe Smith (A) Juan Gedeon (CA) Francesco Francavilla
FURIOUS RACE FROM HELL IN A BLAZING ARENA OF HORROR!!!
•  Welcome to the scorching-hot track where cursed souls race at the speed of sin, anything and everything goes and the only rule is no rule–it's the spectacle known as the GHOST RACES; the most hellish "entertainment" known to BATTLEWORLD!
•  1st place prize: Temporary freedom from the ARENA, but what happens to the unlucky and unholy losers?
•  It's all-out, high-speed warfare among the most bizarre and vicious GHOST RIDERS of the MARVEL UNIVERSE. Expect MANY familiar SKULLS!!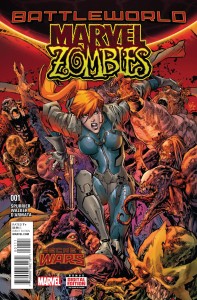 MARVEL ZOMBIES #1
MARVEL COMICS
(W) Simon Spurrier (A/CA) Kev Walker
• Elsa Bloodstone is stationed on the Shield, burdened with the Sisyphean task of keeping the zombie hordes from rampaging through Battleworld.
•  In those moments where she's not enrapt in the throes of battle, she meditates on her deceased father…how everything he taught her gave her the means to fight the zombies, but all the love he didn't give her is what motivated the self-destructive actions that landed her on the Wall in the first place.
•  But when she sees a human child caught in the middle of the zombieverse, she'll muster every ounce of determination she has to throw herself into the zombie horde to rescue the girl.
•  And once Elsa finds her, she's going to have to fight her way back out…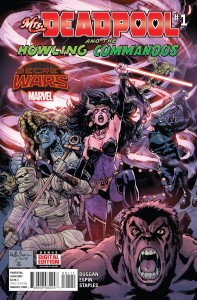 MRS DEADPOOL AND HOWLING COMMANDOS #1
MARVEL COMICS
(W) Gerry Duggan (A) Salva Espin (CA) Reilly Brown
• She is Shiklah-undisputed Queen of the Monster Metropolis below Manhattan!
•  In the world that was, she married Deadpool, the Merc with the Mouth…
•  …But nothing on Battleworld is quite as it was.
•  Now, she commands the Howling Commandos: Werewolf By Night! Frankenstein's Monster! The Living Mummy! Man-Thing! And Marcus the Centaur!
•  What would her late husband think of that???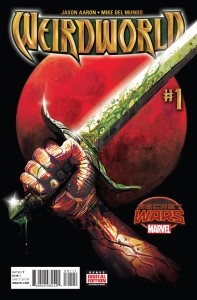 WEIRDWORLD #1
MARVEL COMICS
(W) Jason Aaron (A/CA) Mike Del Mundo
• Welcome to the wildest, most dangerous new corner of the Marvel Universe. Welcome to Weirdworld.
•  A world of swords and sorcery and strange, perverted science. A world where one barbarian walks alone, on a dark and savage quest though all things weird and fantastic from throughout Marvel history.
•  His name is Arkon. A lost man in a lost world. Follow him if you dare.
OTHER STUFF TO CHECK OUT!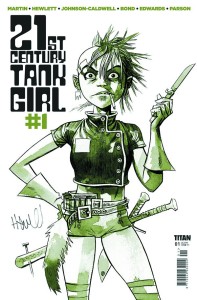 21ST CENTURY TANK GIRL #1 (OF 3)
TITAN COMICS
(W) Alan Martin (A) Jamie Hewlett & Various (CA) Jamie Hewlett
Jamie Hewlett returns to Tank Girl! After a break of 20 years, artist extraordinaire Jamie Hewlett (GORILLAZ) is leaping back on the Tank Girl wagon, re-teaming with series co-creator Alan Martin to bring you a whole new take on the foul-mouthed, gun toting, swill-swigging hellion! Featuring riotous 100% original content from Hewlett & Martin along with contributions from a host of series stalwarts and newcomers, get your head down, put your hands over your private parts, and prepare for a chaotic collection of strips, pin-ups, and random carnage!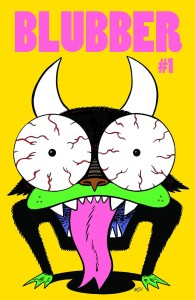 BLUBBER #1 
FANTAGRAPHICS BOOKS
(W/A/CA) Gilbert Hernandez
What's this? An all-new, stand-alone, one-shot comic book from one of our greatest living cartoonists? Christmas has come early! Featuring six mostly wordless, thoroughly surreal adventures featuring a cast of misfits, monsters, and anthropomorphs that could only spring from the id of the great Hernandez, last year's Eisner Award winner for "Best Short Story"! DEMONS AND ANGELS: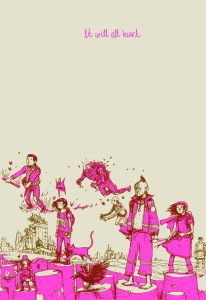 IT WILL ALL HURT #1
ALTERNATIVE COMICS
(W/A/CA) Farel Dalrymple
It Will All Hurt is a weird, sad, silly, and sketchy, fantasy adventure strip with magic and science-fiction and some fighting action. IWAH is one of the coolest science-fantasy adventure comics you will ever read. It's also a companion piece to Farel's amazing and beautiful graphic novel, The Wrenchies. A Study Group Comics production.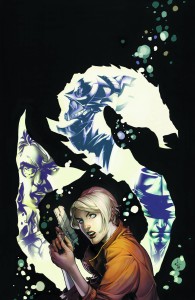 MIDNIGHT SOCIETY THE BLACK LAKE #1
DARK HORSE COMICS
(W/A/CA) Drew Johnson
Forty years ago, England's greatest adventurers cast aside their friendship, making a choice that would come to haunt humanity. Now, secret agent Matilda Finn will face the consequences of that choice as she aids in a frantic rescue operation at Scotland's Loch Ness, where something terrible is waiting to draw her into the fight of her life!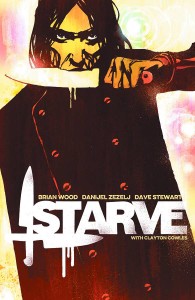 STARVE #1
IMAGE COMICS
(W) Brian Wood (A) Danijel Zezelj, Dave Stewart (CA) Dave Stewart, Danijel Zezelj
UTENSILS DOWN, HANDS UP! WELCOME TO STARVE!
Once the world's most famous chef, Gavin Cruikshank's been in a self-imposed exile for years. His little foodie television program has since evolved into STARVE, an arena sport that pits chef against chef for the pleasure of their super-rich patrons. It's a stain on a once-noble profession, and Chef Gavin is ready to go to war to stop it. Two things stand in his way: his arch rival Roman Algiers, and his adult daughter Angie, who probably just wants her dad back and acting normal.Whipsmart world-building and a creative dream team (DMZ, The Massive, Star Wars, Loveless, Hellboy, The Sandman) come together for a brand new monthly series!
NOW THE FULL LIST!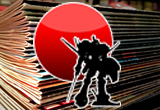 (the following list of comics reflects all the comics coming into both locations. If there's something on this list that's not in stock at your favorite BNW location do not hesitate to ask for us to order it for you!)
COMICS AND MAGAZINES
1602 Witch Hunter Angela #1
21st Century Tank Girl #1 (OF 3)
Adventure Time Marceline Gone Adrift #6
Amazing Figure Modeler #59
Angry Birds #12
Arrow Season 2.5 #9
Batman #41
Batman Superman #21
Bill & Ted Most Triumphant Return #4 (OF 6)
Birthright #8
Black Science #15
Blubber #1
Captain America And Mighty Avengers #9
Captain Marvel And Carol Corps #1
Catwoman #41
Chrononauts #4
Clarence #1 (OF 4)
Coffin Hill #19
Constantine The Hellblazer #1
Copperhead #8
Crossed Plus 100 #5
Dark Tower Drawing Three House Cards #4 (OF 5)
Dead Drop #1 (OF 4) 2nd Ptg
Descender #4
Detective Comics #41
Doctor Who 10th #11
Earth 2 Society #1
Fables The Wolf Among Us #6
Famous Monsters Of Filmland #280
FBP Federal Bureau Of Physics #21
Fox (Dark Circle) #3
Ghost Racers #1
Gotham Academy #7
Harley Quinn #17
Harrow County #2
Hit 1957 #3 (OF 4)
Inferno #2
Inhumans Attilan Rising #2
Injection #2
Injustice Gods Among Us Year Four #3
Insufferable #2
It Will All Hurt #1
Kanan Last Padawan #3
Lady Death Apocalypse #5
Lady Rawhide Lady Zorro #3 (OF 4)
Lantern City #2 (OF 12)
Lil Depressed Boy Supposed To Be There Too #5
Looking For Group #3
Mantle #2
Marvel Universe Avengers Assemble Season Two #8
Marvel Zombies #1
Max Ride First Flight #3 (OF 5)
Miami Vice Remix #4 (OF 5)
Midnight Society The Black Lake #1
Mouse Guard Legends Of Guard Vol 03 #4 (OF 4)
Mrs Deadpool And Howling Commandos #1
My Little Pony Friendship Is Magic #31
Nameless #4
New Suicide Squad #9
Popeye Classics Ongoing #35
Rachel Rising #34
Reanimator #3 (OF 4)
Rebels #3
Red Hood Arsenal #1
Robocop 2014 #12
Roche Limit Clandestiny #2
Saga #29
Savage Dragon #204
Savior #3
Scooby Doo Where Are You #58
Secret Wars 2099 #2 (OF 5)
Secret Wars Journal #2 (OF 5)
Section 8 #1 (OF 6)
Silk #5
Silver Surfer #12
Sonic Super Digest #12
Sonic The Hedgehog #273
Spider-Gwen #5
Spider-Verse #2
Spongebob Comics #45
Starfire #1
Starve #1
Swords Of Sorrow Vampirella Jennifer Blood #2
Transformers Windblade Combiner Wars #3
Ultimate End #2 (OF 5)
Unbeatable Squirrel Girl #1 3rd Ptg
Unbeatable Squirrel Girl #2 3rd Ptg
Unbeatable Squirrel Girl #3 2nd Ptg
Unbeatable Squirrel Girl #4 2nd Ptg
Uncle Scrooge #3
Unity #19
Walking Dead #142
We Can Never Go Home #3 (OF 5)
Weirdworld #1
X-O Manowar 25th Ann Special #1
Zombies Vs Robots #6

TRADE PAPERBACKS, GRAPHIC NOVELS, HARDCOVERS AND MANGA
Adventure Time Flip Side Tp Vol 01
Alien Vs Predator Fire & Stone Tp
Ant-Man Tp Scott Lang
Archie Giant Comics Collection Tp
Batgirl Tp Vol 01 The Batgirl Of Burnside
Batman Cataclysm Tp New Ed
Bodies Tp
BPRD 1946 – 1948 Hc
Classic Gi Joe Tp Vol 16
Deadman Wonderland Gn Vol 09
Deadpool By Posehn And Duggan Hc Vol 02
Doctor Who 12th Hc Vol 01 Terrorformer
East Of West Tp Vol 04 Who Wants War
GI Joe Americas Elite Disavowed Tp Vol 06
Jack Kirby Kamandi Artist Ed Hc Vol 01
Marvels Ant-Man Prelude Tp
Miles Morales Ultimate Spider-Man Tp Vol 02 Revelation
Ms Marvel Tp Vol 03 Crushed
Nightwing Tp Vol 02 Rough Justice
Odyc Tp Vol 01
Rai Tp Vol 02 Battle For New Japan
Silver Surfer Tp Vol 02 Worlds Apart
Superman Action Comics Hc Vol 06 Superdoom
Uber Tp Vol 04
Wake Tp

TOYS
Big Hero 6 Armor Up Baymax Af
DBZ Son Gohan S.H.Figuarts Af
DBZ Vegetto S.H.Figuarts Af