Whew! What a crazy week! Avengers Age of Ultron (major success on that screening!), Free Comic Book Day!, Neal Adams in store (awesome!) and now it's Wizard World and Mothers Day…Oh and Secret Wars started…Awesome Stuff OVERLOAD!

Thanks to Neal Adams
and thanks to everyone that came out this past Wednesday night! What an awesome experience!
If you couldn't make it Neal was nice enough to sign some books for us! You can still grab a classic collection of some of his works and it's got his signature on it for no extra cost!
And as an added bonus there's a coupon at our Old City location for discounts off of Neal's prints over at Wizard World! Swing by, pick one up and save on some art!
MODERN MASTERS
Join us on Saturday May 23rd in Willow Grove for Modern Masters 2015 release event Booster Drafts! Any Magician worth their weight in Mana will not miss this one!
LET'S LOOK AT THE WEEK AHEAD!

COMICS!
ONI PRESS INC.
(W) Rick Spears (A/CA) James Callahan
Your favorite slapstick comedy gorefest is back! Down on his luck and out on his ass after being thrown out of Hollywood, Nathan T. Rex refuses to accept defeat! Prepping his next exploitation masterpiece, Sister Bambi, Rex and crew head to South America with Nazis, ninjas, and budgetary constraints nipping at their heels in search of the most elusive piece of any artistic endeavor: foreign financing! Fall in love all over again with the return of the most insane series of 2014, but in 2015, make sure you wear protection.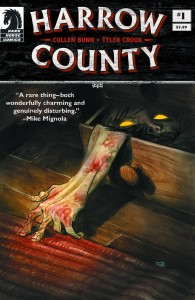 HARROW COUNTY #1
DARK HORSE COMICS
(W) Cullen Bunn (A/CA) Tyler Crook
Emmy always knew that the deep, dark woods surrounding her home crawled with ghosts, goblins, and zombies. But on the eve of her eighteenth birthday, she learns that she is connected to these creatures-and to the land itself-in a way she never imagined.Don't miss the first issue of this southern gothic fairy tale from the creator of smash hit The Sixth Gun, beautifully and hauntingly realized by B.P.R.D.'s Tyler Crook!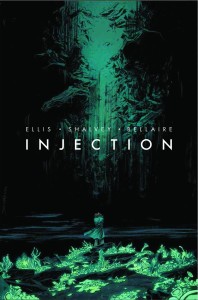 INJECTION #1
IMAGE COMICS
(W) Warren Ellis (A/CA) Declan Shalvey, Jordie Bellaire
Once upon a time, there were five crazy people, and they poisoned the 21st Century. Now they have to deal with the corrosion to try and save us all from a world becoming too weird to support human life.INJECTION is the new ongoing series created by the acclaimed creative team of Moon Knight. It is science fiction, tales of horror, strange crime fiction, techno-thriller, and ghost story all at the same time. A serialized sequence of graphic novels about how loud and strange the world is getting, about the wild future and the haunted past all crashing into the present day at once, and about five eccentric geniuses dealing with the paranormal and numinous as well as the growing weight of what they did to the planet with the Injection.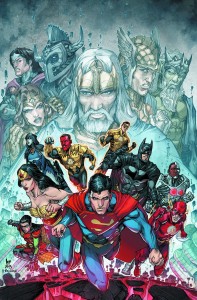 INJUSTICE GODS AMONG US YEAR FOUR #1
DC COMICS
(W) Brian Buccellato (A) Bruno Redondo & Various (CA) Howard Porter
Superman's regime has been opposed by the Green Lantern Corps and by those who wield the power of magic, but the Man of Steel has emerged battered yet still in control. Now he's about to face his greatest opponents yet: the gods themselves! Hera's role in awakening Wonder Woman from her coma has drawn the attention of Mount Olympus, and these new players are about to test existing alliances.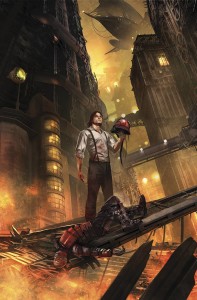 LANTERN CITY #1 (OF 12)
BOOM! STUDIOS
(W) Paul Jenkins, Matthew Daley (A) Carlos Magno (CA) Benjamin Carre & Various
WHAT'S TO LOVE: From the writings of Jules Verne and H.G. Wells, to comics like The League of Extraordinary Gentlemen and Lady Mechanika, the detailed and imagination-fueled steampunk movement has excited fans worldwide. Set in an original, sprawling steampunk world, Lantern City explores everything we love about the genre and what it takes to change a person's place in the world.
WHAT IT IS: Sander Jorve just wants to keep his wife and son safe. Living in the brutalized lower class of Lantern City means living in near constant darkness, the enormous walls of the city always looming overhead, while the upper class enjoys the elevated, interconnected towers and airships above. When Sander's brother-in-law, the persuasive activist Kendal, convinces him to infiltrate the brutal ranks of the Guard, he's set on a dangerous path that will test his abilities and beliefs, all in the name of making a difference for his family and his caste.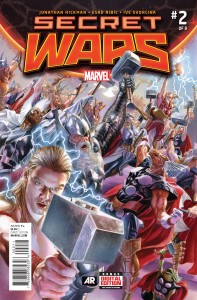 FOREVER EVIL TP 
DC COMICS
(W) Geoff Johns (A/CA) David Finch, Richard Friend
The Justice League is dead! And the villains shall inherit the Earth! In this new title collecting the seven-issue miniseries FOREVER EVIL, the Crime Syndicate takes over the DC Universe, and no one can stand in the way of them and their quest for complete world domination – no one except Lex Luthor!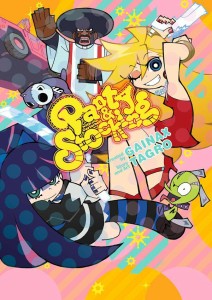 PANTY & STOCKING WITH GARTERBELT TP
DARK HORSE COMICS
(W/A/CA) Tagro
Panty and Stocking are cute but highly dangerous angels, booted out of heaven for wrath, sloth, lust, envy, avarice, and gluttony (at least pride wasn't high on their list). Now residing among the sinners of Daten City, the angels try to earn their way back into grace by exorcising evil at the behest of their questionable preacher boss, the Afro-bedecked Garterbelt!
THOR PREM HC VOL 01 GODDESS OF THUNDER
MARVEL COMICS
(W) Jason Aaron (A) Russell Dauterman, Jorge Molina (CA) TBD
Mjolnir lies on the moon, unable to be lifted! Something dark has befallen the God of Thunder, leaving him unworthy for the first time ever! But when Frost Giants invade Earth, the hammer will be lifted – and a mysterious woman will be transformed into an all-new version of the mighty Thor! Who is this new Goddess of Thunder? Not even Odin knows, but she may be Earth's only hope against the Frost Giants! Get ready for a Thor like you've never seen before, as this all-new heroine takes Midgard by storm! Plus: The Odinson clearly doesn't like that someone else is holding his hammer – it's Thor vs. Thor! And Odin, desperate to see Mjolnir returned, will call on some very dangerous, very unexpected allies. It's a bold new chapter in the storied history of Thor! Collecting THOR (2014) #1-5.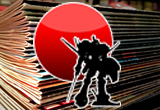 (the following list of comics reflects all the comics coming into both locations. If there's something on this list that's not in stock at your favorite BNW location do not hesitate to ask for us to order it for you!)
COMICS AND MAGAZINES
Abe Sapien #23
Adventure Time Marceline Gone Adrift #5
Angela Asgards Assassin #6
Arrow Season 2.5 #8
Astro City #23
Auteur Sister Bambi #1
B & V Friends Comics Double Digest #243
Batman #40 2nd Ptg
Batman Arkham Knight #4
Bill & Ted Most Triumphant Return #3 (OF 6)
Birthright #7
Black Science #14
BSG Death Of Apollo #6 (OF 6)
Bucky Barnes Winter Soldier #8
Captain America And Mighty Avengers #8
Captain Marvel #15
Chrononauts #3
Coffin Hill #18
Convergence #6 (OF 8)
Convergence Aquaman #2
Convergence Batman Shadow Of The Bat #2
Convergence Catwoman #2
Convergence Green Arrow #2
Convergence Green Lantern Parallax #2
Convergence Justice League Intl #2
Convergence Suicide Squad #2
Convergence Superboy #2
Convergence Supergirl Matrix #2
Convergence Superman Man Of Steel #2
Copperhead #7
Cowl #10
D4ve #4 (OF 5)
Dark Tower Drawing Three House Cards #3 (OF 5)
Darth Vader #5
Deep State #6
Doctor Who 10th #10
East Of West #19
Escape From New York #6
Fables The Wolf Among Us #5
FBP Federal Bureau Of Physics #20
Five Ghosts Special #1
GI Joe Snake Eyes Agent Of Cobra #5 (OF 5)
Giant Days #3
Guardians 3000 #8
Harrow County #1
Howard The Duck #3
Imperium #4
Injection #1
Injustice Gods Among Us Year Four #1
Jim Butcher Dresden Files Down Town #4 (OF 6)
Joe Frankenstein #3 (OF 4)
Judge Dredd Classics Dark Judges #5 (OF 5)
Lady Killer #5
Lantern City #1 (OF 12)
Legendary Star Lord #12
Legenderry Green Hornet #4 (OF 5)
Looking For Group #2
Magneto #18
Mantle #1
Marvel Universe Avengers Assemble Season Two #7
Marvel Universe Guardians Of Galaxy #4 (OF 4)
Miami Vice Remix #3 (OF 5)
Mortal Kombat X #6
Mouse Guard Legends Of Guard Vol 03 #3 (OF 4)
Ms Marvel #15
My Little Pony Friends Forever #16
Mythic #1
Night Nurse #1
Odyc #5
Pathfinder Origins #4 (OF 6)
Ps Blackcross #3 (OF 6)
Reanimator #2 (OF 4)
Rebels #2
Reyn #5
Rick & Morty #2
Robocop 2014 #11
Runlovekill #2
Saga #28
Savior #2
Scooby Doo Where Are You #57
Secret Wars #2 (OF 8)
Silk #4
Sixth Gun Dust To Dust #3
Solar Man Of Atom #12
Solitary #3 (OF 4)
Sonic The Hedgehog #272
Southern Cross #3
Spider-Man 2099 #12
Spongebob Comics #44
Star Trek New Visions Resistance
Star Trek Ongoing #45
Storm #11
Thor #8
Uncanny Avengers #4
Uncle Scrooge #2
Unity #18
Walking Dead #141
Wolverines #18
X-O Manowar #36
Zombies Vs Robots #5
TRADE PAPERBACKS, GRAPHIC NOVELS, HARDCOVERS AND MANGA

Adventure Time Sugary Shorts Hc Vol 02
Aliens Fire And Stone Tp
Avengers Time Runs Out Prem Hc Vol 03
Batman Arkham Riddler Tp
Borderlands Tp Vol 03 Tannis & The Vault
Bucky Barnes Winter Soldier Tp Vol 01 Man On Wall
Earth 2 Worlds End Tp Vol 01
Fables Deluxe Edition Hc Vol 10
Forever Evil Tp
Game Of Thrones Hc Gn Vol 04
Green Lantern Hc Vol 06 The Life Equation
Green Lantern Tp Vol 05 Test Of Wills
Mass Effect Library Edition Hc Vol 02
Nimona Gn
Panty & Stocking With Garterbelt Tp
Revival Tp Vol 05 Gathering Of Waters
Robin The Boy Wonder A Celebration Of 75 Years Hc
Star Wars Legends Epic Collection Tp Vol 01 New Republic
Thor Prem Hc Vol 01 Goddess Of Thunder
TMNT Classics Tp Vol 10
TMNT New Animated Adventures Tp Vol 05
Transformers More Than Meets The Eye Tp Vol 07
TOYS
Avengers 6in Infinite Legends Af Asst 201502
Buffy The Vampire Slayer Titans 20pc Bmb Ds Ser 01
Marvel Select Avengers 2 Hulk Af
Nintendo Super Mario 4in Af Asst Wv1
ODDS AND ENDS
DC Superhero Chess Fig Coll Mag #82 Superboy
DC Superhero Chess Fig Coll Mag #83 Sinestro
Lost In Space B9 Electronic Robot
Marvel Chess Fig Coll Mag #32 Molecule Man & Archangel 2 Pack