It's that weekend where we kick start summer! Have a BBQ! Go to the Shore! See friends and Family! Also check out what's coming out this week!

MODERN MASTERS 2015!

They're here! The Magic the Gathering Modern Masters 2015 booster packs are in stock at both locations but they won't be around forever! Be sure to grab a few packs when you stop in! Or we hope you were in Willow Grove today at Noon for the booster draft! DETAILS
ORIGINAL BATTLESTAR GALACTICA POPS ARE HERE!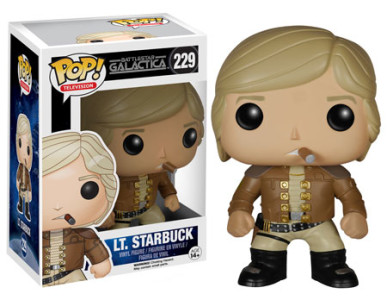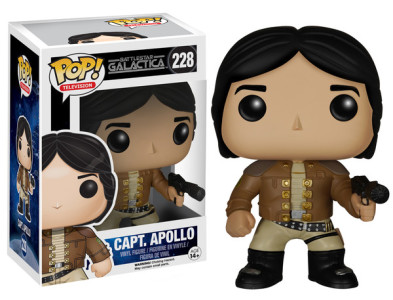 IT'S HERE!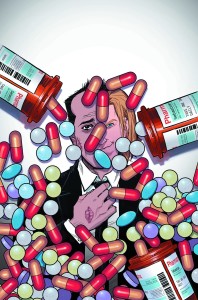 FIGHT CLUB 2 #1
DARK HORSE COMICS
(W) Chuck Palahniuk (A) Cameron Stewart (CA) David Mack
  Some imaginary friends never go away . . .
Ten years after starting Project Mayhem, he lives a mundane life. A kid, a wife, pills to keep his destiny at bay. But it won't last long; the wife has seen to that. The time has come . . .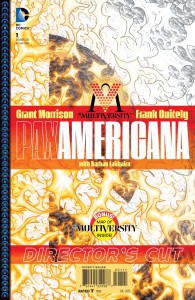 MULTIVERSITY #1 PAX AMERICANA DIRECTORS CUT
DC COMICS
(W) Grant Morrison (A/CA) Ivan Reis, Joe Prado
This issue is written by Grant Morrison, with art and cover by Frank Quitely. It spotlights Quitely pencil artwork, and the Multiverse poster designed by Rian Hughes from Grant Morrison's notes! Also included are preliminary character designs by Morrison and Quitely, and more!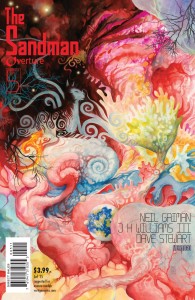 SANDMAN OVERTURE #5 (OF 6)
DC COMICS
(W) Neil Gaiman (A/CA) J. H. Williams
The fate of the entire universe hangs in the balance when Dream finally gets his mother's full attention. Magic, joy, war and heartbreak are brought to life on the pages with epic luminosity in the penultimate issue of THE SANDMAN: OVERTURE.
THIS WEEK ON BATTLEWORLD!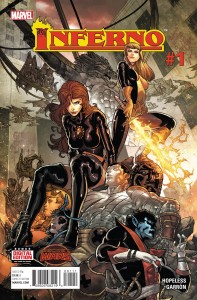 INFERNO #1
MARVEL COMICS
(W) Dennis Hopeless (A/CA) Javi Garron
• Spinning out of the universe-shattering events of Secret Wars comes a new twist on the X-Men classic that's a whole hell of a lot hotter than you remember.
•  5 years ago a band of demons rose up out of the fiery depths and turned Manhattan into Hell on Earth. The X-Men fought to vanquish the demon horde and… The X-Men failed.
•  Welcome back to the Inferno.
•  On this the fifth anniversary of Manhattan's fall, Piotr Rasputin is leading a small band of mutants back into the Inferno. Colossus doesn't know what they'll find on the other side of those flames but he knows for certain… They're not coming back without his sister.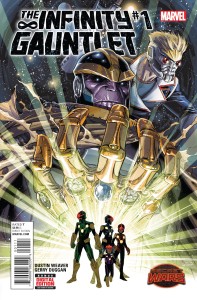 INFINITY GAUNTLET #1
MARVEL COMICS
(W) Gerry Duggan, Dustin Weaver (A/CA) Dustin Weaver
Think your life is hard? Anwen Bakian's family lives in a post-apocalyptic wasteland, scrounging for food and avoiding giant bugs intent on eating them. Mom left years ago to join the Nova force and never came back. So it's just Anwen, her dad, her sister and her grandpa against the huge insects. That is, until she finds a mysterious stone that may or may not hold incredible cosmic power. Don't miss this incredible new series by DEADPOOL writer Gerry Duggan and EDGE OF SPIDER-VERSE writer/artist Dustin Weaver that will set the cosmic table for the Marvel Universe for years to come!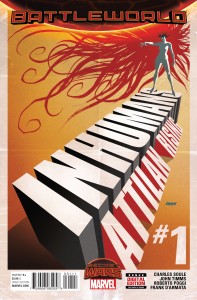 INHUMANS ATTILAN RISING #1
MARVEL COMICS
(W) Charles Soule (A) John Timms (CA) Dave Johnson
• There is a rebellion brewing on Battleworld and it stretches far and wide into every domain. Medusa, ruler of Attilan, is tasked with uncovering the leader of this uprising and scuttling it with extreme prejudice. When she discovers the leader of this rebellion is Black Bolt, however, things get complicated.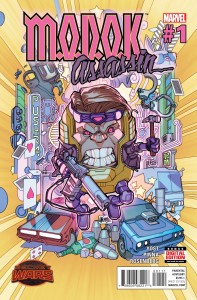 MODOK ASSASSIN #1 (OF 5)
MARVEL COMICS
(W) Christopher Yost (A) Amilcar Pinna (CA) David Lafuente
• In a world populated by the most fearsome thieves, murderers and ne'er-do-wells, there is one who is a HEAD above the rest…
•  Enter, M.O.D.O.K.: The Mental Organism Designed Only for KILLING!
•  Killville's very own Merc with a Maw is open for business! But his next job may be biting off more than he can chew…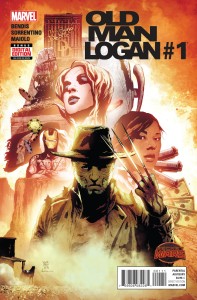 OLD MAN LOGAN #1
MARVEL COMICS
(W) Brian Michael Bendis (A/CA) Andrea Sorrentino
Enter the Wastelands…a realm where all heroes have been murdered by their arch-enemies, villains who now rule over the land with an iron fist. In the midst of this dystopian chaos, one man may make a difference…a reluctant warrior who was once the greatest mutant of all…a man known as OLD MAN LOGAN.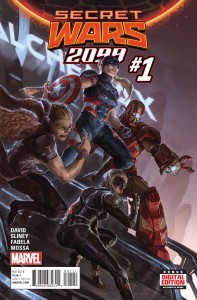 SECRET WARS 2099 #1 (OF 5)
MARVEL COMICS
(W) Peter David (A) Will Sliney (CA) Dave Rapoza
When everything ends, it's time to go back to the future. Revisit the world of 2099 and see it a whole new light, as characters who have never been seen before make their first appearances – including the AVENGERS 2099. Can the ideal of Earth's Mightiest Heroes survive in a world where mega-corporations rule with an iron fist?
SECRET WARS JOURNAL #1 (OF 5)
MARVEL COMICS
(W) Prudence Shen, Michael Rosenberg (A) Ramon Bachs, Luca Pizzari (CA) Kevin Wada
• Is LADY KATE of 1602 the nefarious HAWKEYE BANDIT who robs from the rich and gives to the poor?
•  Can an enslaved band of MUTANTS in EGYPTIA overthrow their overlord, KHONSHU?
•  Can YOU afford not to read the coolest, hippest, most continuity-important book in all of SECRET WARS??? Because this is TOTALLY THAT BOOK. But don't tell anyone. It'll be our little Secret…Wars Journal.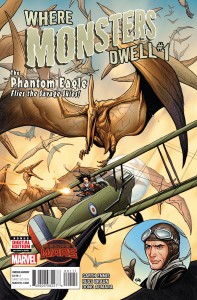 WHERE MONSTERS DWELL #1 (OF 5)
MARVEL COMICS
(W) Garth Ennis (A) Russell Braun (CA) Frank Cho
GARTH ENNIS returns to Marvel Comics proper and he's bringing his The Boys collaborator Russ Braun along with him! Fighter planes and dinosaurs collide in this raucous tale that starts with the classic Marvel character Phantom Eagle and digs much deeper!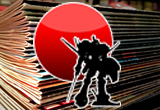 (the following list of comics reflects all the comics coming into both locations. If there's something on this list that's not in stock at your favorite BNW location do not hesitate to ask for us to order it for you!)
COMICS AND MAGAZINES
Adventure Time #40
All New Hawkeye #3
Archie Funhouse Jumbo Comics Double Digest #15
Bart Simpson Comics #96
Batman 66 #23
Big Thunder Mountain Railroad #3 (OF 5)
Big Trouble In Little China #11
Black Hood #4
Black Widow #18
Bravest Warriors Tales Holo John #1
Captain Midnight #23
Chew #49
Conan The Avenger #14
Convergence #8 (OF 8)
Convergence Action Comics #2
Convergence Blue Beetle #2
Convergence Booster Gold #2
Convergence Crime Syndicate #2
Convergence Detective Comics #2
Convergence Infinity Inc #2
Convergence Justice Society Of America #2
Convergence Plastic Man Freedom Fighters #2
Convergence Shazam #2
Convergence Worlds Finest Comics #2
Curb Stomp #4
Dark Gods #6
Deadly Class #13
Divinity #4 (OF 4)
Edward Scissorhands #8
Effigy #5
Elfquest Final Quest #9
Fight Club 2 #1
Fly Outbreak #3 (OF 5)
Frankenstein Underground #3 (OF 5)
Fubar Mother Russia #2 (OF 3)
GI Joe A Real American Hero #212 2nd Ptg
GI Joe A Real American Hero #213 2nd Ptg
God Is Dead #36
Godkiller Walk Among Us #5
Godzilla Rulers Of The Earth #24
Grindhouse Drive In Bleed Out #5 (OF 8)
Halo Escalation #18
He Man The Eternity War #6
Hellbreak #3
Hobby Japan Apr 2015
Inferno #1
Infinity Gauntlet #1
Inhumans Attilan Rising #1
Injustice Gods Among Us Year Four #2
Invincible #120
Invisible Republic #3
Iron Fist Living Weapon #12
Ivar Timewalker #5
Jem & The Holograms #2 2nd Ptg
John Carter Warlord #7
Judge Dredd #30
Kids Of The Round Table #1 (OF 4)
King Flash Gordon #4 (OF 4)
King Prince Valiant #2 (OF 4)
Knights Of The Dinner Table #220
Life After #10
Marvel Universe Ult Spider-Man Web Warriors #7
Material #1
MODOK Assassin #1 (OF 5)
Multiversity Pax Americana Directors Cut #1
Munchkin #5
Nova #31
October Faction #7
Old Man Logan #1
Outcast By Kirkman & Azaceta #9
Pastaways #3
Pisces #2
Postal #4
Powerpuff Girls Super Smash-Up #5 (OF 6)
Previews #321 June 2015
Marvel Previews June 2015 Extras
Providence #1 (OF 12)
Ragnarok #5
Red Sonja #16
Sabrina #3 Hell
Sandman Overture #5 (OF 6)
Scarlett Couture #2 (OF 4)
Secret Wars 2099 #1 (OF 5)
Secret Wars Journal #1 (OF 5)
Sex #21
Shield #6
Sonic Universe #76
Sons Of The Devil #1
Suiciders #4
Tarot Witch Of The Black Rose #92
Theyre Not Like Us #6
Tmnt Ongoing #46
Tomb Raider #16
Transformers More Than Meets Eye #41
Uber #25
Uncanny Avengers Ult Forever #1
Wayward #8
Where Monsters Dwell #1 (OF 5)
TRADE PAPERBACKS, GRAPHIC NOVELS, HARDCOVERS AND MANGA
Batgirl Tp Vol 05 Deadline
Batman Adventures Tp Vol 02
Deadpool Classic Tp Vol 11 Merc With Mouth
Deadpool Tp Vol 08 All Good Things
Deathlok Tp Vol 01 Control Alt Delete
Edward Scissorhands Tp Vol 01 Parts Unknown
Gold Digger Warnerd Of Mars Tp
Guardians 3000 Tp Vol 01 Time After Time
Nightcrawler Tp Vol 02 Reborn
Thanos Vs Hulk Tp
The Valiant Tp
Tony Takezakis Neon Genesis Evangelion Tp
Wolverines Tp Vol 02 Claw Blade And Fang
You Dont Say Gn
TOYS
DC Animated Batman Vs Robin Ninja Talon Af
DC Comics New 52 Harley Quinn Action Figure
DC Comics New 52 Poison Ivy Af
Devil May Cry Ultimate Dante 7in Af
ODDS AND ENDS
Doctor Who Tardis String Lights (BACK In Stock!)