You've been waiting years for new Invader Zim and NOW there will be an amazing Ghost Variant for the first issue!!!
Coming this July from Oni Comics!

To all those hardcore Ghost Variant collectors out there here comes Ghost Variant 19! Brought to you by artist KC Green this cover to Invader Zim #1 (by JHONEN VASQUEZ, ERIC TRUEHEART, & AARON ALEXOVICH) is an awesome homage to one of the most classic movie posters ever: Metropolis! (Can't picture it just click HERE)
HERE'S THE GHOST VARIANT!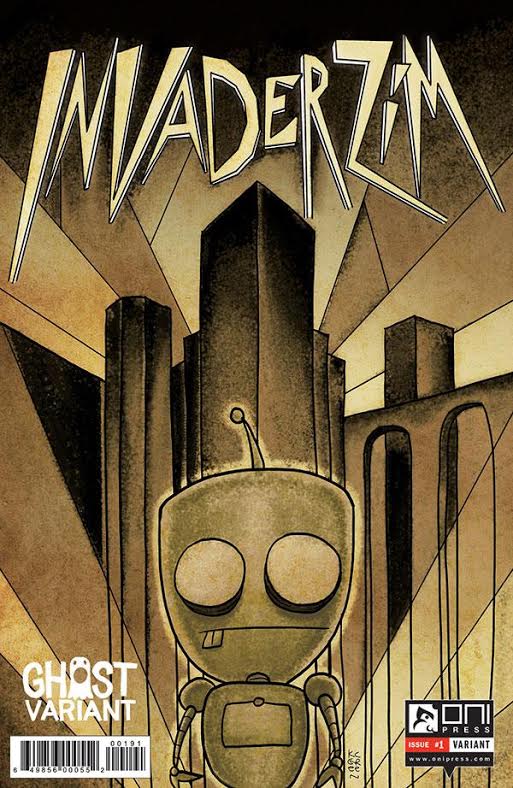 Invader Zim #1 hits shelves on Wednesday JULY 1st 8TH so don't miss it!
Remember Ghost Variants are not available at every comic shop! You'll be able to get this and other Ghost Variants ONLY AT Ghost Variant Partner Stores! (Good thing that both BNW locations are on that list!!!)
Here's more on the issue
INVADER ZIM #1
ONI PRESS INC.
(W) Eric Trueheart, Rikki Simons (A/CA) Aaron Alexovich, Megan Lawton
ZIM and his filthy evil ways have been gone for what feels like years.  But Dib KNOWS the alien menace will rear his head again, and he won't leave the house, or his 900 security monitors, until it happens.  And it WILL happen.  Oh, it WILL.