It's pretty darn hot out there…cool off with comics!

INVADER ZIM GHOST VARIANT IS COMING

GHOST VARIANNNNNNNNNNNNNNNT! (details here)
MODERN MASTERS 2015 BOOSTER DRAFTS!
Not only can you get your hands on Modern Masters 2015 booster packs but you can take part in drafts at our Willow Grove shop every Friday Night at 9:30pm!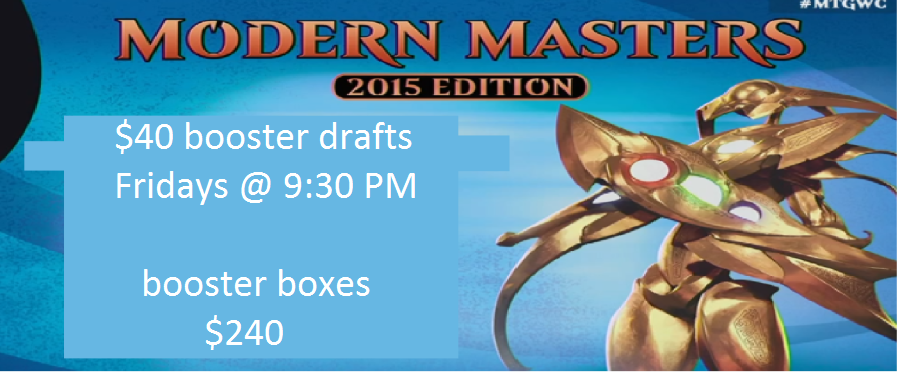 Also why the heck not buy a box! ($240+tax)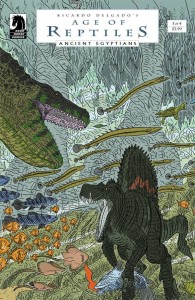 AGE OF REPTILES ANCIENT EGYPTIANS #1 (OF 4)
DARK HORSE COMICS
(W/A/CA) Ricardo Delgado
Ricardo Delgado's gorgeous and brutal Age of Reptiles series returns, marking a bold new direction in wordless storytelling! The steaming swamps of Cretaceous Africa teem with prehistoric life and primordial danger in a tale filled with villains, victims, and one of the most dangerous and unpredictable protagonists ever created: the lonely antihero Spinosaurus aegyptiacus!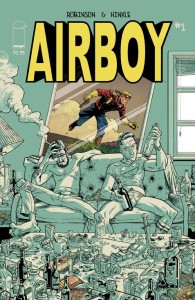 AIRBOY #1 (OF 4) 
IMAGE COMICS
(W) James Robinson (A/CA) Greg Hinkle
Worlds and minds explode in a brand-new series!

When acclaimed comics author JAMES ROBINSON (Starman, Fantastic Four) is hired to write a reboot of the 1940s action hero Airboy, he's reluctant to do yet another Golden Age reboot. Just what the hell has happened to his career-?! His marriage?! His life?! Hey, it's nothing that a drink can't fix.It's after one such night of debauchery with artist GREG HINKLE that the project really comes into its own. Quite literally. Because Airboy himself appears to set the two depraved comic book creators on the straight and narrow.
But is the task too much for our hero?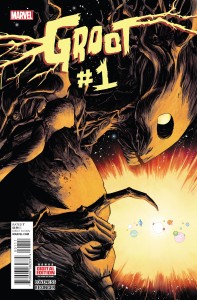 GROOT #1
MARVEL COMICS
(W) Jeff Loveness (A) Brian Kesinger (CA) Declan Shalvey
• For the first time ever, the most famous talking-tree-thing in the Marvel Universe is starring in his own series! You might recognize him from Guardians of the Galaxy, the biggest movie of 2014.
•  When Rocket and Groot are on an intergalactic roadtrip and calamity strikes, the two get separated – and for the first time in years, Groot's on his own!
•  Written by comedic ace Jeff Loveness (Jimmy Kimmel Live!) and drawn by Marvel Comics newcomer Brian Kesinger (Disney Animation), get a front row seat for EXPLOSIONS, SPACE SHARKS, ALIENS, AND INTERGALACTIC HITCHIKING (YEAH, BABY! YOU READ THAT RIGHT.)!
•  Whatever may be coming Groot's way, one thing's for sure — it's going to be a GROOT adventure!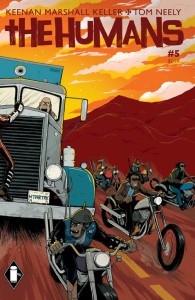 HUMANS #5 
IMAGE COMICS
(W) Keenan Keller (A/CA) Tom Neely
NEW STORY ARC!
The Humans ride protection for two truckloads of dope as they charge down CA I-5 dodging curious cops and hell-bent hijackers on a violent drug run from Oakland to L.A.! 'Nuff said.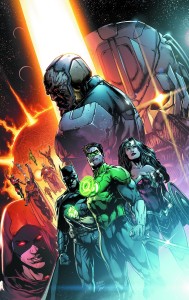 JUSTICE LEAGUE #41
DC COMICS
(W) Geoff Johns (A/CA) Jason Fabok
The critically acclaimed team of Geoff Johns and Jason Fabok present the much anticipated, extra-sized first chapter of "DARKSEID WAR"! When the Justice League investigate a series of unexplained murders on Earth, it leads them to the frontlines of a war unlike any the DC Universe has ever seen – a battle between the two most powerful villains in existence: Darkseid and the Anti-Monitor! Meet Darkseid's daughter – a mysterious force of evil with a bizarre connection to the Justice League! Plus: The horrible secret of Superwoman's baby! The ultimate temptation of Batman! Lex Luthor vs. Superman – no holds barred! New villains! New allies! And so much more in the DC Event that has been building since JUSTICE LEAGUE #1!
TRANSFORMERS VS GI JOE #7
IDW PUBLISHING
(W) Tom Scioli, John Barber (A/CA) Tom Scioli
THE WORLD AS THEY MAKE IT! Alliance are forged! Enemies are enraged! The war burns on Earth and Cybertron! And now… now the real battle begins.
BattleWorld Update!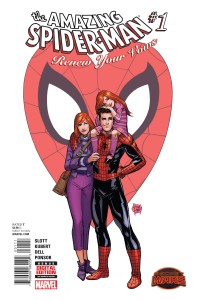 AMAZING SPIDER-MAN RENEW YOUR VOWS #1
MARVEL COMICS
(W) Dan Slott (A/CA) Adam Kubert
THE LAST SPIDER-MAN STORY
•  Not even The Amazing Spider-Man is safe from Secret Wars! In this new Marvel Universe, Peter Parker, Mary Jane Watson and their daughter have to scrape by to make ends meet, but they have each other…
•  Face front, True Believers. This is the one you've been asking for.
Rated T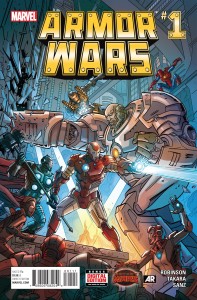 ARMOR WARS #1
MARVEL COMICS
(W) James Robinson (A) Marcio Takara (CA) Paul Rivoche
A SHADOW FALLS OVER AN ARMORED UTOPIA!
•  TECHNOPOLIS:  Amazing Domain of science and wonder created by rival genius brothers TONY AND ARNO STARK.  A utopia except…a unique disease forces EVERYONE to wear armor to live and breathe.
•  In this armored land a hero is murdered and the killer's identity a mystery Baron Tony Stark must solve.
•  But in doing so, will Technopolis be forced into a civil war?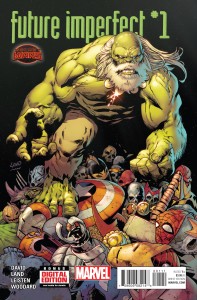 FUTURE IMPERFECT #1
MARVEL COMICS
(W) Peter David (A/CA) Greg Land
ON BATTLEWORLD, THE DICTATOR OF DYSTOPIA IS A FAMILIAR FACE!
•  THE MAESTRO rules but there are those who want him dethroned!
•  What role does RUBY SUMMERS have in the plan for this dangerous rebellion?
•  Have the rebels genuinely found ODIN, the father of The Gods, as an ally against the Maestro?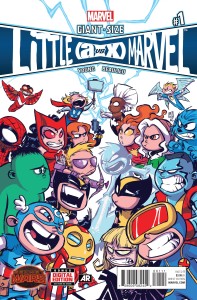 GIANT SIZE LITTLE MARVEL AVX #1
MARVEL COMICS
(W/A/CA) Skottie Young
• The toughest, funniest, craziest and most adorable Marvel heroes THROW DOWN.
•  Featuring all your favorites including Cyclops, Hawkeye, Black Widow, Wolverine! They're all there, just shorter!
•  Skottie Young brings out the big guns in the series fans have been waiting for!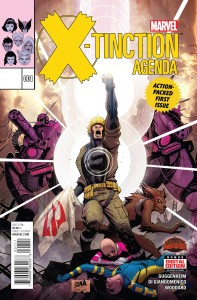 X-TINCTION AGENDA #1
MARVEL COMICS
(W) Marc Guggenheim (A) Carmine Giandomenico (CA) David Nakayama
• Ten years since the fall of Cameron Hodge and his fascist regime. Ten years that Havok and Wolfsbane have labored to rebuild Genosha. But their work may be for naught, as a plague has spread across their nation, infecting mutants and threatening their race with extinction.
•  With the country quarantined and seemingly abandoned by the rest of the world, including the X-Men, old friends may become new enemies as Genosha's rulers fight to save their people!
•  Experience an alternate future fueled by the events of the landmark first X-Crossover of 1990, X-Tinction Agenda!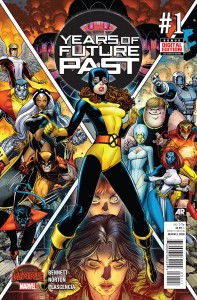 YEARS OF FUTURE PAST #1
MARVEL COMICS
(W) Marguerite Bennett (A) Mike Norton (CA) Arthur Adams
• In the dystopian nations of BATTLEWORLD, the mutants of New York City must fight to survive the rule of the Sentinels!
•  At their center is Kate Pryde, a heroine tried and tested by war, and mother of the last mutant ever to be born before the purges of the Mutant Control Act!
•  With revolution on the wind, the X-Men are not a broken team with nothing left to lose, but a desperate family with more at risk than ever before!
DC'S BACK FROM CONVERGENCE!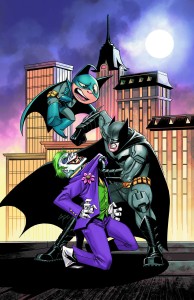 BAT MITE #1 (OF 6)
DC COMICS
(W) Dan Jurgens (A/CA) Corin Howell
Bat-Mite is here to fix the DC Universe – one hero at a time! Convinced that he's the imp that put Batman on the map, he's spreading his expertise all over the DC Universe, eager to boost the careers of heroes he thinks need his "help." Don't miss the start of this six-issue all-ages miniseries!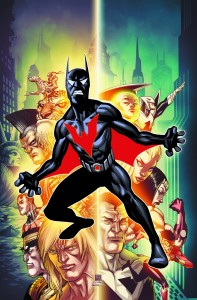 BATMAN BEYOND #1
DC COMICS
(W) Dan Jurgens (A/CA) Bernard Chang
At last, Batman Beyond gets his own ongoing series in THE definitive future of the DCU! But this isn't the Beyond you think you know! With the Justice League missing and without Bruce to guide him, this new Batman will need to explore this bizarre world on his own while fighting to raise humanity from an opponent that's already won.
The heroes Batman knew have failed, the world he knew has been turned on its head, and every step he takes will lead him either toward finding home – or further down the road of disaster!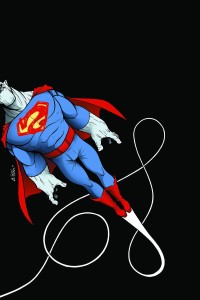 BIZARRO #1 (OF 6)
DC COMICS
(W) Heath Corson (A/CA) Gustavo Duarte
"Hate HARLEY QUINN? Then you will super hate BIZARRO! Bizarro star of worstest comic ever! Go ahead and miss it! If there's one thing this issue not have it these two things: Jimmy Olsen and Chupacabras!" Don't miss the start of this six-issue all-ages miniseries!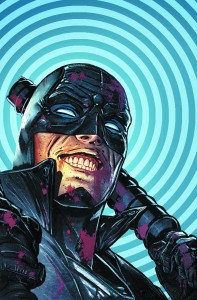 MIDNIGHTER #1
DC COMICS
(W) Steve Orlando (A/CA) Aco
Spinning out of GRAYSON comes a solo series starring the man who can predict your every move… but no one will be able to predict what he'll do next! A theft at the God Garden has unleashed a wave of dangerous biotech weapons on the world, and Midnighter intends to put that genie back in the bottle by any means necessary. But something else was stolen from the Garden as well…the secret history of Lucas Trent, the man Midnighter once was!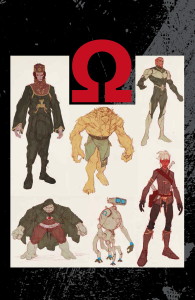 OMEGA MEN #1
DC COMICS
(W) Tom King (A) Alec Morgan (CA) Trevor Hutchinson
The Omega Men are back in an all-new series! They've murdered White Lantern Kyle Rayner and now, the universe wants them to pay! Who are these intergalactic criminals – and is there more to their actions than meets the eye?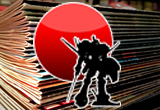 (the following list of comics reflects all the comics coming into both locations. If there's something on this list that's not in stock at your favorite BNW location do not hesitate to ask for us to order it for you!)
COMICS AND MAGAZINES
Action Comics #41
Age Of Reptiles Ancient Egyptians #1
Airboy #1 (OF 4)
All New X-Men #41
Amazing Spider-Man #18.1
Amazing Spider-Man Renew Your Vows #1
Angel And Faith Season 10 #15
Arcadia #2
Archie #666
Armor Wars #1
Autumnlands Tooth & Claw #6
Baltimore Cult Of The Red King #2 (OF 5)
Bat Mite #1 (OF 6)
Batman Arkham Knight #5
Batman Beyond #1
Big Man Plans #3 (OF 4)
Bizarro #1 (OF 6)
Broken World #1 (OF 4)
Bunker #11
Covenant #1
Crossed Badlands #78
D4ve #5 (OF 5)
Darth Vader #6
Dead Drop #2 (OF 4)
Death Vigil #7 (OF 8)
Doctor Who 12th #8
Doctor Who Magazine #486
Empty #4
Feathers #6
Flash Season Zero #9
Future Imperfect #1
Giant Size Little Marvel Avx #1
Green Arrow #41
Green Lantern #41
Groot #1
Guardians Team-Up #6
Halogen #4 (OF 4)
Humans #5
Imperium #2 2nd Ptg
Imperium #5
Jem & The Holograms #1 Plugged In Ed 2nd Ptg
Jupiters Circle #3
Justice Inc Avenger #1
Justice League #41
King The Phantom #3 (OF 4)
Lobo #7
Looney Tunes #225
Masks 2 #3 (OF 8)
Master Of Kung Fu #2 (OF 4)
Mice Templar V Nights End #3 (OF 5)
Midnighter #1
Millennium #5 (OF 5)
Morning Glories #46
Mortal Kombat X #7
My Little Pony Friends Forever #17
Nailbiter #13
Neverboy #4
Ninjak #1 3rd Ptg
Ninjak #2 2nd Ptg
No Mercy #3
Nonplayer #2 (OF 6)
Omega Men #1
Phantom #3 (OF 6)
Princess Leia #4 (OF 5)
Princess Leia #4 (OF 5)
Red Sonja Vultures Circle #5
Secret Wars #3 (OF 8)
Secret Wars Battleworld #2 (OF 4)
Simpsons Illustrated #17
Sixth Gun Valley Of Death #1 (OF 3)
Sonic Boom #8
Spider-Woman #8
Star Wars #6
Suicide Risk #25
Superior Iron Man #9
Swords Of Sorrow #2 (OF 6)
TMNT Mutanimals #4 (OF 4)
TMNT New Animated Adventures #23
Transformers Vs Gi Joe #7
Unbeatable Squirrel Girl #6
Uncanny Season 2 #3 (OF 6)
War Stories #9
Wicked & Divine #11
Wolverines #20
Wonder Woman Annual #1
Woods #13
X-Tinction Agenda #1
Years Of Future Past #1
Zero #17
TRADE PAPERBACKS, GRAPHIC NOVELS, HARDCOVERS AND MANGA
Assassination Classroom Gn Vol 04
Avengers Millennium Tp
Batman Noir The Dark Knight Returns Dlx Ed Hc
Big Trouble In Little China Tp Vol 01
Bloodshot Tp Vol 06 Glitch And Other Tales
BTVS Season 9 Library Hc Vol 02
Bunker Tp Vol 02
Criminal Tp Vol 05 The Sinners
D&Q 25 Years Of Comtemp Cartoon Comic & Graphic Novels
Dragon Ball 3in1 Tp Vol 09
Fuse Tp Vol 02 Gridlock
Grayson Hc Vol 01 Agents Of Spyral
Green Arrow Tp Vol 03 The Trial Of Oliver Queen
Justice Inc Tp Vol 01
League Of Regrettable Superheroes
Marvel Universe Ant-Man Digest Tp
Naruto Gn Vol 70
Pokemon Xy Gn Vol 03
Swamp Thing Tp Vol 06 The Sureen
Thanos Infinity Relativity Ogn Hc
TMNT Ongoing Tp Vol 11 Attack On Technodrome
Usagi Yojimbo Saga Tp Vol 03
Venom By Remender Complete Collection Tp Vol 01
ODDS AND ENDS
1966 Batman Tv Series 6in Scale Batmobile
DC Comics Cover Girls Harley Quinn Statue
Wonder Woman Art Of War Statue By David Finch