We're a month out from Age of Ultron, Free Comic Book Day and Neal Adams stopping by the Willow Grove shop! Holy Heck!

OH WHOA! NEAL ADAMS WILL BE IN WILLOW GROVE!

Wednesday May 6th 2015 is the day you get to meet Comics Legend Neal Adams! He'll be out at our Willow Grove Location and signing from 5:00Pm to 8:00pm!
SEE AVENGERS AGE OF ULTRON WITH US!

Inquire at either location about how to join us! Also do so quickly…these things tend to "sell out" very quickly!
FIGHT CLUB 2 #1!
If you pre-order Fight Club 2 issue #1 now at either BNW locations you will be entered instantly to win a signed (by Chuck Palahniuk himself!) limited edition hardcover edition of the original Fight Club novel!
Don't miss out on this opportunity! Fight Club 2 #1 comes out on May 27th so pre-order now!

FCBD!
Free Comic Book Day is almost here! Join us at both locations on Saturday May 5th for FREE COMICS and other awesome stuff!
COMICS FOR THE WEEK!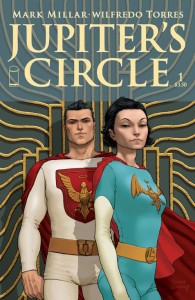 JUPITERS CIRCLE #1
IMAGE COMICS
(W) Mark Millar (A) Wilfredo Torres (CA) Frank Quitely
The most celebrated superheroes in mid-century America seem to have it all-fame, riches, adoration-but tensions simmer beneath the glossy surface, threatening to crack open the secrets behind their public AND private exploits. Before the family dynasty in JUPITER'S LEGACY began, there was JUPITER'S CIRCLE-a story about a team whose personal dramas collide with super-powered spectacle!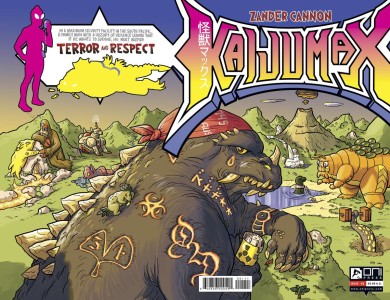 KAIJUMAX #1
ONI PRESS INC.
(W/A/CA) Zander Cannon
Welcome to Kaijumax, where the worst of the worst monsters are safely locked away from the human world, whether they be villains, anti-heroes, eco-parables, or nuclear metaphors. Electrogor is ripped away from his family and struggles to determine whom to trust, which gangs to avoid, and when to take on the big man to show you aren't to be trifled with. Also: the nation of Mecha!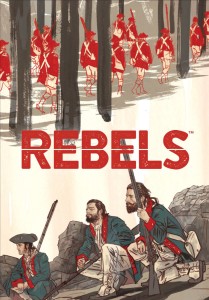 REBELS #1
DARK HORSE COMICS
(W) Brian Wood (A) Andrea Mutti (CA) Tula Lotay
In a rush of great public resistance to an oppressive and excessive government, a homegrown militia movement is formed in rural America. This is not 2015, but 1775. With the war for independence playing out across the colonies, young Seth and Mercy Abbott find their new marriage tested at every turn, as the demands of the frontlines and the home front collide.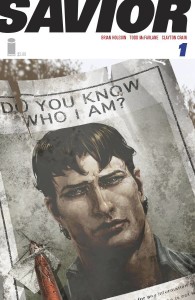 SAVIOR #1
IMAGE COMICS
(W) Todd McFarlane, Brian Holguin (A/CA) Clayton Crain
What if the MOST DANGEROUS man on Earth was also the one trying to do the MOST GOOD? The world is real. The people are normal. And then he appears!
A man appears with no background, no memory, and no place to call home. But he has powers. Powers that seem resemble those we learned about in Sunday School. Could it be?! Is it possible that this man is much, much more than that? Is it possible that he is our "SAVIOR" in the flesh? And if he is, then why doesn't he know who he is or how he got his powers?
Strip away the spandex and trappings of the traditional comic superhero and ask yourself a simple question: "How would I react if GOD suddenly appeared in front of me, but everything we had been taught about him seems out of whack?" What you would have left, beyond your own doubts, is the presence of a man who has to deal with the fact that his appearance in the world is seen as both a blessing and a curse. Some will see him as a hero, a messiah. Other will see him as an enemy because there isn't room for a person with god-like powers to disrupt the status quo of what we already believe. Some will rally behind him. Others will denounce him. But none of us will be able to ignore him.


DC'S GOT THE URGE TO CONVERGE!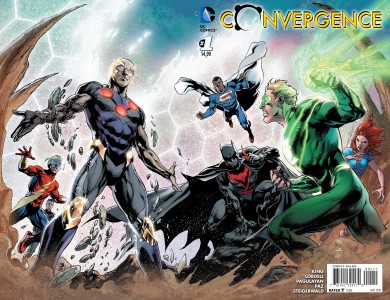 CONVERGENCE #1 (OF 8)
DC COMICS
(W) Scott Lobdell, Jeff King (A) Carlo Pagulayan, Jason Paz (CA) Ivan Reis, Joe Prado
This is it! The entire DC Universe, from the dawn of time through The New 52, must fight to survive against a threat that bends the Multiverse to its will. Your favorite characters from every era and every forgotten series are all here! But are you going to say hello again just to say goodbye forever? The stakes have never been higher as the heroes of Crisis, Zero Hour, Elseworlds, and more are brought together for Convergence!
In the first issue of this weekly series, Brainiac has collected cities of doomed and forgotten worlds, who must battle each other – and the losers will be destroyed! But why is he forcing this conflict? Join the refugees from Earth-2 as they unlock the truth behind this world that exists outside time and space and is very much alive! Is Brainiac really in control – or is this planet named Telos an unparalleled force of evil?
This extra-sized issue is packed with twists and turns and appearances you NEVER thought you'd see – including the heroes from the hit series INJUSTICE!
CONVERGENCE ATOM #1
DC COMICS
(W) Tom Peyer (A) Steve Yeowell, Andy Owens (CA) Steve Dillon
STARRING HEROES FROM THE PRE-FLASHPOINT DCU! There's a mysterious voice in Ray Palmer's head! Does that mean The Atom is going mad? To find out what's really going on, he'll have to go down a road that will pit him against the ever deadly Deathstroke!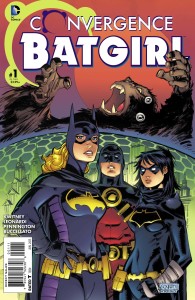 CONVERGENCE BATGIRL #1
DC COMICS
(W) Alisa Kwitney (A) Rick Leonardi & Various (CA) Rick Leonardi
STARRING HEROES FROM THE PRE-FLASHPOINT DCU! After a year living under the confinement of the dome, Stephanie Brown isn't sure she wants to be Batgirl again. But when she's attacked by Catman and Gorilla Grodd from the world of Flashpoint, she's forced to put on the cape and cowl to fight alongside Red Robin and Cassandra Cain!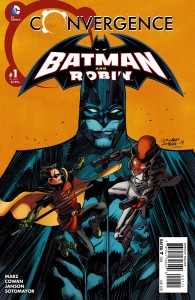 CONVERGENCE BATMAN & ROBIN #1
DC COMICS
(W) Ron Marz (A) Denys Cowan & Various (CA) Denys Cowan
STARRING HEROES FROM THE PRE-FLASHPOINT DCU! Being trapped in a domed city makes for a tense, inescapable family reunion as Batman struggles to keep the friction between Damian Wayne and Jason Todd from exploding!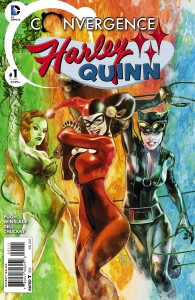 CONVERGENCE HARLEY QUINN #1
DC COMICS
(W) Steve Pugh (A) Phil Winslade, John Dell (CA) Steve Pugh
STARRING HEROES FROM THE PRE-FLASHPOINT DCU! Life for Harley Quinn has become downright normal over the last year. Will she be ready to go nuts when Catwoman and Poison Ivy draft her to fight – Captain Carrot?!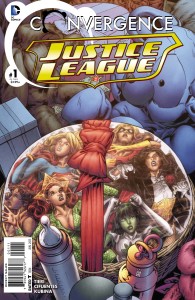 CONVERGENCE JUSTICE LEAGUE #1
DC COMICS
(W) Frank Tieri (A) Vicente Cifuentes (CA) Mark Buckingham
STARRING HEROES FROM THE PRE-FLASHPOINT DCU! The Justice League story you never expected to see begins when Supergirl, Zatanna, Vixen and Jade attend Jesse Quick's baby shower, which quickly turns into a life-and-death struggle with Flashpoint Aquaman!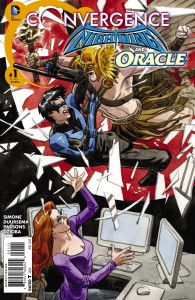 CONVERGENCE NIGHTWING ORACLE #1
DC COMICS
(W) Gail Simone (A) Jan Duursema, Dan Parsons (CA) Jill Thompson
STARRING HEROES FROM THE PRE-FLASHPOINT DCU! Just as they've finally been reunited, the romance between Dick Grayson and Barbara Gordon is sentenced to execution by Flashpoint Hawkman and Hawkwoman!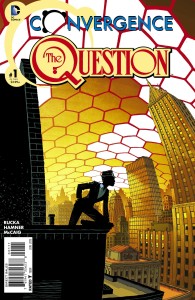 CONVERGENCE QUESTION #1
DC COMICS
(W) Greg Rucka (A/CA) Cully Hamner
STARRING HEROES FROM THE PRE-FLASHPOINT DCU! Two-Face is fighting another world's Harvey Dent, and it's up to Renee Montoya as The Question to help him beat the odds.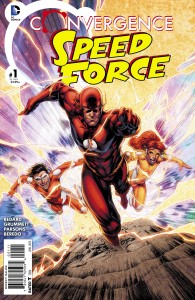 CONVERGENCE SPEED FORCE #1
DC COMICS
(W) Antony Bedard (A) Tom Grummett, Sean Parsons (CA) Brett Booth, Norm Rapmund
STARRING HEROES FROM THE PRE-FLASHPOINT DCU! The fastest family alive loses its powers as Wally West and his kids face an uncertain future while trapped away from home. Will they be able to outrun the chaos that follows the arrival of Flashpoint Wonder Woman? Plus, don't miss the most unexpected Zoo Crew character of all!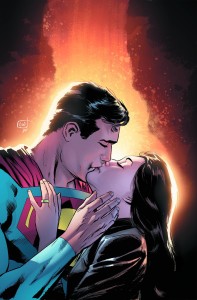 CONVERGENCE SUPERMAN #1
DC COMICS
(W) Dan Jurgens (A/CA) Lee Weeks
STARRING HEROES FROM THE PRE-FLASHPOINT DCU! A powerless Superman is called upon to protect Gotham City…and his pregnant wife Lois Lane!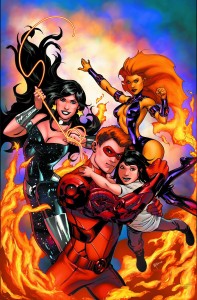 CONVERGENCE TITANS #1
DC COMICS
(W) Fabian Nicieza (A) Ron Wagner, José Marzan (CA) Emanuela Lupacchino
STARRING HEROES FROM THE PRE-FLASHPOINT DCU! Starfire and Donna Troy track down Arsenal, who had retreated after the loss of his arm and the death of his daughter – but what they find is more terrifying than they ever could have expected!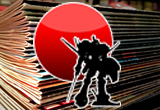 (the following list of comics reflects all the comics coming into both locations. If there's something on this list that's not in stock at your favorite BNW location do not hesitate to ask for us to order it for you!)
COMICS AND MAGAZINES
Abe Sapien #22  




Adventure Time Marceline Gone Adrift #4 (




All New Hawkeye #2 




Angela Asgards Assassin #5




Ant-Man #4      




Arrow Season 2.5 #7   




Astro City #22  




Avengers Millennium #2 (OF 4)  




Avengers World #19




Back Issue #79




Batman Arkham Knight #2




Battlestar Galactica Six #2 (OF 5)




Bee And Puppycat #8 




Big Man Plans #2 (OF 4)




Bill & Ted Most Triumphant Return #2 (OF 6)     




Birthright #6       




Bravest Warriors #31     




Bucky Barnes Winter Soldier #7 




Captain Marvel #14 




Coffin Hill #17




Comic Book Creator #7




Convergence #1 (OF 8)




Convergence Atom #1 




Convergence Batgirl #1 




Convergence Batman & Robin #1  




Convergence Harley Quinn #1  




Convergence Justice League #1   




Convergence Nightwing Oracle #1 




Convergence Question #1 




Convergence Speed Force #1          




Convergence Superman #1                 




Convergence Titans #1 




Copperhead #6          




Danger Club #8   




Darth Vader #4   




Deadpool #45




Deep State #5 




Descender #2




Doctor Who Magazine #484 




Edward Scissorhands #6 




Elephantmen #63




Escape From New York #5




Evil Empire #12 




Evil Ernie #6




Fables The Wolf Among Us #4




Famous Monsters Of Filmland #279




Feathers #4   




Five Ghosts #16   




Guardians 3000 #7                                        




Help Us Great Warrior #3          




Hobby Japan Feb 2015




Howard The Duck #2 




Hulk #14  




Imperium #3




Jim Butcher Dresden Files Down Town #3 (OF 6)




Jughead & Archie Comics Double Digest #11




Jungle Girl Season 3 #1 (OF 4)




Jupiters Circle #1




Kaijumax #1




Knights Of The Dinner Table #219




Lady Demon #4




Legacy Of Luther Strode #1




Legenderry Green Hornet #3 (OF 5)




Marvel Universe Avengers Assemble Season Two #6  




Masks 2 #1 (OF 8)




Max Ride First Flight #1 (OF 5)   




Miles Morales Ultimate Spider-Man #12 




Mortal Kombat X #5 




Mouse Guard Legends Of Guard Vol 03 #2 (OF 4)




My Little Pony Fiendship Is Magic #2 




Nameless #3 




New Vampirella #11




Odyc #4




One Hit Wonder #5 (OF 5)




Parallel Man #7 (OF 7)




Rai #8




Rat Queens #10




Reanimator #1 (OF 4)  




Rebels #1




Red Sonja Vultures Circle #4




Robocop 2014 #10




Rock & Roll Biographies Slayer 




Saga #27




Savior #1




Scooby Doo Where Are You #56                             




Shield #4




Sleepy Hollow Origins #1




Sonic Boom #6




Sonic The Hedgehog #271 




Southern Cross #2




Spider-Man 2099 #11   




Spider-Woman #6




Spongebob Comics #43  




Star Trek Planet Of The Apes #5 (OF 5)  




Storm #10        




Surface #2




Teen Dog #8




Theyre Not Like Us #2 2nd Ptg




Transformers More Than Meets Eye #39




Transformers Vs GI Joe #6  




Walking Dead #140




Wasteland #60




X #24 
TRADE PAPERBACKS, GRAPHIC NOVELS, HARDCOVERS AND MANGA
Astro City Family Album Tp New Ed




Avengers By Jonathan Hickman Hc Vol 01 




Avengers Ultron Unbound Tp  




Captain America Tp Vol 04 Iron Nail 




Captain Marvel Tp Vol 02 Stay Fly 




Crossed Tp Vol 12




Deadlands Dead Mans Hand Tp




Deathstroke The Terminator Tp Vol 01 Assassins 




Harley Quinn Hc Vol 02 Power Outage




Harley Quinn Tp Vol 01 Hot In The City




Jupiters Legacy Tp Vol 01 




Lego Star Wars In 100 Scenes Hc




Miracleman Prem Hc Book 03 Olympus




Monster Tp Vol 04 Perfect Ed Urasawa 




Mortal Kombat X Tp Vol 01 




Neil Gaiman Chus Day At Beach Hc




New Avengers By Jonathan Hickman Hc Vol 01              




Norman Hc Vol 01 (OF 4)




Sensation Comics Featuring Wonder Woman Tp Vol 01       




Sheltered Tp Vol 03




Sinergy Tp   




Star Trek Ongoing Tp Vol 09 Q Gambit 




Star Wars Legends Epic Collection Tp Vol 01 Empire




Tmnt Ghostbusters Tp 




Transformers Tp Vol 07  




Translucid Tp   




William Shakespeare Forsooth Phantom Menace Hc 




Zenith Hc Phase Three 
TOYS
Flash Action Figure

Age Of Ultron Pops have started rolling in! Keep your eyes peeled for more!

ODDS AND ENDS
Batman 1966 Joker Bust Bank 




Batman Black & White Statue By Dave Johnson




DC Batman Auto Fig Mag #55 Detective #421 Batcopter      




DC Superhero Chess Fig Coll Mag #80 Johnny Quick




DC Superhero Chess Fig Coll Mag #81 Batman Beyond  




Marvel Chess Fig Coll Mag #30 Ultron 




Marvel Chess Fig Coll Mag #31 Klaw




SW R2-D2 Silicone Tray