Keep on top of what's coming out this coming Wednesday!

NEW MAGIC!
The latest Magic set is out TODAY! Get your hands on Dragons of Tarkir NOW!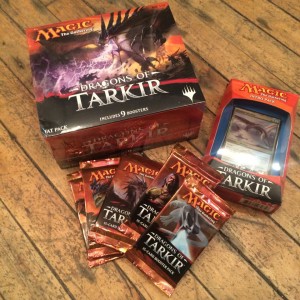 PLAY NEW MAGIC!
Now that the new set is out head on over to our Willow Grove location for a launch tournament!  DETAILS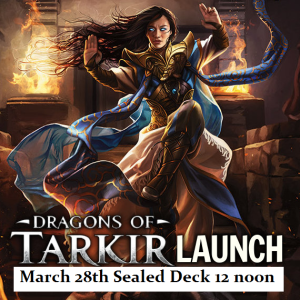 SEE AGE OF ULTRON WITH US!

You know you wanna! Swing by either BNW ASAP and get your hands on a ticket for our latest private screening event! Tickets will be first come first served so be sure not to sleep on this one!
DON'T FORGET TO PRE-ORDER FIGHT CLUB!
AVENGERS ALL OVER THE PACE! OH AND RICK AND MORTY!

Avengers Stuff!
AVENGERS ULTRON FOREVER #1
MARVEL COMICS
(W) Al Ewing (A/CA) Alan Davis
PART 1 OF 3 – THE START OF A THREE-PART AVENGERS EVENT!
•  500 years into the future, Ultron has won. Humanity is all but extinct – dead or enslaved by the Ultron Singularity.
•  Now, seven Avengers are brought through time by Doctor Doom to battle the machine god for the fate of the cosmos… or die trying!
•  It begins here – an epic adventure spanning the past and future of the Avengers!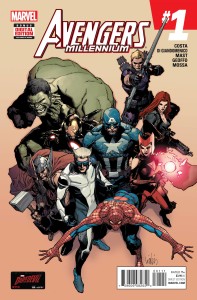 AVENGERS MILLENNIUM #1 (OF 4)
MARVEL COMICS
(W) Mike Costa (A) Carmine DiGiandomenico (CA) Leinil Francis Yu
• At a secret Hydra installation hidden away in rural Japan, the Avengers discover a time-portal that sends them on an adventure that spans millennia. But what kind of bad guys have a time machine they don't use to change the past? Bad guys who know they win…
•  The only thing standing between our immutable past and our wasted, ruined future are the Avengers, finally reunited to battle a doomsday weapon thousands of years in the hatching.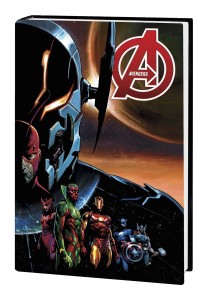 AVENGERS RAGE OF ULTRON OGN HC
MARVEL COMICS
(W) Rick Remender (A) Jerome Opena, Pepe Larraz (CA) Jerome Opena
It was another glorious victory for the Mighty Avengers. Good triumphed over evil and Ultron was shot into space, never to be seen again. Or so they thought. Now, years later, the homicidal artificial intelligence – so long devoted to ending life on Earth – has found a new world to conquer… one with its own horrific legacy. When Titan, birthplace of Thanos, falls, Planet Ultron rises in its place! Thanos' brother Starfox must seek the aid of his former allies – but the Avengers he finds are radically different from the ones he once knew. Among them is Ultron's creator Giant-Man – and when Hank Pym confronts his now planet-sized "son," the responsibilities of fatherhood have never loomed so large. Rick Remender (UNCANNY AVENGERS) and Jerome Opeña (AVENGERS) unleash the full robotic rage of Ultron on Earth's Mightiest Heroes!
DC ANNUALS!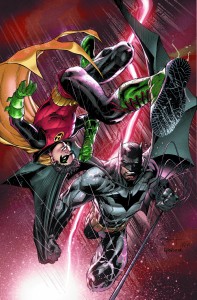 BATMAN AND ROBIN ANNUAL #3
DC COMICS
(W) Peter J. Tomasi (A) Juan Jose Ryp (CA) Ardian Syaf, Guillermo Ortego
After a year that included death, resurrection and battles with the forces of Apokolips, it's time for Batman and Robin to get back to basics both as father and son and partners in crimefighting. But have the events of the past year left too great a rift for them to bounce back from?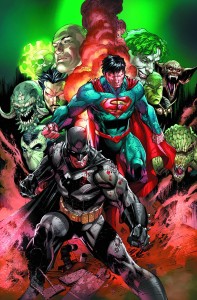 BATMAN SUPERMAN ANNUAL #2
DC COMICS
(W) Greg Pak (A/CA) Ardian Syaf, Jonathan Glapion
Superman and Batman have defeated the menace that was targeting the Man of Steel for months, but not before he set something deadly in motion – their greatest foes have been given the means to kill Clark Kent. And for Clark, time is running out.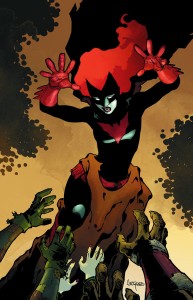 BATWOMAN ANNUAL #2
DC COMICS
(W) Marc Andreyko (A) Georges Jeanty, Karl Story (CA) Georges Jeanty
How did Batwoman find herself in space fighting Morgan Le Fey? How did she find herself accompanied by allies as strange as Clayface, Ragman, Etrigan the Demon and her own sinister sister Red Alice?! All the answers are here in the final chapter of the Unknowns saga!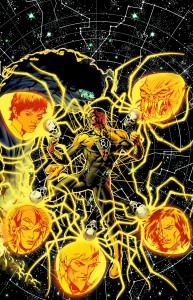 SINESTRO ANNUAL #1
DC COMICS
(W) Cullen Bunn (A) Martin Coccolo (CA) Dale Eaglesham
A traitor lurks among the Sinestro Corps, and only by delving into the never-before-revealed origins of the team can Sinestro learn the truth – before his head ends up on a platter!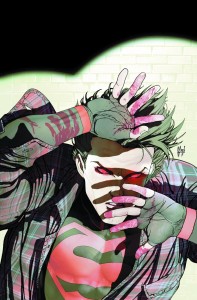 TEEN TITANS ANNUAL #1
DC COMICS
(W) Will Pfeifer, Tom King (A) Alisson Borges (CA) Guillem March
The Titans deal with Superboy's return to the team – and the trail of destruction that he's left in his wake..
RICK AND MORTY IS HERE!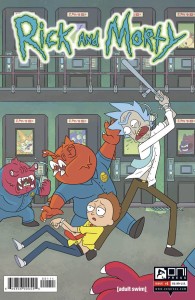 RICK & MORTY #1
ONI PRESS INC.
(W) Zac Gorman (A) CJ Cannon (CA) Ryan Hill
Dan Harmon & Justin Roiland's hilarious hit Adult Swim animated show RICK & MORTY now has its own comic book series from Oni Press! Join degenerate superscientist Rick Sanchez as he embarks on all-new insane adventures with his awkward grandson Morty, his teenage granddaughter Summer, his veterinary surgeon daughter Beth, and his hapless son-in-law Jerry. In this issue: Part One of "The Wubba Lubba Dub Dub of Wall Street"!
SHIPPING LIST!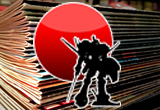 (the following list of comics reflects all the comics coming into both locations. If there's something on this list that's not in stock at your favorite BNW location do not hesitate to ask for us to order it for you!)
COMICS AND MAGAZINES
All New X-Men #39




Amazing Spider-Man #17   




Angel And Faith Season 10 #13




Archie Jumbo Comics Digest #260       




Arkham Manor Endgame #1  




Army Of Darkness Vol 4 #5 (OF 5)




Avengers #43 




Avengers Millennium #1 (OF 4)   




Avengers Ultron Forever #1 




Batman And Robin Annual #3   




Batman Eternal #52     




Batman Superman Annual #2          




Batwoman Annual #2   




Black Science #13




BSG Death Of Apollo #5 (OF 6)




Cluster #3            




Convergence #0  




Cyclops #12




Dark Tower Drawing Three House Cards #2 (OF 5)




Darth Vader #1 2nd Ptg




Darth Vader #2 2nd Ptg 




Dead At 17 Blasphemy Throne #7 (OF 7) 




Deathstroke #3 2nd Ptg     




Descender #1 2nd Ptg




Disney Frozen Adaptation #1 2nd Ptg 




Doctor Who 9th #1 (OF 5)




Dying And The Dead #2




Earth 2 Worlds End #26 




Empty #1 2nd Ptg




Feathers #4   




Flash Season Zero #7   




Galaxy Quest Journey Continues #3 (OF 4) 




Garfield #36 




George Romeros Empire Of Dead Act Three #1 Of(5)




GI Joe (2014) #7 




GI Joe A Real American Hero #212 




God Hates Astronauts #7




Gotham Academy Endgame #1 




Graveyard Shift #4 (OF 4)




Guardians Of Galaxy Best Story Ever #1   




Guardians Team-Up #4   




Halogen #2 (OF 4)   




Harley Quinn #16  




Hellboy And The BPRD #5 (OF 5)




Hi Fructose Magazine Quarterly #35




Hinterkind #17




Iron Fist Living Weapon #11




IXth Generation #3




Kanan Last Padawan #1  




Lady Death Apocalypse #3 




Lady Killer #4         




Legenderry Green Hornet #2 (OF 5) 




Lil Depressed Boy Supposed To Be There Too #4




Looking For Group #1




Looney Tunes #224 




Marvel Previews April 2015 Extras 




Millennium #3 (OF 5) 




My Little Pony Fiendship Is Magic #1




Nailbiter #11




Names #8 (OF 9)




Neverboy #2   




New 52 Futures End #48 




No Mercy #1   




Nonplayer #1 (OF 6) 3rd Ptg




Operation Sin #4 (OF 5)   




Pathfinder Origins #3 (OF 6)




Penny Dora & The Wishing Box #4 (OF 5)  




PS Blackcross #2 (OF 6) 




Punisher #17    




Rat God #3 (OF 5) 




Return Of Living Deadpool #3 (OF 4) 




Rick & Morty #1




Robert E Howards Savage Sword #10 




Rocket Raccoon #10      




Shadow Show #5 (OF 5)  




Simpsons Illustrated #16         




Sinestro Annual #1  




Southern Bastards #8 




Spider-Gwen #1 2nd Ptg




Spider-Gwen #3




Star Wars #1 4th Ptg




Superman Wonder Woman #17      




Tech Jacket #9    




Teen Titans Annual #1   




UFOlogy #1




Uncanny Avengers #3




Uncanny Inhumans #0  




Uncanny Season 2 #1 (OF 6)




Walking Dead Magazine #12 Px Ed 




War Stories #7




Weird Love #6   




Wolf Moon #5 (OF 6)




Wolverines #13  




Wonder Woman #40  




Woods #12  




X-Files Season 10 #22     




X-O Manowar #35



TRADE PAPERBACKS, GRAPHIC NOVELS, HARDCOVERS AND MANGA
Adventure Time Original Gn Vol 05 Graybles Schmaybles




Avengers Everybody Wants Rule World Prose Novel Hc




Avengers Rage Of Ultron Ogn Hc 




Avengers Scarlet Witch By Abnett And Lanning Tp




Blade Of The Immortal Tp Vol 31 Final Curtain




Brodys Ghost Tp Vol 06 




Casanova Complete Ed Hc Vol 03 Avaritia




Comic Book Film Adaptation Hc   




Copra Tp Round Two 




DC Comics Zero Year Tp




Deep State Tp Vol 01     




Demo Tp




Empowered Unchained Tp Vol 01




Flash A Celebration Of 75 Years Hc




GI Joe A Real American Hero Tp Vol 11   




Glorkian Warrior Gn Vol 02 Eats Adventure Pie 




Groo Vs Conan Tp




Goon Tp Vol 14 Occasion Of Revenge




Lone Wolf & Cub Omnibus Tp Vol 08 




Lumberjanes Tp Vol 01   




Meet The Marvel Super Heroes Hc 2nd Ed




New Teen Titans Tp Vol 02  




Vagabond Vizbig Ed Tp Vol 12




Wonder Woman Hc Vol 06 Bones




Wonder Woman Tp Vol 05 Flesh 



TOYS
Arrow Dark Archer Af 




Arrow Deadshot Af     




Avengers 6in Infinite Legends Af Asst 201501




Batman Animated BAS Man Bat Af  




Batman Animated BAS Robin Af  




Batman Animated BAS The Joker Af   




Marvel Select Carnage Af 




ODDS AND ENDS
Alien Titans Mini Fig Blind Box




Batman Black & White Statue By Francis Manapul