It's Saturday. It's warming up and Thursday's snow is melting. We've also made it through a week of March already. Here's what'll be out for the 2nd new comic day for the month!


Han Solo's close call…
Last week we lost one of Sci-Fi's greatest…and just the other day another one escaped by the skin of his teeth (which truly falls into step with most of his characters). Harrison Ford crashed a single engine WWII plane (a 1942 Ryan Aeronautical ST3KR for those who like that sorta info) on a golf course in California on Thursday…while we were all hunkered down because of that annoying snow. Thankfully he's alive and just a bit battered and bruised. My favorite bit from all this is that he's crash a plane before and walked away.
Nice try Fett. You may have defeated the Sarlacc, climbed outta the Great Pit of Carkoon, waited patiently biding your time all of these years but it'll take more than that to capture Solo.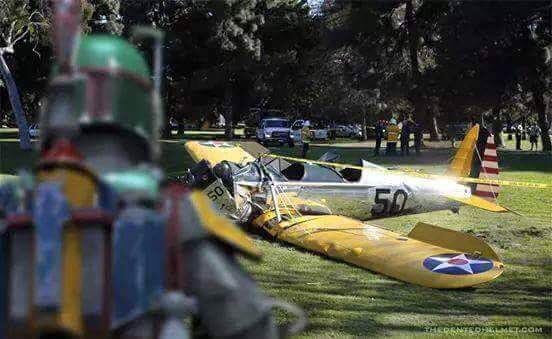 There's A Magic Pre-Release Coming Once Again To Willow Grove!

Join us at our Willow Grove location the third weekend of March when we will be running 3 Prerelease events for the next Magic set, Dragons of Tarkir!
More details over HERE
You See That New Avengers Trailer?!
We'll assume you did but here it is again just for good measure!


COMICS!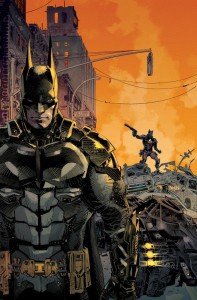 (
because this game looks insane!
)
BATMAN ARKHAM KNIGHT #1
DC COMICS
(W) Peter J. Tomasi (A) Viktor Bogdanovic, Art Thibert (CA) Dan Panosian
The Joker is dead. Arkham City is closed. As a new day begins, Bruce Wayne finds himself in devastating pain, recovering from his injuries and questioning whether his role as Batman is still necessary to the city's survival. But as the sun rises in Gotham City, dangerous new threats emerge from the shadows…and the Arkham Knight is just beginning. Don't miss this in-continuity prequel comic set prior to the events of the brand-new video game Batman: Arkham Knight!.
BILL & TED MOST TRIUMPHANT RETURN #1 (OF 6)
BOOM! STUDIOS
(W) Brian Lynch, Ryan North (A) Jerry Gaylord, Ian McGinty (CA) Felipe Smith
WHY WE LOVE IT: Similar to our Big Trouble in Little China comics, we're returning readers to one of our favorite-and most excellent-cult-classic properties with a new Bill & Ted adventure of epic proportions. And because we're fans first, we're making sure it's something WE would read. Wyld Stallyns forever!
WHY YOU'LL LOVE IT: If you're a fan of the films, our comics will pick up where they left off. Main creative team Brian Lynch (Angel: After the Fall) and Jerry Gaylord (Fanboys vs. Zombies) bring you all the silly humor and likable characters mixed with some cool historical science fiction you love! Plus, each story will have a backup adventure! This issue features a tale of tech terror by Ryan North (Adventure Time) and Ian McGinty (Bravest Warriors)!
WHAT IT'S ABOUT: Following the time-traveling historic epic of Excellent Adventure and the turbulent life and death of Bogus Journey, Bill and Ted must now fulfill their destiny as the inspiration for galactic harmony! How can someone hate the Wyld Stallyns as much as the evil Chuck De Nomolos? With the power of time travel, Bill and Ted set their sights on turning a young 27th-century Nomolos' non-nonheinous attitude into something most outstanding and metal!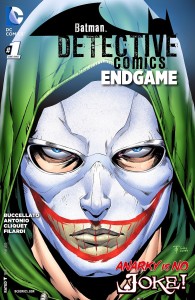 (an Endgame tie in!)
DETECTIVE COMICS ENDGAME #1
DC COMICS
(W) Brian Buccellato (A) Roge Antonia (CA) Rafael Albuquerque
The city is overrun by Jokerized victims, but a small band of teenagers unites to take a stand. Their secret knowledge of Gotham City's streets helps them survive, but will Batman take help from this young group of upstarts? And what could it mean for the future of the young heroes in Gotham City?
(breaking people outta hell? you have my attention)
HELLBREAK #1
ONI PRESS INC.
(W) Cullen Bunn (A/CA) Brian Churilla
There are thousands of Hells, each unique, each terrible. Mega-cities ruled by vicious gangs. Empires where the most perverse are well-respected. Wastelands roamed by prehistoric monstrosities. With the proper tools and know-how… you can infiltrate Hell whether you're dead or not. With the proper tools and know-how, you can break out. Project Kerberos has developed this forbidden technology, and a special forces extraction team is dispatched to rescue lost souls from the infernal realm.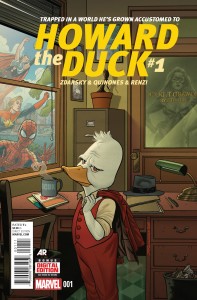 (because you know you're gonna read it)
HOWARD THE DUCK #1
MARVEL COMICS
(W) Chip Zdarsky (A/CA) Joe Quinones
• HOT off the pages of the … the post-credits scene at the … the end of a … popular movie … HOWARD THE DUCK is back! Join him as he takes on the weird cases that only a talking duck can crack as the Marvel Universe's resident private investigator!
•  Let Sex Criminals' CHIP ZDARSKY (a writer known mostly as an artist) and JOE QUINONES (an artist known mostly as a lover) guide you through his new world as he takes on THE BLACK CAT and MYSTERIOUS FORCES FROM OUTER SPACE!
•  WAUGH!
(Ghosts, ships, horror?! Yes please.
GHOST VARIANT
)
SOUTHERN CROSS #1
IMAGE COMICS
(W) Becky Cloonan (A) Andy Belanger (CA) Becky Cloonan
NOW BOARDING: Southern Cross, tanker flight 73 to TITAN!
Alex Braith is on board retracing her sister's steps to the refinery moon, hoping to collect her remains and find some answers. The questions keep coming though-how did her sister die? Where did her cabin mate disappear to? Who is that creep across the hall? And why does she always feel like she's being watched? Inspired by classic mysteries and weird fiction, SOUTHERN CROSS is a crucible of creeping anxiety and fear as Braith struggles with the ghosts of her past on board a ship that holds secrets best kept buried.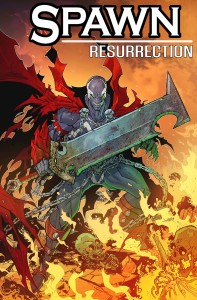 (Same old Spawn…or is it?!)
SPAWN RESURRECTION #1
IMAGE COMICS
(W) Paul Jenkins (A/CA) Jonboy
    NEW TEAM! NEW DIRECTION!
The return of Al Simmons, and the start of a brand new era for SPAWN!
No one quite knows where Al's been all this time, but it's clear he's come back a changed man. Wiser, stronger, and with the memories from an experience that's he's still struggling to understand. Tucked away in a crime-ridden corner of New York City, he's beginning to forge new alliances, preparing defenses, and testing out his newly acquired powers… because there's a battle coming, and it's something that makes the Heaven/Hell thing seem like a petty squabble. So just who did Al piss off so badly while he was away?Paul Jenkins has replaced Brian Wood to be the next writer of SPAWN. Comics veteran Jenkins will be joining previously announced artist Jonboy Meyers starting with SPAWN: RESURRECTION, before the team takes over the regular series with SPAWN #251!
SECOND PRINTING!!!
(new printing for new powers!)
SUPERMAN #38 2ND PRINTING
DC COMICS
(W) Geoff Johns (A/CA) John Romita, Klaus Janson
An extra-sized special issue of the world's greatest hero brings in the New Year with a new costume, new powers and new friends and enemies! The epic team of Geoff Johns, John Romita Jr. and Klaus Janson conclude their first arc with twist after twist that will send Superman onto a new path and force Clark Kent to making a shocking decision! Plus: John Romita Jr. draws Batman!
IMAGE COMICS
(W) Ales Kot (A/CA) Langdon Foss, Jordie Bellaire
What would happen if Moebius and District 9 had a baby? Maybe THE SURFACE!
Welcome to Africa. Ebola is no longer a problem. The West and the East are moving in-and three hacker lovers are searching Tanzania for the place that can change everything: THE SURFACE!
The first issue of a mind-bending action SF epic drawn by the esteemed LANGDON FOSS (Get Jiro!, Winter Soldier) and colored by the Eisner-winning JORDIE BELLAIRE (everything)! THE SURFACE!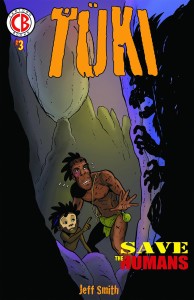 (If you haven't started this series yet now is the time!)
TUKI SAVE THE HUMANS #3
CARTOON BOOKS
(W) Jeff Smith
Enter Kwarell! The adventure continues in Tuki's third action packed issue when he rescues three hostages from the clutches of a giant! But one of the creatures he frees just may be someone he'd like to forget. Surprises fill this game-changing issue of Tuki: Save the Humans (Winner National Cartoonists Society Reuben Award)!
 COLLECTIONS!
IMAGE COMICS
(W) Keenan Keller (A/CA) Tom Neely
Follow the Humans as they deal out beatings, cook drugs, party endlessly, and struggle to keep their turf and status amongst the numerous outlaws, rival gangs, and bonafide killers.  All of whom are trying to take their spot at the top of the heap.Plus: pin-ups by BENJAMIN MARRA, JOHNNY RYAN, SKINNER, KATIE SKELLY, KRISTINA COLLANTES, BELA DEHM, and some other goodies thrown in too.RIDE OR DIE! READ OR DIE!!! RIP UP THE STREETS!!!! HUMANS FOR LIFE! HUMANS TIL DETH!!!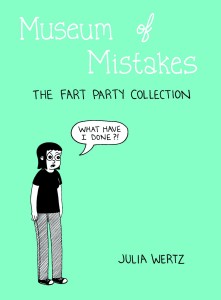 (Julia Wertz is one of Rob big time faves!)
MUSEUM OF MISTAKES FART PARTY COLLECTION TP
ATOMIC BOOK COMPANY
(W/A/CA) Julia Wertz
In 2004, Julia Wertz began a series of funny, irreverent autobiographical comics she called "The Fart Party." After posting these comics online at fartparty.org to acclaim and controversy. She eventually started collecting these comics as self-published minis which found their way to Atomic Books in Baltimore who thought they ought to be collected into a proper book so as to garner Julia more laughs and hate mail. As these things go, the first volume was so successful, there was a second volume. Both are out of print, but Museum of Mistakes collects them into one book, plus numerous pages of Julia's early comic work, unpublished and/or previously uncollected comics, short stories, illustrations, process pages, hate mail, sketchbook pages, tear stains, and more.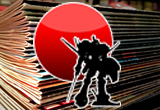 COMICS AND MAGAZINES
Abe Sapien #21     




Action Comics #40




Adventure Time Marceline Gone Adrift #3 




All New X-Men #37 




Altered States Red Sonja One Shot    




Amazing Spider-Man #16     




Amazing Spider-Man Special #1




Ant-Man #3  




Archie #665




Arrow Season 2.5 #6     




Astro City #21            




Batman Arkham Knight #1 




Batman Eternal #49          




Bee And Puppycat #7 




Big Trouble In Little China #9     




Bill & Ted Most Triumphant Return #1 (OF 6) 




Captain Marvel #13         




Casanova Acedia #2 




Coffin Hill #16




Constantine #23     




Dead Letters #8  




Deadpool #43 




Detective Comics Endgame #1  




Doctor Who Magazine #483 




Earth 2 Worlds End #23        




East Of West #18   




Escape From New York #4 




Fables The Wolf Among Us #3 




Fantastic Four #644




FBP Federal Bureau Of Physics #19 




Ghosted #18




Green Lantern Corps #40 




Guardians Team-Up #2     




Hellbreak #1 




Help Us Great Warrior #2




Hexed #8  




Holy F*ck #3 




Howard The Duck #1     




Injustice Gods Among Us Year Three #11 




Jim Butcher Dresden Files Down Town #2 (OF 6)   




Justice League United #10 




King Flash Gordon #2 (OF 4)  




Klarion #6                                               




Magnus Robot Fighter #12




Miles Morales Ultimate Spider-Man #11 




Mortal Kombat X #4 




Mouse Guard Legends Of Guard Vol 03 #1 (OF 4)




Ms Marvel #13




Multiversity Guidebook #1 2nd Ptg




New 52 Futures End #45




New Avengers #31 




New Suicide Squad #8




New Vampirella #10




Ninjak #1




Nova Annual #1 




Pathfinder Origins #2 (OF 6)




Postal #2




Rachel Rising #32   




Ragnarok #4 




Scooby Doo Where Are You #55 




Shaft #4 




Sheltered #15




Shutter #10




Sidekick #10




Silver Surfer #10




Sinergy #5 




Sketch Magazine #44




Smallville Season 11 Continuity #4 (OF 4)    




Sonic Boom #5




Sonic The Hedgehog #270 




Southern Cross #1     




Spawn Resurrection #1




Spider-Gwen #2 




Spider-Man 2099 #10




Spider-Man And X-Men #4  




Spongebob Comics #42




Star Trek Ongoing #43




Star Wars #2 2nd Ptg




Star Wars #3   




Superior Iron Man #6 




Superman #38 2nd Ptg  




Surface #1




Teen Dog #7




Thor #2 3rd Ptg




Thor #6 




Tuki Save The Humans #3  




Unity #16




Walking Dead #138




War Stories #6 




Wolverines #10 




Worlds Finest #32 




X #23



TRADE PAPERBACKS, GRAPHIC NOVELS, HARDCOVERS AND MANGA
Astro City Victory Tp    




Avengers Quicksilver Tp   




Batman Beyond Justice Lords Beyond Tp     




Copperhead Tp Vol 01 A New Sheriff In Town 




Deadpool Tp Vol 07 Axis 




Final Incal Hc 




George Romeros Empire Of Dead Tp Act Two 




God Is Dead Tp Vol 04 




Godzilla Cataclysm Tp  




Humans Tp Vol 01 Humans For Life 




Justice League Tp Vol 05 Forever Heroes 




Knights Of Sidonia Gn Vol 13




Metabarons Genesis Castaka Hc 




Museum Of Mistakes Fart Party Collection Tp




Oddly Normal Tp Vol 01   




Sonic Super Digest #11




Tiny Titans Return To The Treehouse Tp  




X-O Manowar Tp Vol 08 Enter Armorines 



TOYS
DC Comics Batman Q-Pop Figure




Gremlins Mogwai Series 5 Af Asst




Marvel Select Cable Af 




Rocky Classic Vg 7in Af 



ODDS AND ENDS
Batman 1966 Catwoman Maquette Diorama




Batman Black & White Statue By Bolland 2nd Ed




FW Gundam Converge 17 Trad Fig 10pc Asst