We've got a list of things coming out for you this week inside this post!

Cast a 3/4 Flying w/ 2 Colorless Mana cost and has Protection from a Corporate 'Love' Holiday !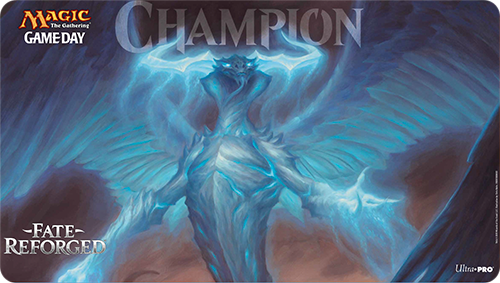 There's some more Spell Casting and Mana Tapping going on at our Willow Grove store coming up on Valentines Day!!! Get your Significant (Magic) Other and come compete! Details are over HERE
Here's what's coming this week!

COMICS!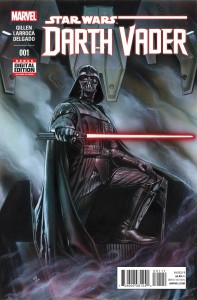 DARTH VADER #1
MARVEL COMICS
(W) Kieron Gillen (A) Salvador Larroca (CA) Adi Granov
The original Dark Lord of the Sith stars in his first ongoing series!
Ever since Darth Vader made his first on-screen appearance, he became the one of the most popular villains to ever haunt an audience's dreams! Now, follow Vader straight from the ending of A NEW HOPE (and the pages of the new STAR WARS comic book) into his own series, showing the Empire's war with the Rebel Alliance from the other side! Writer Kieron Gillen (Uncanny X-Men, Journey Into Mystery, Iron Man) and artist Salvador Larroca (Invincible Iron Man, X-Men: No More Humans) bring us a peek behind the mask of evil!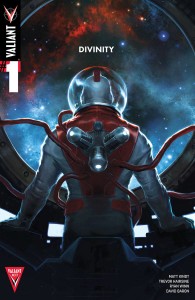 DIVINITY #1 (OF 4)
VALIANT ENTERTAINMENT LLC
(W) Matt Kindt (A) Trevor Hairsine (CA) Jelena Kevic-Djurdjevic
From New York Times best-selling writer Matt Kindt (THE VALIANT, Mind MGMT) and blockbuster artist Trevor Hairsine (X-Men: Deadly Genesis) comes a shocking new vision of 21st century science fiction in an all-new prestige format limited series.At the height of the Cold War, the Soviet Union – determined to win the Space Race at any cost – green lit a dangerously advanced mission. They sent a man farther into the cosmos than anyone has gone before or since. Lost in the stars, he encountered something unknown. Something that…changed him.
Long thought lost and erased from the history books, he has suddenly returned, crash-landing in the Australian Outback. The few that have been able to reach him believe him to be a deity – one who turned the scorched desert into a lush oasis. They say he can bend matter, space, and even time to his will. Earth is about to meet a new god. And he's a communist.
How long can it be before the fi rst confrontation between mankind and DIVINITY begins?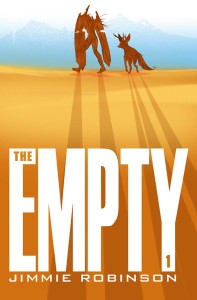 EMPTY #1
IMAGE COMICS
(W/A/CA) Jimmie Robinson
STORY: JIMMIE ROBINSON
ART / COVER: JIMMIE ROBINSON"DEATH," Part One
Tanoor lives in an empty apocalyptic world of poison and decay. Her village is all that remains of humanity as they struggle against mutant beasts and rotting bones.But Tanoor finds a chance to save her people when a stranger drifts into town. A stranger armed with the power to grow life from death. A stranger who could change the world-if Tanoor can keep them alive in the deadly world of The Empty.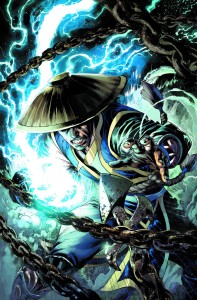 MORTAL KOMBAT X #2
DC COMICS
(W) Shawn Kittelsen (A) Dexter Soy (CA) Ivan Reis
Scorpion and his newest companion set off in deadly pursuit of Raiden! Meanwhile, as the daughter of Johnny Cage and Sonya Blade, Cassie Cage thinks she's seen it all. But when she finds herself in an illegal MMA deathmatch, Cassie must decide if she's ready for her first taste of Mortal Kombat!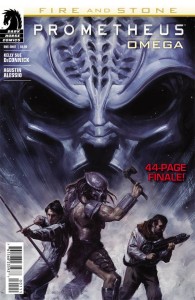 PROMETHEUS FIRE & STONE OMEGA ONE SHOT
DARK HORSE COMICS
(W) Kelly Sue DeConnick (A) Agustin Alessio (CA) David Palumbo
Angela and her fellow survivors are stranded on LV-223, but their mission is not over yet. The answer to their quest could be hidden deep underground, but the strangest nightmare of all stands in their way.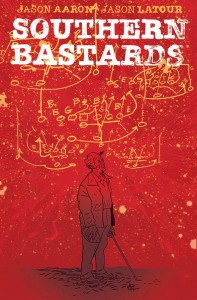 SOUTHERN BASTARDS #7
IMAGE COMICS
(W) Jason Aaron (A/CA) Jason Latour
As a kid, Euless Boss had football in his blood. But all football ever did for him was make him bleed. Until the day he met a strange man who would change his life and the fate of Craw County forever.
Books and Collections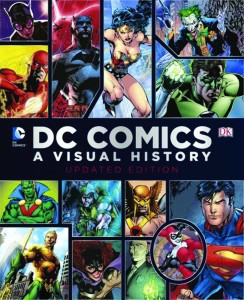 DC COMICS VISUAL HISTORY HC
DK PUBLISHING CO
(W) Daniel Wallace & Various
Trace DC's fascinating story: the company's beginnings as National Allied Publications in the 1934, and its subsequent change to Detective Comics, Inc. in 1937. The book details all the major DC publishing landmarks and more, displayed clearly, month by month. Highlighting the debuts of iconic super heroes like Superman and Batman, the geniuses that invented them, and the real-life events, like the Vietnam War, the atom bomb, and the Space Race, that shaped the atmosphere of the times, DC Comics: A Visual History follows the characters' foray into the real world through TV series and blockbuster movies. This updated and expanded edition, with 16 new pages to cover 2010-2014, features a new slipcase design along with two new prints packed inside.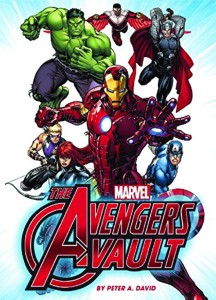 MARVEL AVENGERS VAULT HC
THUNDERS MOUTH
(W) Peter David (A) Jack Kirby, John Byrne
Celebrate the famed superhero assembly that has captured imaginations for half a century! Learn the history of these fictional icons with Marvel: The Avengers Vault, a guided tour through the union of "Earth's mightiest heroes and heroines," led by award-winning author, Peter David. Covering everything from the release of the first Avengers comic in 1963 to the blockbuster movies of today, Marvel: The Avengers Vault even contains removable reproductions that include Captain America's Sentinels of Liberty membership card, specialty original art by Jack Kirby, and early drawings of Iron Man. A treasure trove of Avenger moments and memorabilia, this set is perfect for avid comic enthusiasts and newbies alike.
STARLIGHT TP VOL 01
IMAGE COMICS
(W) Mark Millar (A) Goran Parlov (CA) John Cassaday
Forty years ago, Duke McQueen was the space hero who saved the universe. But then he came back home, got married, had kids, and grew old. Now his children have left and his wife has passed away, leaving him alone with nothing except his memories…until a call comes from a distant world asking him back for his final and greatest adventure.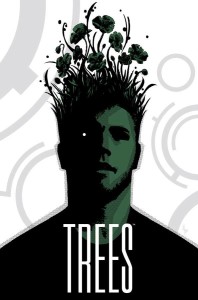 TREES TP VOL 01
IMAGE COMICS
(W) Warren Ellis (A/CA) Jason Howard
Ten years after they landed. All over the world. And they did nothing, standing on the surface of the Earth like trees, exerting their silent pressure on the world, as if there were no-one here and nothing under foot. Ten years since we learned that there is intelligent life in the universe, but that they did not recognize us as intelligent or alive.  TREES, a new science fiction novel by WARREN ELLIS (Transmetropolitan, Red) and JASON HOWARD (SUPER DINOSAUR, ASTOUNDING WOLF-MAN), looks at a near-future world where life goes on in the shadows of the Trees: in China, where a young painter arrives in the "special cultural zone" of a city under a Tree; in Italy, where a young woman under the menacing protection of a fascist gang meets an old man who wants to teach her terrible skills; and in Svalbard, where a research team is discovering, by accident, that the Trees may not be dormant after all, and the awful threat they truly represent.
Here's what you came for!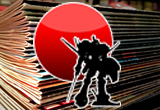 (the following list of comics reflects all the comics coming into both locations. If there's something on this list that's not in stock at your favorite BNW location do not hesitate to ask for us to order it for you!)
COMICS AND MAGAZINES
Abe Sapien #20




Adventure Time Marceline Gone Adrift #2 




All New Captain America Fear Him #2 (OF 4) 




All New Ghost Rider #11  




All New X-Men #36   




Amazing Spider-Man #14




Ant-Man #1 Brooks SecANT Ptg




Archie #664




Army Of Darkness Vol 4 #3




Arrow Season 2.5 #5   




Astro City #20 




Batman Eternal #45 




Bravest Warriors #29 




Bucky Barnes Winter Soldier #5




Capt Victory & Galactic Rangers #5 (OF 6)  




Captain Marvel #12 




Cavewoman Zombie Situation #1 




Coffin Hill #15




Conan Red Sonja #2   




Constantine #22




Cyclops #10 




Darth Vader #1 




Deep State #4 




Disney Frozen Adaptation #1    




Divinity #1 (OF 4) 




Doctor Who 11th #8




Doctor Who Magazine #482




Earth 2 Worlds End #19  




Edward Scissorhands #4 (OF 5)    




Elephantmen #62




Empty #1    




Fables The Wolf Among Us #2




FBP Federal Bureau Of Physics #18




Five Ghosts #15




Ghosted #17




Green Lantern Corps #39




Guardians 3000 #5 




Guardians Of Galaxy #24




Harley Quinn Valentines Day Special #1 




Hexed #7   




Hobby Japan Jan 2015




Injustice Gods Among Us Year Three #9  




Jim Butcher Dresden Files Down Town #1 (OF 6)   




Justice League 3000 #14   




Justice League United #9




Klarion #5    




Lady Mechanika #2 & #3 Collected Ed




Lumberjanes #9 (2ND Ptg)




Magnus Robot Fighter #11




Marvel Universe Avengers Assemble Season Two #4  




Morning Glories #43




Mortal Kombat X #2




New 52 Futures End #41




New Suicide Squad #7 




Nightcrawler #11  




Parallel Man #5 (OF 7)  




Popeye Classics Ongoing #31




Prometheus Fire & Stone Omega One Shot




Q2 Rtn Quantum & Woody #5 (OF 5)




Rachel Rising #31




Rai #7 




Resurrectionists #4  




Satellite Sam #11 




Scooby Doo Where Are You #54 




Secret Six #2  




Shutter #9




Smallville Season 11 Continuity #3 (OF 4) 




Sonic The Hedgehog #269




Southern Bastards #7




Spider-Woman #4 




Spongebob Comics #41 




Star Trek Ongoing #41




Tech Jacket #8 




Teen Dog #6          




Thanos Vs Hulk #3 (OF 4)     




Theyre Not Like Us #1 2nd Ptg 




Thor #5  




Transformers Vs Gi Joe #5  




Uber #22




Walking Dead #137 




War Stories #5 




Wilds End #6   




Witchblade #180




Wolverines #6                 




Worlds Finest #3




X #22 Marked For Death Pt 2 




X-Force #15     




X-Men #24          





TRADE PAPERBACKS, GRAPHIC NOVELS, HARDCOVERS AND MANGA
Atomic Robo Tp Vol 09 Knights Of Golden Circle 




Avatar Last Airbender Rift Library Ed Hc




Avengers World Tp Vol 03 Next World 




Batman The Dark Knight Tp Vol 04 Clay 




Best Of Sonic The Hedgehog Comics Ult Collection 




Coffin Hill Tp Vol 02 Dark Endeavors




Dc Comics Visual History Hc     




Fables Complete Covers By James Jean Hc New Ed




Hellblazer Tp Vol 10 In The Line Of Fire




Marvel Avengers Vault Hc




Neil Gaiman Dave Mckean Crazy Hair Yr Sc 




Oz Tp Emerald City Of Oz




Rocket Raccoon Prem Hc Vol 01 Chasing Tale




Scribblenauts Unmasked A Dc Comics Adventure Tp 




Sculptor Hc Gn




Secret Origins Tp Vol 01 




Secret Six Tp Vol 01 Villains United 




Sonic The Hedgehog Archives Tp Vol 24   




Starlight Tp Vol 01 




Suicide Risk Tp Vol 04  




Superman Krypton Returns Hc 




Sweatshop Tp Peter Bagge




Ten Grand Tp Vol 02




Trees Tp Vol 01




TOYS
DBZ Legendary Warrior Ss Capsule 7pc Ds