Here's what's out this week!

RIP LEONARD NIMOY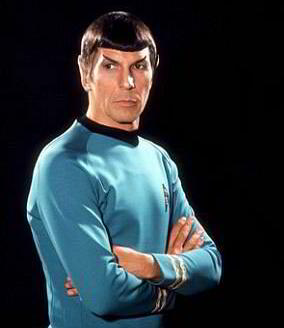 We're not breaking any news here but Mr. Spock passed away yesterday at the age of 83. This is a sad day and major loss for nerds of all shapes/sizes/ages/types.
I also recommend reading this HERE
Also too bad we can't do this for real: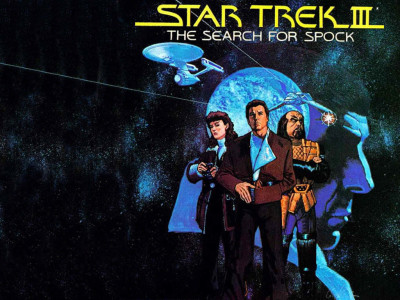 NAMELESS #2 IS GETTING A GHOST VARIANT!

In an unprecedented move Nameless becomes the FIRST comic to get TWO Ghost Variants in a row! Issue #1 last month featured art by Walking Dead Co-Creator Tony Moore but this week we see issue #2 getting a GV by illustrator/poster designer James Flames. It will be available at both BNW locations as of Wednesday march 4th! CLICK HERE FOR MORE
HERE'S COMICS!
ALL NEW HAWKEYE #1
MARVEL COMICS
(W) Jeff Lemire (A/CA) Ramon K. Perez
• Hawkeye returns in an all-new series featuring superstar writer Jeff Lemire in his Marvel debut and Eisner Award-winning artist Ramon Perez, as they bring you a fresh new look into the life of everyone's favorite Avenger. With Kate Bishop, his trusted ward and protégé back at his side (not titles she would use), Team Hawkeye is thrown into an all new adventure spanning two generations of avenging archers. Past and present lives collide as Kate and Clint face a threat that will challenge everything they know about what it means to be Hawkeye.
•  But no one puts Hawkeye in a corner.
•  Hawkeye and Hawkeye take aim March 2015!
Rated T+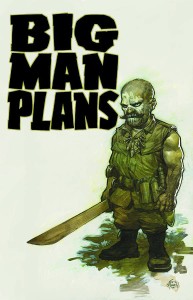 BIG MAN PLANS #1 (OF 4) 
IMAGE COMICS
(W) Eric Powell, Tim Weisch (A/CA) Eric Powell
From ERIC POWELL (Eisner award-winning creator of The Goon) and TIM WEISCH (a guy who used to be a bricklayer) comes BIG MAN PLANS, a brutal crime drama with a shocking mystery at its heart. Even the most marginalized in society can exact revenge if they don't care how they do it.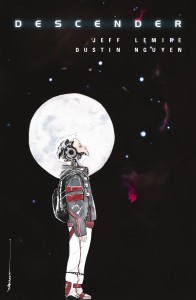 DESCENDER #1
IMAGE COMICS
(W) Jeff Lemire (A/CA) Dustin Nguyen
One young robot's struggle to stay alive in a universe where all androids have been outlawed and bounty hunters lurk on every planet.A rip-roaring and heart-felt cosmic odyssey that pits humanity against machine, and world against world, to create a sprawling space opera from the creators of Trillium, Sweet Tooth, and Little Gotham.
Extra-sized first issue. 30 story pages for only $2.99!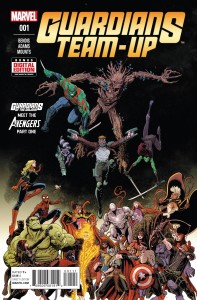 GUARDIANS TEAM-UP #1
MARVEL COMICS
(W) Brian Michael Bendis (A/CA) Arthur Adams
GUARDIANS OF THE GALAXY and THE AVENGERS!
•  Launching directly out of Guardians of the Galaxy comes the new ongoing series bringing the Guardians to the Marvel Universe's grandest stage for an opening arc of out-of-this-world adventures with some of the biggest hitters Marvel has to offer.
•  Kicking off with a cosmic threat so massive, it'll take more than just the Guardians of the Galaxy to stop it! Assembled side by side with the mighty Avengers, prepare for two titanic teams to unite like you've never seen before!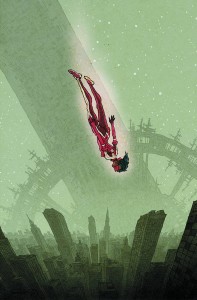 HALOGEN #1 (OF 4)
BOOM! STUDIOS
(W) Josh Tierney (A/CA) Afu Chan
WHY WE LOVE IT: We've published four books thus far in Josh Tierney's Spera series because we simply love his characters and storytelling. Now, he teams up with fellow webcomic creators Afu Chan (Spera) and Giannis Milonogiannis (Old City Blues, Prophet) for a new creator-owned,
sci-fi adventure.
WHY YOU'LL LOVE IT: Having first collaborated on the Eisner Award-nominated Spera series, the creative team behind HaloGen is no stranger to kickbutt ladies, epic world-building, and sweeping adventures. This time they're strapping on their sci-fi boots for a series perfect for fans of Prophet, Rocket Girl, and The Fifth Element.
WHAT IT'S ABOUT: There's a rumor on Cityship Q that the gigantic body of a dead god was found floating in space. Rell, an agent woking for the HaloGen organization, is tasked with finding the location of the god and retrieving it by any means necessary. Using her ability to form hyperrealistic holograms, Rell is about to take on the first mission she might not be able to finish.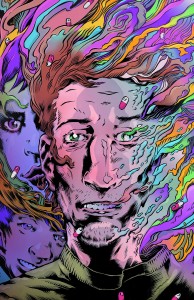 NEVERBOY #1
DARK HORSE COMICS
(W) Shaun Simon (A) Tyler Jenkins (CA) Conor Nolan
Most people take drugs to escape reality. Neverboy, a former imaginary friend, does the opposite. He's found a loophole that allows him to stay in the real world. As long as he stays medicated, everything's perfect. But when the drugs wear off and reality fades, the forces that guard the borders between the real and the imaginary will be ready to drag him back to where he belongs.
PRINCESS LEIA #1 (OF 5)
MARVEL COMICS
(W) Mark Waid (A/CA) Terry Dodson
• When Princess Leia Organa was captured by the Empire as a Rebel spy, she never betrayed her convictions, even in the face of the complete destruction of her home world, Alderaan. When her rescue came, she grabbed a blaster and joined the fight, escaping back to the Rebel Alliance and helping strike the biggest blow against the Empire-the destruction of the Death Star. But in the aftermath of that victory, the question remains…what is a princess without a world?
•  Writer Mark Waid (Daredevil, S.H.I.E.L.D.) and artist Terry Dodson (Avengers & X-Men: Axis, Uncanny X-Men) bring us a story of Leia's quest to help her people and find her place in the galaxy.
Rated T
AND NOW! HERE'S COMICS: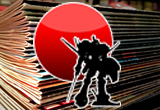 (the following list of comics reflects all the comics coming into both locations. If there's something on this list that's not in stock at your favorite BNW location do not hesitate to ask for us to order it for you!)
COMICS AND MAGAZINES
68 Jungle Jim Guts N Glory One Shot




All New Hawkeye #1




Altered States Vampirella One Shot




Angel And Faith Season 10 #12




Angela Asgards Assassin #4




Aquaman And The Others #11 




Army Of Darkness Vol 4 #4 (OF 5) 




Avengers #42




Avengers World #18 




Batman And Robin #38 2nd Ptg 




Batman Eternal #48 




Big Man Plans #1 (OF 4)




Black Science #12 




Cluster #2




Crossed Badlands #73




Crossed Plus 100 #3 




Dark Engine #5 




Day Men #6




Deathstroke #2 2nd Ptg      




Descender #1




Detective Comics #40 




Doctor Who 10th #8




Doctor Who 11th #9




Earth 2 #32




Earth 2 Worlds End #22 




Feathers #3                   




Flash Season Zero #6  




Garfield #35 Nine Lives Pt 3 




GI Joe (2014) #6




God Hates Astronauts #6




God Is Dead #30




Godzilla Rulers Of The Earth #21




Grayson #8 




Green Arrow #40




Green Lantern #40 




Guardians Team-Up #1 




Halogen #1 (OF 4)  




Harley Quinn #15 




Heavy Metal #273




Hellboy And The BPRD #4 (OF 5) 




Hinterkind #16




Holy F*Ck #2 




Hulk #12




Imperium #2 




Infinity Man And The Forever People #8




Iron Fist Living Weapon #10 




Justice League 3000 #15 




Lady Death Apocalypse #2 




Lady Killer #2 (2ND Ptg)




Lady Killer #3  




Lobo #6    




Marvels Ant-Man Prelude #2 (OF 2) 




Miracleman #16 




Monster Motors Curse Of Minivan Helsing #1 (OF 2)  




My Little Pony Friends Forever #14




Nailbiter Hack Slash Hack Slash Nailbiter One Shot  




Nameless #2




Names #7 (OF 9)




Neverboy #1  




New 52 Futures End #44 




Operation Sin #3 (OF 5)  




Parallel Man #6 (OF 7)




Princess Leia #1 (OF 5)       




PS Blackcross #1 (OF 6) 




Rat God #2 (OF 5)  




Rat Queens #9




Return Of Living Deadpool #2 (OF 4) 




Revival #28




Robocop 2014 #9 




Rocket Raccoon #9




Saga #26




Scooby Doo Team Up #9




Shadow Show #4 (OF 5)




Spider-Woman #5 




Star Trek New Visions A Scent Of Ghosts  




Star Trek Planet Of The Apes #3 (OF 5)




Steven Universe #8 




Supreme Blue Rose #7 




Swamp Thing #40




Transformers #38




Transformers More Than Meets Eye #38 




Uber #23




Wolf Moon #4 (OF 6)




Wolverines #9   




Wonder Woman #38 2nd Ptg 




Woods #11




X-Men #25 




X-O Manowar #34



TRADE PAPERBACKS, GRAPHIC NOVELS, HARDCOVERS AND MANGA
Adventure Time Tp Vol 06




Alex + Ada Tp Vol 02




Avengers Tp Vol 05 Adapt Or Die  




Birthright Tp Vol 01 Homecoming 




Dead Boy Detectives Tp Vol 02 Ghost Snow 




Death Of Wolverine Tp Weapon X Program   




Hawkeye Vs Deadpool Tp       




Justice Leauge United Hc Vol 01 Justice League Canada  




Marvel Avengers Ult Character Guide Updated & Expanded  




Marvels Avengers Tp Age Of Ultron Prelude




Nailbiter Tp Vol 02 Bloody Hands




New Lone Wolf And Cub Tp Vol 04 




Resident Evil Marhawa Desire Gn Vol 03 




Shaolin Cowboy Hc The Shemp Buffet




Teen Titans Go Tp Vol 01 Party Party 




Unity Tp Vol 04 The United




Y The Last Man Tp Book 02 



TOYS
Arrow Deathstroke Action Figure




Star Trek Select Worf Af




ODDS AND ENDS
Batman Black & White Statue By Sale 2nd Ed  




DC Comics Super Hero Mad Libs  





GVW First Godzilla Sofubi





GVW Pretty Godzilla Sofubi




Joker And Harley Quinn Statue   




Marvel Chess Fig Coll Mag #24 Ant-Man 




Marvel Chess Fig Coll Mag #25 Black Widow