Here's what's going on around these parts!

Signing in Willow Grove!
Set a phone alarm or a Google alert or whatever the heck people use to keep track of stuff for January 31st(i know some of you have bought calendars or taken free ones from us so maybe mark that thing to remind you)!!!
Local Comics Creators, Steve Peters and Bianca Alu-Marr, will be signing their brand-new comic, The Comicverse #4, on Saturday, January 31st, from 12-5 PM at our Willow Grove location!
Don't Miss this!!!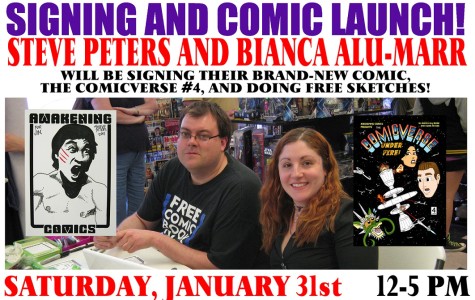 The Marvel Universe is "ENDING" and we know just as little as you do!
Here's some helpful links for trying to figure out what the heck is goin on!
Bleeding Cool's teaser filled stuff is over HERE
And
Comics Alliances speculations can be found over HERE
And trust me when I say we have no inside information.
…yet…
Now

Here's The Issues!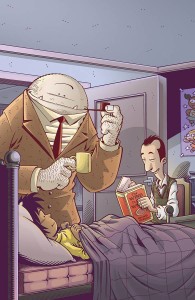 (Just in case you missed the 1st issue on NYE)
ABIGAIL AND THE SNOWMAN #2
BOOM! STUDIOS
(W/A/CA) Roger Landridge
It didn't take long for Abigail to warm up to the idea of having a Yeti as a best friend, but no matter how much fun the two friends have together, they can't avoid the mysterious men in town up to no good in search of the Abominable Snowman.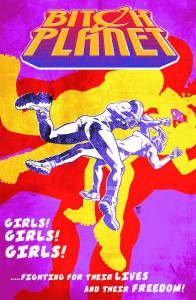 (After a strong 1st issue let's see where this goes!)
BITCH PLANET #2 
IMAGE COMICS
(W) Kelly Sue DeConnick (A/CA) Valentine De
Now framed for murder INSIDE the prison, Kam is offered leniency if she'll train her crew for a death sport bout against a visiting team of male prisoners. From 2014 Best Writer Eisner nominee KELLY SUE DeCONNICK (PRETTY DEADLY, Captain Marvel) and VALENTINE DeLANDRO (X-Factor) with colorist CRIS PETER (CASANOVA).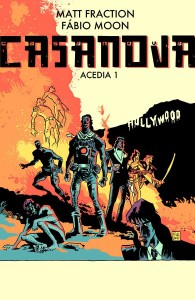 (Casanova RETURNS and Fraction brought Chabon with him this time!)
CASANOVA ACEDIA #1 
IMAGE COMICS
(W) Matt Fraction, Michael Chabon (A/CA) Fábio Moon, Gabriel Ba
Marooned in Los Angeles with no memory of his past, Casanova Quinn takes on the mystery of his criminal benefactor's tangled and bloody history-as strange occult forces from the future conspire to… do stuff? To him? To Los Angeles? To you? YES.Featuring the first in a series of backup stories by Pulitzer Prize winner MICHAEL CHABON and CASANOVA co-creator GABRIEL BÁ.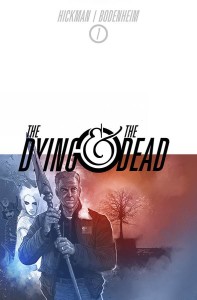 (64 pages of Hickman comic for $4.50!)
DYING AND THE DEAD #1
IMAGE COMICS
(W) Jonathan Hickman (A/CA) Ryan Bodenheim
"TODAY, TOMORROW, THE GRAVE"
A murder at a wedding reveals a fifty year-old secret. At great cost, a man with a dying wife is given the opportunity to save her. A lost tribe is reborn in another time. Seemingly disparate events that force relics from the Greatest Generation to come together for one last hurrah.Brought to you by award-winning writer JONATHAN HICKMAN and fan-favorite artist RYAN BODENHEIM, THE DYING AND THE DEAD is high adventure meets end-of-life care.It's Indiana Jones for Old People. There are no fedoras, only bedpans.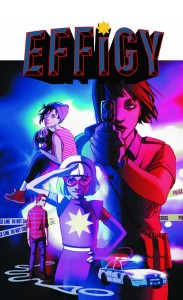 EFFIGY #1
DC COMICS
(W) Tim Seeley (A) Marley Zarcone (CA) W. Scott Forbes
  After a sex-tape scandal, former Hollywood child star turned Z-lister Chondra Jackson returns to her hometown of Effigy Mound, IL, to find a seemingly impossible crime – a fresh corpse in an ancient Indian burial site. Even weirder, the murder resembles a scene from an episode of her old TV show, Star Cop, a live-action children's show about a kid detective.
As Chondra starts to investigate, she stumbles upon a bizarre cult that worships celebrities as eternal effigies. And these cult members aren't just worshiping – they're also ritually sacrificing anyone who defies their veneration of the beautiful and famous. Chondra's probe takes her on a terrifying tour of burial mounds across the world, from Stonehenge to the Nazca Lines of Peru. But what is the link between the cult, Chondra's hometown, and her own bloodline? Will Chondra become the hero detective she played as a child…or is she in fact the cult's unwitting messiah?
Written by rising star Tim Seeley (BATMAN ETERNAL, GRAYSON, Revival) and illustrated by Marley Zarcone (Black Circle, MADAME XANADU), EFFIGY is a twisted murder mystery and conspiracy tale that examines celebrity, godhood, and the price of fame.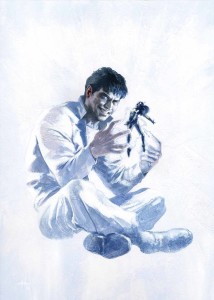 (Because everyone wants to know how the Marvel Universe will end…)
NEW AVENGERS #29
MARVEL COMICS
(W) Jonathan Hickman (A) Kev Walker (CA) Gabriele Dell'Otto
IN 4 MONTHS…TIME RUNS OUT!
Rated T+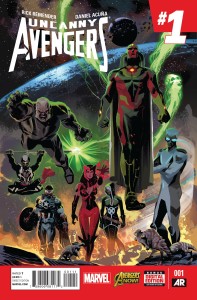 UNCANNY AVENGERS #1
MARVEL COMICS
(W) Rick Remender (A/CA) Daniel Acuña
COUNTER-EVOLUTIONARY PART 1
•  From the ashes of AXIS an all-new, all different Avengers assemble!
•  The tragedy at the end of AXIS has left the Uncanny Avengers vulnerable, and someone is taking advantage of it.
•  One of the Avengers oldest foes returns with a terrible secret that will, all hyperbole aside, shatter the lives of two members of the squad.
•  What is Counter-Earth? What terrible secrets does it house?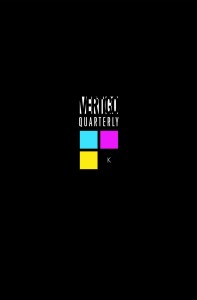 VERTIGO QUARTERLY #1 BLACK
DC COMICS
(W) Mary H. K. Choi & Various (A) Francesco Francavilla & Various
BLACK is back for the final issue of the CMYK Quarterly. We've got some of comics' top writers and artists coming at you with bold statements and dark accents. Join us as we celebrate VERTIGO's favorite color and the anthology that's been bringing it all year long.
Here Are Some Collections You Should Check Out!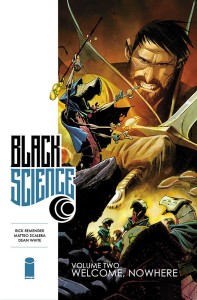 BLACK SCIENCE TP VOL 02 WELCOME NOWHERE
IMAGE COMICS
(W) Rick Remender (A/CA) Matteo Scalera, Dean White
The Anarchist League of Scientists has lost their leader, the most recent victim of the Pillar's violently random jumps through the Eververse…but are they really random? As the survivors fight their way through a world where magic and science are one and the same, the secrets of their predicament slowly come to light…and illuminate a terrible truth.Collects BLACK SCIENCE #7-11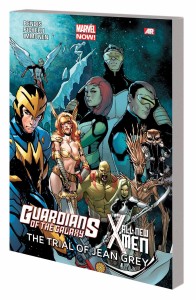 GOTG ALL NEW X-MEN TP TRIAL OF JEAN GREY
MARVEL COMICS
(W) Brian Michael Bendis (A) Sara Pichelli & Various (CA) Sara Pichelli
Space and time collide! The arrival of the original X-Men in the present sent shockwaves through the Marvel Universe, but we've only seen the effects on Earth – until now! When an alien race discovers that Jean Grey – once (or perhaps future) host of the destructive Phoenix Force – is back on Earth, they decide to hold her accountable for the genocide committed by Dark Phoenix! Now, it's up to the spacefaring Guardians of the Galaxy to help the All-New X-Men save Jean from twisted intergalactic justice. A surprise ally from one character's past arrives to help, but will that be enough against the most powerful army in the universe? Don't miss the first encounter between two of Marvel's biggest franchises! Collecting GUARDIANS OF THE GALAXY (2013) #11-13 and ALL-NEW X-MEN #22-24.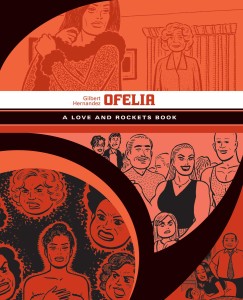 LOVE & ROCKETS LIBRARY GILBERT GN VOL 05 OFELIA
FANTAGRAPHICS BOOKS
(W/A/CA) Gilbert Hernandez
The fifth volume of Gilbert Hernandez's complete Love and Rockets material! In Ofelia, the sisters, the kids, and the cousins are all settled comfortably in California. When Ofelia threatens to write a book about Luba, past memories and pain resurface. Meanwhile, Luba's children show that a talent for trouble may be hereditary. These vividly drawn characters live, love, age, fight-and die-in this sweeping, multigenerational saga.
 Now on with the rest of the stuff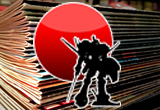 (the following list of comics reflects all the comics coming into both locations. If there's something on this list that's not in stock at your favorite BNW location do not hesitate to ask for us to order it for you!)
COMICS AND MAGAZINES
Abigail And The Snowman #2  




Adventure Time #36 




Alex + Ada #12  




All New Invaders #14 




Amazing Figure Modeler #58 




Amazing X-Men #16   




Angry Birds #8          




Angry Birds Transformers #3 (OF 4) 




Aquaman #38




Arkham Manor #4




Bart Simpson Comics #94 




Batman #38  




Batman Eternal #43    




Big Trouble In Little China #8 




Birthright #3 2nd Ptg 




Bitch Planet #2




Bodies #7 (OF 8)




Captain Midnight #19   




Casanova Acedia #1 




Catwoman #38 




Clive Barkers Nightbreed #9 




Colder Bad Seed #4




Conan The Avenger #10 




Danger Club #6   




Deadpool #41 




Death Vigil #6 (OF 8)




Deathstroke #4    




Dying And The Dead #1




Earth 2 Worlds End #17 




Effigy #1




Elfquest Final Quest #7




Evil Empire #10 




Flash #38 




Flash Gordon #8




GI Joe A Real American Hero #210 




Godzilla Rulers Of The Earth #20




Gotham Academy #4 




Gotham By Midnight #3 




Graveyard Shift #2 (OF 4)




Halo Escalation #14 




Harley Quinn #14  




He Man The Eternity War #2    




Infinity Man And The Forever People #7 




Inhuman #11  




Judge Dredd #27 




Judge Dredd Classics Dark Judges #2 (OF 5)  




Justice Inc #6 (OF 6 )




Justice League Dark #38     




King Flash Gordon #1 (OF 4)    




King The Phantom #1 (OF 4)    




Knights Of The Dinner Table #217 




Life After #6




Marvel Universe Ult Spider-Man Web Warriors #3 




Mind MGMT #30  




Multiversity Guidebook #1 




Munchkin #1




My Little Pony Friendship Is Magic #27 




New 52 Futures End #39 




New Avengers #29 




Nova #26  




Powerpuff Girls Super Smash-Up #1 (OF 6)




Predator Fire And Stone #4 (OF 4)    




Previews #317 February 2015 


     

Marvel Previews February 2015 Extras




Punks The Comic #4




Purgatori #5




Quantum & Woody Must Die #1 (OF 4)




Rasputin #4




Red Lanterns #38  




Revival #27




Rot & Ruin #5  




Secret Avengers #12 




Secret Origins #9   




Sex #19




Sex Criminals #10 




Sinestro #9    




Skylanders #5




Sleepy Hollow #4 (OF 4) 




Sonic Boom #4      




Spider-Man 2099 #8




Spider-Man And X-Men #2




Star Spangled War Stories GI Zombie #6   




Sundowners #6       




Tarot Witch Of The Black Rose #90 




Theyre Not Like Us #2 




Thor #4  




TMNT Color Classics Series 3 #2 




TMNT Ghostbusters #4 (OF 4)




Tomb Raider #12    




Transformers Drift Empire Of Stone #3 (OF 4)         




Turok Dinosaur Hunter #11




Umbral #12




Uncanny Avengers #1  




Uncanny X-Men #30  




Unity #14 




Unwritten Vol 2 Apocalypse #12




V-Wars #10       




Vertigo Quarterly #1 Black




Wolverines #4  




X-Files Season 10 #20  




X-O Manowar #32 




Yu Gi Oh 3in1 Tp Vol 01 




Zero #14



TRADE PAPERBACKS, GRAPHIC NOVELS, HARDCOVERS AND MANGA

68 Tp Vol 04 Rule Of War     




Black Science Tp Vol 02 Welcome Nowhere 




Criminal Tp Vol 01 Coward 




Deadpool Tp Ones With Deadpool




Flash Hc Vol 05 History Lessons




GotG All New X-Men Tp Trial Of Jean Grey




Great Pacific Tp Vol 03 Big Game Hunters




Harbinger Tp Vol 06 Omegas 




Life After Tp Vol 01 




Love & Rockets Library Gilbert Gn Vol 05 Ofelia




Maxx Maxximized Hc Vol 03   




Outcast By Kirkman & Azaceta Tp Vol 01 




Saint Cole Gn




Sonic The Hedgehog Tp Vol 02 The Chase 




Sonic Universe Tp Vol 08 Scourge Lockdown 




Spider-Man Big Time Tp Vol 03 Complete Collection  




Superior Foes Of Spider-Man Tp Vol 03 Game Over 




Sweet Beauties Hc




TMNT Ongoing Tp Vol 10 New Mutant Order



TOYS
Batman Retro 1966 Tv Series Ser 3 Af Asst




ODDS AND ENDS
Astonishing X Men Gifted Audio Cd




Gentle Giant Star Lord Mini-Bust 




Jokers Last Laugh Mighty Wallet 




Justice League Logo Pack Vinyl Decal Asst




Justice League Mighty Wallet 




New Avengers Breakout Audio Cd