By now you should be aware how sweet Ghost Variants are since there have been quite a few. Tomorrow sees the first Ghost Variant of 2015!

Jonathan Hickman (the man behind THIS if you've been living under a Rock) is re-joining forces with Ryan Bodenheim (they've previously done Red Mass For Mars together…check that out ASAP!) to bring us the Dying and the Dead! A series that the solicits are calling "Indiana Jones for Old People. There are no fedoras, only bedpans."
Not only will this comic feature a beautiful Bodenheim cover (comes standard!) but it will have a slickly designed Ghost Variant by Hickman himself! Can't beat that! Get your comics loving hands on this huge 64 page issue #1 tomorrow (Wednesday January 28, 2015) and get in on the ground floor of another Image Number One that, once again, looks to be one everyone will be talking about come Thursday.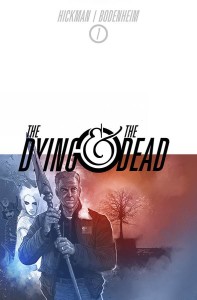 Like all
Ghost Variants
this variant will only be available at select retailers. Both Brave New Worlds locations are proud to be counted amongst them! See you tomorrow for new comics!
DYING AND THE DEAD #1
IMAGE COMICS
(W) Jonathan Hickman (A/CA) Ryan Bodenheim
"TODAY, TOMORROW, THE GRAVE"
A murder at a wedding reveals a fifty year-old secret. At great cost, a man with a dying wife is given the opportunity to save her. A lost tribe is reborn in another time. Seemingly disparate events that force relics from the Greatest Generation to come together for one last hurrah.Brought to you by award-winning writer JONATHAN HICKMAN and fan-favorite artist RYAN BODENHEIM, THE DYING AND THE DEAD is high adventure meets end-of-life care.It's Indiana Jones for Old People. There are no fedoras, only bedpans.