Here's a list of new comics for this coming week! Magic stuff this weekend! Also here's some news about 2 signings coming up…

Customer Joe Shell suffers no fools as Power-Man!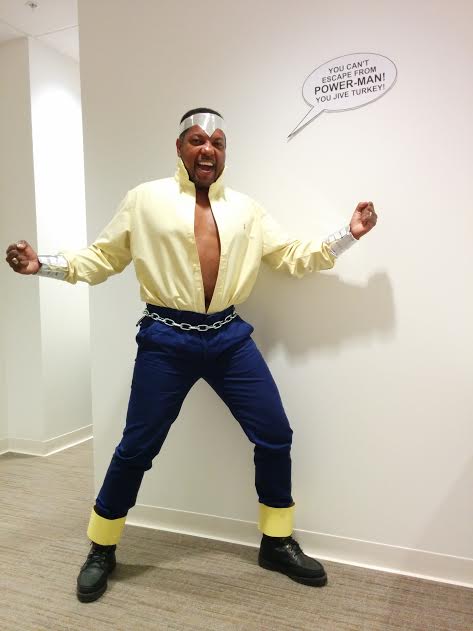 One of our regulars recently sent us this BA pic of himself dressed as the classic tiara and chain belt sporting Power-Man and we felt it was too good not to share! Got any cosplay pics you wanna share with everyone? Shoot us an email with "Cosplay Pic" as the subject line (and be sure to include the pic/name/charcater obv) over to brian@bravenewworldscomics.com and I'll start including them a bit at a time to this weekly update post!
(SPELL) CASTING CALL IN WILLOW GROVE!
This weekend (starting tonight i think) is the Fate Reforged Pre-Release! Come out to Willow Grove and cast some spells, tap some mana and crush your opponent all weekend long with the new set of cards!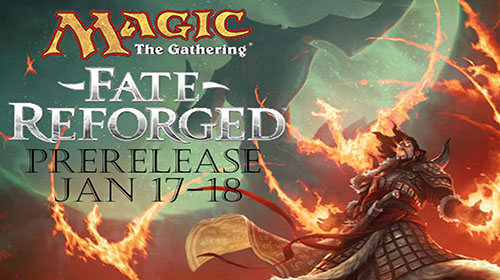 MARCELINE SIGNING! SATURDAY!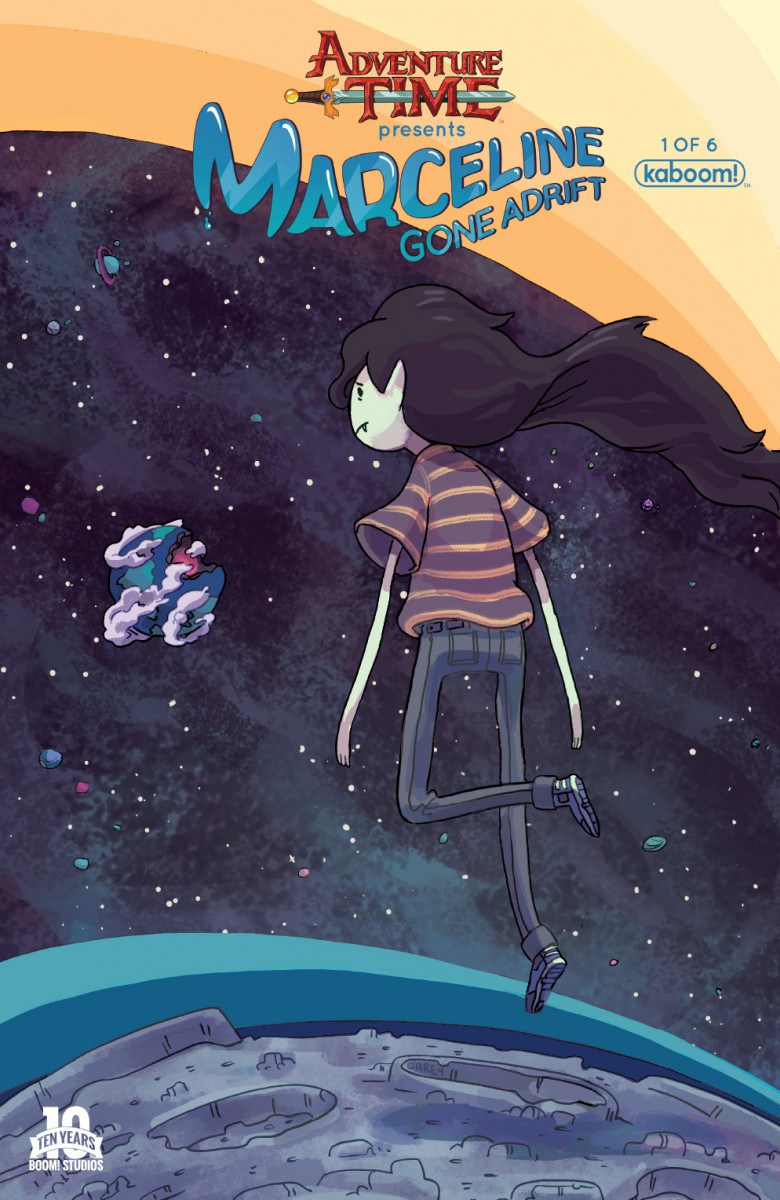 TOMORROW in Old City we're hosting Carey Pietsch! She's a local illustrator who's currently doing the art for the BRAND NEW Adventure Time series Marceline Gone Adrift out! She'll be in store from 12 Noon – 3pm! Come say hello and get some comics signed! We're pumped!

There's a Facebook Event over HERE
COMICVERSE #4 Launches @ the End of the Month!!!
Those crazy kids over at the Comicverse are having a LAUNCH PARTY for their upcoming release of Issue #4 at our Willow Grove location! This will all be happening on Saturday January 31st from 12 Noon – 5pm! Come on out and get some drawings and stuff signed by two aweomse local friends of ours Steve Peters and Bianca Alu-Marr!

There's another Facebook Event over HERE
Now let's all look into the future of comics for the week…shall we?!

IMAGE COMICS
(W) Kurt Busiek (A/CA) Ben Dewey
Enter: Goodfoot the Sly. Is she here to help the wizards…or herself? [Hint: herself.]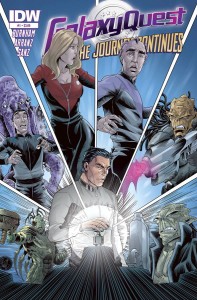 GALAXY QUEST JOURNEY CONTINUES #1 Of (4)
IDW PUBLISHING
(W) Erik Burnham (A/CA) Nacho Arranz
Once upon a time, a troupe of has-been actors that starred on an old sci-fi show were enlisted by an alien race to save them from an intergalactic tyrant. Despite being way out of their depth, the cast somehow managed to save the aliens and stay alive… but their actions in outer space may have had dire consequences for another world. Join us this January as the cast of GALAXY QUEST returns for another bombastic journey into space!
DARK HORSE COMICS
(W) Mark Evanier (A/CA) Sergio Aragones
Each month of this yearlong series, Groo and his faithful pooch, Rufferto, encounter a different acquaintance–or enemy–with the usual dire consequences! In #1, Groo crosses paths with Captain Ahax, the seaman with the world record for most ships sunk by the all-time stupidest character in comics! Brought to you by the award-winning team of Sergio Aragonés and Mark Evanier!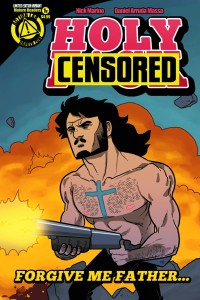 HOLY F*CK #1
DANGER ZONE
(W) Nick Marino (A) Daniel Arruda Massa (CA) Kyle McDougal
Why is a nun barging into a seedy Tokyo karaoke bar in the middle of the night to find a sleazy naked man smoking meth? Because that man is Jesus, and Sister Maria needs him to help her and Satan stop humanity's mythological gods from f*cking up the Earth.  Includes two limited variant covers, each limited to 1,500 copies, and ask your local retail if they will be offering one of our limited edition store exclusive mythological god covers.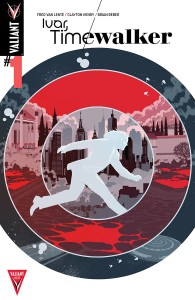 IVAR TIMEWALKER #1
VALIANT ENTERTAINMENT LLC
(W) Fred Van Lente (A) Clayton Henry (CA) Raul Allen
Prehistoric empires! Dystopian futures! And everywhere in between!From the New York Times best-selling team of Fred Van Lente and Clayton Henry comes a centuries-spanning race against the clock, straight out of the pages of ARCHER & ARMSTRONG! The past, present, and future of our universe are about to meet an untimely end, and only the mysterious Ivar Anni-Padda can prevent all three from collapsing in on themselves. Unstuck in time, and pursued by enemies simultaneously across every moment of his time-lost life, can the man called Timewalker save everything that ever was, is, and will be? Get ready for a clock-stopping odyssey into the distant past and far future as the most unlikely Valiant hero of all leaps into his first history-ripping adventure!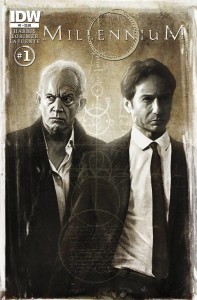 MILLENNIUM #1 Of (5)
IDW PUBLISHING
(W) Joe Harris (A) Colin Lorimer (CA) Menton3
Fifteen years ago, the end of the world-the anticipated "Millennium Event"-was avoided thanks to the efforts of Frank Black and FBI agents Fox Mulder and Dana Scully. Or was it? Frank's psychic gifts have been showing him that evil has continued to grow unabated in the world, and he's trying his best to ignore it. But soon the resurgence of the Millennium Group and their quest to find Frank's daughter Jordan will pull him into the fray once again, whether he likes it or not!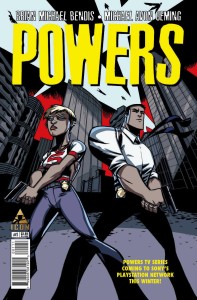 POWERS #1 
MARVEL COMICS
(W) Brian Michael Bendis (A/CA) Michael Avon Oeming
Just in time for the debut of the long-awaited POWERS TV show comes this brand-new number one, a perfect jumping-on point for fans new and old! The Eisner Award-winning POWERS tells the story of homicide detectives Christian Walker and Deena Pilgrim, who are assigned cases specifically involving powers. If a superhero falls dead from the sky or a super villain is found dead in the gutter, it's up to Walker and Pilgrim to solve the case. But having barely survived the most harrowing case of their careers and discovering government corruption of the highest level, Walker and Pilgrim are now faced with the most difficult decision they've ever had to make. Plus: the discovery of a power no one has ever seen before! This issue – double sized for the regular price – will also include an exclusive behind-the-scenes look at the making of the POWERS TV show with never-before-seen pictures from the set.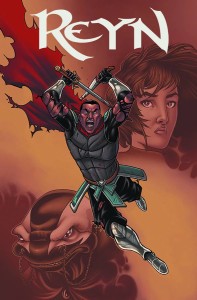 REYN #1
IMAGE COMICS
(W) Kel Symons (A/CA) Nathan Stockman
Reyn is a freelance swordsman and monster hunter who also might be the last of the legendary "Wardens" of the land of Fate, whose ranks long since faded into myth. He's haunted and driven by visions from a "guiding angel" who sets him on the path of a great quest-though Reyn's hardly the errant knight-type. He'll rescue and partner with the sorceress Seph, a member of a coven known as the Followers of Tek, hunted as heretics for their beliefs, but who may know what secrets Fate holds.
RUMBLE #2 
IMAGE COMICS
(W) John Arcudi (A/CA) James Harren
Last week, Bobby LaRosa was miserable-miserable with his dead-end job, his callous ex-girlfriend, and his lazy, loser skinhead buddy. This week, it's all sword-swinging scarecrows, guts-dripping demons, a giant bog mummy, and six headed monsters! Right now, last week's not looking too bad. You get some answers, more questions, and a whole lot of crazy in the second issue of RUMBLE.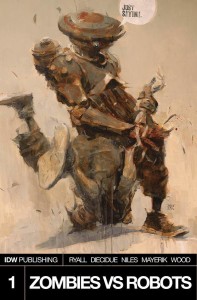 ZOMBIES VS ROBOTS #1
IDW PUBLISHING
(W) Chris Ryall, Steve Niles (A) Anthony Diecidue & Various (CA) Ashley Wood
The first-ever ONGOING Zombies vs Robots series, bringing you… new robots! A renewed zombie threat! New human survivors! And an all-new world ready for the taking from one or more of these factions… Part 1 of "Inherit the Earth!" and "The Orphan" start here!
Here's the Full List! (aka what you clicked this for anyway)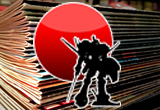 (the following list of comics reflects all the comics coming into both locations. If there's something on this list that's not in stock at your favorite BNW location do not hesitate to ask for us to order it for you!)
COMICS AND MAGAZINES
All New X-Factor #20  




All New X-Men #35 




Amazing Spider-Man #13




Autumnlands Tooth & Claw #3 




Batman And Robin #38




Batman Eternal #42            




Batman Superman #18   




Batwoman #38    




Black Widow #14   




Bleeding Cool Magazine #14




BPRD Hell On Earth #127




BTVS Season 10 #11




Bucky Barnes Winter Soldier #4 




Burning Fields #1 




Captain America And Mighty Avengers #4     




Crossed Badlands #70




Crossed Plus 100 #2




Dark Gods #3




Dark Horse Presents 2014 #6 




Dead Letters #7 




Deadpools Art Of War #4 (OF 4)  




Doctor Who 11th #7




Doctor Who 12th #4 




Drifter #3




Dungeons & Dragons Legends Of Baldurs Gate #4 




Earth 2 Worlds End #16 




Elektra #10




Fables #148




Fantastic Four #642




Galaxy Quest Journey Continues #1 (OF 4)  




GI Joe Snake Eyes Agent Of Cobra #1 (OF 5)  




God Is Dead #27




Goners #4




Green Lantern New Guardians #38




Groo Friends And Foes #1  




Guardians Of Galaxy #23 




Hellraiser Bestiary #6 




Holy F*Ck #1 




Infinite Crisis Fight For The Multiverse #7




Intersect #3




Invincible #116 




Ivar Timewalker #1 




Judge Dredd Classics Dark Judges #1 (OF 5) 




Justice League #38




Kitchen #3 (OF 8)




Legendary Star Lord #8 




Loki Agent Of Asgard #10




Lumberjanes #10    




Magneto #14 




Millennium #1 (OF 5) 




Moon Knight #11 




New 52 Futures End #38 




October Faction #4  




Penny Dora & The Wishing Box #3 (OF 5)   




Popeye Classics Ongoing #30




Powers #1




Red Hood And The Outlaws #38  




Red Sonja #14 




Red Sonja Black Tower #4 (OF 4)




Reyn #1 




Rocket Raccoon #7       




Rocket Salvage #2 




Rumble #2




Scarlet Spiders #3 (OF 3)




Sensation Comics Featuring Wonder Woman #6 




Simpsons Comics #217  




Sonic The Hedgehog #268




Sons Of Anarchy #17




Spider-Verse Team Up #3 (OF 3) 




Spider-Woman #3




Spread #5




Star Trek Planet Of The Apes #2 (OF 5) 




Strain Night Eternal #5 




Supergirl #38




Superior Iron Man #4  




Teen Titans #6   




The Shadow Special 2014




The Valiant #1 (OF 4) 2nd Ptg




The Valiant #2 (OF 4)




TMNT Color Classics Series 3 #1 




TMNT New Animated Adventures #19




TMNT Ongoing #42




Transformers #37




Transformers Punishment (ONE Shot) 




Trinity Of Sin #4           




Twilight Zone S&S #1 




Uber #21




Vampirella Feary Tales #4 (OF 5




Walking Dead Magazine #11 Px Ed 




Wicked & Divine #7




Wild Blue Yonder #6 (OF 6) 




Wolverines #3 




Wonder Woman #38 




Zombies Vs Robots #1    



TRADE PAPERBACKS, GRAPHIC NOVELS, HARDCOVERS AND MANGA

Abe Sapien Tp Vol 05 Sacred Places 




Aquaman And The Others Tp Vol 01 Legacy Of Gold




Batman Silver Age Newspaper Comics Hc Vol 02 1968-1969




Beware The Batman Tp Vol 01   




Birds Of Prey Tp Vol 05 Soul Crisis




Black Dynamite Tp




Black Widow Tp Vol 02 Tightly Tangled Web 




Borderlands Tp Vol 02 Fall Of Fyrestone  




BPRD Plague Of Frogs Tp Vol 02 




Bravest Warriors Tp Vol 04  




Disney Infinity Character Encyclopedia Hc




Doc Savage Archives Hc Vol 01 




Ex Machina Tp Book 04 




First Year Healthy Hc




King Conan Tp Vol 04 Conqueror




Legendary Star-Lord Tp Vol 01 Face It I Rule




Magneto Tp Vol 02 Reversals 




March Gn Book 02 




Monster Tp Vol 03 Perfect Ed Urasawa 




Sons Of Anarchy Tp Vol 02




Ultimate Spider-Man Ultimate Collection Tp Book 05 




Umineko When They Cry Gn Ep 4 #3 Alliance O/T Gold  




Will Eisner Spirit Artist Ed Hc Vol 02




X-Force Tp Vol 02 Hide Fear 



TOYS
Batman Arkham City Batman Vs Bane Af 2 Pack




Robocop Vs Terminator 7in Ser 1 Af Asst




Robocop Vs Terminator 7in Ser 2 Af Asst




Star Wars Black Stormtrooper 6in Af 




ODDS AND ENDS
Bear Champ Original Edition 9in Vinyl Figure




Celcius Overheat Version 7in Figure




DC Batman Auto Fig Mag #48 Detective #597 




DC Batman Auto Fig Mag #49 Classic Tv Batcopter




DC Batman Auto Fig Mag #50 Detective #434




DC Comics Super Villains Deathstroke Bust 




DC Superhero Chess Fig Coll Mag #73 Vibe 




DC Superhero Chess Fig Coll Mag #74 Arcane
Jaguar Knight Og Edition 12in Vinyl Figure
Lorbo 7in Vinyl Fig 
Marvel Chess Fig Coll Mag #21 Wasp




Marvel Chess Fig Coll Mag #22 Viper 

 


Marvel Chess Fig Coll Mag #23 Vision

 


Star Trek Starships Fig Mag #31 The Valdore

 


Star Trek Starships Fig Mag #32 Danube Class 

 


Star Trek Starships Fig Mag #33 Cardassian Hideki 

 


Star Trek Starships Fig Mag Special #3 USS Vengeance