What's coming this week! Also the gift guide!

HOLIDAY GIFT GUIDE!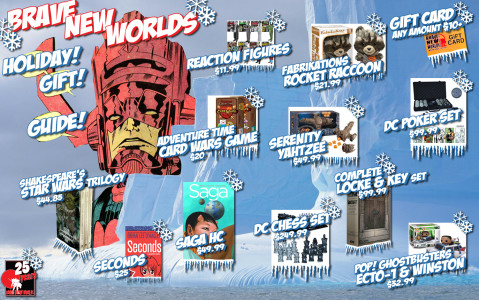 We've got a full rundown of everything on this over HERE

COMICS!
ARCHIE COMIC PUBLICATIONS
(W) Roberto Aguirre Sacasa (A) Francesco Francavilla, Jack Morelli (CA) Francesco Francavilla
"Betty, RIP," Part 1 (of 6). It's been weeks since Archie and his friends left Riverdale. Now, they are wandering the deserted highways of America, one step ahead of the ever-pursuing vicious zombie horde. When they decide to set down roots to observe their first post-apocalypse Thanksgiving, Mr. Lodge leads a team into the forests of Pennsylvania to find dinner, but the hunters soon become the hunted, and not all of the gang will make it out of the woods alive!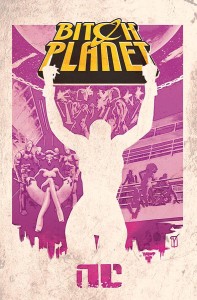 BITCH PLANET #1
IMAGE COMICS
(W) Kelly Sue DeConnick (A/CA) Valentine De Landro
2014 Best Writer Eisner Award nominee KELLY SUE DeCONNICK (PRETTY DEADLY, Captain Marvel) and VALENTINE DE LANDRO (X-Factor) team up for the very third time to bring you the premiere issue of BITCH PLANET, their highly-anticipated women-in-prison sci-fi exploitation riff. Think Margaret Atwood meets Inglourious Basterds.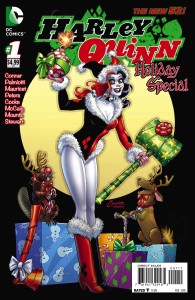 HARLEY QUINN HOLIDAY SPECIAL #1
DC COMICS
(W) Amanda Conner, Jimmy Palmiotti (A) Darwyn Cooke & Various (CA) Amanda Conner
We got you a present, comics fans – a gut-busting (sometimes literally) collection of short stories featuring Harley and her special brand of holiday cheer! Can she get through Christmas dinner without blowing something up? Who will survive the war of the department-store Santas? Don't miss this one – after all, you can't spell "holidays" without "Harley!" (Give or take a couple letters.)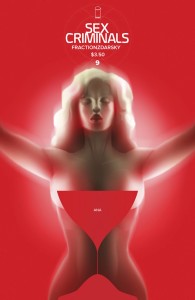 SEX CRIMINALS #9
IMAGE COMICS
(W) Matt Fraction (A/CA) Chip Zdarsky
Suze and Jon meet Ana. Or rather, meet Ana AGAIN. Or should we say, meet…Ms. Jazmine St. Cocaine AGAIN. Did we just put those words in that order in PREVIEWS? Yes. Yes we did. By MATT FRACTION (SEX CRIMINALS) and CHONNY ZDARKO (SEX CRIMINALS).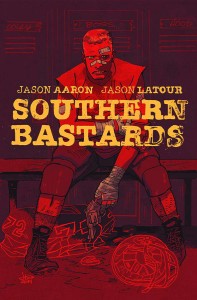 SOUTHERN BASTARDS #6
IMAGE COMICS
(W) Jason Aaron (A/CA) Jason Latour
Dig further into the grim past of the biggest bastard of them all, and discover how Coach Boss came to be the most feared man in all Craw County.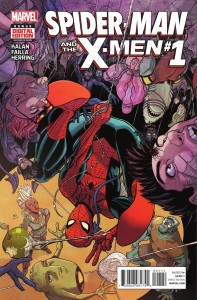 SPIDER-MAN AND X-MEN #1
MARVEL COMICS
(W) Elliott Kalan (A) Marco Failla (CA) Nick Bradshaw
• Meet the Jean Grey Academy's new guidance counselor: Spider-Man!
•  What's a non-mutant doing at a school for mutants? What secret suspicion has fueled the formation of his special student class?
•  And because you demanded it! Sauron and Stegron the Dinosaur Man! The villain team 65 million years in the making! You didn't demand it? Well somebody did.
Rated T+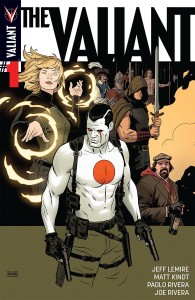 THE VALIANT #1 (OF 4)
VALIANT ENTERTAINMENT LLC
(W) Jeff Lemire, Matt Kindt (A/CA) Paolo Rivera
A battle ten millennia in the making is about to begin…The Eternal Warrior has protected the Earth for more than 10,000 years. A master of countless weapons and long forgotten martial arts, he is guided by the Geomancers – those who speak for the Earth. During his long watch, the Eternal Warrior has failed three times. Each time, the Geomancer was killed…and a new dark age for humanity began. Each time, he was unable to stop The Immortal Enemy – a monstrous force of nature. A civilization killer. A horror that appears differently each time it arrives…and whose seemingly only purpose is to bring disorder and darkness to the world. Now, the time has come for The Immortal Enemy to return once more. But, this time, the Eternal Warrior will be ready. This
time, he has a force greater than any single warrior. This time, he has…THE VALIANT.An entirely self-contained, new reader friendly comics event spotlighting Bloodshot, Eternal Warrior, Geomancer, and a cast of heroes and villains from across the Valiant Universe, THE VALIANT is a visionary new adventure from three of the greatest creative talents in comics today.
TRADES AND HARDCOVERS!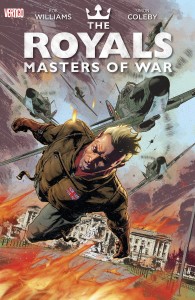 ROYALS MASTERS OF WAR TP
DC COMICS
(W) Rob Williams (A) Simon Coleby, Gary Erskine (CA) Simon Coleby
The year is 1940. As the Blitz destroys London and kills thousands, the Royal Family looks on. But in this world, the only people with special abilities are Royalty, and the purer the bloodline, the greater their abilities. When England's Prince Henry can take no more and intervenes, breaking a truce between royal families, will it stop the planet's suffering or take it to another level? Collecting the 6-issue miniseries.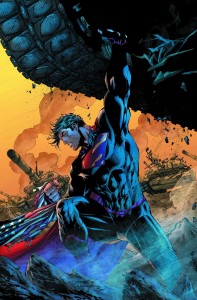 SUPERMAN UNCHAINED DELUXE ED HC
DC COMICS
(W) Scott Snyder (A) Jim Lee & Various (CA) Jim Lee, Scott Williams
The entire nine-issue UNCHAINED series by the superstar team of writer Scott Snyder and artist Jim Lee is collected in this amazing hardcover! When satellites start to fall from the sky, the big question is who stopped the last one from falling. Lex Luthor, Lois Lane, Batman, Wonder Woman, eco-terrorists, the U.S. Army and, most of all, the mysterious being known as Wraith all figure in this epic story from two of comics' hottest talents!
 NOW ONTO THE REST OF THE STUFF!
(the following list of comics reflects all the comics coming into both locations. If there's something on this list that's not in stock at your favorite BNW location do not hesitate to ask for us to order it for you!)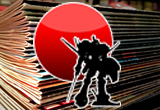 COMICS AND MAGAZINES
Abe Sapien #18




Afterlife With Archie #7




Alice Cooper #4   




All New Ultimates #11    




Amazing Spider-Man #11




Amazing Spider-Man Annual #1   




Amazing X-Men #14 




Angry Birds Holiday Special




Angry Birds Transformers #2 (OF 4)    




Astro City #18 




Avengers #39




Avengers And X-Men Axis #7 (OF 9)




Avengers World #16 




Axis Carnage #3 (OF 3) 




Batgirl #37 




Batman Eternal #36 




Bitch Planet #1 




Bitch Planet #1 Ghost Var




Bravest Warriors #27




Coffin Hill #14




Constantine #20   




Copperhead #4




Crossed Badlands #68 




Deadpools Art Of War #3 (OF 4) 




Death Defying Dr Mirage #1 (OF 5) 2nd Ptg 




Death Of Wolverine Logan Legacy #6 (OF 7)  




Deep State #2    




Dredd Uprise #2 (OF 2)  




Dungeons & Dragons Legends Of Baldurs Gate #3  




Earth 2 Worlds End #10 




East Of West World One Shot  




Empty Man #6 (OF 6)




Eternal #1  




Ex Con #4




FBP Federal Bureau Of Physics #16 




Flash Gordon #7 




Fraggle Rock Journey Everspring #3 (OF 4) 




Fuse #8




George Perez Sirens #2




George Romeros Empire Of Dead Act Two #4 (OF 5)




God Is Dead #25




Godkiller Walk Among Us #3




Goon Occasion Of Revenge #4 (OF 4)




Green Lantern Corps #37 




Guardians Of Galaxy Annual #1 




Harley Quinn Holiday Special #1 




Haunted Horror #14  




Hexed #5           




John Carter Warlord #2




Justice League United #7




Klarion #3




Knights Of The Dinner Table #215




Lady Demon #1




Little Nemo Return To Slumberland #3   




Lola XOXO #5 




Maxx Maxximized #14  




My Little Pony Friends Forever #12    




New 52 Futures End #32




New Suicide Squad #5    




Nightcrawler #9   




October Faction #3




Parallel Man #3  




Peter Panzerfaust #22 




Popeye Classics Ongoing #29




Prometheus Fire And Stone #4   




Punisher #13




Punks The Comic #3




Rachel Rising #30  




Regular Show #18 




Rocket Raccoon #6         




Savage Dragon #200 




Scooby Doo Where Are You #52 




Secret Six #1 Blank Var Ed




Sex Criminals #9




Shutter #7




Sinergy #2




Skylanders #3 




Solar Man Of Atom #8 




Solitary #1 (OF 4)




Sonic The Hedgehog #267




Southern Bastards #6




Spider-Man And X-Men #1




Spider-Verse Team Up #2 (OF 3)




Spongebob Comics #39 




Star Trek New Visions Made Out Of Mudd 




Suicide Risk #20 




Supreme Blue Rose #5




Teen Dog #4  




The Valiant #1 (OF 4) 




Thomas Alsop #7 (OF 8)




Thor #3 




Tmnt Ongoing #41




Transformers #36




Uncanny X-Men Annual #1  




V-Wars #8 




Walking Dead #135




Wilds End #4 




Worlds Finest #29 




X #20




X-Force #13      




X-Men #22  



TRADE PAPERBACKS, GRAPHIC NOVELS, HARDCOVERS AND MANGA
Battle Angel Alita Last Order Omnibus Vol 05




Ditkos Shorts Hc




Ghosted Tp Vol 03




GI Joe Americas Elite Disavowed Tp Vol 05     




Howard Nostrand Nightmares Hc        




My Little Pony Adventures In Friendship Hc Vol 01




Nightwing Tp Vol 05 Setting Son




Red Hood And The Outlaws Tp Vol 05 The Big Picture 




Robocop Tp Vol 03 Last Stand Pt 2




Royals Masters Of War Tp 




Savage Hulk Tp Vol 01 Man Within 




Superman Unchained Deluxe Ed Hc   




TMNT Turtles In Time Tp 




Transformers More Than Meets The Eye Tp Vol 06



TOYS
Arkham City Hugo Strange 2013 SDCC Exclusive Af 




Batman Animated NBA Mr Freeze Af  




Batman Animated NBA Two Face Af   




Dc Comics Designer Ser 2 Capullo Dlx Batman Thrasher




Ghostbusters Ongoing Tp Vol 09 Mass Hysteria Pt 2




Green Lantern 3 3/4 Inch 4 Pack SDCC 2013 Exc




Hal Jordan Saint Walker SDCC 2013 Exc 3 3/4 2 Pack 




John Stewart Atrocitus NYCC 2013 Exc 3 3/4 2 Pack 




Super Best Friends Poison Ivy SDCC 2013 Exc Fig




Walking Dead Tv 10in Rick Grimes Dlx Af Cs 





ODDS AND ENDS
Amazing Spider-Man 2 Movie Bust




Avengers #25 By Ross 75th Anniv Poster    




Captain America Living Legend By Granov Poster  




Daredevil #1 75th Anniv By Ross Poster  




Daredevil #1 By Samnee Poster




Dc Comics Icons Aquaman 1/6 Scale Statue




Dc Comics Icons Flash 1/6 Scale Statue 




Godzilla Trading Figure Collection Godzilla 2004




Godzilla Trading Figure Collection Godzilla 2014




Godzilla Trading Figure Collection Kiryu 




Shield Hydra Px Heat Change Mug 




Star Trek Starships Fig Mag #30 Nausicaan Fighter  




Superman Vs Darkseid Statue 2nd Ed 




Superman Wonder Woman Holiday Kiss Mini Statue




X-Men Battle Of Atom By Arthur Adams Poster