Here's what's coming this week!  It's a good one!


'Tis (still) the Holiday shopping season!
The BNW Holiday Gift Guide is HERE once again! We'll be posting other great gift ideas on the BNW Facebook pages and on the BNW Old City's Instagram until the Holidays run out!
Son of Batman Action Figures!
Get your hands on Batman, Damian Wayne Robin, Nightwing and Deathstroke stylized to look like they jumped right outta the Son of Batman animated feature!
A Magician's wish comes true!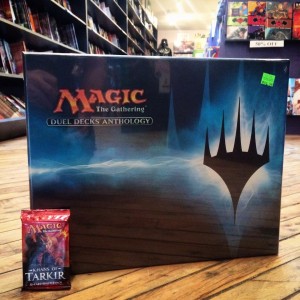 Never before have so many gathered in one place. These will be fights to remember.
These eight, ready-to-play, 60-card Magicdecks showcase our first four dueling match-ups. Rejoin the fray as the game's most famous Planeswalkers go head to head. Relive the Divine clashing with the Demonic, and Elves confronting Goblins. Replay the original duels, or mix and match the combatants to create new battles across the Multiverse.
Duel Decks: Anthology contains all eight decks from the first four Duel Decks products:
Duel Decks: Elves vs. Goblins
Duel Decks: Jace vs. Chandra
Duel Decks: Divine vs. Demonic
Duel Decks: Garruk vs. Liliana


Comics!
MARVEL COMICS
(W) Rick Remender (A/CA) Stuart Immonen
• The new Hydra has formed, comprised of the most ruthless villains of the Marvel Universe as the great infiltration continues!
•  Cap uncovers the ultimate goal of the new Hydra but is it too late to stop them?
•  Cap and Nomad's new partnership is put to the ultimate test as they race to uncover The Sect of the Unknown!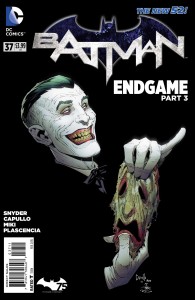 (Look at that cover!)
BATMAN #37
DC COMICS
(W) Scott Snyder, James TynionIV (A) Greg Capullo, Danny Miki (CA) Greg Capullo
The ultra top-secret Batman arc known only as "Endgame," continues – it's a story arc so steeped in mystery, all we can tell you is the title!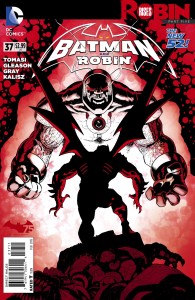 (Darkseid versus Batman ON Apokolips! HUGE)
BATMAN AND ROBIN #37
DC COMICS
(W) Peter J. Tomasi (A) Patrick Gleason, Mick Gray (CA) Mick Gray, Patrick Gleason
Batman vs. Darkseid! The penultimate chapter of "Robin Rises" is here! Can Batman bring Damian Wayne back from death?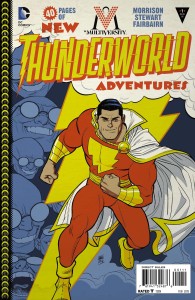 (Morrison and Stewart!?! YES!)
MULTIVERSITY THUNDERWORLD #1
DC COMICS
(W) Grant Morrison (A/CA) Cameron Stewart
The fifth chapter of the greatest adventure in DC Comics history is here!
Acclaimed for their collaborations on BATMAN AND ROBIN, SEAGUY and SEVEN SOLDIERS OF VICTORY: THE MANHATTAN GUARDIAN, superstar writer Grant Morrison and renowned artist Cameron Stewart deliver some magic to THE MULTIVERSITY with a breathtaking journey to  Earth-5 – A.K.A. Thunderworld!
With a single word, Billy Batson transforms from boy reporter for Whiz Media into the world's Mightiest Mortal – Captain Marvel! Along with the other members of the Marvel Family, Captain Marvel battles dastardly villains like Mr. Mind and the Monster Society of Evil! But now, his greatest foe has attacked the Rock of Eternity – the source of the Marvel Family's power – and it could mean the end of reality as we know it! What impossible villains are Sivana teaming up with who could spell doom for the Multiverse? From where did Sivana's children get their newfound super powers? And what does the appearance of one mysterious comic book mean for the heroes of Thunderworld?
Find out all that and more in this exciting issue that acts as chapter five of THE MULTIVERSITY.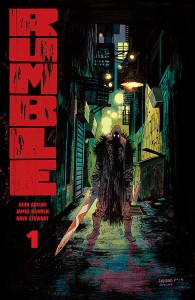 (been waiting for this!)
RUMBLE #1
IMAGE COMICS
(W) John Arcudi (A/CA) James Harren
Okay, so a scarecrow walks into a bar…and proceeds to wreak havoc across two worlds! After a long absence, Rathraq, Scarecrow Warrior God, is back-and very unhappy. Bad news for his old enemies, yes, but worse news for everybody else! JOHN ARCUDI and JAMES HARREN bring you a modern day action/adventure fantasy thriller where rundown dive bars, undead kitty cats, psycho skinheads, and giant mummies all play a part.  It's Louis C.K. meets Robert E. Howard in a David Fincher universe.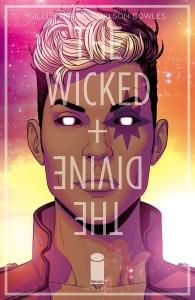 (first issue back since the trade!)
WICKED & DIVINE #6
IMAGE COMICS
(W) Kieron Gillen (A/CA) Jamie McKelvie
THE FAUST ACT is over. Welcome to FANDEMONIUM.
The second arc of THE WICKED + THE DIVINE begins in its traditional manner (i.e. a ludicrous pun.) We'd say something like "nothing will ever be the same again" but if you think about it, you can say that about literally everything, ever. Er…also some comic story. Probably.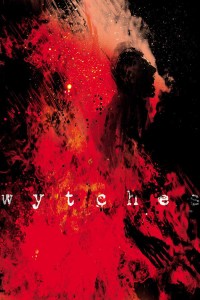 (Pledge is Pledge)
WYTCHES #3
IMAGE COMICS
(W) Scott Snyder (A/CA) Jock
A parent's worst nightmare: a beloved child lost in the woods. Behind the trees lurk horrors, and the brush conceals atrocity. No matter how desperate the search, understand that your prayers will fall on deaf ears. There is no escape from the Wytches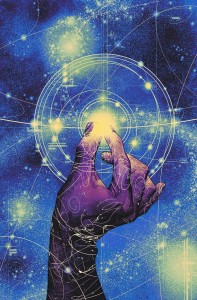 (Double dose of Grant Morrison this week!)
ANNIHILATOR #4 (OF 6)
LEGENDARY COMICS
(W) Grant Morrision (A/CA) Frazer Irving
Ray Spass' life was a complete mess – a crumbling screenwriting career, a failed love life, an inoperable brain tumor – but that was before his screenplay's fictional hero, deep-space fugitive Max Nomax, showed up in real life, insisting that his tumor contains a universe of secrets. Now, the only way for Ray to save his own life (and our existence) is to extract the information, one chapter at a time. Partnering with his fictional creation, Ray drags his ex, Luna, into their vortex of chaos. As the group faces an unexpected monster, Nomax makes a shocking revelation that endangers everyone involved.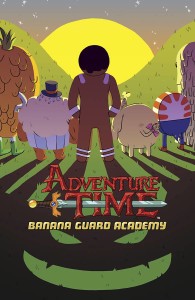 (People have been really enjoying this series!)
ADV TIME BANANA GUARD ACADEMY #6
BOOM! STUDIOS
(W) Kent Osborne, Dylan Haggerty (A) Madeline Rupert (CA) Aimee Fleck, Christina Chang
In this sixth and final issue, the terrible evil threatening Candy Kingdom will finally be released into Ooo, knocking the Banana Guards out of commission! It's up to our favorite group of ragcadets to save the day… and hopefully get the opportunity to graduate.
You may have missed it last week!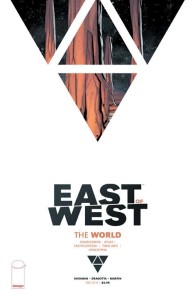 (Diamond may have shorted us these last week but they're here now!)
EAST OF WEST WORLD ONE SHOT
IMAGE COMICS
(W) Jonathan Hickman (A/CA) Nick Dragotta
"THE WORLD"
A STAND ALONE, all-encompassing look at the wider world of EAST OF WEST. Part atlas, part encyclopedia, part timeline, and part apocrypha, EAST OF WEST: THE WORLD is the must-have one-shot companion to the spellbinding series.NOTE: EAST OF WEST: THE WORLD will contain pivotal plot and character info that will not be in the regular series…so don't miss out!The Apocalypse is illuminated in EAST OF WEST: THE WORLD.
Collections to look at!
IDW PUBLISHING
(W) Stan Lee (A/CA) John Buscema
John Buscema was one of the most important artists at Marvel Comics for decades. He produced gorgeous pencils for some of the most iconic characters at the House of Ideas, including The Avengers, Thor, The Fantastic Four, The Amazing Spider-Man and many more. But he is perhaps most acclaimed for his stunning rendition of the noble Silver Surfer! This Artist's Edition will include Silver Surfer classics #5 and #6, both double-sized issues, as well as other stories, a cover and classic page gallery, plus more! All done with the full endorsement and cooperation of the Buscema family.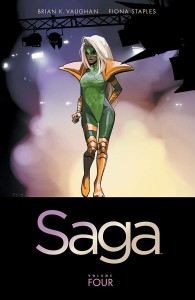 (it's finally here! all your waiting has paid off!)
SAGA TP VOL 04
IMAGE COMICS
(W) Brian K. Vaughan (A/CA) Fiona Staples
    The #1 New York Times bestseller returns!
Visit new planets, meet new adversaries and explore a very new direction, as Hazel becomes a toddler while her family struggles to stay on their feet.Collects SAGA #19-24
NOW ONTO THE REST OF THE STUFF!
(the following list of comics reflects all the comics coming into both locations. If there's something on this list that's not in stock at your favorite BNW location do not hesitate to ask for us to order it for you!)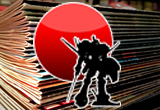 COMICS AND MAGAZINES
Adv Time Banana Guard Academy #6 (OF 6)




Alex + Ada #11 




All New Captain America #2 




All New X-Men #34 




And Then Emily Was Gone #5 (OF 5)




Annihilator #4 (OF 6) 




Arrow Season 2.5 #3    




Avengers And X-Men Axis #8 (OF 9)  




Axis Hobgoblin #3 (OF 3)   




Axis Revolutions #4 (OF 4)  




Batman #37    




Batman And Robin #37 




Batman Eternal #37     




Batman Superman #17 




Batwoman #37 




Black Widow #13   




Bobs Burgers #5 (OF 5)      




BPRD Hell On Earth #126  




Bunker #8




Captain Marvel #10      




Catwoman #37      




Criminal Macabre Third Child #4 




Dark Horse Presents 2014 #5 




Death Defying Dr Mirage #4 (OF 5) 




Death Of Wolverine Weapon X Program #4 (OF 5)




Deathlok #3      




Django Zorro #2 (OF 6)




Doctor Who 10th #5




Doctor Who Magazine #480




Drifter #2




Earth 2 Worlds End #11




Eerie Comics #6    




Elektra #9 




Fables #147




Fantastic Four #14 




Game Of Thrones #23




GI Joe (2014) #4 




GI Joe A Real American Hero #209




Godzilla Cataclysm #5 (OF 5)




Godzilla Rulers Of The Earth #19  




Goners #3




Green Lantern New Guardians #37 




Guardians Of Galaxy #22 




Harbinger Faith #0 




Hellraiser Bestiary #5




Infinite Crisis Fight For The Multiverse #6    




Inhuman #10 




Intersect #2




Jim Hensons Storyteller Witches #4 




Justice Inc #5 (OF 6)




Justice League #37 




Kitchen #2 (OF 8)




Lil Depressed Boy Supposed To Be There Too #3  




Lone Ranger Vindicated #2 (OF 4) 




Lumberjanes #9    




Mad Magazine #531 




Magnus Robot Fighter #9 




Manifest Destiny #12




Marvel Universe Avengers Assemble Season Two #2




Mega Man #44 




Miles Morales Ultimate Spider-Man #8   




Moon Knight #10




Ms Marvel #10      




Multiversity Thunderworld #1




My Little Pony Equestria Girls Holiday Special 




New 52 Futures End #33 




Oddly Normal #4 




Peanuts Vol 2 #24  




Predator Fire And Stone #3 (OF 4) 




Q2 Rtn Quantum & Woody #3 (OF 5)




Ragnarok #3




Red Hood And The Outlaws #37  




Rot & Ruin #4 




Rumble #1 




Sandman Overture #4 (OF 6)




Scarlet Spiders #2 (OF 3)




Sensation Comics Featuring Wonder Woman #5 




Shadow Show #2 (OF 5)




Simpsons Comics #216 




Smallville Season 11 Continuity #1 (OF 4)




Sons Of Anarchy #16




Spider-Woman #2 




Star Trek Ongoing #39  




Steven Universe #5 




Storm #6   




Stumptown V3 #4 




Supergirl #37




Teen Titans #5 




Teen Titans Go #7 




Terrible Lizard #2 (OF 5) 




TMNT Ghostbusters #1 (OF 4) 2nd Ptg




TMNT New Animated Adventures #18 




Town Called Dragon #4 (OF 5) 




Transformers Drift Empire Of Stone #2 (OF 4)   




Transformers More Than Meets Eye #36 




Trinity Of Sin #3  




Vampirella Feary Tales #3 (OF 5)




Wayward #5




Wicked & Divine #6




Wonder Woman #37




Wytches #3 




Zero #13



TRADE PAPERBACKS, GRAPHIC NOVELS, HARDCOVERS AND MANGA
All New X-Men Tp Vol 04 All Different




Angel & Faith Season 10 Tp Vol 01 River Meets Sea 




Archie Rockin The World Tp 




Batgirl Hc Vol 05 Deadline




Batgirl Tp Vol 04 Wanted




Batman & Robin Hc Vol 05 The Big Burn 




Batman Kelley Jones Gallery Ed Hc




Cyclops Tp Vol 01 Starstruck  




Daredevil By Mark Waid Tp Vol 07 




Doctor Who Visual Dictionary Updated Expanded Hc 




Earthling Gn 




Henson Hc Novel Slipcase Box Set




John Buscema Silver Surfer Artist Ed Hc




Krampus Tp 




Lobster Johnson Tp Vol 04 Get The Lobster 




Mobile Suit Gundam Origin Hc Vol 08 




Saga Tp Vol 04 




Sonic Super Digest #10      




Spice And Wolf Gn Vol 10 




Star Trek New Adventures Tp Vol 01 




Superman Batman Tp Vol 02 




Swamp Thing Tp Vol 05 The Killing Field




Sword Art Online Fairy Dance Gn Vol 02




Sword Art Online Novel Vol 03 Fairy Dance




Thief Of Thieves Tp Vol 04 




Thunderbolts Tp Vol 05 Punisher Vs Thunderbolts




Uncanny X-Force By Remender Comp Coll Tp Vol 02  



TOYS
Batman Arkham Origins Action Figure 4 Pack  




Marvel Select Colossus Af (RESTOCK!)




Son Of Batman Batman Af   




Son Of Batman Deathstroke Af




Son Of Batman Nightwing Af   




Son Of Batman Robin Af




Star Wars Black Chewbacca 6in Af




ODDS AND ENDS
Batman 1966 Bust Bank 




Batman 1966 Robin Bust Bank 




Batman Black & White Statue By Michael Turner




DC Batman Auto Fig Mag #46 The Killing Joke




DC Batman Auto Fig Mag #47 Robin #1 Car 




DC Superhero Chess Fig Coll Mag #71 Power Ring




DC Superhero Chess Fig Coll Mag #72 Parasite 




Marvel Chess Fig Coll Mag #20 Mandarin




Superman Mini Statue New Ed




Sw Han Solo & Chewbacca Artfx+ Statue 




Vertigo Cover Girls Death Statue New Ed