Warm up with some BNW updates and what's shipping this week!

 BLACK FRIDAY SALE!
Check out what's going on for that over HERE!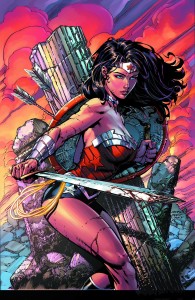 (NEW CREATIVE TEAM! JUMP ON IN!)
WONDER WOMAN #36
DC COMICS
(W) Meredith Finch (A/CA) David Finch, Richard Friend
Please welcome the new superstar creative team of writer Meredith Finch and artist David Finch! As this new epic begins, the fate of the Amazons is about to be revealed, major new characters will be introduced and a new villain will arrive with enough power to defeat the combined might of Wonder Woman and her Justice League teammates! Don't miss the start of this story that guest stars Swamp Thing! It will define what it takes for Diana to fulfill her destiny as Wonder Woman!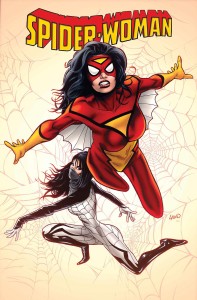 (That one cover was causing some problems recently…)
SPIDER-WOMAN #1
MARVEL COMICS
(W) Dennis Hopeless (A/CA) Greg Land
New Ongoing Series/Spider-Verse Tie-In!
Jessica Drew has been an agent of S.H.I.E.L.D., and agent of S.W.O.R.D., an Avenger and so much more. But nothing could prepare her for the multidimensional insanity that is Spider-Verse! A war is brewing, and every spider-character in the multiverse is a target! But being a target is something Jessica Drew just won't abide. She's a woman with a mission and with Silk, the newest spider-character on the block at her side, she'll have to put all her training to the test if she wants to make it out of Spider-Verse alive!
SPIDER-VERSE KICKS OFF A NEW ONGOING SERIES!
•  Dennis Hopeless (CABLE & X-FORCE, AVENGERS: ARENA) and Greg Land (UNCANNY X-MEN) bring you a universe spanning adventure starring Jessica Drew Spider-Woman and the newest spider-hero, SILK!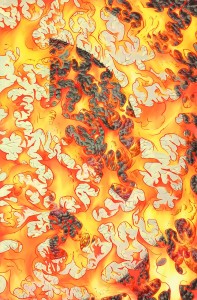 (MULTIVERSITY! FRANK QUITELY PENCILS! NUFF SAID!)
MULTIVERSITY PAX AMERICANA #1
DC COMICS
(W) Grant Morrison (A/CA) Frank Quitely
Brace yourselves for the next exciting chapter of THE MULTIVERSITY as the acclaimed ALL-STAR SUPERMAN team of writer Grant Morrison and artist Frank Quitely investigate the conspiracy on Earth-4, home of Pax Americana! Told backwards through an experimental storytelling technique that reveals new mysteries with each turn of the page, PAX AMERICANA stars The Question, Blue Beetle, Captain Atom, Nightshade and Peacemaker like you've never seen them before! As the assassination of the U.S. president leads to political intrigue, interpersonal drama and astro-physical wonder, the truth behind the crime and those involved will blow your mind! What confidential conversation between the president and Captain Atom could reveal everything? How far will The Question take his hunt for the truth before he hurts his former friends – or himself? And who is the steel-handed bogeyman operating in the shadows?
Discover all this and more in this exciting stand-alone issue which also acts as chapter four of the MULTIVERSITY storyline. Join us, if your dare, for THE MULTIVERSITY!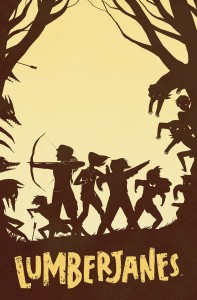 (awww it's the last issue…)
LUMBERJANES #8 (OF 8)
BOOM! STUDIOS
(W) Grace Ellis, Noelle Stevenson (A) Brooke A. Allen (CA) Noelle Stevenson
This crazy war between Apollo and Artemis finally reaches its peak and it's up to the Lumberjanes to save their camp from this crazy sibling rivalry. All questions are finally answered and the scouts learn the true importance of trust and friendship.
INTERSECT #1
IMAGE COMICS
(W/A/CA) Ray Fawkes
Blood rains from the skies. A hypnotic voice trills over the airwaves as bodies shift and grow in horrifying new directions. Are you ready for the new world? RAY FAWKES, acclaimed creator of One Soul and writer of Constantine and Batman: Eternal, launches a terrifying monthly odyssey of madness and warped flesh in this lush, fully-painted debut issue!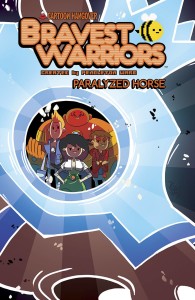 (
THIS
)
BRAVEST WARRIORS PARALYZED HORSE GIANT #1
BOOM! STUDIOS
(W) James TynionIV & Various (A) Erica Henderson & Various (CA) Tessa Stone
WHY WE LOVE IT: Ever since he made his epic debut in the Bravest Warriors cartoon, we've wanted to bring Beth's beloved pet to comics and now we can in an oversized issue dedicated entirely to the Paralyzed Horse.
WHY YOU'LL LOVE IT: Do you like quirky, leftthings, things that are just so unusual, you're drawn to it? That's pretty much Paralyzed Horse (and all of BRAVEST WARRIORS for that matter) – a horse that can't move but has farknowledge of the present and future. Plus, we've assembled an amazing team of diverse creators to tell stories of a girl named Beth and her um, unusual horse, including shorts by Mairghread Scott (THE TRANSFORMERS: WINDBLADE), James Tynion IV (BATMAN: ETERNAL, THE WOODS), and BRAVEST WARRIORS vet Tessa Stone.
WHAT IT'S ABOUT: This oversized (48 pages!) onefeatures new original stories from Paralyzed Horse's log that span all of eternity and forever, guestthe entire wacky cast of BRAVEST WARRIORS!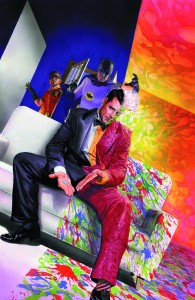 (Hmmm Two-Face eh?)
BATMAN 66 THE LOST EPISODE #1
DC COMICS
(W) Harlan Ellison, Len Wein (A) José Luis García-López, Joe Prado (CA) Alex Ross
  During the original Batman television series run, legendary science-fiction writer Harlan Ellison turned in an outline for a story that would have introduced Two-Face. The story never made it to air, and Two-Face never entered the TV show's Rogues Gallery. Now, "The Two-Way Crimes of Two-Face" is adapted to comics by two comic book legends: writer Len Wein and artist José Luis Garcia-Lopez. Also included in this special edition are Ellison's original prose story outline and the complete, original pencils by Garcia-Lopez.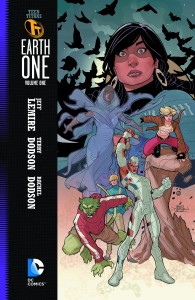 (for all of you who love these Earth One OGNs)
TEEN TITANS EARTH ONE HC VOL 01
DC COMICS
(W) Jeff Lemire (A) Terry Dodson & Various (CA) Rachel Dodson, Terry Dodson
  In this new, original graphic novel, the young heroes of the Teen Titans never felt like normal kids…but they had no idea how right they were. Their seemingly idyllic Oregon upbringing hides a secret – one that will bring killers, shamans, and extraterrestrials down on their heads, and force them into an alliance that could shake the planet to its foundations!
The superstar team of writer Jeff Lemire (ANIMAL MAN, GREEN ARROW) and artist Terry Dodson (WONDER WOMAN, HARLEY QUINN) reinvent DC's youngest heroes, with an all-new mythos in an all-new world!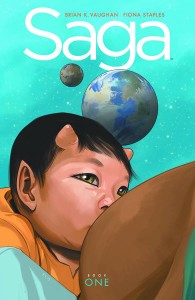 (Saga in Hardcover! Wait is that a boob?)
SAGA DLX ED HC VOL 01
IMAGE COMICS
(W) Brian K. Vaughan (A/CA) Fiona Staples
    At long last, a deluxe hardcover of the Eisner and Hugo Award-winning SAGA is finally here! Collecting the first 18 issues of the smash-hit series, this massive edition features a striking new cover, as well as special extras, including never-before-seen sketches, script pages, and a roundtable discussion with the creators about how SAGA is really made. Altogether, this hardcover contains over 500 pages for less than fifty bucks!
Written by Eisner Award-winning "Best Writer" BRIAN K. VAUGHAN (Y: The Last Man, The Private Eye) and drawn by Harvey Award-winning "Best Artist" Fiona Staples (Mystery Society, North 40), SAGA is the story of Hazel, a child born to star-crossed parents from opposite sides of a never-ending galactic war. Now, Hazel's fugitive family must risk everything to find a peaceful future in a harsh universe that values destruction over creation. Fantasy and science fiction are wed like never before in a sexy, subversive drama for adults that Entertainment Weekly called, "The kind of comic you get when truly talented superstar creators are given the freedom to produce their dream book."
Collects SAGA #1-18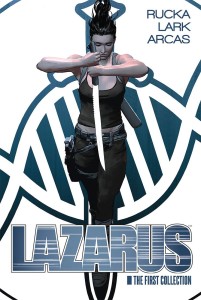 (Whoa! Lazarus in hardcover too!?)
LAZARUS HC VOL 01
IMAGE COMICS
(W) Greg Rucka (A) Michael Lark (CA) Owen Freeman
This prestige hardcover collects the first two arcs of the critically acclaimed and New York Times bestselling series; "Family," which introduces Forever Carlyle and her Family as they are brought to the brink of war in a future of economic collapse; and "Lift," where Forever uncovers a terrorist plot against her Family while another family altogether, the Barrets, take desperate measures to escape their life of poverty. PLUS! Never-before-seen work by MICHAEL LARK and graphic designer ERIC TRAUTMANN, and exclusive world-building content.Collects LAZARUS #1-9 with four-page preview and additional content.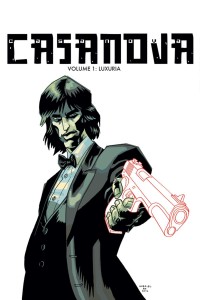 (A
NEW
version of Casanova in hardcover?![the book in which i fell in love with Fraction])
CASANOVA COMPLETE ED HC VOL 01 LUXURIA
IMAGE COMICS
(W) Matt Fraction (A/CA) Gabriel Ba
Casanova Quinn, a decadent thief and black sheep to the most famous family in global super-espionage, gets kidnapped across parallel dimensions where survival means masquerading as the greatest secret agent the world has ever known…Casanova Quinn. The first volume of the ultimate in science fiction spy psychedelia collected in an ultra-deluxe oversized edition. At long last, all the covers, all the content, all the comics, between two gorgeous covers. By MATT FRACTION (SEX CRIMINALS, SATELLITE SAM, Hawkeye), GABRIEL BÁ (UMBRELLA ACADEMY, Daytripper), and FÁBIO MOON (Daytripper, BPRD).Collects CASANOVA #1-4
 NOW ONTO THE REST OF THE STUFF!
(the following list of comics reflects all the comics coming into both locations. If there's something on this list that's not in stock at your favorite BNW location do not hesitate to ask for us to order it for you!)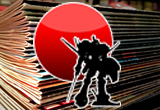 COMICS AND MAGAZINES
Amazing Spider-Man #10 




American Legends #3 (OF 5) 




Annihilator #3 (OF 6)




Army Of Darkness Hitched #4 (OF 4)




Astro City #17




Avengers #38




Avengers And X-Men Axis #6 (OF 9) 




Avengers World #15 




Axis Carnage #2 (OF 3)




Axis Revolutions #2 (OF 4)  




Batman 66 Meets Green Hornet #6 (OF 6)




Batman 66 The Lost Episode #1 




Batman And Robin #36




Batman Eternal #33




Batman Superman #16  




Batwoman #36       




Black Widow #12  




Bobs Burgers #4    




BPRD Hell On Earth #125




Bravest Warriors Paralyzed Horse Giant #1  




BTVS Season 10 #9 




Criminal Macabre Third Child #3




Crossed Badlands #66




Daredevil #10 




Dark Horse Presents 2014 #4  




Dawn Vampirella #2 (OF 6) 




Dead At 17 Blasphemy Throne #4 (OF 7)  




Deadly Class #9




Deadpool #37 




Death Of Wolverine Weapon X Program #2 (OF 5)  




Doctor Who 12th #2 




Dream Merchant #6 (OF 6) 




Dungeons & Dragons Legends Of Baldurs Gate #2 




Earth 2 Worlds End #7 




Elektra #8        




Evil Ernie #2 




Fables #146 




Fantastic Four #13




Futurama Comics #73




God Is Dead #24




Godzilla Cataclysm #4 (OF 5) 




Goners #2   




Grayson #1 3rd Ptg  




Green Lantern New Guardians #36




Guardians Of Galaxy #21 




Harley Quinn #12   




Hellraiser Bestiary #4




Hobby Japan Oct 2014




Infinite Crisis Fight For The Multiverse #5  




Inhuman #8  




Injustice Gods Among Us Year Three #4  




Intersect #1 




Invincible #115




Jim Hensons Storyteller Witches #3 




Justice League #36  




Last Broadcast #7




Loki Agent Of Asgard #8




Lumberjanes #8 (OF 8)




Magneto #12 




Magnus Robot Fighter #8




Mega Man #43 




Moon Knight #9 




Morning Glories #42




Ms Marvel #1 7th Ptg




Multiversity Pax Americana #1




My Little Pony Friendship Is Magic #25   




New 52 Futures End #29 




New Avengers #26 




Peanuts Vol 2 #23




Powers Bureau #12




Predator Fire And Stone #2 (OF 4)




Protectors Inc #10 




Punisher #12  




Punk Mambo #0




Red Hood And The Outlaws #36




Regular Show #17




Revival #25




Rot & Ruin #3 




Sensation Comics Featuring Wonder Woman #4 




Simpsons Winter Wingding #9




Sinergy #1  




Sleepy Hollow #2 (OF 4) 




Solar Man Of Atom #7 




Sonic Universe #70 




Sons Of Anarchy #15




Spider-Woman #1 




Storm #5  




Strain Night Eternal #4




Supergirl #36   




Superman Wonder Woman #13 




Teen Titans #4          




Terminal Hero #4 




Terminator Salvation Final Battle #11 (OF 12)  




Thief Of Thieves #25




Transformers Primacy #4  




Trinity Of Sin #2      




Uncanny X-Men #28   




Witchblade #179




Wonder Woman #36 




X-Force #12     




X-O Manowar #30




Zero #12



TRADE PAPERBACKS, GRAPHIC NOVELS, HARDCOVERS AND MANGA

Aquaman Hc Vol 05 Sea Of Storms




Aquaman Tp Vol 04 Death Of A King




Batman Detective Comics Hc Vol 05 Gothtopia




Batman Detective Comics Tp Vol 04 The Wrath




Bounce Tp




Btvs Season 10 Tp Vol 01




Casanova Complete Ed Hc Vol 01 Luxuria 




Disney Frozen Cinestory Vol 01    




Drawing Beautiful Women Frank Cho Method Sc




Durarara Yellow Scarves Gn Vol 02 




Fairest In All The Land Tp




GotG By Abnett And Lanning Complete Coll Tp Vol 02




Guardians Galaxy Prem Hc Vol 03 Guardians Disassemble




Higurashi When They Cry Gn Vol 26 




Iron Fist Living Weapon Tp Vol 01 Rage 




Lazarus Hc Vol 01 




Littlest Pet Shop Hc   




My Little Pony Friends Forever Tp Vol 02  




Realm Of Kings Tp New Ptg




Resident Evil Marhawa Desire Gn Vol 01 




Runaways Complete Collection Tp Vol 02  




Saga Dlx Ed Hc Vol 01   




Silver Surfer Epic Collection Tp When Calls Galactus




Syllabus Notes From Accidental Professor Sc




Teen Titans A Celebration Of 50 Years Hc 




Teen Titans Earth One Hc Vol 01   




Thor God Of Thunder Prem Hc Vol 04 Last Days Midgard




TMNT Legends Souls Winter Michael Zulli Hc




Tomb Raider Tp Vol 01 Season Of Witch




Transformers Robots In Disguise Tp Vol 06




Walking Dead Omnibus Hc Vol 05 




Wolverine Tp Book 02 Three Months To Die



TOYS
Batman Animated NBA Batman Af  




Batman Lil Gotham Harley Quinn Mini Action Figure




Batman Lil Gotham Robin Mini Action Figure   




Marvel Super Hero Adv Fig 2pk Asst 




Nightmare On Elm St 30th Ann Ult Freddy 7in Af




Predators 7in Bad Blood Predator Af




Spider-Man Super Hero Adv Fig 2pk Asst 




Star Wars 12in Af Asst 




Star Wars Hero Series X-Wing Fighter 




ODDS AND ENDS
Marvel Comics Avengers Now Thor Artfx+ Statue




SW Han Solo In Carbonite Silicone Tray (RESTOCK!!!)