Here's what's coming out next week! Also if you've got nothing going on tonight and are in and around the Fishtown area of the city Michelle's band is playing Johnny Brenda's! Ok here's stuff…

Bee and Puppycat was great!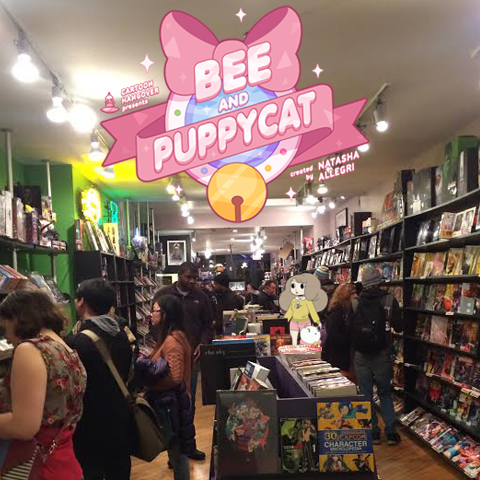 Thanks to everyone who came out for our premiere screening of Bee and Puppycat! If you missed out on seeing with us watch it over on youtube at Cartoon Hangover HERE!
If something like this happens again we'll surely let everyone know!
There's still time to Groot!

Pre-order your own next time you're in either BNW!
There's also still time to SAVE on Warhammer!


Save big on some of those big Warhammer sets you've been eying up!

BATGIRL #36
DC COMICS
(W) Cameron Stewart, Brendan Fletcher (A) Babs Tarr (CA) Cameron Stewart
Batgirl's new life is off to a rousing start when her first day of graduate school is interrupted – by twin sister assassins on motorcycles!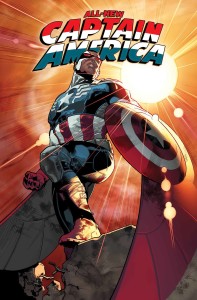 ALL NEW CAPTAIN AMERICA #1
MARVEL COMICS
(W) Rick Remender (A/CA) Stuart Immonen
• This is it! The all-new, Spy-Fi, highflying adventures of Sam Wilson Captain America and Nomad begin here!
•  Hydra is growing, the terrorist band have has infiltrated the Marvel Universe completely! But what is their ultimate goal?
•  United by Hydra, Cap's rogue's gallery gathers to take down the new untested Captain America and Nomad!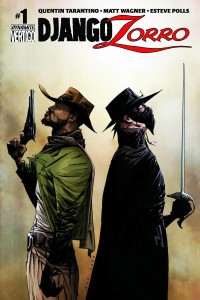 DJANGO ZORRO #1 (OF 6)
D. E.
(W) Quentin Tarantino, Matt Wagner (A) Esteve Polls (CA) Jae Lee
Featuring a story by Oscar Award-Winning Writer/Director, and Django creator Quentin Tarantino, and award-winning writer/artist/creator Matt Wagner!  The official sequel to Django Unchained in the first-ever comic book sequel ever done of a Tarantino film! Set several years after the events of Django Unchained, Django/Zorro #1 finds Django again pursuing the evil that men do in his role as a bounty hunter. Since there's a warrant on his head back east, he's mainly been plying his trade in the western states. After safely settling his wife, Broomhilda, near Chicago, he's again taken to the road, sending her funds whenever he completes a job. It's by sheer chance that he encounters the aged and sophisticated Diego de la Vega – the famed Zorro – and soon finds himself fascinated by this unusual character, the first wealthy white man he's ever met who seems totally unconcerned with the color of Django's skin… and who can hold his own in a fight. He hires on as Diego's "bodyguard" for one adventure and is soon drawn into a fight to free the local indigenous people from a brutal servitude, discovering that slavery isn't exclusive to black folks. In the course of this adventure, he learns much from the older man (much like King Schultz) and, on several occasions, even dons the mask and the whip… of The Fox!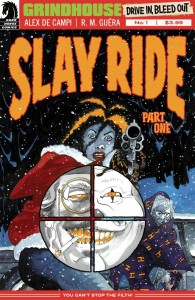 GRINDHOUSE DRIVE IN BLEED OUT #1 (OF 8)
DARK HORSE COMICS
(W) Alex De Campi (A) R. M. Guera (CA) Giulia Brusco
Grindhouse is back from the dead, and it's meaner, badder, and dirtier than ever! In the first of four new exploitation opuses, Scalped's R. M. Guéra joins series writer Alex de Campi for "Slay Ride," a brutal holiday tale of revenge and supernatural terror in the driven snow!
•   We're back, just in time to celebrate the holidays in bloody style!
•   From the perverted mind of Alex de Campi (Smoke/Ashes, Lady Zorro)!
•   World-renowned artist R. M. Guéra (Django Unchained, Scalped)!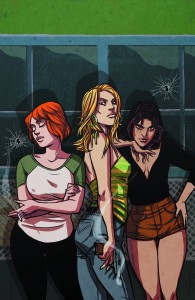 KITCHEN #1 (OF 8)
DC COMICS
(W) Ollie Masters (A) Ming Doyle (CA) Becky Cloonan
New York City, late 1970s. Times Square is a haven for sex and drugs. The city teeters on the verge of bankruptcy, while blackouts can strike at any moment. This is the world of THE KITCHEN.
The Irish gangs of Hell's Kitchen rule the neighborhood, bringing terror to the streets and doing the dirty work for the Italian Mafia. Jimmy Brennan and his crew were the hardest bastards in the Kitchen, but after they're all put in prison, their wives – Kath, Raven and Angie – decide to keep running their rackets. And once they get a taste of the fast life and easy money, it won't be easy to stop.
THE KITCHEN takes one of the most popular genres in entertainment and, like The Sopranos, reimagines it for a new generation to present a classic gangster story told from a fresh point of view.
Written by talented newcomer Ollie Masters with stunning art by Ming Doyle (Mara) and killer covers by Becky Cloonan (GOTHAM ACADEMY, Killjoys, DEMO), THE KITCHEN is not to be missed.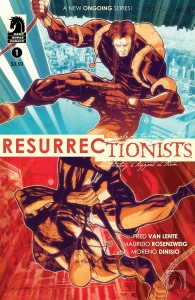 RESURRECTIONISTS #1
DARK HORSE COMICS
(W) Fred Van (A) Maurizio Rosenzweig, Moreno DiNisio (CA) Juan Doe
Are you near-death experienced? Framed architect-turned-thief Jericho Way has discovered he's a Resurrectionist, one of a select group of people who can not only remember their past lives, but become them. Two groups are now after his services-the Sojourn corporation, which wants to exploit his powers for mysterious purposes, and a motley crew of modern-day tomb robbers who have been trying to pull the same impossible heist for 3,000 years-and if Jericho joins them, he may steal back his own future!
•   A new creator-owned ongoing comic series.
•   Art by rising stars Maurizio Rosenzweig (Clown Fatale) and Moreno Dinisio (Dead Body Road)!
•   CBLDF member retailer exclusive, contact the CBLDF for more info on the Jenny Frison benefit variant!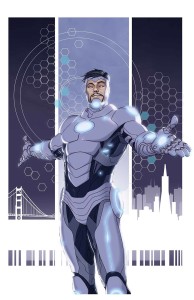 SUPERIOR IRON MAN #1
MARVEL COMICS
(W) Tom Taylor (A) Yildiray Cinar (CA) Mike Choi
Be Superior! How much would you pay for perfection? Beauty? Immortality? Tony Stark knows, and he's ready to give it to you in SUPERIOR IRON MAN #1! But at a terrible price. Spinning out of Avengers & X-Men: AXIS, the old Tony Stark is back, only this time he's SUPERIOR! More stylish, more confident, and more cunning than ever before. And he's ready to lead you into the future! San Francisco is about to become the prototype for his new world concept. The first step? Release Extremis upon the entire city! Only Daredevil isn't down with Stark's new vision of the future. Does the Man Without Fear have a place in the city of tomorrow? A bold new direction for the Armored Avenger begins this November from the all-new creative team of Tom Taylor (Injustice: Gods Among Us, Earth 2) and Yildray Cinar (Supergirl)!
BE SUPERIOR!
NEW CREATIVE TEAM TOM (INJUSTICE: GODS AMONG US/EARTH 2) Taylor AND YILDIRAY (SUPERGIRL) ÇINAR START AN ALL-NEW SERIES SPINNING OUT OF AXIS!
•  How much would you pay for perfection, beauty…immortality? TONY STARK is going to find out.
•  The AXIS EFFECT has changed IRON MAN
•  Now HE'S going to change the WORLD…at a terrible cost.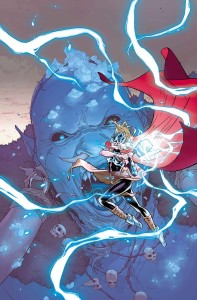 THOR #2
MARVEL COMICS
(W) Jason Aaron (A/CA) Russell Dauterman
• Get ready for a Thor like you've never seen before!
•  Witness the mysterious all-new Thor in action for the very first time!
•  With an army of Frost Giants invading the earth, she may be the world's only hope!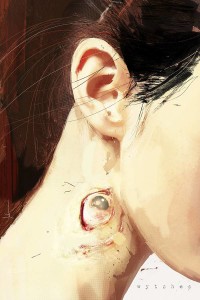 WYTCHES #2
IMAGE COMICS
(W) Scott Snyder (A/CA) Jock
A busload of children disappears in the woods. A strange bite grows on a girl's neck. And the wytches are getting closer, creeping from the woods. Be there for the terrifying second chapter of the new smash hit, WYTCHES.
NOW HERE'S COMICS!
(the following list of comics reflects all the comics coming into both locations. If there's something on this list that's not in stock at your favorite BNW location do not hesitate to ask for us to order it for you!)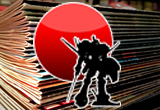 COMICS AND MAGAZINES
Alex + Ada #10 




Alice Cooper #3   




All New Captain America #1




All New Ultimates #10 




Alter Ego #129 




American Legends #2 (OF 5)   




Angry Birds Comics #6 




Archer & Armstrong One Percent #1




Army Of Darkness #1992.1 One Shot




Arrow Season 2.5 #2




Avengers And X-Men Axis #5 (OF 9) 




Axis Hobgoblin #2 (OF 3)




Back Issue #77




Batgirl #36 




Batman #36 




Batman Eternal #32 




Big Trouble In Little China #6




Black Dynamite #4 (OF 4)




Bloodshot #25 




Borderlands Fall Of Fyrestone #4 




Bravest Warriors #26




Bucky Barnes Winter Soldier #2    




Captain America And Mighty Avengers #1




Captain Marvel #9  




Coffin Hill #13 




Constantine #19




Copperhead #3  




Crossed Badlands #65




Dark Ages #4 (OF 4) 




Death Of Wolverine Logan Legacy #4 (OF 7)




Death Vigil #5 (OF 8)




Deep State #1




Django Zorro #1 (OF 6)




Doctor Who Magazine #479




Draw #29




Dream Police #5 




Drifter #1 




Earth 2 Worlds End #6  




Evil Empire #7




Ex Con #3




Fade Out #3




FBP Federal Bureau Of Physics #15




Fraggle Rock Journey Everspring #2 (OF 4)




George Romeros Empire Of Dead Act Two #3 (OF 5)




Ghosted #15




GI Joe A Real American Hero #208 




Green Lantern Corps #36 




Grendel Vs Shadow #3




Grindhouse Drive In Bleed Out #1 (OF 8)  




Guardians 3000 #2 




Hawkeye Vs Deadpool #2 (OF 4) 




Hero Comics 2014 




Hexed #4   




Holmes Vs Houdini #2 (OF 5)




Indestructible #9




Justice League United #6




Kitchen #1 (OF 8)




Klarion #2




Life After #5 




Lone Ranger Vindicated #1 (OF 4)




Marvel Universe Avengers Assemble Season Two #1




Miles Morales Ultimate Spider-Man #7 




MPH #4 (OF 5) 




My Little Pony Friends Forever #11  




New 52 Futures End #28




New Suicide Squad #4  




Nightcrawler #8  




Nova #23




October Faction #2  




Outcast By Kirkman & Azaceta #5




Parallel Man #2




Popeye Classics Ongoing #28     




Prometheus Fire And Stone #3




Q2 Rtn Quantum & Woody #2 (OF 5)




Red Sonja #13




Resurrectionists #1   




Robin Rises Omega #1 2nd Ptg 




Rocket Raccoon #1 4th Ptg




Rush Clockwork Angels #6   




Savage Hulk #6    




Scooby Doo Where Are You #51  




She-Hulk #10     




Silent Hill Downpour Annes Story #3 




Silver Surfer #7 




Smallville Season 11 Chaos #4 (OF 4) 




Sonic The Hedgehog #266




Spider-Verse #1 (OF 2)




Spongebob Comics #38 




Star Trek City O/T Edge Of Forever #5 (OF 5)




Star Trek Ongoing #38 




Superior Iron Man #1




Teen Dog #3 




Thomas Alsop #6 (OF 8)  




Thor #1 2nd Ptg




Thor #2




TMNT New Animated Adventures #17 




Town Called Dragon #3 (OF 5) 




Transformers #35




Uncle Grandpa #2 




Unity #12




V-Wars #7 




Walking Dead #134




Weird Love #4 




Wilds End #3 




Worlds Finest #28   




Wytches #2




X #19 




X-Files Season 10 #18    



TRADE PAPERBACKS, GRAPHIC NOVELS, HARDCOVERS AND MANGA
Air Gear Gn Vol 32




Armor Hunters Tp Vol 01            




Astonishing Thor Hc




Avengers Epic Collection Tp Earths Mightiest Heroes 




Avengers Undercover Tp Vol 02 Going Native  




Avengers World Tp Vol 02 Ascension




Batman Adventures Tp Vol 01




Batman Superman Hc Vol 02 Game Over 




Batman Superman Tp Vol 01 Cross World 




Ec George Evans Aces High Hc 




Fantastic Four Tp Vol 02 Original Sin 




Haunted Horror Hc Vol 02 Comics Mother Warned About




Invincible Tp Vol 20 Friends




Locke & Key Tp Slipcase Set Holiday Ed 




Mouse Guard Baldwin Brave Other Tales Hc  




Nightcrawler Tp Homecoming Vol 01        




Original Sin Tp Thor And Loki Tenth Realm 




Punkrockpaperscissors Tp   




Shutter Tp Vol 01 Wanderlost




Strong Female Protagonist Gn Book 01




Thor God Of Thunder Tp Vol 03 Accursed 




Wicked & Divine Tp Vol 01 The Faust Act




Zenith Hc Phase One



TOYS
Texas Chainsaw Massacre 40th Ann 8in Retro Af




ODDS AND ENDS
Dc Comics Super Villains Harley Quinn Bust