You're waking up today feeling all drained from all that candy you enjoyed last night. You had sooo much candy at that party. You're not really one to have so much candy but hey it was Halloween so why not…what better way to nurse a candy hangover than with a look into the future!

DON'T FORGET YOU CAN STILL PRE-ORDER YOUR VERY OWN DANCING GROOT BOBBLEHEAD!


WARHAMMER & 40K DEALS IN WILLOW GROVE!


Head over to BNW WG to save on Warhammer
BEE AND PUPPYCAT IN OLD CITY!

In Old City we'll be hosting a viewing party for the premiere of the new season of Bee and Puppycat! Cartoon Hangover is sending us prize packs! This is gonna be great!
LOCAL GUYS'RE KICKSTARTING A  COMIC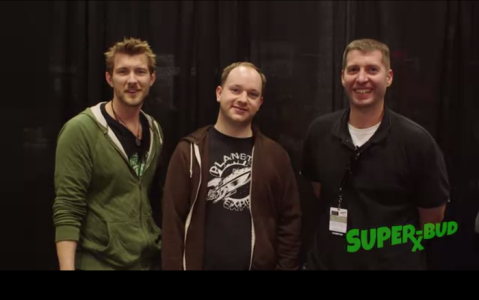 With about 37 Hours left for their Kickstarter campaign some of our Old City customers are working on getting the 2nd issue of their comic to become a reality! Maybe help them out?  Check it out HERE
SOME COMICS YOU SHOULD CHECK OUT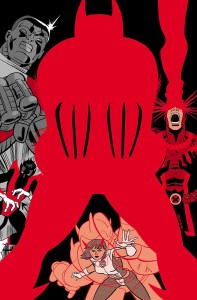 DEATH OF WOLVERINE LIFE AFTER LOGAN #1
MARVEL COMICS
(W/A) Various (CA) Javier Pulido
The news of Logan's death hasn't been easy for those who knew him best.
But what do you do when you've got a runt-sized hole in your heart?
I guess there's really only one way to celebrate a man who was the best there was at what he did.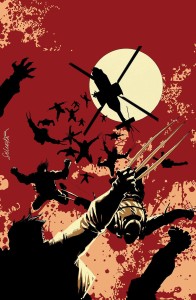 DEATH OF WOLVERINE WEAPON X PROGRAM #1 Of(5)
MARVEL COMICS
(W) Charles Soule (A/CA) Salvador Larroca
Spinning out of DEATH OF WOLVERINE!
•  DESPERATE FLIGHT! The escaped subjects of the revamped Weapon X program flee increasingly deadly attempts to bring them back under control. What will kill them first – their pasts, their strange new powers, or their mysterious connection to the Wolverine?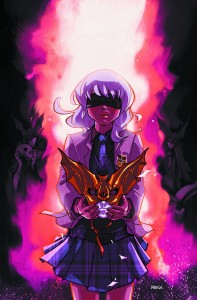 GOTHAM ACADEMY #2
DC COMICS
(W) Becky Cloonan, Brendan Fletcher (A/CA) Karl Kerschl
Olive joins the creepy Order of the Bat as an afterschool activity, and we learn more about her secret past!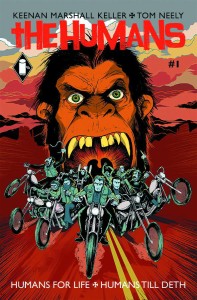 HUMANS #1 (MR)
IMAGE COMICS
(W) Keenan Keller (A/CA) Tom Neely
Apart, they are nothing…deemed by society as outcasts, misfits, losers, no good punks! But together, they are THE HUMANS! The HUMANS is a high-octane, no-holds-barred, ape-biker-gang chopper ride into '70s exploitation genre bliss. Follow Bobby, Johnny, and all The HUMANS as they fight and fly down the road to oblivion on a ride filled with chains, sex, leather, denim, hair, blood, bananas, and chrome.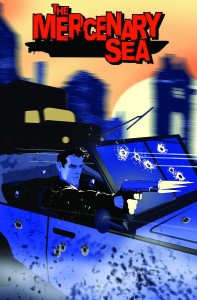 MERCENARY SEA #7
IMAGE COMICS
(W) Kel Symons (A/CA) Mathew Reynolds
"JOHNNY ONE-NOTE"
The book BuzzFeed calls one of the top indie comics you should read returns with an all-new adventure. Jack Harper, captain of the Venture, tracks down clues about the legend of Koji Ra from an antiquities dealer in occupied China.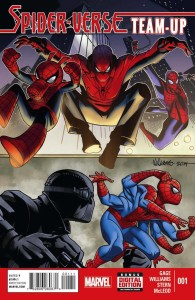 SPIDER-VERSE TEAM UP #1 (OF 3)
MARVEL COMICS
(W) Christos N. Gage, Roger Stern (A) David Williams & Various (CA) David Williams
SPIDER-VERSE TIE-IN!
Which is obvious from the title!
•  TWO SPIDEY-STORIES PER ISSUE!
•  The old-man Spider-Man from AMAZING SPIDER-MAN #500 and Spider-Ham team-up to recruit BEN REILLY!
•  Spider-Man Noir and a Six-Armed Spider-Man go on a mission that terrifies them more than anything they've ever seen!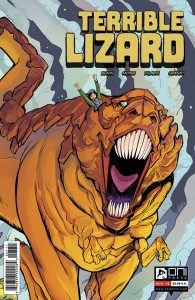 TERRIBLE LIZARD #1 (OF 5)
ONI PRESS INC.
(W) Cullen Bunn (A) Drew Moss (CA) Ryan Hill
The touching story of a girl and her T-Rex… with a healthy dose of collateral damage and monster conflict on the side. When the scientists of Cosmos Labs punch a hole through time and space, they pull a ferocious dinosaur into the present. The dinosaur imprints on teenage Jessica, proving  to be more mischievous than vicious. But he is not alone. Strangely mutated prehistoric monsters begin attacking our world. What's a girl and her dinosaur-fighting dinosaur supposed to do?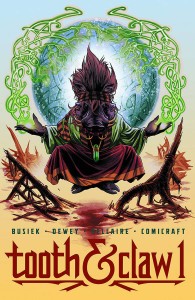 TOOTH & CLAW #1 (MR)
IMAGE COMICS
(W) Kurt Busiek (A/CA) Ben Dewey
MARVELS and ASTRO CITY writer KURT BUSIEK returns to Image Comics with rising-star artist BEN DEWEY for an all-new ONGOING SERIES! Conan meets Game of Thrones meets Kamandi in an original high-fantasy epic for mature readers, as a secret conclave of wizards brings a legendary champion back through time to save the world, with disastrous consequences. The action begins in a spectacular DOUBLE-SIZED FIRST ISSUE, with forty-eight pages of story with no ads for the regular price of just $2.99!
HERE'S THE REST OF THE COMICS AND STUFF FOR THE WEEK!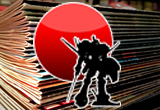 (the following list of comics reflects all the comics coming into both locations. If there's something on this list that's not in stock at your favorite BNW location do not hesitate to ask for us to order it for you!)
COMICS AND MAGAZINES
68 Homefront #3 (OF 4)




Action Comics #36  




Alien Vs Predator Fire And Stone #2 (OF 4)




All New X-Factor #16




Amazing Spider-Man #9




American Legends #1 (OF 5)




Angel And Faith Season 10 #8




Aquaman And The Others #7      




Artifacts #40




Avengers And X-Men Axis #4 (OF 9) 




Batman Eternal #31         




Betty & Veronica #273




Birthright #2 




Bloodshot #25




Chastity #5 




Chew #44




Cloaks #3  




Concrete Park Respect #3




Dark Tower Drawing Of Three Prisoner #4 (OF 5) 




Day Men #5 




Deadpools Art Of War #2 (OF 4) 




Death Defying Dr Mirage #3 (OF 5)




Death Of Wolverine Life After Logan #1  




Death Of Wolverine Weapon X Program #1 (OF 5)  




Detective Comics #36  




Doctor Who 10th #4




Earth 2 #2




Earth 2 Worlds End #5  




Empty Man #5 (OF 6)




Eternal Warrior Days Of Steel #1 (OF 3)




Fairest #31 




Flash Season Zero #2 




Fuse #7




Game Of Thrones #22




Garfield #31 




Ghost #9 




God Hates Astronauts #3 




Gotham Academy #2




Grayson #4  




Green Arrow #36




Green Lantern #36




Hack Slash Son Of Samhain #5




Hulk #8   




Humans #1




Imperial #4 




Injustice Gods Among Us Year Three #3 




John Carter Warlord #1




Justice League 3000 #11 




Legendary Star Lord #5  




Lil Depressed Boy Supposed To Be There Too #2   




Lobo #2 




Madame Frankenstein #7 (OF 7) 




Men Of Wrath By Jason Aaron #2 (OF 5)




Mercenary Sea #7    




Miracleman #13




Nailbiter #7 




Names #3 (OF 8




New 52 Futures End #27 




New Vampirella #6




Nightworld #4 (OF 4) 




Over Garden Wall Special #1




Penny Dora & The Wishing Box #1 (OF 5)




Punks The Comic #2 




Real Heroes #4




Robocop 2014 #5 




Rocket Raccoon #5 




Scooby Doo Team Up #7 




Sixth Gun #44   




Skyman One-Shot      




Solar Man Of Atom #6 




Spawn #248




Spider-Verse Team Up #1 (OF 3)




Spread #4 




Suicide Risk #19 




Superannuated Man #4 (OF 6)




Superman Unchained #9




Swamp Thing #36  




Tech Jacket #5




Ten Grand #11




Terrible Lizard #1 (OF 5)  




Tiny Titans Return To The Treehouse #6 (OF 6) 




Tooth & Claw #1




Turok Dinosaur Hunter #9   




Usagi Yojimbo Senso #4 (OF 6) 




Velvet #8




Woods #7 




X-Men #21    




TRADE PAPERBACKS, GRAPHIC NOVELS, HARDCOVERS AND MANGA

Adventure Time Original Gn Vol 04 Bitter Sweets




Animal Man Tp Vol 05 Evolve Or Die




Avatar Last Airbender Tp Vol 09 Rift Part 3




Avengers Prem Hc Vol 06 Infinite Avengers   




Batman Beyond 2.0 Tp Rewired 




Bleach Gn Vol 62




Captain America Theater Of War Hc       




Day Men Tp Vol 01   




Deadpool Classic Tp Vol 10  




Deadpool Vs X-Force Tp     




Elektra Tp Vol 01 Bloodlines 




Fantastic Four By Hickman Omnibus Hc Vol 02




God Is Dead Tp Vol 03




Lego Legends Of Chima Gn Vol 03 Chi Quest 




Miles Morales Ultimate Spider-Man Tp Vol 01 




New Avengers Prem Hc Vol 04 Perfect World




New York Four Dark Horse Ed Tp 




Serenity Leaves On Wind Hc




The Leg Gn       




Wake Hc




Walking Dead Tp Vol 22 A New Beginning




Worst Of Eerie Publications Hc  



TOYS
Batman Dark Knight Joker 1/4 Scale Af 




Scream Ghost Face 8in Retro Af




Voltron 30th Anniversary Lion Gift Set




ODDS AND ENDS
DC Superhero Chess Fig Coll Mag #68 Black Adam 




DC Superhero Chess Fig Coll Mag #69 Superwoman




DC Superhero Chess Fig Coll Mag #70 Constantine 




Marvel Chess Fig Coll Mag #18 Taskmaster




Marvel Chess Fig Coll Mag #19 Hawkeye




Star Trek Starships Fig Coll Mag #28 Maquis Raider




Star Trek Starships Fig Coll Mag #29 Jem Hadar Bug