As you gear up to fill your body with turkey let's take a look at what's coming out this week! Also we just got a huge shipment of Funko stuff!

WHAT'S NEXT WEEK LOOKING LIKE FOR BNW?!

BLACK FRIDAY IS COMING!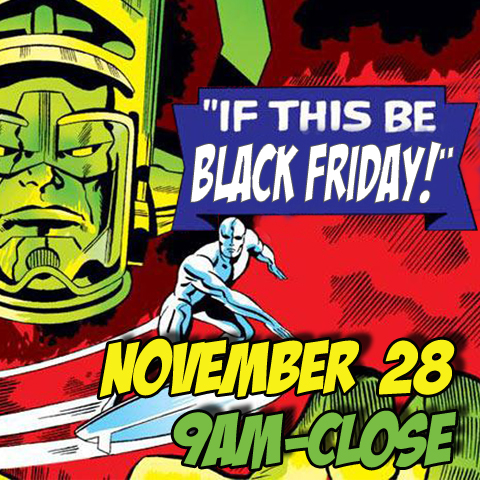 (you may be able to tell I was having some fun with Kirby art recently)
Below are all the sweet DOOR BUSTER DEALS we will have for you as of 9AM Black Friday Morning!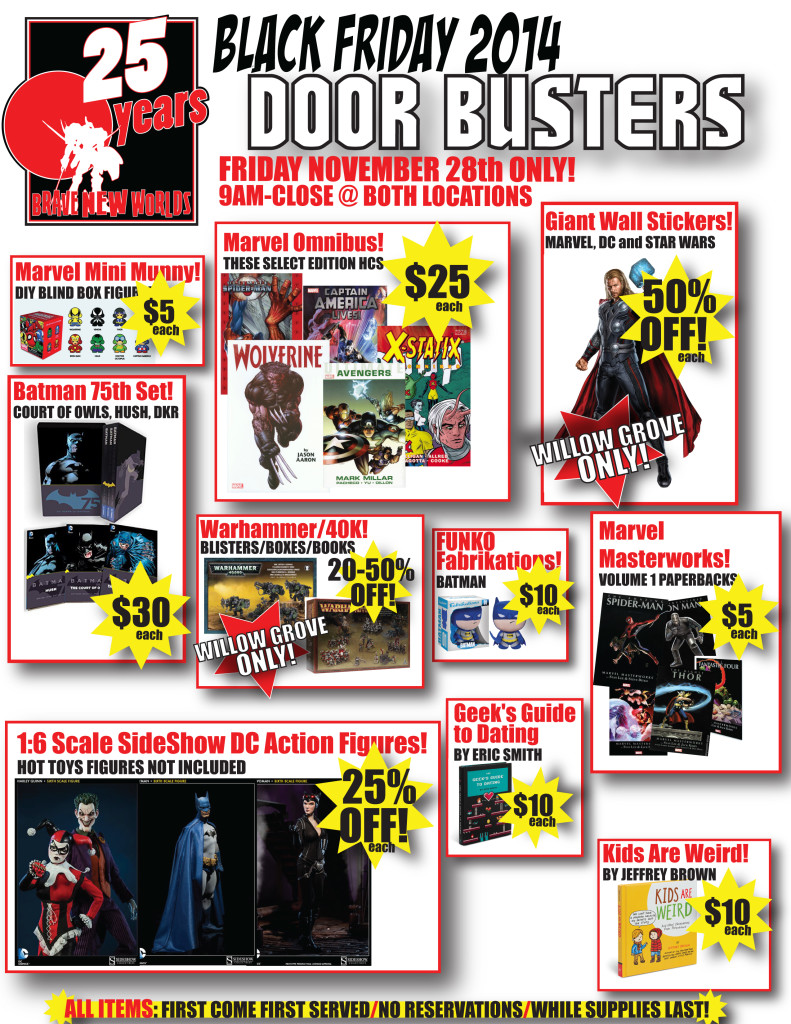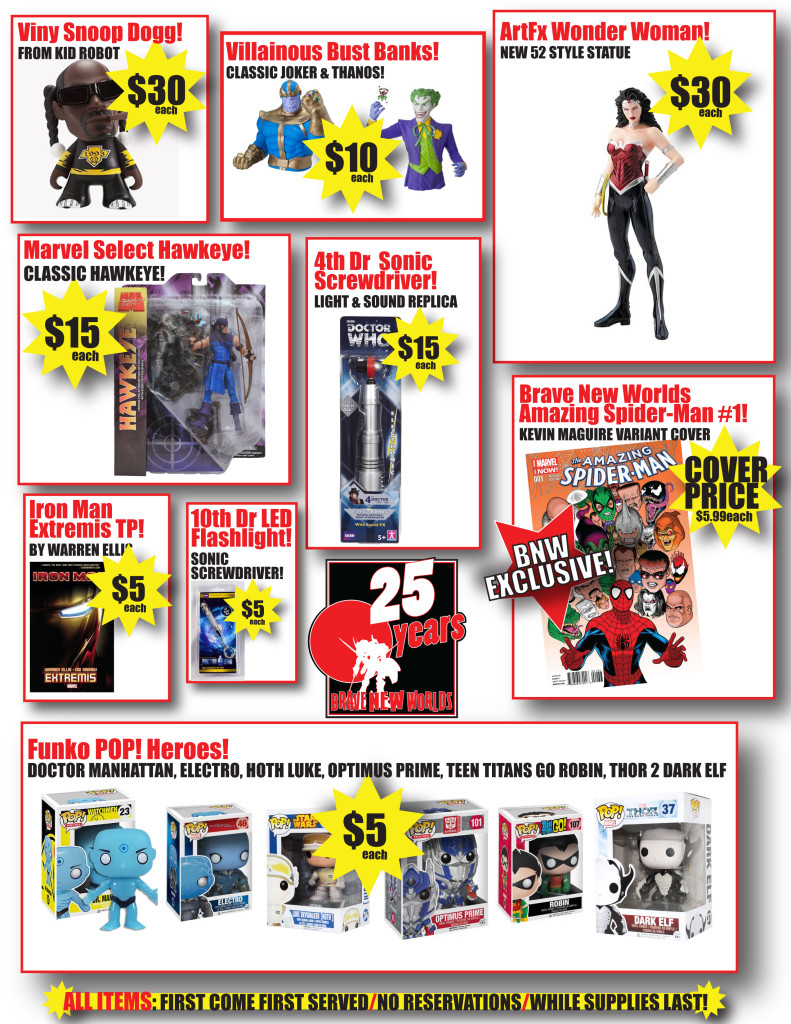 These deals are for BLACK FRIDAY ONLYso no "can i have it today since i couldn't make it yesterday?"
 WE JUST STOCKED UP ON FUNKO STUFF!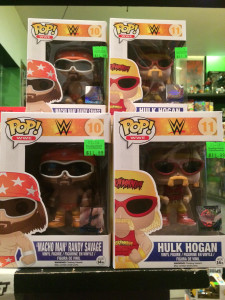 (OH YEA!)
Get some Mega Powers in your life!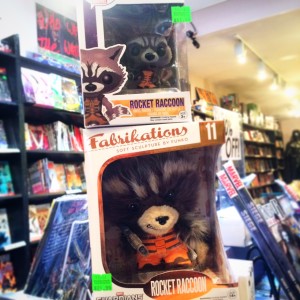 ROCKET RESTOCK!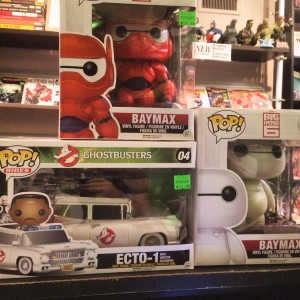 ECTO-1 and Winston Zedemore and 2 versions of everyone's fave Baymax!
Seriously there are tons of new Funko POPS! now at both locations it's not even funny…tho we're still waiting for those GROOTS just as impatiently as you are….soon friends soon!

 ISSUES!
MARVEL COMICS
(W) Mike Costa (A) Paco Diaz (CA) David Nakayama
• The first issue in an explosive limited series tying into the biggest Spider-Event ever: SPIDER-VERSE!
•  In the midst of Spider-Verse, Kaine, Ben Reilly, and Ultimate Jessica Drew must come together for a mission of vital importance!
•  There is more to their mission than meets the eye – what dangers await the Scarlet Spiders across the multiverse?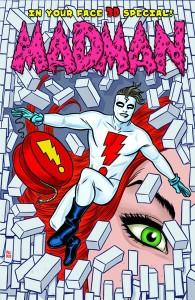 (3D Allred!!!)
MADMAN IN YOUR FACE 3D SPECIAL
IMAGE COMICS
(W) Mike Allred (A/CA) Laura Allred, Mike Allred
    This super-sized special-effects spectacular features an all-new Madman story by MICHAEL ALLRED, plus an exclusive 3D gallery of superstar talent: PAOLO RIVERA, MARCOS MARTIN, JAE LEE, EDUARDO RISSO, EMMA RIOS, NICK DRAGOTTA, ANDREW ROBINSON, SEAN MURPHY, MARIS WICKS, AARON CONLEY, JENNY FRISON, DECLAN SHALVEY, BECKY CLOONAN, JOE QUINONES, MING DOYLE, NICK BRADSHAW, and more!Plus newly converted 3D versions of the acclaimed "Swiped From Dimension X," where Allred drew almost every panel in the style of a different artist, and "The World's Biggest Comic Book Panel." Also includes a cut-out 3D cube and surprises galore!Custom MADMAN 3D glasses included!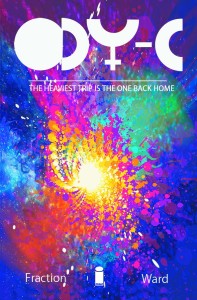 (Matt Fraction! Christian Ward! The Odyssey!)
ODYC #1
IMAGE COMICS
(W) Matt Fraction (A/CA) Christian Ward
An epic 26 centuries in the making: In the aftermath of a galactic war a hundred years long, Odyssia the Clever Champion and her compatriots begin their longest, strangest trip yet: the one home. A gender-bent eye-popping psychedelic science fiction odyssey begins HERE, by MATT FRACTION (CASANOVA, SEX CRIMINALS, SATELLITE SAM) and CHRISTIAN WARD (INFINITE VACATION, OLYMPUS).INCLUDES SPECIAL EIGHT-PAGE FOLDOUT!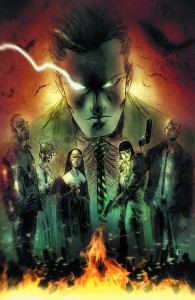 (Templesmith fans rejoice!)
GOTHAM BY MIDNIGHT #1
DC COMICS
(W) Ray Fawkes (A/CA) Ben Templesmith
Strange doings are afoot in Gotham City! Look out, though – Jim Corrigan is on the case in this new series by writer Ray Fawkes (CONSTANTINE, BATMAN ETERNAL) and artist Ben Templesmith (30 Days of Night, Ten Grand)!
 COLLECTIONS!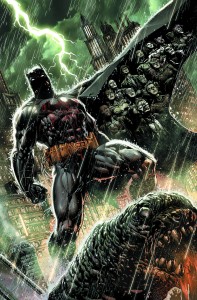 (Finally! Volume 1 of the awesome Batman Weekly!)
BATMAN ETERNAL TP VOL 01
DC COMICS
(W) Scott Snyder & Various (A) Jason Fabok & Various (CA) Jason Fabok
In the wake of FOREVER EVIL, the world looks at heroes in a different light, creating tension between Batman and his allies and the Gotham City Police Department. When a gang war breaks out and new villains arise, it's up to the Dark Knight, Batgirl, and others to turn the tide as best as they can – but will the GCPD be a help or a hindrance? Plus, a fan-favorite character makes her long-awaited DC Comics – The New 52 debut: Stephanie Brown! Don't miss these stories from BATMAN ETERNAL #1-20!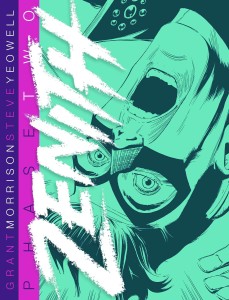 (seriously get this and Volume 1!)
ZENITH HC PHASE TWO
REBELLION / 2000AD
(W) Grant Morrison (A/CA) Steve Yeowell
Zenith is the only super-human popstar. He's saved the world, has a number one record – but his only interests are women, drugs, alcohol, and fame. But Peter St. John and the unexpected reappearance of Ruby forces the superbrat to take off and take a nuclear threat to London – from his own creator!
NOW ONTO THE COMICS AND STUFF FOR THE DAY BEFORE TURKEY DAY!
(the following list of comics reflects all the comics coming into both locations. If there's something on this list that's not in stock at your favorite BNW location do not hesitate to ask for us to order it for you!)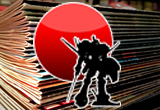 COMICS AND MAGAZINES
Adv Time Banana Guard Academy #5 (OF 6)




Aliens Fire And Stone #3  




All New Ghost Rider #9




All New Invaders #12        




Amazing X-Men #13




Aquaman #36




Arkham Manor #2




Baltimore Wolf And The Apostle #2 (OF 2) 




Bart Simpson Comics #93 




Batman 66 #17      




Batman Beyond Universe #16   




Batman Eternal #34




Bee And Puppycat #6




Bionic Woman Season Four #3




Bleeding Cool Magazine #13 




Bodies #5 (OF 8)




Butterfly #3




Captain America And Mighty Avengers #2




Captain Midnight #17   




Catwoman #36




Clive Barkers Nightbreed #7




Colder Bad Seed #2




Conan The Avenger #8




Cowl #6




Cyclops #7 




Dark Engine #4




Dawn Of Planet Of Apes #1      




Dead Boy Detectives #11  




Dead Letters #6




Death Of Wolverine Logan Legacy #5 (OF 7)




Deathlok #2    




Deathstroke #2     




Delinquents #4 (OF 4) 




Doctor Spektor #4




Earth 2 Worlds End #8  




Edge Of Spider-Verse #5 (OF 5) 2nd Ptg




Edward Scissorhands #2 (OF 5)  




Elfquest Final Quest #6 




Flash #36  




Flash Gordon Annual 2014




GI Joe (2014) #3 




Godzilla Rulers Of The Earth #18     




Gotham By Midnight #1 




Halo Escalation #12




He Man And The Masters Of The Universe #19    




Infinity Man And The Forever People #5 




Judge Dredd #25    




Justice Inc #4 (OF 6)




Justice League Dark #36 




Lazarus #13




Letter 44 #12    




Madman In Your Face 3d Special 




Manhattan Projects #25   




Marvel Universe Ult Spider-Man Web Warriors #1  




Massive #29    




Memetic #2 (OF 3)  




Mind Mgmt #28 




New 52 Futures End #30




New Avengers #27 




New Warriors #12    




Nova #24




Oddly Normal #3




Odyc #1




Pop #4   




Previews #315 December 2014 


     

Marvel Previews December 2014 Extras




Prophet Strikefile #2




Purgatori #3




Rasputin #2 




Red Lanterns #36




Red Sonja Black Tower #3 (OF 4)




Roche Limit #3




Scarlet Spiders #1 (OF 3)




Secret Avengers #10  




Secret Origins #7  




Sex #18




Shadow Show #1 (OF 5) 




Sheltered #13




Sidekick #9




Skylanders #2




Spider-Man 2099 #6




Star Spangled War Stories GI Zombie #4     




Steampunk Bsg 1880 #4 (OF 4)  




Steven Universe #4




Stumptown V3 #3 




Sundowners #4  




Superior Foes Of Spider-Man #17




Superior Iron Man #2




Superman #36 




Tarot Witch Of The Black Rose #89




TMNT Ghostbusters #2 (OF 4)




TMNT Ongoing #40




Tomb Raider #10 




Transformers Drift Empire Of Stone #1 (OF 4)




Transformers More Than Meets Eye #35




Transformers Vs Gi Joe #4    




Trees #7




Turok Dinosaur Hunter #10




Umbral #11




Unwritten Vol 2 Apocalypse #11




Usagi Yojimbo Senso #5 (OF 6)




Wayward #4




Wolverine And X-Men #12




Wwe Superstars Ongoing #10




X-Files Year Zero #5 (OF 5) 





TRADE PAPERBACKS, GRAPHIC NOVELS, HARDCOVERS AND MANGA

All New Invaders Tp Vol 02 Original Sin 




Amazing Spider-Man Tp 01..1 Learning To Crawl  




American Vampire Tp Vol 06 




Asterix And The Picts Sc




Batman & Robin Tp Vol 04 Requiem For Damian 




Batman Eternal Tp Vol 01




Batwoman Tp Vol 05 Webs 




Brass Sun Hc




Catwoman Tp Vol 05 Race Of Thieves




Cochlea & Eustachia Gn




Hellboy Weird Tales Hc




Hinterkind Tp Vol 02




Inhuman Tp Vol 01 Genesis




Justice League Trinity War Tp   




Manara Borgias Hc




Mighty Morphin Power Rangers Gn Vol 02 Going Green 




Oz Tp Road To Oz 




Punk Rock Jesus Deluxe Edition Hc




Satoshi Kon Opus Tp




Solar Man Of The Atom Tp Vol 01 Nuclear Family




Soppy Love Story Gn




Trinity Of Sin Pandora Tp Vol 02




Twilight Zone Tp Vol 02 Way In




Unity Tp Vol 03 Armor Hunters  




Vapor Hc




Worst Of Eerie Publications Hc 




Zenith Hc Phase Two



TOYS
Adventure Time Gunter Plush Chew Toy




Batman Animated BAS Catwoman Af  




DC Comics New 52 Stargirl Af




Deadpool Tp Vol 06 Original Sin 




Justice League War Cyborg Af






ODDS AND ENDS
DC Comics Starfire Bishoujo Statue




DC Comics Super Heroes Flash Bust