There's all sorts of comics news coming out of NYCC. Once again we're not there. If you're there hope those lines are treating you alright…they look pretty long and crowded.

NYCC Has Announcements!
Like this! Hickman and Ribic doing a NEW Secret Wars!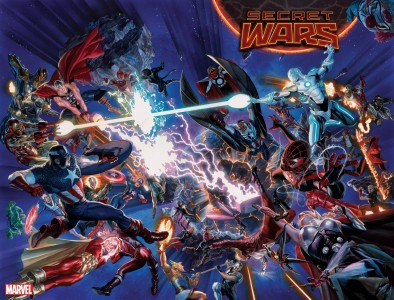 I'm not even gonna try to write about this just check it out over on Comics Alliance HERE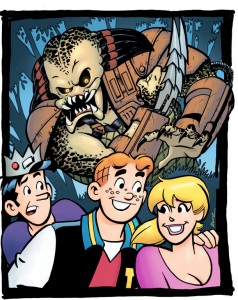 Archie is gonna meet Predator. Ok Archie comics…you win I'll read this one!
Scott Snyder tweeted this picture from NYCC this morning and it's confusing the crap outta me…and him it would seem.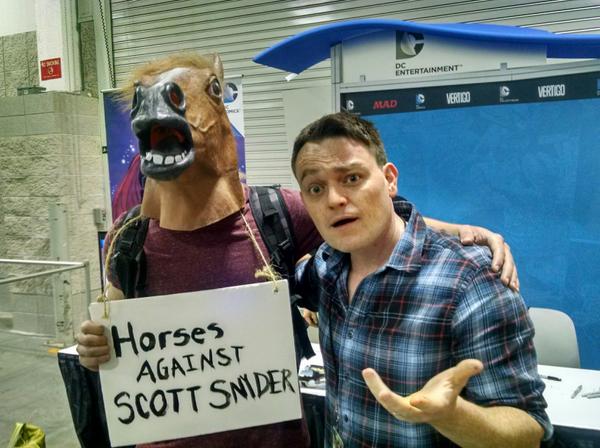 and speaking of Scott Snyder you got your copy of the Wytches Ghost Variant, right?!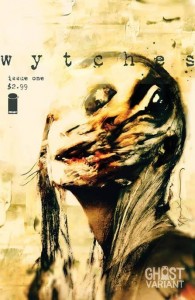 Support Local Comics!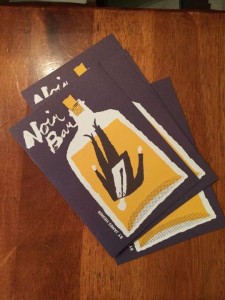 Literally minutes ago James Heimer dropped off copies of his new mini comic fresh from the presses in our Old City shop! Grab a copy of NOIR BAR for just two bucks next time your in the shop!
Oh yea! We just received the BIGGEST order of FUNKO stuff ever…so come get some!
Here's some comics that you should check out
(and that I just copy and paste the solicitation information for you! Get hype for new comics!)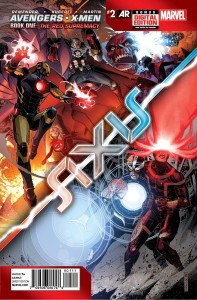 (The Red Onslaught is here…what's next!?!)
AVENGERS AND X-MEN AXIS #2 (OF 9)
MARVEL COMICS
(W) Rick Remender (A) Adam Kubert (CA) Jim Cheung
ACT I: THE RED SUPREMACY
•  The heroes of the Marvel Universe storm the beaches of Red Skull's Genoshian Reeducation camps. What they discover within will lead to a bleak new era.
•  The revelation of Tony Stark's dark secret promises to shatter the fragile alliance between A and X.
•  Nova's attempt at solving the crisis leads to disaster.
•  Magneto betrays his alliance to join an army of evil.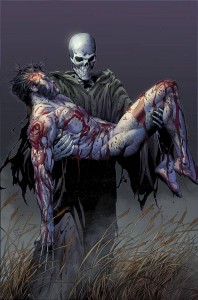 (It's finally here!)
DEATH OF WOLVERINE #4 (OF 4)
MARVEL COMICS
(W) Charles Soule (A/CA) Steve McNiven
IT'S THE BEGINNING OF THE END – 3 MONTHS TO DIE ENDS HERE!
•  The beginning of the end is now here … THE DEATH OF WOLVERINE!
•  THREE MONTHS TO DIE, the loss of Wolverine's healing factor–all led to this, the single most important X-Men event of the decade.
•  Logan has spent over a century being the best there is at what he does…but even the best fade away eventually.
•  Over the years, Logan has been a warrior, a hero, a renegade, a samurai, a teacher-and so much more. But now, the greatest X-Men hero will play a role he's never played before in this special weekly event brought to you by industry superstars Charles Soule and Steve McNiven.
('Cause the newest Dr already needs a comic!)
DOCTOR WHO 12TH #1
TITAN COMICS
(W) Robbie Morrison (A) Dave Taylor (CA) Alice X Zhang
As the eighth series of Doctor Who hits BBC America, don't miss the stunning debut of the twelfth Doctor's all-new comics adventures! Freshly regenerated and with a new head full of unanswered questions, the Doctor whisks Clara Oswald away to a strange and distant world. Clara thought she was in for an evening of marking essays, followed by a date, if things went well. Instead, she's facing down murderous alien fauna in her best dress, without a clue what the Doctor is searching for, or what is going to try to kill them should they find it! Offering shocks, surprises, and timestream-shaking revelations, don't miss your chance to get on board this amazing ongoing series!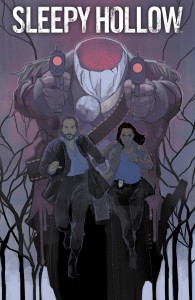 ('Cause you guys all love TV Show Tie-In Comics!)
SLEEPY HOLLOW #1 (OF 4)
BOOM! STUDIOS
(W) Marguerite Bennett, Noelle Stevenson (A) Jorge Coelho, Noelle Stevenson (CA) Phil Noto
WHY WE LOVE IT: As fans of the SLEEPY HOLLOW television series (now entering its second season on Fox), we knew we had to make a comic just as haunting, engaging and visually gorgeous as the show itself. Featuring multilayered characters, intense visuals, and creepy storylines, SLEEPY HOLLOW is primed for comics.
WHY YOU'LL LOVE IT: One of the most exciting young writers working today, Scott Snyder protégé Marguerite Bennett is currently writing Archaia's BUTTERFLY and has worked on DC's LOBO, SUPERMAN: LOIS LANE, and BATMAN: JOKER'S DAUGHTER. Even if you don't watch the show, SLEEPY HOLLOW is perfect for fans of SUPERNATURAL.
WHAT IT'S ABOUT: After dying on the battlefield during the Revolutionary War, Ichabod Crane awakes in present-day Sleepy Hollow, New York. His resurrection is tied to the reappearance of the Headless Horseman, one of the Four Horsemen of the Apocalypse. Realizing it is his mission to help stop the end of the world, Ichabod teams with Lt. Abbie Mills to meet each evil threat head on. When minor miracles start to sweep the town, they're glad something good seems to be happening for once. No decapitations, no headless horseman, no worries, right? But as one by one the miracles start to backfire, more and more violently, Abbie and Ichabod must find time between saving the world to save the citizens of Sleepy Hollow…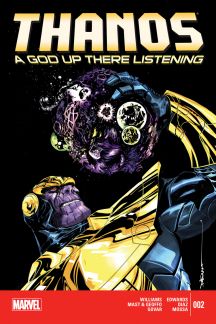 (A Thanos comic once a week?! Sure!)
THANOS A GOD UP THERE LISTENING #2 (OF 4)
MARVEL COMICS
(W) Rob Williams (A) Neil Edwards & Various (CA) Dustin Nguyen
• At the close of INFINITY, Thane discovered he was the son of Thanos and that his touch was death.
•  Now, accompanied by the constantly whispered advice of the Ebony Maw, he wants to discover his father's history, and his own future.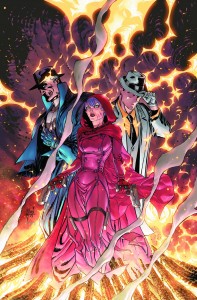 (Finally they got smart and put them all on a team of Sin!)
TRINITY OF SIN #1
DC COMICS
(W) J. M. DeMatteis (A) Yvel Guichet (CA) Guillem March
Pandora, The Phantom Stranger and The Question have hated each other for centuries…and nothing has changed! Now the Trinity of Sin are forced to work together to save humanity and uncover the darkest secrets of the universe in this new ongoing series!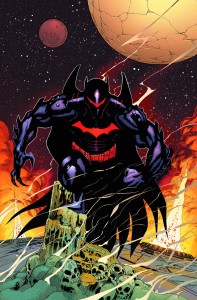 (I cannot wait for Batman to punch Darkseid…I hope he punches Darkseid)
BATMAN AND ROBIN #35 (ROBIN RISES)
DC COMICS
(W) Peter J. Tomasi (A) Patrick Gleason, Mick Gray (CA) Mick Gray, Patrick Gleason
"Robin Rises" continues as Batman begins his trek on Apokolips to recover his son's body. But will he walk alone?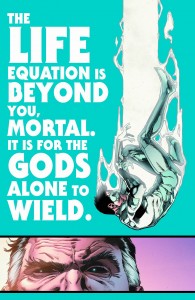 (They've still got me on this one!)
GREEN LANTERN NEW GUARDIANS #35 (GODHEAD)
DC COMICS
(W) Justin Jordan (A/CA) Brad Walker, Andrew Hennessy
"GODHEAD," Act 1 Part 4: Kyle Rayner's experience beyond the Source Wall has left him slowly losing his grip on reality, and the Guardians are gravely concerned. When help arrives in the form of Highfather, the Guardians know the All-Father is not to be trusted, but desperation can lead to bad decisions. Kyle's walking into a trap, and he has more to lose than he can imagine!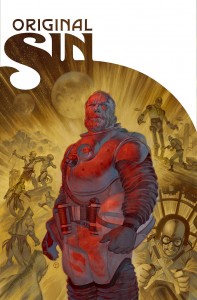 ('Cause Original Sin needs an Annual…and what a solicit…what?! Lookit that thing…)
ORIGINAL SIN ANNUAL #1
MARVEL COMICS
(W) TBD (A) Enis Cisic (CA) TBD
Everybody has one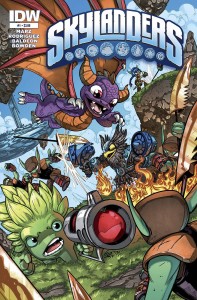 (Hey it's about time I spotlight some all ages stuff…even if I have no clue what this even is…)
SKYLANDERS #1 (OF 5)
IDW PUBLISHING
(W) Ron Marz, David Rodriguez (A) David Baldeon, Mike Bowden (CA) David Baldeon
The smash-hit videogame and toy sensation, Skylanders, makes its comic book debut this fall! This all-new series will focus on fan-favorite characters and features stories tying directly into the videogames that cannot be found anywhere else!
Onto the full list of comics
(the following list of comics reflects all the comics coming into both locations. If there's something on this list that's not in stock at your favorite BNW location do not hesitate to ask for us to order it for you!)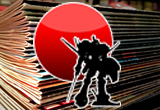 COMICS AND MAGAZINES
Alice Cooper #2 




Army Of Darkness Hitched #3 (OF 4) 


Avengers And X-Men Axis #2 (OF 9)  


Avengers World #14  




Batman And Robin #35 




Batman Eternal #28  




Batman Superman #15    




Batwoman #35 




Bee And Puppycat #1 (2ND Ptg)




Bobs Burgers #1 (OF 5) 3rd Ptg




BPRD Hell On Earth #124 




Criminal Macabre Third Child #2




Cutter #3 




Daredevil #9    




Dark Horse Presents 2014 #3     




Deadly Class #8




Deadpools Art Of War #1 (OF 4) 




Death Of Wolverine #4 (OF 4)              




Doctor Who 12th #1 




Doctor Who Magazine #474 




Doctor Who Magazine #478




Earth 2 Worlds End #2  




Edge Of Spider-Verse #5 (OF 5)




Evil Empire #6




Fables #145 




Famous Monsters Of Filmland #276




Fantastic Four #11  




Flash Gordon #6 




Green Lantern New Guardians #35




Hellraiser Bestiary #3




Hulk #7   




Infinite Crisis Fight For The Multiverse #4




Jim Hensons Storyteller Witches #2 




Judge Dredd #24   




Justice League #35 




Last Broadcast #6




Legendary Star Lord #2 2nd Ptg 




Legendary Star Lord #3 2nd Ptg




Life After #4 




Loki Agent Of Asgard #7 




Lumberjanes #7 (OF 8)




Mad Magazine #530  




Magneto #11




Magnus Robot Fighter #7 




Manifest Destiny #11    




Mice Templar IV Legend #14 




Miles Morales Ultimate Spider-Man #6   




Ms Marvel #9




New 52 Futures End #24




New Avengers #25




Original Sin Annual #1 




Painkiller Jane 22 Brides #3 (OF 3)




Peanuts Vol 2 #22 




Prometheus Fire And Stone #2




Q2 RTN Quantum & Woody #1 (OF 5)




Red Hood And The Outlaws #35 




Red Sonja Black Tower #2 (OF 4)    




Secret Origins #4    




Simpsons Comics #215




Sixth Gun Days Of The Dead #3 (OF 5) 




Skylanders #1 (OF 5) 




Sleepy Hollow #1 (OF 4) 




Sons Of Anarchy #14




Spider-Man 2099 #5 




Steven Universe #3




Storm #4  




Strain Night Eternal #3   




Supergirl #35 




Superior Foes Of Spider-Man #16  




Supreme Blue Rose #4 




Teen Titans #3




Teen Titans Go #6




Terminator Salvation Final Battle #10 (OF 12)  




Thanos A God Up There Listening #2 (OF 4) 




The Devilers #4 (OF 7)  




TMNT New Animated Adventures #16




TMNT Ongoing #39 




Trees #6




Trinity Of Sin #1




Turok Dinosaur Hunter #8 




Twilight Zone Lost Tales One Shot  




Uncanny X-Men #27      




Uncle Grandpa #1




Unity #0 




V-Wars #6  




Veil #5 (OF 5) 




Wasteland #58 




Wilds End #2   




Witchfinder Mysteries Of Unland #5    




Wolverine And X-Men #10                                  




WWE Superstars Ongoing #9



TRADE PAPERBACKS, GRAPHIC NOVELS, HARDCOVERS AND MANGA

Action Philosophers Hc 




Adventures Of Superman Tp Vol 02   




All New Ultimates Tp Vol 01 Power For Power  




All New X-Factor Tp Vol 02 Change Of Decay  




Amazing Spider-Man Tp Vol 01 Parker Luck




Batman 66 Hc Vol 02 




Batman 66 Tp Vol 01   




Collector Hc




Daredevil Tp Vol 01 Devil At Bay  




Deadly Hands Of Kung Fu Tp Out Of Past




Deadpool Draculas Gauntlet Hc 




Deadpool Draculas Gauntlet Hc 




Doomboy Hc Vol 01 




Earth 2 Hc Vol 04 The Dark Age




Hellblazer Tp Vol 09 Critical Mass 




In Real Life Gn 




Justice League 3000 Tp Vol 01 Yesterday Lives




Ms Marvel Tp Vol 01 No Normal  




Powers Tp Vol 01 Who Killed Retro Girl New Ptg




Rai Tp Vol 01 Welcome To New Japan  




Satellite Sam Tp Vol 02 Satellite Sam & Kinescope




Star Wars Legacy Ii Tp Vol 04 Empire Of One




Star Wars Ongoing Tp Vol 04 Shattered Hope 




Usagi Yojimbo Saga Tp Vol 01




Walking Dead Novel Hc Vol 05 Descent 




TOYS
Batman 1966 Tv Retro Af Accessory Pack




DBZ Super Saiyan Son Goku Figuarts Zero




Game Of Thrones Figure Cersei Baratheon




Game Of Thrones Figure Jaime Lannister




Game Of Thrones Figure White Walker 




Sailor Mercury S.H.Figuarts Af 




Sailor Saturn S.H.Figuarts Af





ODDS AND ENDS