The Age of Ultron slowed down everyone's productivity this week after it was leaked….oh wait I just got distracted again by that trailer…ok wait…alright I'm back…
one more time!


WARHAMMER BLOWOUT!!!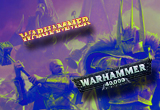 You may have noticed that the Willow Grove shop is running an awesome deal on Warhammer and 40K right now! Get blister packs, box sets and books all for 20% OFF for a limited time!!

Bee and Puppycat!
Old City will be hosting a Bee and Puppycat premiere on November 6th @ 7:30pm! Don't miss out! Hey when the people from Cartoon Hangover called us up and said "would you guys…" I cut them off and was like "SURE! What're we gonna do?!" So besides us being overly hyped about watching the new season from the get go they're also sending us gift packs/stuff! We love stuff!!! Keep your eyes peeled for more info!

Apparently Cartoon Hangover will also be doing a 24 Live Stream leading up to the beginning of the season!

Alright! Here's a few comics you should be checking out this week!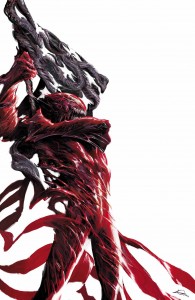 (Hero Carnage!?)
AXIS CARNAGE #1 (Of 3)
MARVEL COMICS
(W) Rick Spears (A) German Peralta (CA) Alexander Lozano
AVENGERS & X-MEN: AXIS TIE-IN!
•  Carnage is back in NYC and the city will never look at him the same way again!
•  Something incredible has happened to the symbiote serial killer in AVENGERS & X-MEN: AXIS that will have Cletus and you reeling!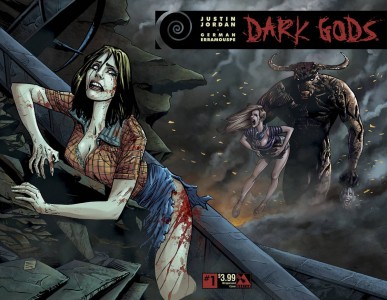 DARK GODS #1
AVATAR PRESS INC
(W) Justin Jordan (A/CA) German Erramouspe
Justin Jordan is unleashed in an epic all-new, ongoing series!   Murdock leads The Storm, humanities last line of defense against the brewing Primordial Chaos and The Serpent, Tiamet herself!  But her children slowly emerge ahead of her return, as human-monster hybrids inflicting horrors in their wake. The Storm has to keep this bottled up, prevent the rest of humanity from breaking into panic, and hold back the flood of horrors that come with the return of the original evils, the Dark Gods themselves!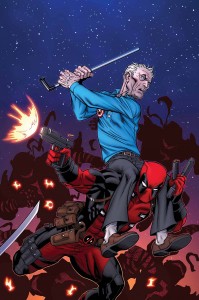 (After that story in Deadpool featuring these 3 dudes I can't wait for this)
DEATH OF WOLVERINE DEADPOOL AND CAPTAIN AMERICA #1
MARVEL COMICS
(W) Gerry Duggan (A) Scott Kolins (CA) Ed McGuinness
• Did you know Wolverine is dead?
•  I bet some people would love to get their hands on his DNA to clone him…
•  Logan's old pals Deadpool and Steve Rogers are gonna make sure that doesn't happen.
Parental Advisory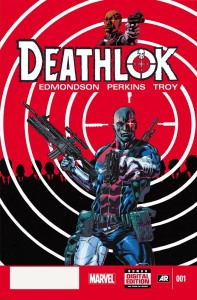 (I guess it's about time he showed back up)
DEATHLOK #1
MARVEL COMICS
(W) Nathan Edmondson (A/CA) Mike Perkins
"Enemy of My Enemy"
•  After Michael Collins, there was Henry Hayes
•  A medic who travels to war zones to heal the wounded, he has no idea that when he's in the field, he's activated by a mysterious group and becomes the ultimate weapon of assassination and war: DEATHLOK
•  From the writer of BLACK WIDOW and THE PUNISHER comes a new take on the iconic cyborg character making waves on Marvel's Agents of S.H.I.E.L.D.
Rated T+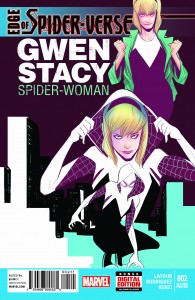 (THE COMIC EVERYONE WANTS! IT'S BaaaaaaAAAAAAAACK!!!)
EDGE OF SPIDER-VERSE #2 (OF 5) SECOND PRINT!!!!
MARVEL COMICS
(W) Jason Latour (A/CA) Robbi Rodriguez
GWEN STACY: SPIDER-WOMAN!
•  In one universe, it wasn't Peter Parker bitten by the radioactive Spider, but Gwen Stacy!
•  She's smart, charming and can lift a car– Just don't tell her Police Chief father!
•  How is she involved in Spider-Verse? Seeds of AMAZING SPIDER-MAN #9 are planted here!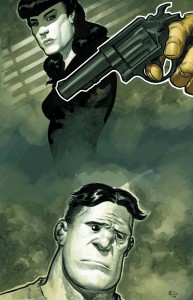 (Someone's gonna die this issue and I'm gonna be a mess…I just know it!)
GOON OCCASION OF REVENGE #3 (OF 4)
DARK HORSE COMICS
(W/A/CA) Eric Powell
Things continue to go downhill in the Goon's war with the witch clan, but the Kid Gargantuan's personal tale of revenge may be the downfall of everyone.
(Here's the issue with that certain smell…that dank odor…)
HARLEY QUINN ANNUAL #1
DC COMICS
(W) Amanda Conner, Jimmy Palmiotti (A) John Timms (CA) Amanda Conner
We have to warn you, readers: This issue stinks! Seriously! Like, unpleasant odors are literally in the story! In this first-ever HQ ANNUAL, take a trip to Harley's home of Coney Island in a groundbreaking "scent-ticular" issue, featuring actual, honest-to-gosh smells. This issue comes polybagged to contain the stench.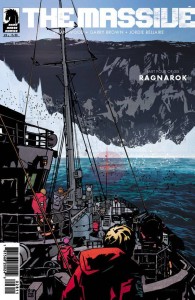 (The last few issues changed this series in a way I was AND wasn't expecting! Catch the heck up!)
MASSIVE #28
DARK HORSE COMICS
(W) Brian Wood (A) Garry Brown (CA) John Paul Leon
As a storm rages around the crew of the Kapital they embrace the reappearance of The Massive, and learn much more about the origin of the Crash from Mary. But it's only when  masses of earth rise from the ocean floor that things really get interesting. . .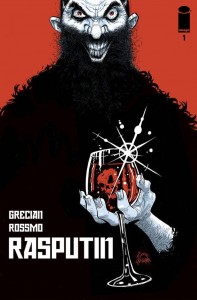 (who doesn't love Rasputin!?! Ok well I guess Hellboy…but other than that)
RASPUTIN #1
IMAGE COMICS
(W) Alex Grecian (A) Riley Rossmo, Ivan Plascencia (CA) Ryan Stegman
DRACULA AT DOWNTON ABBEY!
In one night Rasputin was poisoned, beaten, stabbed, shot in the head, drowned, then tied up and thrown in a frozen river. It was really bad timing. His beard was just coming in nicely.
(After the break this series is back! Didn't read the first 4 issues?! Grab the trade now for just $9.99!!!!)
SOUTHERN BASTARDS #5
IMAGE COMICS
(W) Jason Aaron (A/CA) Jason Latour
The hit southern crime series returns, as JASON AARON (Scalped, Thor: God of Thunder) and JASON LATOUR (Wolverine & The X-Men, Loose Ends) pull back the curtain on the history of Craw County and its most famous and feared resident. In a place where only bastards flourish, what does it take to be the biggest, meanest, most powerful bastard of them all? Only Coach Boss knows. And if I was you, I wouldn't ask him.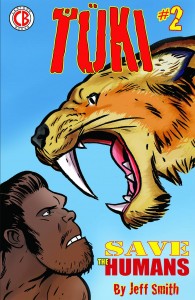 (alright!)
TUKI SAVE THE HUMANS #2
CARTOON BOOKS
(W/A/CA) Jeff Smith
Tuki the Giant-Killer! Hot on the heels of the award-winning issue #1 (National Cartoonists Society Reuben Award for Best Long Form Comic On Line) comes the next chapter in the story of the first human to leave Africa. After meeting and saving a shaman homo habilis, Tuki comes face to face with a sabretooth tiger! And that's just the beginning! Tuki ignores the shaman's warning and soon finds himself in the path of an angry giant! Don't miss an issue of the newest ongoing series from the creator of Bone and RASL!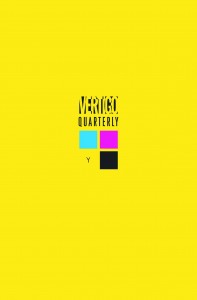 (we've got the C and the M already)
VERTIGO QUARTERLY #1 YELLOW
DC COMICS
(W) Steve Orlando & Various (A) Philip Bond & Various
Just in time for fall, pumpkin picking, changing leaves and candy corn is the VERTIGO QUARTERLY: YELLOW! Take in the crisp autumn air with some of the best talent in comics for an experiment in word association only VERTIGO can deliver!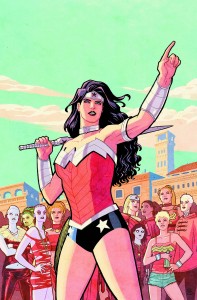 (it has all come down to this….)
WONDER WOMAN #35
DC COMICS
(W) Brian Azzarello (A/CA) Cliff Chiang
It's the grand finale of the historic WONDER WOMAN epic by writer Brian Azzarello and artist Cliff Chiang! Saying more would spoil all the surprises – and there will be plenty!
 NOW ONTO THE REST OF THE GOODS!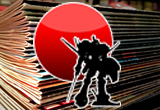 (the following list of comics reflects all the comics coming into both locations. If there's something on this list that's not in stock at your favorite BNW location do not hesitate to ask for us to order it for you!)
COMICS AND MAGAZINES
Adv Time Banana Guard Academy #4 (OF 6)




Adventure Time #33 




Aliens Fire And Stone #2




All New X-Men #33 




Amazing Spider-Man #4 2nd Ptg 




Amazing Spider-Man #5 2nd Ptg




Amazing Spider-Man #6 2nd Ptg




And Then Emily Was Gone #4 (OF 5) 




Archer & Armstrong #25 




Atomic Robo Knights Of Golden Circle #5 (OF 5)




Axis Carnage #1 (OF 3) 




Axis Revolutions #1 (OF 4) 




Baltimore Wolf And The Apostle #1 (OF 2)  




Batman Eternal #30




Black Science #10 




Bobs Burgers #3         




Bunker #7




Capt Victory & Galactic Rangers #3  




Captain Midnight #16




Cartoon Network Super Secret Crisis War #5 (OF 6)




Conan The Avenger #7 




Cutter #4




Dark Gods #1




Death Defying Dr Mirage #1 (OF 5) 2nd Ptg




Death Of Wolverine Deadpool And Captain America #1 




Death Of Wolverine Logan Legacy #3 (OF 7)    




Deathlok #1  




Deep Gravity #4 (OF 4)




Doctor Who 11th #4




Dredd Uprise #1 (OF 2)




Earth 2 Worlds End #4  




Edge Of Spider-Verse #2 (OF 5) 2nd Ptg




Edge Of Spider-Verse #3 (OF 5) 2nd Ptg




Elektra #7 




Fantastic Four #12      




God Is Dead #23




Godkiller Walk Among Us #1 




Goon Occasion Of Revenge #3 (OF 4)  




Groo Vs Conan #4 (OF 4) 




Guardians Of Galaxy #20     




Harbinger Omegas #3 (OF 3)




Harley Quinn #5 2nd Ptg   




Harley Quinn Annual #1 




Hawkeye Vs Deadpool #0 (OF 4) 2nd Ptg




Heavy Metal #271 




Inhuman #7    




Justice League Dark Annual #2




Justice League United Annual #1 




Knights Of The Dinner Table #214  




Legendary Star Lord #1 3rd Ptg




Lenore Volume Ii #11




Little Nemo Return To Slumberland #2




Low #4 




Marvel 75th Anniversary Celebration #1   




Marvel Universe Ultimate Spider-Man #31 




Massive #28 




Mega Man #42 




Mind MGMT #27 




Monsters From The Vault #33 




New 52 Futures End #26




Nova #22  




Pathfinder City Secrets #6 (OF 6)




Phantom #1 (OF 6)




Previews #314 November 2014


     

Marvel Previews November 2014 Extras




Rachel Rising #29 




Rasputin #1




Roche Limit #2




Saga #24




Savage Dragon #199   




Sensation Comics Featuring Wonder Woman #3




Sex #17




Shadow Midnight Moscow #5 (OF 6)   




Simpsons Comics Explosion #1




Sinestro #6 




Sonic Boom #1




Sonic Universe #69 




Southern Bastards #5 




Sundowners #3                  




Swamp Thing Annual #3 




Thanos A God Up There Listening #4 (OF 4) 




Thought Bubble Anthology 2014 #4      




Thunderbolts #32 




Transformers More Than Meets Eye #34 




Tuki Save The Humans #2   




Uber #19




Umbral #10 




Vertigo Quarterly #1 Yellow




Walking Dead Magazine #10 Px Ed 




War Stories #2 




Wayward #3




Wolverine And X-Men #11  




Wonder Woman #35 



TRADE PAPERBACKS, GRAPHIC NOVELS, HARDCOVERS AND MANGA
100 Bullets Tp Book 01




Blade Of The Immortal Tp Vol 30 Vigilance




Chronicles Of King Conan Tp Vol 09 Blood Of Serpent




Cowl Tp Vol 01 Principles Of Power




DC Comics Zero Year Hc




Green Lantern Tp Vol 04 Dark Days 




Halo 2014 Halo 2 Master Chief Af Cs




Judge Gn Vol 05




Kingdom Hearts 358 / 2 Days Gn Vol 04 




Miracleman Prem Hc Book 02 Red King Syndrome 




Neil Gaiman Hansel & Gretel Graphic Hc




Original Sin Hc    




Preacher Tp Book 06




Savage Wolverine Tp Vol 02 Hands On Dead Body




Sock Monkey Into Deep Woods Hc 




Stray Bullets Tp Vol 01 Innocence Of Nihilism




Umineko When They Cry Gn Ep 4 #2 Alliance O/T Gold   




Uncanny X-Men Iron Man Nova Tp No End In Sight 




William Shakespeare Star Wars Trilogy Royal Box Set




Wolverine And X-Men Tp Vol 01 Tomorrow Never Learn
TOYS
DC Comics Designer Ser 2 Capullo Red Hood Af




Mike Tyson Mysteries 8-In Af



ODDS AND ENDS
Batman 1966 Joker Bust




Batman Black & White Harley Quinn 2nd Ed Statue 




DC Comics Cover Girls Harley Quinn Statue 2nd Ed



and one last one just in case you missed this version