It's the end of another week and before you get all into doing them Fall things you've been looking forward to all week (or before you hit the after work Happy Hour with everyone) check out next weeks comics!

Daredevil on NetFlix
You may have seen this image after the announcement from last week's NYCC: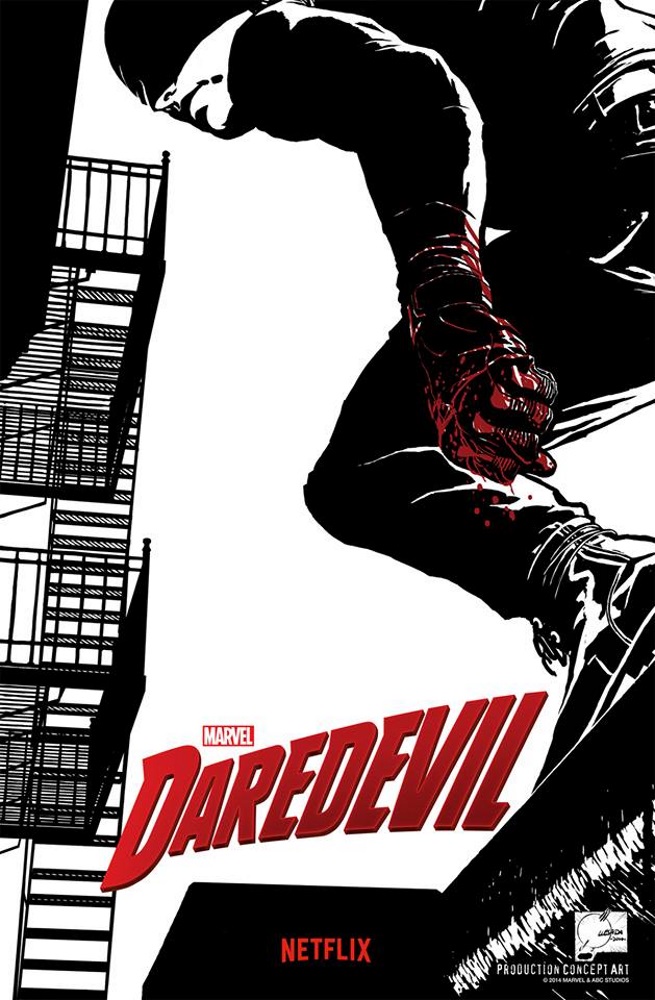 Looks like Marvel's going with the initial early all black sorta ninja-ish costume that Matt Murdock starts off with in Daredevil Man Without Fear by Frank Miller and John Romita Jr! This is pretty awesome news. Also we've got copies of DD: Mw/oF in stock in cause you've not read that classic must read Daredevil story!
You Can Still Pre-Order a Dancing Groot POP!

Here's Some Comics To Check Out This Week!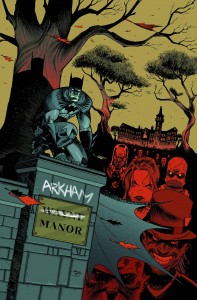 (Why not have all the crazies live at your house…)
ARKHAM MANOR #1
DC COMICS
(W) Gerry Duggan (A/CA) Shawn Crystal
When catastrophe strikes Arkham Asylum, where will Gotham City house the world's most dangerous criminals, and when inmates are found murdered, what is Batman prepared to do in search of justice? Arkham's madness comes home in ARKHAM MANOR! A bold new series brought to you by the mad minds of Gerry Duggan (Deadpool, Nova) and Shawn Crystal (Deadpool, Wolverine and the X-Men).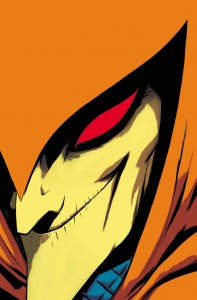 (because that cover rules!)
AXIS HOBGOBLIN #1 (OF 3)
MARVEL COMICS
(W) Kevin Shinick (A/CA) Javier Rodriguez
AVENGERS & X-MEN: AXIS TIE-IN!
•  Roderick Kingsley, the one and only Original Hobgoblin is back in the suit (for real this time! We swear!) and back in New York with a brand new mission.
•  Robot Chicken writer Kevin Shinick (Superior Carnage, Superior Spider-Man Team Up) and fan favorite artist Javier Rodriguez (Daredevil) team up to bring you a Hobgoblin book unlike any you've ever seen!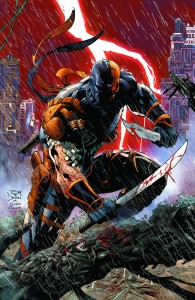 (I liked the first Deathstroke series back at the relaunch…let's see how this one goes)
DEATHSTROKE #1
DC COMICS
(W) Tony S. Daniel (A) Tony S. Daniel, Sandu Florea (CA) Tony S. Daniel
The DCU's deadliest assassin stars in his own ongoing series by writer/artist Tony S. Daniel! See him as never before in this explosive new series, with one surprise after another as we see Slade Wilson in the fight of his life!
(Once again that
Kate Leth
's up to good things!)
EDWARD SCISSORHANDS #1 (OF 5)
IDW PUBLISHING
(W) Kate Leth (A) Drew Rausch (CA) Gabriel Rodriguez
An all-new adventure revisiting Edward Scissorhands five decades after the end of the fan-favorite movie!
In castle just outside a sleepy suburban town, a brilliant inventor created Edward Scissorhands…but left him tragically unfinished. Two generations of exile have left Edward digging through abandoned experiments, but once he wakes up a creature left buried, he discovers he isn't the only one missing a vital piece. As Edward tries to fix a grave mistake, he comes face to face with a teenage girl who was sure he was only myth… despite the stories her grandmother told her, about the man she could never touch.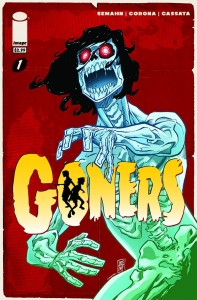 (A new Image horror comic just in time for Halloween)
GONERS #1
IMAGE COMICS
(W) Jacob Semahn (A/CA) Jorge Corona
"WE ALL FALL DOWN," Part One
From the colonization of Roanoke to the Cold War, the world famous Latimer Family has been humanity's lone defense against paranormal horrors for centuries…until tonight. A deadly assault on the lineage forces an unprepared brother and sister to solve their parents' murder while trying to escape the grim landscape of horrors that stalk the children themselves.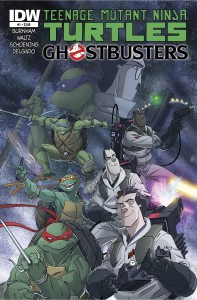 (it's like this one was made for Chris)
TMNT GHOSTBUSTERS #1 (OF 4)
IDW PUBLISHING
(W) Erik Burnham, Tom Waltz (A/CA) Dan Schoening
When a new invention goes haywire, the Turtles are sent to a whole new type of New York City. One with a whole lot more ghosts… and Ghostbusters! The two teams will have to learn to get along quickly, because a new foe from the Turtles past has followed them and aims to conquer NYC!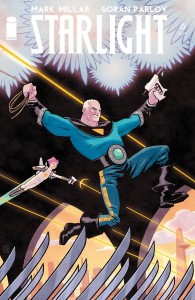 (
Finally!
)
STARLIGHT #6 
IMAGE COMICS
(W) Mark Millar (A) Goran Parlov (CA) John Cassaday
Duke, Space-Boy, and their rebel friends face off in their final, defining battle against the Brotean regime. But there's been a traitor in their midst, and their plans aren't all they're cracked up to be. It's not only their lives in the balance, but the future of the entire planet Tantalus. Millar and Parlov's space epic concludes here!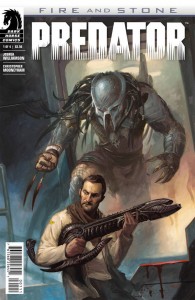 (
oh yea! I'm still reading this!
You should prob check it out too!)
PREDATOR FIRE AND STONE #1 (OF 4)
DARK HORSE COMICS
(W) Joshua Williamson (A) Chris Mooneyham (CA) Dan Brown, Lucas Graciano
As the Perses begins her long journey home, a deadly stowaway forces the crew into a savage conflict! While the crew defend themselves against this unseen predator, the hunter itself stalks a much more substantial game!
COMICS n SUCH!
(the following list of comics reflects all the comics coming into both locations. If there's something on this list that's not in stock at your favorite BNW location do not hesitate to ask for us to order it for you!)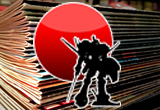 COMICS AND MAGAZINES
All New Ghost Rider #8




All New Invaders #11




All New X-Factor #15 




Amazing Spider-Man #8 




Amazing X-Men #12   




Aquaman #35       




Arkham Manor #1    




Avengers #37




Avengers And X-Men Axis #3 (OF 9)




Axis Hobgoblin #1 (OF 3)




Batman 66 #16    




Batman Beyond Universe #15 




Batman Eternal #29




Bee And Puppycat #5




Bionic Woman Season Four #2 




Bodies #4 (OF 8) 




Borderlands Fall Of Fyrestone #3 




Btvs Season 10 #8




Butterfly #2




Catwoman #35 




Clive Barkers Nightbreed #6 




Colder Bad Seed #1 




Crossed Special 2014 




Cyclops #6 




Dead At 17 Blasphemy Throne #3 (OF 7)




Dead Boy Detectives #10 




Deadpool #36




Death Of Wolverine Logan Legacy #2 (OF 7) 




Deathstroke #1   




Delinquents #3 (OF 4)




Dream Merchant #5 (OF 6)




Drumhellar #10




Dungeons & Dragons Legends Of Baldurs Gate #1




Earth 2 Worlds End #3        




Edge Of Spider-Verse #1 (OF 5) 2nd Ptg




Edward Scissorhands #1 (OF 5)    




Elephantmen #60




Five Ghosts #13    




Flash #35       




GI Joe (2014) #2




Godzilla Cataclysm #3 (OF 5) 




Godzilla Rulers Of The Earth #17    




Goners #1 




Halo Escalation #11 




Harley Quinn #11




He Man And The Masters Of The Universe #18




Hobby Japan Sep 2014




Infinity Man And The Forever People #4 




Injustice Gods Among Us Year Three #2




Judge Dredd Anderson Psi Division #3    




Justice Inc #3 (OF 6) 




Justice League Dark #35




Lazarus #12




Letter 44 #11  




Maxx Maxximized #12  




Memetic #1 (OF 3)




Multiversity The Just #1 




My Little Pony Friends Forever #10   




New 52 Futures End #25




New Warriors #11  




Oddly Normal #2




Pop #3   




Predator Fire And Stone #1 (OF 4) 




Red Lanterns #35 




Regular Show #16




Revival #24




Rot & Ruin #2  




Secret Avengers #9 




Secret Origins #6  




She-Hulk #9  




Sheltered #12




Starlight #6 




Steampunk Bsg 1880 #3 (OF 4)   




Stray Bullets The Killers #8




Stumptown V3 #2 




Superman #35 




Terminator Enemy Of My Enemy #6 (OF 6) 




Thanos A God Up There Listening #3 (OF 4)




TMNT Ghostbusters #1 (OF 4)




Tomarts Action Figure Digest #205




Tomb Raider #9




Town Called Dragon #2 (OF 5)    




Transformers Primacy #3




Transformers Robots In Disguise #34




Twilight Zone #9   




Unwritten Vol 2 Apocalypse #10 




Vampirella Prelude To Shadows One Shot    




Walking Dead #133




Wicked & Divine #5




Wildfire #4 




X-Files Season 10 #17    




X-Files Year Zero #4 (OF 5)  




X-Force #11  




Zero #11




TRADE PAPERBACKS, GRAPHIC NOVELS, HARDCOVERS AND MANGA

Alias Omnibus Hc New Ptg  




All Star Western Tp Vol 05 Man Out Of Time 




Annotated Sandman Hc Vol 03 




BPRD Plague Of Frogs Tp Vol 01   




Explorer Sc Vol 03 Hidden Doors     




Gantz Tp Vol 33 




Gotham City Sirens Tp Book 01 




Harley Quinn Hc Vol 01 Hot In The City




Hellraiser Dark Watch Tp Vol 03




Hulk Tp Vol 01 Banner Doa




Original Sin Tp Hulk Vs Iron Man   




Princess Mononoke First Story Hc




Red Sonja Tp Vol 02 Art Blood & Fire 




Secret Avengers Tp Vol 01 Lets Have A Problem




Silver Surfer Tp  Vol 01 New Dawn




Sky Art Of Final Fantasy Hc Vol 01 




Suicide Squad Tp Vol 05 Walled In



TOYS
Batman 75th Anniversary Action Figure 4 Pack Set 1




Batman Lil Gotham Batman Mini Action Figure   




Clerks Minimates 20th Ann B&W Box Set




DC Comics New 52 JL Dark Constantine Af  




DC Comics New 52 JL Dark Zatanna Af    




ODDS AND ENDS
Batman Arkham City Batman Artfx+ Statue




Doctor Who Titans Mini Fig 20pc Bmb Ds Ser 05




Guardians Of The Galaxy Rocket Raccoon Artfx+ Statue