This coming week brings us a new weekly DC comic, a brand new Batgirl, Axis from Marvel and a new horror from Vertigo in Scott Snyder & Jock's Wytches (with a Ghost Variant!!!!)

Michelle's Getting Married Today!
Today over there in Eugene Oregon 'Shelly is getting married! You may have noticed Michelle hasn't been around recently. Shes been super busy with Little Big League and all those other things that life throws at you. And today is the big day! We couldn't be happier for Michelle and Peter…we're just bummed that we can't be there! Congrats guys! We'll party with ya when you're back in Philly!
Here's some comics to check out this week!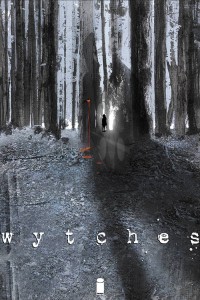 (This book is getting all sorts of buzz! AND we'll have a Ghost Variant)
WYTCHES #1 (MR)
IMAGE COMICS
(W) Scott Snyder (A/CA) Jock
    Across the globe, century after century, men and women were burned, drowned, hanged, tortured, imprisoned, persecuted, and murdered for witchcraft. None of them were witches. They died protecting a terrible and hidden truth: witches, real witches, are out there. They are ancient, elusive, and deadly creatures that are rarely seen and even more rarely survived. This October, superstar creators SCOTT SNYDER (SEVERED, Batman) and JOCK (SNAPSHOT, Batman) unveil WYTCHES, and introduce you to a world of unimaginable horror in a special EXTRA-SIZED FIRST ISSUE with 30 pages of story and no ads for just $2.99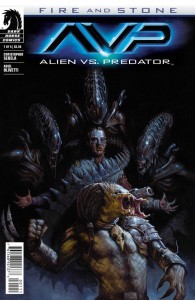 (Hey!
This
! I'm still in on all this Aliens, Prometheus and Predator stuff)
ALIEN VS PREDATOR FIRE AND STONE #1 (OF 4)
DARK HORSE COMICS
(W) Christopher Sebela (A) Ariel Olivetti (CA) E.M. Gist
As the mercenary crew of the Perses leave the horror of LV-223 behind them, one passenger reveals a terrible new danger, and the crew soon find themselves in a deadly struggle between predator and prey!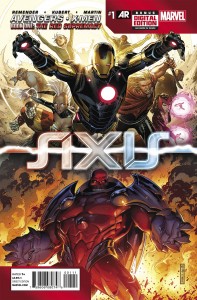 (
THE RED ONSLAUGHT IS HERE
! Also it's not S-I-X-I-S it's Axis)
AVENGERS AND X-MEN AXIS #1 (OF 9)
MARVEL COMICS
(W) Rick Remender (A) Adam Kubert (CA) Jim Cheung
ACT I: THE RED SUPREMACY
•  The Red Skull has exploited the gifts of the world's greatest telepath to broadcast pure hatred across the globe. Now, born of the murder of Charles Xavier, World War Hate has begun.
•  Tony Stark discovers a secret truth that will upend not only his life, but also the lives of everyone he cares for.
•  Can The Avengers and X-Men finally unite? Would their combined strength be enough to hold back the darkness of the Red Onslaught?
•  Magneto murdered the wrong man, releasing the greatest evil the Marvel Universe has ever known. Now Rogue and Scarlet Witch are all that stand in its way.
Rated T+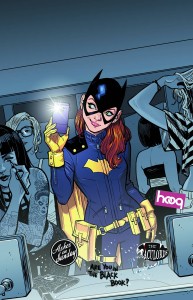 (There's been a lot of buzz about this…AND we can't wait!!!)
BATGIRL #35
DC COMICS
(W) Cameron Stewart, Brendan Fletcher (A) Babs Tarr (CA) Cameron Stewart
Barbara Gordon is no stranger to dusting herself off when disaster strikes… so when a fire destroys everything she owned, she spots the opportunity for a new lease on life – and seizes it! Following the rest of Gotham's young adults to the hip border district of Burnside, Barbara sets about building an all-new Batgirl… and discovers all-new threats preying on her peers! It's a re-invention of Batgirl from the boots up, by the incredible creative team of Cameron Stewart (BATMAN INC.), Brenden Fletcher (WEDNESDAY COMICS), and rising star Babs Tarr!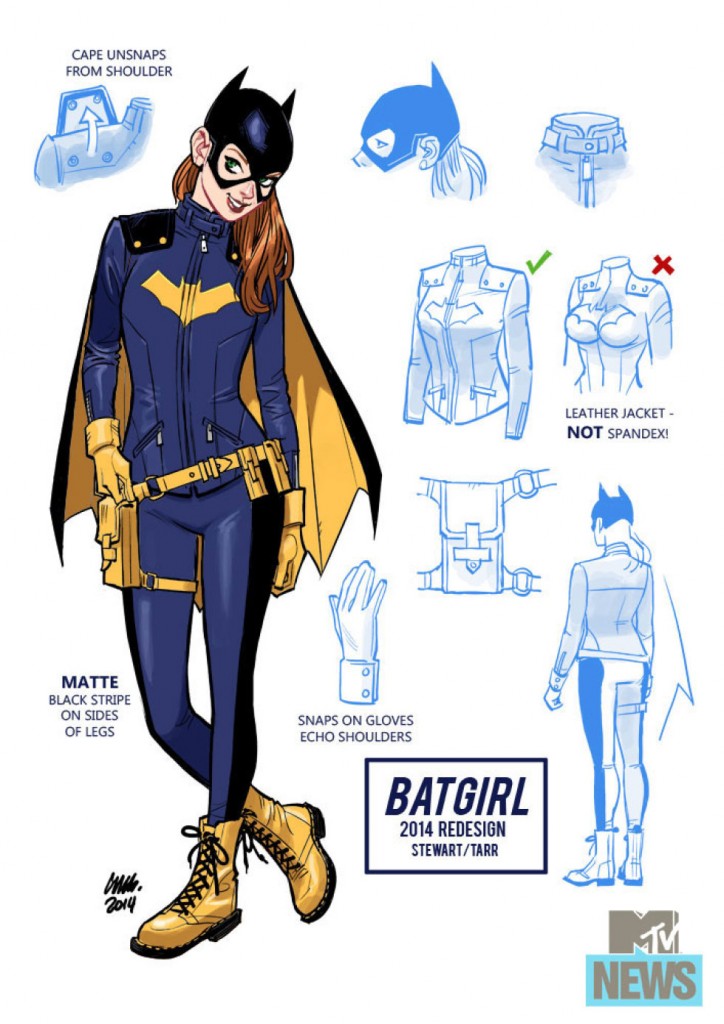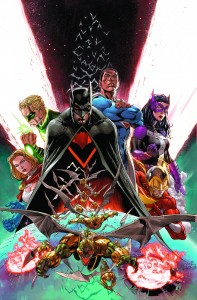 (A new DC weekly series!)
EARTH 2 WORLDS END #1
DC COMICS
(W) Daniel H. Wilson & Various (A) Ardian Syaf & Various (CA) Ardian Syaf, Jaime Mendoza
Daniel H. Wilson, New York Times best-selling author of Robopocalypse and Robogenesis, delves into the world of EARTH 2 for the start of a new weekly series that will see the origins of a world much like the New 52 Earth, but yet so different. A world that saw its greatest heroes die – and new ones take their places. A world where Superman became it' greatest villain, and a man named Zod seeks to save it, along with Batman, Green Lantern, The Flash and other heroes. A world they can only save from the forces of Apokolips through great personal sacrifice! Death and destruction will follow each week, and you'll never know who will live and who will die! It all begins with this extra-sized debut issue!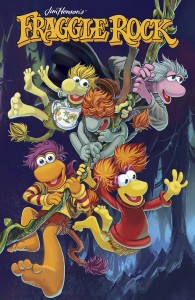 (Innernette darling/hero for all
Kate Leth
's here and she brought Fraggles w/ her!)
FRAGGLE ROCK JOURNEY EVERSPRING #1 (OF 4)
BOOM! STUDIOS
(W) Kate Leth (A/CA) Jake Myler
WHY WE LOVE IT: Our FRAGGLE ROCK anthologies were the first comics we published with our friends at The Jim Henson Company and ever since then, we've always wanted to tell one big, epic, Fraggletastic story only possible in comics. Now we have our chance in this four-issue limited series! The Fraggles will adventure to places they've never been before, places where Gobo, Red, Mokey, Wembly, and Boober will meet brand-new friends, sing brand-new songs, and dance their cares away!
WHY YOU'LL LOVE IT: Whether it's ADVENTURE TIME, AMULET, or MOUSE GUARD, comics fans are coming out for all-ages stories. No one mastered that art form quite like Jim Henson, and the characters of FRAGGLE ROCK remain some of his most beloved creations. New York Times bestselling author Kate Leth (ADVENTURE TIME: SEEING RED, BRAVEST WARRIORS) and artist Jake Myler (FRAGGLE ROCK, Orphan Blade), have spun a hilarious, super fun story for longtime fans and comic readers of all ages who've yet to meet this lovable gang of Fraggles.
WHAT IT'S ABOUT: When the water supply of Fraggle Rock mysteriously runs dry, the Fraggles have to journey deep into the caves of Fraggle Rock to find the fabled Everspring where adventure awaits and no Fraggle has gone before! It's the beloved characters of Fraggle Rock in their biggest story yet!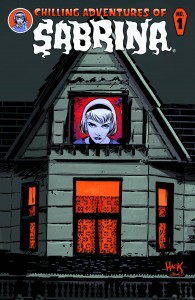 (Awesome! Like Afterlife with Archie?! Check this out!)
SABRINA #1 (MR)
ARCHIE COMIC PUBLICATIONS
(W) Roberto Aguirre Sacasa (A/CA) Robert Hack
New Ongoing Series! Terror is born anew in this dark reimagining of Sabrina the Teenage Witch's origin. On the eve of her sixteenth birthday, the young sorceress finds herself at a crossroads, having to choose between an unearthly destiny and her mortal boyfriend, Harvey. But a foe from her family's past has arrived in Greendale, Madame Satan, and she has her own deadly agenda. Archie Comic's latest horror sensation starts here! For TEEN+ readers.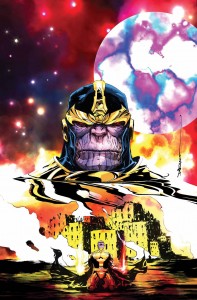 (Hey Thanos people! New Thanos stuff!)
THANOS A GOD UP THERE LISTENING #1 (OF 4)
MARVEL COMICS
(W) Rob Williams (A) Neil Edwards & Various (CA) Dustin Nguyen
• At the close of INFINITY, Thane discovered he was the son of Thanos and that his touch was death.
•  Now, accompanied by the constantly whispered advice of the Ebony Maw, he wants to discover his father's history, and his own future.
Rated T+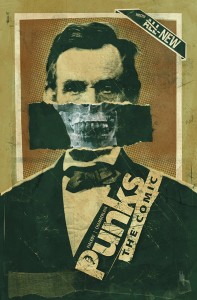 (I may be the only one who read all these previous issue and I can't wait for the new one!)
PUNKS THE COMIC #1
IMAGE COMICS
(W) Joshua Hale Fialkov (A/CA) Kody Chamberlain
Dog, Skull, Fist, and Abe Lincoln live in a house, beat the #### out of each other, and frequently humiliate themselves. There is bleeding and sadness; Morrissey would likely approve.The cult hit comedy returns with new stories and a classic in the back. From Eisner/Harvey nominees JOSHUA HALE FIALKOV (The Bunker, I, Vampire) and KODY CHAMBERLAIN (SWEETS, The Ride).
(The CBLDF keeps comics happening!)
CBLDF LIBERTY ANNUAL 2014 #1
IMAGE COMICS BUY-SELL
(W/A) Tom Fowler & Various (CA) Michael Allred
STORY: JEFF PARKER, STAN SAKAI, MARC GUGGENHEIM & TARA BUTTERS, JONATHAN HICKMAN, BRIAN WOOD, AMY CHU, AL EWING, ROBIN FURTH, RYAN DUNLAVEY, JEREMY LAMBERT, CHRIS ELIOPOULOS, LARRY MARDER, ROB REGER & MARIAH HEUHNER, JOE QUINONES & MARIS WICKS, & MERYL JAFFEE
ART: TOM FOWLER, STAN SAKAI, MATTHEW HOLM, TERRY DODSON, SHANNON WHEELER, RICH ELSON, EMMA VIECELI, RYAN DUNLAVEY, DECLAN SHALVEY & JORDIE BELLAIRE, CHRIS ELIOPOULOS, LARRY MARDER, CAT FARRIS, JOE QUINONES & MARIS WICKS, KATE LETH, & JANET LEE
COVER A: MICHAEL ALLRED
COVER B: WALTER SIMONSON
COVER C: DEREK CHARMA COMIC BOOK LEGAL DEFENSE FUND BENEFIT BOOK!
"USED YOUR IMAGINATION LATELY?"
Calling all dreamers and dancers, wanderers and wonderers, free speakers and free thinkers to this year's CBLDF LIBERTY ANNUAL, compiled by former Marvel editor and ardent imaginaut LAUREN SANKOVITCH. Within the pages of this year's Annual, a merry band of legendary creators has crafted 48 PAGES of THRILLING ADVENTURE, POWERFUL DRAMA, and GUT-BUSTING HILARITY that is not only ALL-NEW but ALL AGES! So grab your favorite life forms and gather 'round for a series of tales to test the bounds of your imagination and celebrate our freedom to do so!
All proceeds from this book benefit the important First Amendment work of the COMIC BOOK LEGAL DEFENSE FUND, who've been fighting censorship in comics for over 25 years!
Here's the Rest of the Comics For this Week!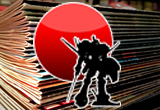 COMICS AND MAGAZINES
68 Homefront #2 (OF 4)




Abe Sapien #17




Adv Time Banana Guard Academy #3 (OF 6) 




Alien Vs Predator Fire And Stone #1 (OF 4)




All New Ultimates #9   




Amazing Spider-Man #7




Annihilator #2 (OF 6)   




Army Of Darkness Convention Invasion One Shot




Arrow Season 2.5 #1   




Astro City #16 




Atomic Robo Knights Of Golden Circle #4 (OF 5)




Avengers #36 




Avengers And X-Men Axis #1 (OF 9) 




Batgirl #35  




Batman #35 




Batman Eternal #27 




Big Trouble In Little China #5




Birthright #1




Black Market #4 (OF 4)  




Black Science #9




Bravest Warriors #25 




Caliban #7 




Captain Marvel #8  




CBLDF Liberty Annual 2014 #1




Chastity #4




Coffin Hill #12 




Constantine #18 




Copperhead #2  




Creepy Comics #18      




Danger Girl Mayday #4 (OF 4)  




Dark Ages #3 (OF 4)  




Dark Engine #3 




Dead At 17 Blasphemy Throne #2 (OF 7)  




Dead Letters #5




Death Defying Dr Mirage #2 (OF 5)




Death Vigil #4 (OF 8)




Doctor Who 10th #3




Earth 2 #27    




Earth 2 Worlds End #1  




Ex Con #2 




Extinction Parade War #4




FBP Federal Bureau Of Physics #14




Fraggle Rock Journey Everspring #1 (OF 4)  




George Romeros Empire Of Dead Act Two #2 (OF 5)        




George RR Martin In The House O/T Worm #3




Ghosted #14 




GI Joe A Real American Hero #207 




God Is Dead #22




Green Lantern Corps #35 




Grendel Vs Shadow #2   




Haunted Horror #13 




Hawkeye Vs Deadpool #1 (OF 4) 




Hexed #3  




Hi Fructose Magazine Quarterly #33




Imperial #3   




Injustice Gods Among Us Year Three #1 




Justice League United #5  




Klarion #1    




Manhattan Projects #24 




Marvel Universe Avengers Assemble #13 




Miracleman #12




Ms Marvel #3 3rd Ptg 




Ms Marvel #6 2nd Ptg 




My Little Pony Friendship Is Magic #24 




New 52 Futures End #23




New Suicide Squad #3 




Nightcrawler #7       




October Faction #1 




Punisher #11




Punks The Comic #1 




Ragnarok #2




Robotech Voltron #5 (OF 5)     




Rocket Raccoon #4  




Sabrina #1 




Savage Hulk #5 




Scooby Doo Where Are You #50 




Sex Criminals #8




Smallville Season 11 Chaos #3 (OF 4)




Sonic The Hedgehog #265 




Spawn #247           




Spongebob Comics #37 




Superman Wonder Woman #12




Tales Of Honor #5




Teen Dog #2 




Terminal Hero #3 




Thanos A God Up There Listening #1 (OF 4) 




Thief Of Thieves #24




Thomas Alsop #5 (OF 8) 




Transformers Vs Gi Joe #3 




V-Wars #6 




Vampirella Feary Tales #1 (OF 5)




War Stories #1




Worlds Finest #27    




Wytches #1




Wytches #1 Ghost Variant Edition




X #18 




X-Force #10




X-O Manowar #0



TRADE PAPERBACKS, GRAPHIC NOVELS, HARDCOVERS AND MANGA

All New Doop Tp     




Batman Hc Vol 05 Zero Year Dark City




Batman Noir The Long Halloween Hc  




Battling Boy Rise Of Aurora West Gn Vol 01 (OF 2) 




Blacksad Amarillo Hc  




Bumf Gn Vol 01 I Buggered The Kaiser 




Captain Marvel Tp Vol 01 Higher Further Faster




Costume Quest Hc Invasion Of Candy Snatchers 




Earth 2 Tp Vol 03 Battle Cry




East Of West Tp Vol 03 There Is No Us




Goon Tp Vol 13 For Want Of Whiskey And Blood    




GotG By Abnett And Lanning Complete Coll Tp Vol 01 




Green Arrow Tp Vol 05 Outsiders War 




Hawkeye Tp Vol 03 La Woma




Jim Hensons Tale Of Sand Illustrated Screenplay Hc




Johnny Boo Hc Vol 06 Zooms To The Moon




Knights Of Sidonia Gn Vol 11  




Locke & Key Tp Vol 06 Alpha & Omega  




Magnus Robot Fighter Tp Vol 01 Flesh & Steel




My Little Pony Omnibus Tp Vol 01  




Naruto Gn Vol 67 




Neil Gaiman Graveyard Book Hc Gn Vol 02 (OF 2)




Ninjago Gn Vol 11 Comet Crisis 




Predator Vs Judge Dredd Vs Aliens Hc




Ravine Tp Vol 02              




Regular Show Tp Vol 02 




She-Hulk Tp Vol 01 Law And Disorder   




Star Trek New Visions Cry Vengeance




Star Trek New Visions Tp      




Star Wars Rebel Heist Tp 




The Rage Hc Vol 01 (OF 2) Zombie Generation




Unwritten Tp Vol 10 War Stories 




V Wars Tp Vol 01 Crimson Queen  




Walking Dead All Out War Ap Edition Hc




Walking Dead Novel Sc Vol 04 Fall Of Governor Pt 2 




Walt Disney Uncle Scrooge Hc Vol 02 Seven Cities




X-Men Tp Vol 03 Bloodline  




TOYS
Dc Comics New 52 Earth 2 Hawkgirl Af




ODDS AND ENDS
DC Superhero Chess Fig Coll Mag #67 White Lantern




Gentle Giant Juggernaut Mini-Bust 




Justice League Chess Set  




Marvel Chess Fig Coll Mag #15 Absorbing Man 




Marvel Chess Fig Coll Mag #16 Doctor Octopus




Marvel Chess Fig Coll Mag #17 Black Panther 




Marvel Comics Avengers Now Hawkeye Artfx+ Statue




Star Trek Starships Fig Coll Mag #25 Uss Prometheus  




Star Trek Starships Fig Coll Mag #26 Tholian Stars 




Star Trek Starships Fig Coll Mag #27 Romulan Bird 




Superman The Man Of Steel Statue By Shane Davis