Saturday once again! Unlike last week it's beautiful out there! Come grab some comics and head out to a park somewhere and do some catching up! Also here's this weeks list of stuff!

MAGIC! IT'S HAPPENING ALL AROUND YOU!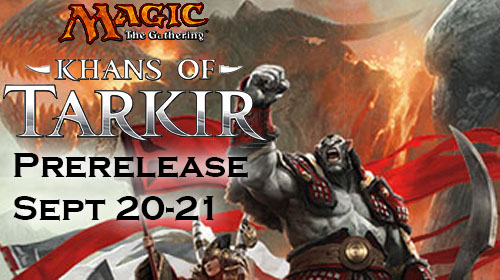 In our Willow Grove location, probably happening RIGHT NOW!, a Magic Khans of Tarkir pre-release event will begin! If you consider yourself a slinger of spells and an expert wielder of 3 color decks get in on this action!
Here for details (there's a tournament happening tomorrow too…so don't worry!)
Also don't forget to pre-order a whole box for yourself for just $100!

ALSO PRE-ORDER THESE WHILE YER AT IT!

AND ONE OF THESE!

Ok, Now let's take a look at this weeks DC Futures End 3D Covers!
AQUAMAN AND THE OTHERS FUTURES END #1
(W) Dan Jurgens (A) Alvaro Martinez (CA) Yvel Guichet
The Dead King leads the Others in a final assault on Atlantis to end Mera's reign forever!
BOOSTER GOLD FUTURES END #1
(W) Dan Jurgens (A) Moritat & Various (CA) Dan Jurgens, Norm Rapmund
Trapped out of time on a world that defies reason, Booster Gold struggles to escape the fate that has held him and so many forgotten heroes captive!
CATWOMAN FUTURES END #1
(W) Sholly Fisch (A) Pat Olliffe, Tom Nguyen (CA) Terry Dodson, Rachel Dodson
Catwoman's battle to be kingpin of crime in Gotham City takes an unexpected turn when Selina and Black Mask are revealed to be one and the same!
FLASH FUTURES END #1
(W) Van Jensen (A/CA) Brett Booth, Norm Rapmund
It's the final showdown between The Flash and his future self for control of the Speed Force – with Wally West's life hanging in the balance!
HARLEY QUINN FUTURES END #1
(W) Amanda Conner, Jimmy Palmiotti (A) Chad Hardin (CA) Amanda Conner
Harley and The Joker make it legal at last! Follow the happy couple to their secret honeymoon spot, where it's literally till death do they part!
JUSTICE LEAGUE DARK FUTURES END #1
(W) J. M. DeMatteis (A) Andres Guinaldo, Walden Wong (CA) Juan Ferreyra
An emotionally and physically scared Zatanna struggles to find a way to return her team and the House of Mystery itself to our own dimension – but the cost might doom them and our world!
RED LANTERNS FUTURES END #1
(W) Charles Soule (A) Jim Calafiore (CA) Scott Hepburn
The ranks of the Red Lanterns have grown to monstrous numbers, and with no Blood Lake to restore their sanity, they're terrorizing the universe. It's up to Blue Lantern Guy Gardner to correct the deadly mistake he made!
SINESTRO FUTURES END #1
(W) Cullen Bunn (A) Igor Lima, Ruy Jose (CA) Kevin Nowlan
Sinestro has been imprisoned by a powerful new intergalactic force with ideals based on a twisted version of his own code! Lost in a super-max prison on the far side of the universe, he orchestrates an escape…and his revenge!
STAR SPANGLED WAR STORIES GI ZOMBIE FUTURES END #1
(W) Jimmy Palmiotti, Justin Gray (A) Scott Hampton (CA) Dave Johnson
G.I. Zombie stands alone against a zombie army of thousands as the U.S. military's experiment reaches its horrifying fruition!
SUPERMAN FUTURES END #1
(W) Dan Jurgens (A) Lee Weeks (CA) Ken Lashley
There's a new, much darker Superman prowling the streets of Metropolis! But who exactly is he?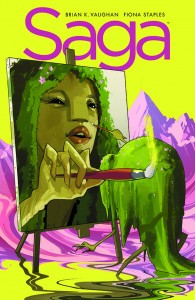 (look at that solicit description!)
SAGA #23
IMAGE COMICS
(W) Brian K. Vaughan (A/CA) Fiona Staples
Betrayal.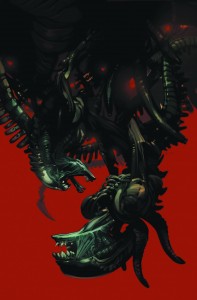 (Remember when I said I was ALL IN)
ALIENS FIRE AND STONE #1
DARK HORSE COMICS
(W) Chris Roberson (A) Patric Reynolds (CA) David Palumbo
During a vicious xenomorph outbreak, terraforming engineer Derrick Russell leads a desperate group of survivors onto a rickety mining vessel. They hope to escape the creatures overrunning their colony-but they'll face horrors both in space and on the strange planet they crash on. Ties in with the Prometheus and Aliens films!
o First issue in an exciting direction for Aliens!
o From critically acclaimed writer Chris Roberson!
o Variant cover by Fiona Staples (Saga, North 40)!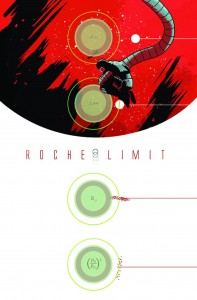 (Sci-Fi seems to be in a Renaissance)
ROCHE LIMIT #1
IMAGE COMICS
(W) Michael Moreci (A/CA) Vic Malhotra
"OUR DESTINY IS THE STARS, AND I WILL LEAD US THERE."
Twenty years after this promise, billionaire Langford Skaargard's dream of cosmic exploration is no more. Roche Limit, a colony situated on the cusp of a mysterious energy anomaly, is a melting pot of crime and terrible secrets. When Bekkah Hudson goes missing, the search to find her will plunge her sister and a cadre of the colony's underworld figures into an odyssey that reveals a grim future for mankind. Blending 2001: A Space Odyssey with Blade Runner, ROCHE LIMIT is the first part of a bold sci-fi/noir trilogy.
AND NOW ONTO THE LIST!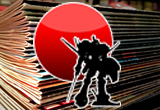 COMICS AND MAGAZINES
A Voice In The Dark Get Your Gun #1 (OF 5) 




Adventures Of Superman #17 




Aliens Fire And Stone #1       




All New Ghost Rider #7    




All New Invaders #10




Amazing Spider-Man #1.5 




Amazing X-Men #11




Aquaman And The Others Futures End #1




Armor Hunters #4 (OF 4)




Back Issue #76 




Baltimore Witch Of Harju #3 (OF 3)




Bart Simpson Comics #92




Batman 66 #15




Batman Beyond Universe #14 




Batman Eternal #25 




Bee And Puppycat #4




Bobs Burgers #2        




Bodies #3 (OF 8)




Booster Gold Futures End #1  




Bravest Warriors #24




Butterfly #1




Captain Midnight #15 




Catwoman Futures End #1 




Cartoon Network Super Secret Crisis War #4 (OF 6) 




Chew #43




Clive Barkers Nightbreed #5 




Conan The Avenger #6  




Cowl #5




Cyclops #5   




Dead Boy Detectives #9 




Deadpool #35 




Deep Gravity #3 (OF 4)    




Doctor Who 10th #2




Doctor Who Magazine #477




Drumhellar #9 




Edge Of Spider-Verse #3 (OF 5)




Elfquest Final Quest #5   




Empty Man #4 (OF 6)




Evil Empire #5 




Femforce #168 




Flash Futures End #1




Ghostbusters #20   




Ghost #8 




Gi Joe (2014) #1 




Godzilla Rulers Of The Earth #16




Groo Vs Conan #3 (OF 4)  




Guardians Of Galaxy #19 




Halo Escalation #10      




Harbinger Omegas #2 (OF 3) 




Harley Quinn Futures End #1




He Man And The Masters Of The Universe #17 




Inhuman #6    




Injustice Gods Among Us Year Two #12 




Justice Inc #2 (OF 6)




Justice League Dark Futures End #1




Legenderry A Steampunk Adv #7 (OF 7) 




Letter 44 #10




Loki Agent Of Asgard #6 




Low #3




Lumberjanes #6 (OF 8)  




Magneto #10




Massive #27




Mighty Avengers #14 




Mind MGMT #26




My Little Pony 2014 Annual 




New 52 Futures End #21




New Avengers #24




New Warriors #10




Outcast By Kirkman & Azaceta #4




Pathfinder City Secrets #5 (OF 6)




Pop #2




Previews #313 October 2014 




(MARVEL Previews October 2014)




Rachel Rising #28




Red Lanterns Futures End #1  




Red Sonja #12 




Robert E Howards Savage Sword #9




Roche Limit #1




Saga #23




Samurai Jack #12 (




Sandman Overture #3 Special Ed




Savage Wolverine #23  




Secret Avengers #8  




Sex #16




Simpsons Treehouse Of Horror #20     




Sinestro Futures End #1 




Sixth Gun #43 




Star Spangled War Stories Gi Zombie Futures End #1 




Star Trek City O/T Edge Of Forever #4 (OF 5) 




Steed & Mrs Peel Needed #3    




Storm #3       




Sundowners #2     




Superman Doomed #2  




Superman Futures End #1 




Tarot Witch Of The Black Rose #88




Thunderbolts #31 




Tomb Raider #8 




Town Called Dragon #1 (OF 5)




Transformers Robots In Disguise #33




Umbral #9




Wayward #2




X-O Manowar #29




TRADE PAPERBACKS, GRAPHIC NOVELS, HARDCOVERS AND MANGA
Auteur Tp Vol 01




Barbarella Dlx Ed Super Oversized Hc




Batman Death Of The Family Book & Joker Mask Set




Batman Gordon Of Gotham Tp




Battle Angel Alita Last Order Tp Vol 19 




Bumperhead Hc 




Doctors Gn 




Durarara Yellow Scarves Gn Vol 01




Ex Machina Tp Book 03




Fatale Tp Vol 05 Curse The Demon




Foligatto Hc




Forever Evil Argus Tp 




Forever Evil Blight Tp




Forever Evil Rogues Rebellion Tp 




Guardians Of Galaxy Tp Vol 02 Angela     




Harley Quinn Vengeance Unlimited Tp   




Lone Wolf & Cub Omnibus Tp Vol 06 




Lonesome Go Gn




Marvel Covers Artist Ed Hc 




Revival Tp Vol 04 Escape To Wisconsin  




Rover Red Charlie Tp Vol 01




Sixth Gun Tp Vol 07     




Snoopys Thanksgiving Hc 




Spice And Wolf Gn Vol 09 




The Incal Hc New Ptg



TOYS
DC Comics New 52 Batgirl Af 




DC Comics New 52 Teen Titans Red Robin Af 




Harley Quinn Batman Nightwing Robin Af 4 Pack




Marvel Select Zombie Magneto Af



ODDS AND ENDS
Sailor Moon Ps Petit Chara Land 6pc Bmb Ds Ser 02




TMNT Leonardo Bust Bank




TMNT Michelangelo Bust Bank




TMNT Raphael Bust Ban