Here's all the stuff we'll have for you on Wednesday September 10th!

KHANS OF TARKIR IS COMING!


This set will be here before you know it! Reserve a 36 card booster box of the new Magic the Gathering set NOW!
Here's some more of them DC Futures End tie-in 3D covers
BATGIRL FUTURES END #1
DC COMICS
(W) Gail Simone (A) Javi Garron (CA) Clay Mann
It's five years later, and Barbara Gordon has become Bête Noire – a.k.a. The Black Beast! Part Batman and part Bane, she leads a squad of female agents through the Gotham Underground!
BATMAN FUTURES END #1
DC COMICS
(W) Scott Snyder, Ray Fawkes (A) Aco (CA) Jason Fabok
It's five years later and Bruce Wayne is using dangerous science to help him continue his war on crime. What is it, and what forced Bruce to resort to such extremes?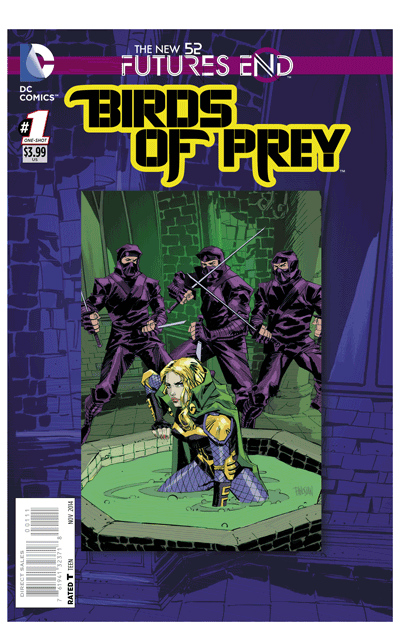 BIRDS OF PREY FUTURES END #1
DC COMICS
(W) Christy Marx (A) Robson Rocha, Oclair Albert (CA) Dan Panosian
Free of Ra's al Ghul's control at last, Black Canary claims her rightful place as the head of the League of Assassins!
CONSTANTINE FUTURES END #1
DC COMICS
(W) Ray Fawkes (A/CA) Juan Ferreyra
After a desperate five-year quest, John Constantine has claimed the ultimate occult prize: the Helmet of Fate!
GREEN LANTERN CORPS FUTURES END #1
DC COMICS
(W) Van Jensen (A) Igor Lima, Ruy Jose (CA) Francis Portela
John Stewart makes a fateful decision – will he choose to take his last shot at redemption? Or will he pull the trigger and kill any chance of a life worth living, in the name of saving the Corps?
INFINITY MAN AND THE FOREVER PEOPLE FUTURES END #1
DC COMICS
(W) Dan DiDio (A) Philip Tan, Jason Paz (CA) Howard Porter
Five years from now, the New Gods are missing, Infinity Man is trapped on Earth, and all is not as it seems in Mark Moonrider's life. Is he living some beautiful dream, or is he stuck in a never-ending nightmare?
NEW SUICIDE SQUAD FUTURES END #1
DC COMICS
(W) Sean Ryan (A) Andre Coelho, Scott Hanna (CA) Jeremy P. Roberts
Amanda Waller's covert war against the United States reaches the boiling point as the Suicide Squad takes the White House!
SUPERBOY FUTURES END #1
DC COMICS
(W) Frank Barbiere (A) Tyler Kirkham (CA) Jorge Jimenez
Kon has a final, fateful confrontation with his clones and finds help from some unlikely allies!
WORLDS FINEST FUTURES END #1
DC COMICS
(W) Paul Levitz (A) Yildiray Cinar, Paul Neary (CA) Stephen Segovia
Power Girl must break into Cadmus Island to free Huntress – but she ends up a prisoner herself!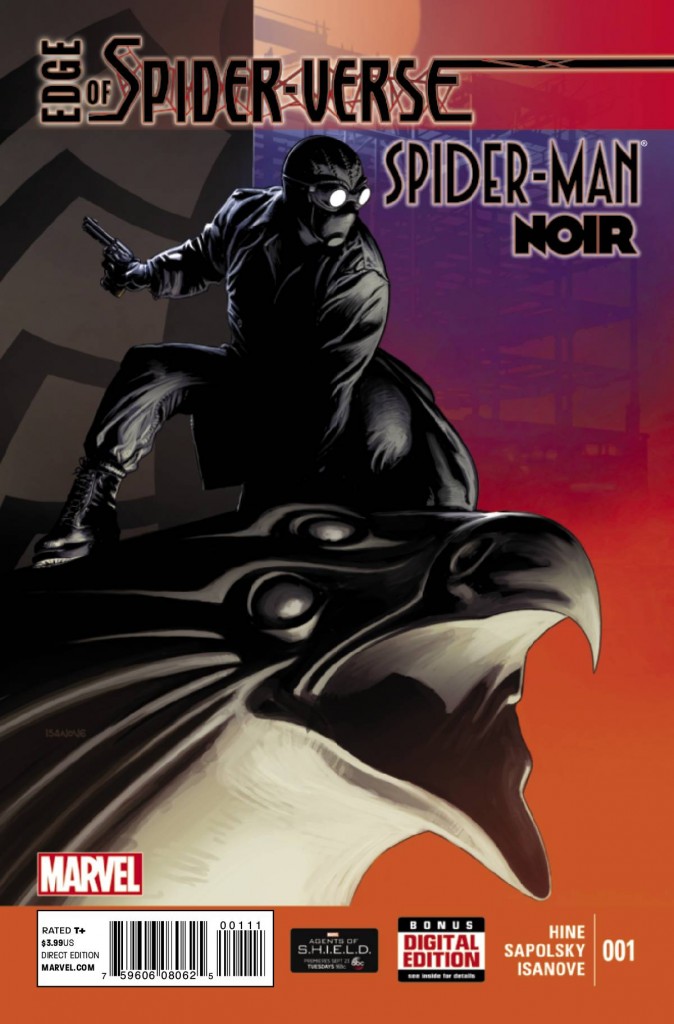 (Oh look! Spider-mans!)
EDGE OF SPIDER-VERSE #1 (OF 5)
MARVEL COMICS
(W) Fabrice Sapolsky (A/CA) Richard Isanove
SPIDER-MAN NOIR RETURNS!
•  The Peter Parker of the 1930's finds himself not only up against Mysterio, but knee-deep in the Spider-Man event of 2014!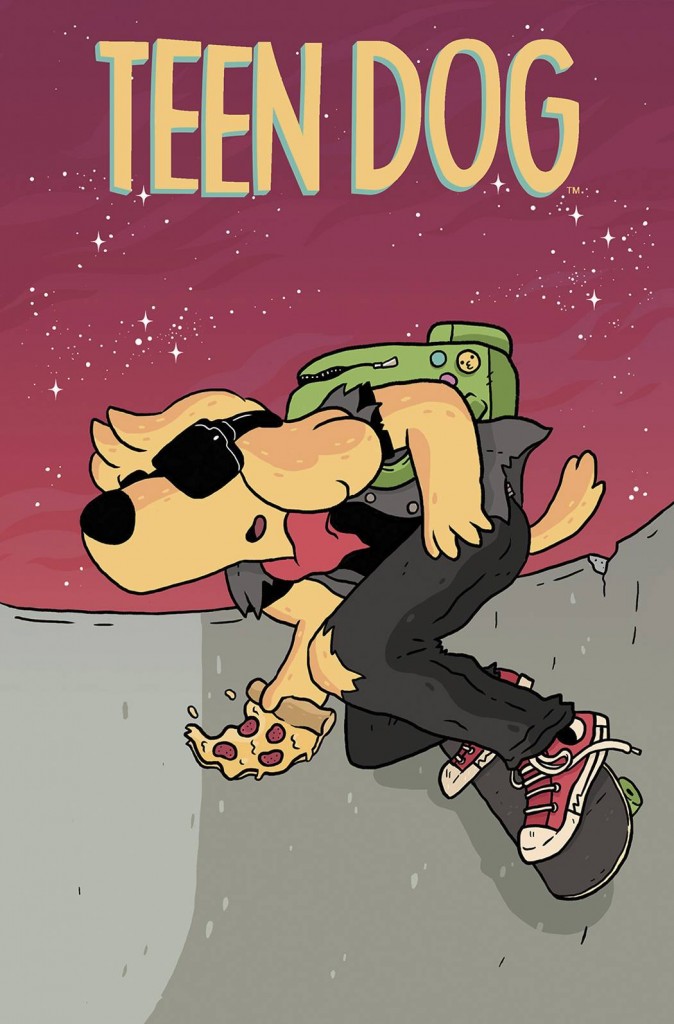 (Poochie?!)
TEEN DOG #1
BOOM! STUDIOS
(W/A/CA) Jake Lawrence
WHY WE LOVE IT: TEEN DOG is John Hughes meets '90s Nickelodeon cartoons, two of
our absolute favorite things. It's a totally awesome adventure that stars the canine that
spun out of Jake Lawrence's web comic Time Cowboy and kickflipped
his way into our
hearts.
WHY YOU'LL LOVE IT: How was your high school experience? TEEN DOG is high
school if it didn't totally blow, and instead totally ruled the most. Teen angst and
whimsical adventures collide in this new series reminiscent of Doug, Saved By the Bell,
and Kim Possible.
WHAT IT'S ABOUT: Skateboards, football games, prom…your teenage years have got
nothin' on the raddest dude that's ever graced a denim vest. Written and illustrated by
Jake Lawrence (Time Cowboy), join Teen Dog and his best friend Mariella as they tackle
typical teen life with a manic twist. Growing up is an adventure, and you might as well rock
it!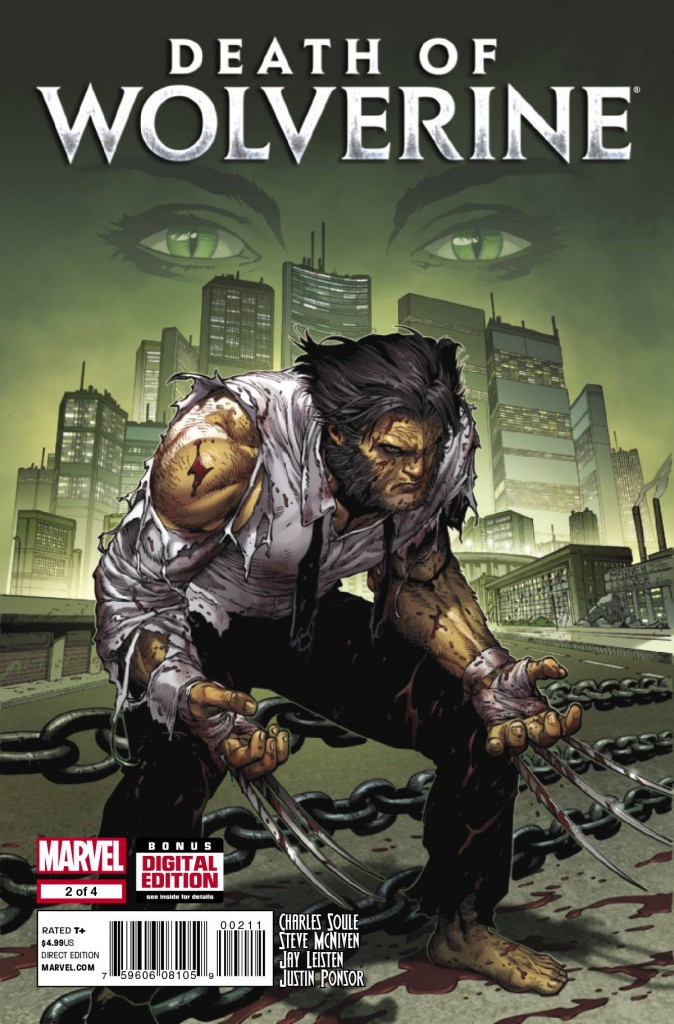 (week 2 let's see how Wolive's doing)
DEATH OF WOLVERINE #2 (OF 4)
MARVEL COMICS
(W) Charles Soule (A/CA) Steve McNiven
IT'S THE BEGINNING OF THE END – 3 MONTHS TO DIE ENDS HERE!
•  The beginning of the end is now here … THE DEATH OF WOLVERINE!
•  THREE MONTHS TO DIE, the loss of Wolverine's healing factor–all led to this, the single most important X-Men event of the decade.
•  Logan has spent over a century being the best there is at what he does…but even the best fade away eventually.
•  Over the years, Logan has been a warrior, a hero, a renegade, a samurai, a teacher-and so much more. But now, the greatest X-Men hero will play a role he's never played before in this special weekly event brought to you by industry superstars Charles Soule and Steve McNiven.
AND LASTLY I'M GOING ALL IN ON THESE ALIEN/PROMETHEUS/PREDATOR COMICS
If you're anything like me you love Alien, Aliens and Predator. You've seen them all a million times. A, like,  serio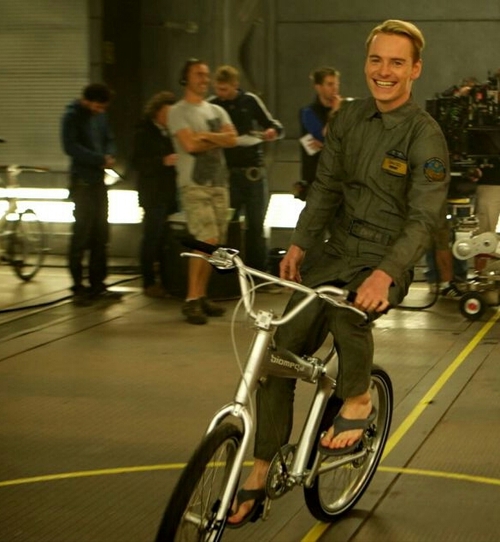 usly unhealthy amount of times. A "what are you doing with your time?" sorta unhealthy. A "how many expanded universe novels have you read?" sorta unhealthy. And if you're anything like me you're still wrestling with Prometheus.
"Do I like it?!" (sorta)
"Do I hate it?!" (sorta a lot)
You may have been asking yourself these questions for a few years at this point…
oh wait this is just me?…
Well, long story (or, if you're lucky, drunken late night after bar rant) short: I really want to love Prometheus. Sooooo when I heard that Dark Horse hired a buncha awesome writers to make sense of that mess and tie it into the rest of those franchises I love, well, I got pretty darn excited. Also with Dark Horse losing the Star Wars comics in the coming year or so they're going big on these properties that I love.
I've decided that if Dark Horse is going all in then so am I. This week sees the first chapter of the Fire and Stone epic hit our shelves and I can't wait.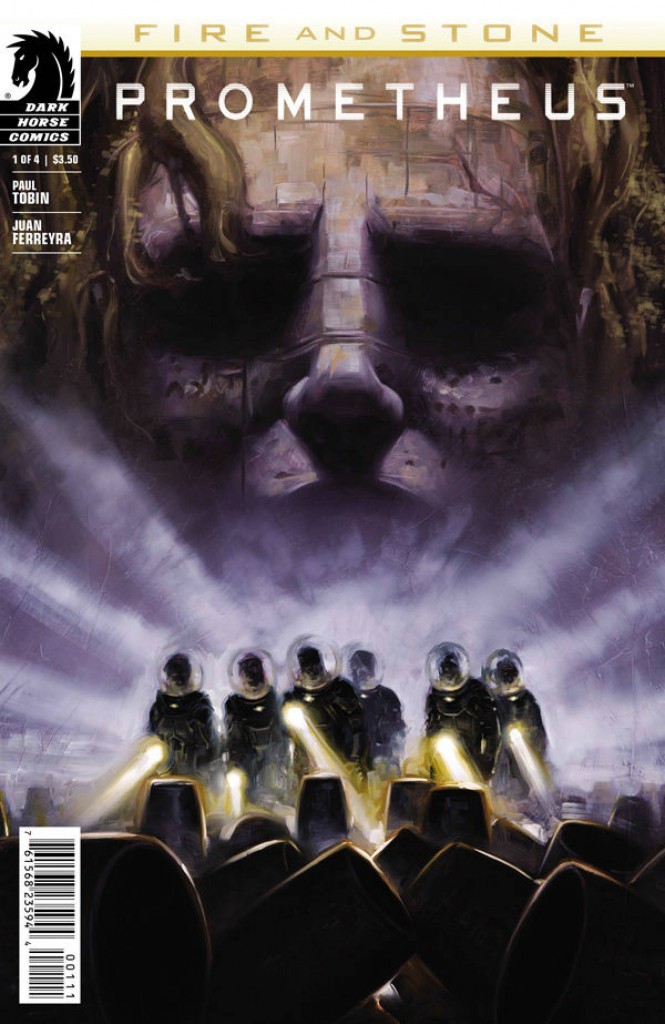 PROMETHEUS FIRE AND STONE #1
DARK HORSE COMICS
(W) Paul Tobin (A) Juan Ferreyra (CA) David Palumbo
When the Prometheus never returned from her fateful journey to LV-223, the questions surrounding the origins of man went unanswered. Now a new team of explorers seeks to uncover the dark mystery that holds not only the fate of the original mission, but possibly their own damnation.o Ties directly into the hit motion picture!
o First issue in a blockbuster crossover event!
From Eisner Award-nominated team of Paul Tobin and artist Juan Ferreyra (Colder)!
NOW ONTO THE OTHER STUFF COMING OUT THIS WEEK!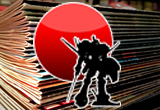 COMICS AND MAGAZINES
68 Homefront #1 (OF 4)




Abe Sapien #16   




All New Ultimates #8 




Amazing Spider-Man #6  




Annihilator #1 (OF 6) 




Archer & Armstrong #24




Armor Hunters Harbinger #3 (OF 3)




Astro City #15         




Avengers #34.1       




Avengers Undercover #10




Batgirl Futures End #1  




Batman Eternal #23    




Batman Futures End #1  




Betty & Veronica #272




Betty & Veronica Comics Digest #226




Birds Of Prey Futures End #1 




Black Market #3 (OF 4) 




Bunker #6




Caliban #6




Capt Victory & Galactic Rangers #2 




Captain Marvel #




Chastity #3




Coffin Hill #11




Constantine Futures End #1




Copperhead #1    




Dark Ages #2 (OF 4)




Dawn Vampirella #1 (OF 6)  




Deadpool #34         




Death Of Wolverine #2 (OF 4)




Death Vigil #3 (OF 8)                                    




Doctor Who 11th #2 




East Of West #15   




Edge Of Spider-Verse #1 (OF 5)




Fantastic Four #10




George Romeros Empire Of Dead Act Two #1 (OF 5) 




Ghosted #13




GI Joe A Real American Hero #206 




Green Lantern Corps Futures End #1                       




Guardians Of Galaxy #17 2nd Ptg 




Hawkeye #20   




Hexed #2    




Hobby Japan Aug 2014




Imperial #2




In A Sense Lost & Found Gn




Infinity Man And The Forever People Futures End #1




Inhuman #5   




Injustice Gods Among Us Year Two #11  




Invincible #114




Judge Dredd Anderson Psi Division #2    




Justice League United Futures End #1  




Lady Zorro #3 (OF 4)




Lazarus #11




Legends Dark Knight 100 Page Super Spectacular #4 




Lola XOXO #4 




Magneto #9




Magnus Robot Fighter #6




Morning Glories #40




MPH #3 (OF 5)




Ms Marvel #8  




My Little Pony Friends Forever #9 




New 52 Futures End #19 




New Suicide Squad Futures End #1  




New Vampirella #1 Dodson B&W 2nd Ptg




New Warriors #9 




Popeye Classics Ongoing #26   




Powers Bureau #11




Prometheus Fire And Stone #1  




Prophet Strikefile #1   




Robotech Voltron #5 (OF 5) 




Rot & Ruin #1   




Scooby Doo Where Are You #49       




Shadow Year One #10 (OF 10)




Sheltered #11  




Six Million Dollar Man Season 6 #6




Smallville Season 11 Chaos #2 (OF 4)  




Sonic Super Special Magazine #12 




Spongebob Comics #36     




Spread #1 3rd Ptg 




Spread #3




Stumptown V3 #1 




Suicide Risk #17  




Superannuated Man #3 (OF 6)




Superboy Futures End #1 




Superman Geoff Johns John Romita Jr Directors Cut




Superman Unchained #8




Teen Dog #1  




Terminal Hero #2 




Terminator Salvation Final Battle #9 (OF 12)  




Thomas Alsop #4 (OF 8) 




TMNT New Animated Adventures #15 




Transformers Primacy #2




United States Of Murder Inc #5




Velvet #7




Walking Dead #131 




Wasteland #57




Weird Love #3  




Wilds End #1     




Worlds Finest Futures End #1 




X #17




X-Force #9   



TRADE PAPERBACKS, GRAPHIC NOVELS, HARDCOVERS AND MANGA

Adventure Time Tp Vol 05 




All New X-Men Prem Hc Vol 05 One Down  




BPRD Hell On Earth Tp Vol 09 Reign Of Black Flame  




Crossed Wish You Were Here Tp Vol 04




Cyanide & Happiness Punching Zoo Tp




Five Weapons Tp Vol 02 Tylers Revenge 




Harbinger Tp Vol 05 Death Of A Renegade    




Justice League Hc Vol 05 Forever Heroes




Justice League Of America Hc Vol 02 Survivors 




Justice League Tp Vol 04 The Grid




Kodt Bundle Of Trouble Tp Vol 46




Legal Drug Omnibus Tp 




New Avengers Tp Vol 02 Infinity




Powerpuff Girls Tp Vol 02 Monster Mash 




Regular Show Original Gn Vol 01 Hydration 




Uncanny Avengers Prem Hc Vol 04 Avenge Earth 




Winter Soldier By Brubaker Complete Collection Tp  




Y The Last Man Tp Book 01




Zero Tp Vol 02 At The Heart Of It All



TOYS
DC Comics New 52 Supergirl Af  




DC Total Heroes 6in Det Batman Af




Infinite Crisis Atomic Green Lantern Af




Infinite Crisis Pajama Party Harley Quinn Af




ODDS AND ENDS
DC Batman Auto Fig Mag #38 




DC Batman Auto Fig Mag #39




DC Superhero Chess Fig Coll Mag #61 Booster Gold




Marvel Chess Fig Coll Mag #13 Electro Black Pawn




Marvel Chess Fig Coll Mag Special #1 Hulk & She-Hulk




Vintage Marvel Comics 2015 12 Month Wall Calendar