Good morning BNW comics fans! I've got a whole list of comics and stuff for you as well as a few awesome comics from some sweet creators for ya in our update today!


Let's start this weeks update of stuff with an awesome little cartoon about Batman dating (and Pokemon) by Karl Kershl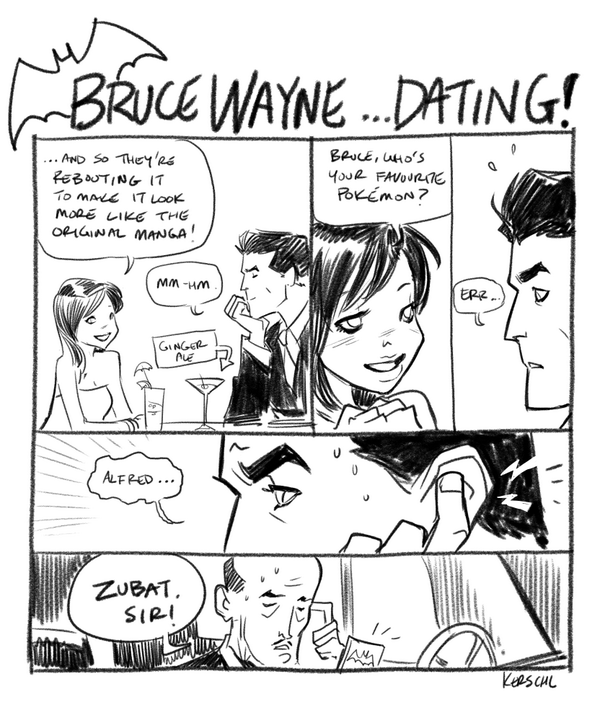 If you like that then you'll love this! The uber talented Becky Cloonan blew up the innernette Friday morning with her awesome comic about her, reportedly really awesome, Zucchini bread:
Man, just read that again…and now all I want is zucchini bread (and to drink a beers with a sweet medieval dude). Also I don't think I've spelled zucchini bread correctly once while typing any of this! (thanks little red squiggly line and right click spellcheck!)
DON'T FORGET!

Be sure to be out in our Willow Grove location on Wednesday September 3rd to meet local comics hardboiled nice guy Duane Swierczynski! He'll be there promoting his new crime comic Ex-Con and probably signing anything else you throw at him.
Now Comics You Should Probably Check Out!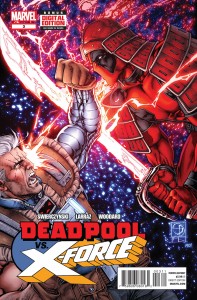 (Hey this is by that Duane guy from that note above!)
DEADPOOL VS X-FORCE #3 (OF 4) –
MARVEL COMICS
(W) Duane Swierczynski (A) Pepe Larraz (CA) Shane Davis
• Can X-Force stop Deadpool from rewriting history?
•  Cable chases the M w/the M to the Boxer Rebellion to try!
•  Plus: did you know there is a character named "Boom Boom"?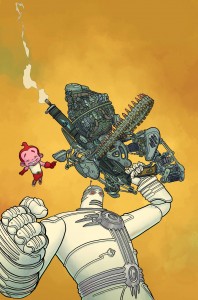 (Big Guy and Rusty!?!)
DARK HORSE PRESENTS 2014 #1 –
DARK HORSE COMICS
(W/A) Geof Darrow & Various (CA) Geof Darrow
Geof Darrow and Frank Miller's Big Guy and Rusty the Boy Robot returns in this new volume of the award-winning, long-running anthology powerhouse Dark Horse Presents! Also in the 48-page tome of awesome comics: Peter Hogan and Steve Parkhouse's Resident Alien, Brendan McCarthy's Dream Gang, Jimmy Palmiotti, Justin Gray, and Andy Kuhn's Wrestling with Demons, Damon Gentry and Aaron Conley's Sabertooth Swordsman, and David Mack's Kabuki!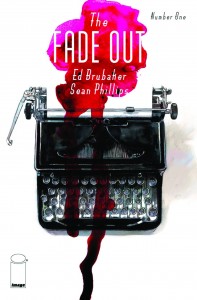 (can't beat new noir from Brubaker and Phillips!)
FADE OUT #1 –
IMAGE COMICS
(W) Ed Brubaker (A/CA) Sean Phillips, Elizabeth Breitweiser
The first project from their groundbreaking five-year deal at Image will have Brubaker and Phillips fans, old and new, at the edge of their seats, as they weave an epic crime story unlike anything they've done before.Hollywood – 1948. A noir film stuck in endless reshoots. A writer plagued with nightmares from the war and a dangerous secret. An up-and-coming starlet's suspicious death.  And a maniacal Studio Mogul and his Security Chief who will do anything to keep the cameras rolling before the Post-War boom days come crashing down. THE FADE OUT is the most ambitious series yet from the award-winning Noir Masters.Bonus: This 40-PAGE FIRST ISSUE features more story pages, as well as exclusive back pages articles that are only in these single issues!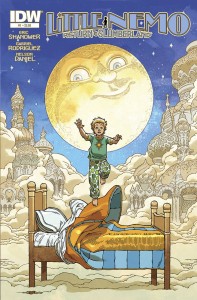 (Gabriel Rodriguez has been posting some awesome art for this for a while over on
his Tumblr
and I cannot wait to see it in print!)
LITTLE NEMO RETURN TO SLUMBERLAND #1 –
IDW PUBLISHING
(W) Eric Shanower (A/CA) Gabriel Rodriguez
An all-new, all-ages series full of magic and whimsy from award-winning creators Eric Shanower (Adventures in Oz) and Gabriel Rodriguez (Locke & Key)! Spinning out of Winsor McKay's brilliant early 20th century strip, Little Nemo in Slumberland sees King Morpheus' daughter, in the Royal Palace of Slumberland, select her next-playmate: Nemo! Only Nemo has no interest in being anyone's playmate, dream or no dream!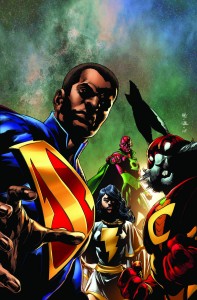 (Morrison's
mad brain
created
this thing!
)
MULTIVERSITY #1 –
DC COMICS
(W) Grant Morrison (A/CA) Ivan Reis, Joe Prado
The biggest adventure in DC's history is here!
Join visionary writer Grant Morrison, today's most talented artists, and a cast of unforgettable characters from 52 alternative Earths of the known DC Multiverse! Prepare to meet the Vampire League of Earth-43, the Justice Riders of Earth-18, Superdemon, Doc Fate, the super-sons of Superman and Batman, the rampaging Retaliators of Earth-8, the Atomic Knights of Justice, Dino-Cop, Sister Miracle, Lady Quark, the legion of Sivanas, the Nazi New Reichsmen of Earth-10 and the latest, greatest Super Hero of Earth-Prime: YOU!
Comprising six complete adventures – each set in a different parallel universe – plus a two-part framing story and a comprehensive guidebook to the many worlds of the Multiverse, THE MULTIVERSITY is more than just a multipart comic-book series. It's a cosmos spanning, soul-shaking experience that puts YOU on the frontline in the Battle for All Creation against the demonic destroyers known as the Gentry!
In issue #1, pencilled by superstar artist Ivan Reis (AQUAMAN, JUSTICE LEAGUE), President Superman of Earth-23 uncovers a threat to all Reality so apocalyptic it will take a team of incredible heroes from across the Multiverse to face it – including Captain Carrot, like you've never seen him before!
But even with a multitude of alternate worlds to choose from, where every variation is possible, can anyone hope to prevail against the onslaught of ultimate evil and undying hatred – in the unstoppable form of a one-time cosmic defender with unimaginable powers?! Join us, if you dare, for the beginning of THE MULTIVERSITY!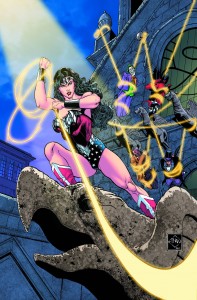 SENSATION COMICS FEATURING WONDER WOMAN #1 –
DC COMICS
(W) Gail Simone, Amanda Deibert (A) Ethan Van, Cat Staggs (CA) Ethan Van
Diana Prince: Amazon warrior, ambassador to Man's world, or champion of women in need? All of the above! This digital-first anthology series will bring some of comics' greatest talents to Themyscira, and give them leave to explore Diana, her world – and ours!
Gail Simone and Ethan Van Sciver kick things off when Oracle calls for help after the entire Bat-Family gets sidelined. But when Wonder Woman steps into the breach, Gotham City's criminals get the surprise of their lives! Then, Amanda Deibert and Cat Staggs take Diana to school, where she meets her biggest fan!

NOW ONTO THIS WEEKS COMICS n STUFF!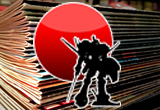 COMICS AND MAGAZINES
Adv Time Banana Guard Academy #2 (OF 6)




Adventure Time #31




All New Ghost Rider #6




All New Ultimates #6




All New X-Factor #12  




Armor Hunters Bloodshot #2 (OF 3)




Armor Hunters Harbinger #2 (OF 3)




Artifacts #38         




Batman And Robin #34 




Batman Eternal #20




Batwoman #34 




Black Market #2 (OF 4)   




BPRD Hell On Earth #122




Brain Boy Men From Gestalt #4 




BTVS Season 10 #6 




Daredevil #7




Dark Engine #2 




Dark Horse Presents 2014 #1




Deadpool Draculas Gauntlet #7 (OF 7)  




Deadpool Vs X-Force #3 (OF 4)




Delinquents #1 (OF 4)




Doctor Spektor #3  




Doctor Who Magazine #476 




Elektra #5       




Empty Man #3 (OF 6) 




Fables #143




Fade Out #1




Green Lantern New Guardians #34   




Hellraiser Bestiary #1 




Infinite Crisis Fight For The Multiverse #2




Infinity Man And The Forever People #3 




Judge Dredd #22 




Knights Of The Dinner Table #210




Last Broadcast #4 




Life After #2 




Little Nemo Return To Slumberland #1 




Magneto #8  




Manifest Destiny #9




Mighty Avengers #13    




Ms Marvel #1 6th Ptg 




Ms Marvel #5 2nd Ptg




Ms Marvel #7 




Multiversity #1      




My Little Pony Friends Forever #8  




New 52 Futures End #16




New Suicide Squad #1 2nd Ptg 




New Avengers #23




Nova #20




Original Sins #5 (OF 5)  




Outcast By Kirkman & Azaceta #1 3rd Ptg




Peter Panzerfaust #20 




Protectors Inc #8




Red Hood And The Outlaws #34  




Samurai Jack #11 




Savage Dragon #197 




Savage Wolverine #22 




Saviors #5




Secret Avengers #7  




Sensation Comics Featuring Wonder Woman #1  




Simpsons Comics #214      




Six Million Dollar Man Season 6 #5




Sons Of Anarchy #12




Star Wars Darth Maul Son Of Dathomir #4 




Storm #2 




Strain Night Eternal #1  




Stray Bullets The Killers #6




Supergirl #34




Supreme Blue Rose #2




Teen Titans #2   




Teen Titans Go #5    




TMNT Annual 2014




Transformers Robots In Disguise #32




Translucid #5 (OF 6)     




Trees #4




Trinity Of Sin Pandora #14 




Umbral #8




Unwritten Vol 2 Apocalypse #8 




Wicked & Divine #3




Witchfinder Mysteries Of Unland #3  




Wolverine Annual #1   




X-Files Year Zero #2 (OF 5)  



TRADE PAPERBACKS, GRAPHIC NOVELS, HARDCOVERS AND MANGA
Alans War Gn (restock!)




Amulet Sc Vol 06 Escape From Lucien




Batman Arkham Unhinged Tp Vol 03 




Batman Incorporated Tp Vol 02 Gothams Most Wanted 




Best Of Archie Comics Tp Vol 04     




Bloodshot Tp Vol 05 Get Some   




Bravest Warriors Presents Catbugs Treasure Book Hc 




Bravest Warriors Search For Catbug Hc




Daredevil By Mark Waid Tp Vol 06 




Grimm Portland Wu Gn 




Ikigami Ultimate Limit Gn Vol 10




Journey Into Mystery By Gillen Tp Vol 02 Complete 




Justice League Dark Tp Vol 04 The Rebirth Of Evil




Lego Legends Of Chima Gn Vol 02 Right Decision




Loki Agent Of Asgard Tp Vol 01 Trust Me




Lucifer Tp Vol 04 




Megahex Hc




Peanuts Waiting For Great Pumpkin Hc




Punisher Tp Vol 01 Black And White 




Sisters Gn    




Smile Sisters Sc Box Set




Sonic The Hedgehog Archives Tp Vol 23   




Suicide Risk Tp Vol 03       




Tales Designed To Thrizzle Tp Vol 01




TMNT Adventures Tp Vol 08 




Winter Soldier Tp Bitter March 



TOYS
Godzilla 24-In Long Modern Ver Af 




TMNT Classic Collector Af 




ODDS AND ENDS
Avengers Captain America Deluxe 23in Metal Shield




Avengers Thor Movie Hammer




Batman Arkham Asylum Harley Quinn Statue 




Batman Black & White Statue By Jae Lee  




DC Bombshells 2015 16 Month Wall Cal




Game Of Thrones Pint Glass Set




Marvel Comics Spec Ed 2015 Wall Cal




Thor Hammer Prop Replica 




Women Of Marvel 2015 16 Month Wall Cal