Are you a fan of grim n gritty/down n dirty crime stories about badasses? Well then you are in luck! Local comics writer and all around nice guy Duane Swierczynski will be in store promoting his new book Ex-Con!


Wait?! You missed the solicits in Previews mag?! What's wrong with you?! Oh yea…RSS notifications don't work for print…gotcha. Anyway yous should be keeping tabs on Philly comic types but since yous missed it on his twitter and his tumblr here's the gist behind EX-CON!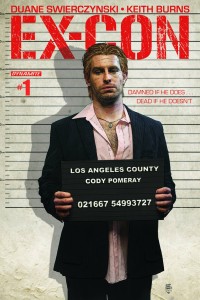 EX CON #1
D. E.
(W) Duane Swierczynski (A) Keith Burns (CA) Tim Bradstreet
Dynamite is proud to Ex-Con, the next book in a series of creator driven comics – with The Creators Unleashed, featuring all new concepts and characters from the industry's best and brightest! This month, we present Ex-Con, written by Duane Swierczynski (Cable, Deadpool, Judge Dredd)!
1985: L.A. con artist Cody Pomeray had a gift for looking inside a mark's soul with just a glance. But one fateful night, he targeted the wrong man — and was sentences to the most savage prison in California. Pomeray would have been beaten to death on his first day if not for the intervention of Barnaby Creed, the most powerful crime lord in the Southland… 1989: Now Pomeray's out on parole, robbed of his special ability and tasked with doing Creed "a little favor." He has no idea he's just stepped into a long con, and this time, *he's* the mark…
Holy crap, right?!
Sounds like Duane's crime books have finally jumped from being just all fulla words to being all fulla pictures with maybe some words in there so you know he did something besides tell an artist what to draw! (And yea I know a few of his books do have pictures in them…I read 'em all too)
Anyway Duane has been kind enough to spend some time with us this September to promote the release of the new comic series and to probably convince you to check it out! Be sure to get to our Willow Grove store early on Wednesday September 3rd to meet Duane, talk comics, have him sign some stuff and make sure he's had enough coffee (I know he used to like V8 so maybe ask him if he needs on of those).
If you can't make it we're hoping he'll be kind enough to sign some extra copies of Ex-Con #1 for us so be sure to let us know and we'll do our best to get you one ASAP. (ie I'm sure a bunch of people who shop down in Old City wont be able to spend their morning heading to Willow Grove and back so we'll have em sign one for ya…just let us know)
WHEN: Wednesday September 3rd 11am-1pm
WHERE: Brave New Worlds Willow Grove
WHY: Because you should read his new comic!
HOW: By any means necessary