It's Saturday again so that means we've assembled the list of things coming in this week for you!


So how about them Guardians of the Galaxy?!
There's even knew about Guardians 2! CHECK IT OUT!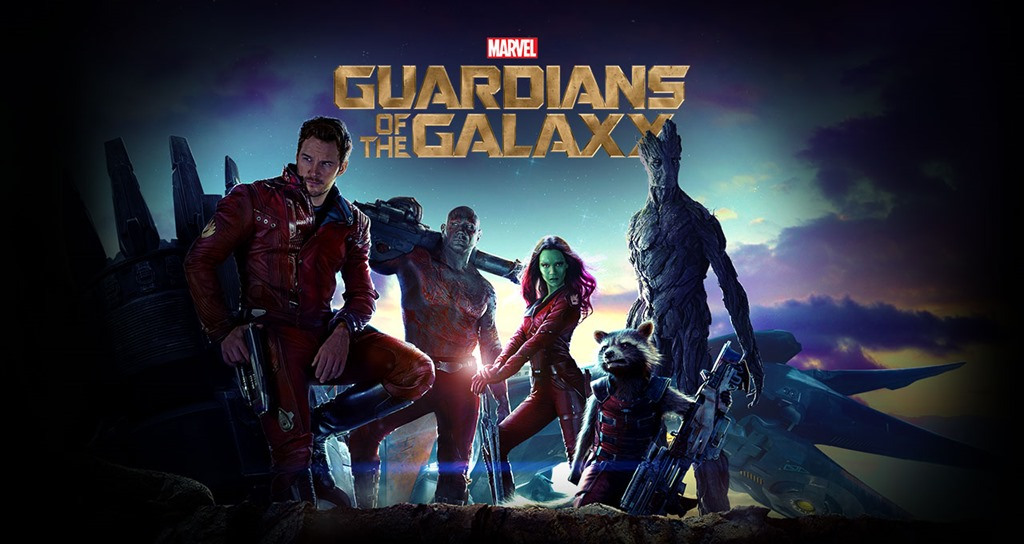 NEED MORE Guardians stuff ASAP!?!?! Well this week sees the release of some books for you!
First off THANOS!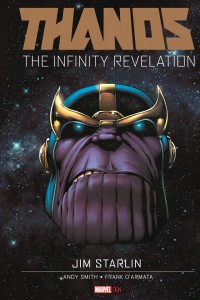 (All New Original Graphic Novel!)
THANOS INFINITY REVELATION OGN HC –
MARVEL COMICS
(W/A/CA) Jim Starlin
There is an imbalance in the universe. And since his latest return from oblivion, Thanos himself feels…incomplete. Now, the so-called Mad Titan would put both wrongs right. The revelatory waters of the Infinity Well lead Thanos on a new quest, with a once-sworn enemy at his side. A crusade that will bring confrontation with the Silver Surfer and the galaxy's mightiest heroes, the Annihilators. An odyssey that will change everything. Cosmic maestro Jim Starlin returns to his signature character in a tale of death and rebirth that will transform the Marvel Universe once more!
STAR-LORD!
(because he's awesome!)
LEGENDARY STAR LORD #2 –
MARVEL COMICS
(W) Sam Humphries (A/CA) Paco Medina
• Peter's captured by a bounty hunter-who may have a strange connection to his past!
•  Can Peter and the bounty hunter make amends before he's fed to a giant alien?
•  And who is the mysterious Mr. Knife–and why is he so interested in Star-Lord?
ROCKET!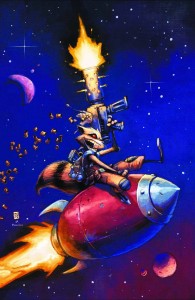 (cause he's a trash talking space raccoon!)
ROCKET RACCOON #2 –
MARVEL COMICS
(W/A/CA) Skottie Young
• FRAMED. The most notorious Raccoon in the galaxy has been arrested and falsely accused of murder!
•  The real killer? An imposter procyon that seems to be one step ahead of Rocket at every turn.
•  Now, it's up to Rocket and a certain someone from Planet X to find the truth!
Oh yea! Willow Grove will be hosting a Magic 2015 Game Day on August 9th! So be ready! more details here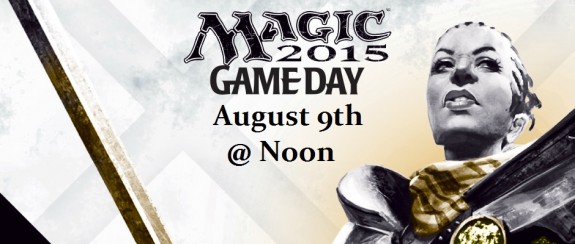 Here's some other comics you should probably check out too!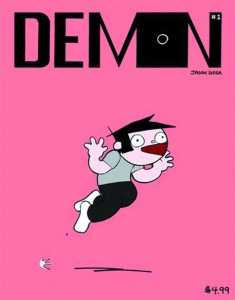 (If you don't know Jason Shiga now's the time!)
JASON SHIGA DEMON #1 (OF 21) –
SHIGABOOKS
(W/A/CA) Jason Shiga
From Jason Shiga, creator of Meanwhile, Bookhunter, and Empire State comes a new 21 issue series about one man's quest to conquer the world using mathematics and the power of demon posession. After killing himself, Jimmy Yee wakes up in a filthy motel room without a scratch on his body. Yesterday he was a mathematician working at Oakland's leading actuarial firm. Today he's the most wanted man in America. Using only his mathematical training to aide him, Jimmy must push himself to his mental limits if he is to figure out what is happening and stay one step ahead of the government agency determined to capture him
IMAGE COMICS
(W) Steven T. Seagle (A/CA) Marc Dos
Mark is two weeks out from making the biggest decision of his life. But which big decision will it be? Taking the ring of the woman of his dreams and becoming a married man? Or taking the crown of the world's only superhero and becoming the next Imperial? STEVEN T. SEAGLE (THE RED DIARY/ THE RE[A]D DIARY, Genius, it's a bird…) teams with MARK DOS SANTOS  for a buddy book with commitment issues.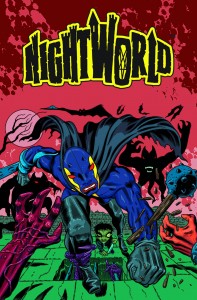 (judging a book by its' cover and this looks sweet!)
NIGHTWORLD #1 (OF 4) –
IMAGE COMICS
(W) Paolo Leandri, Adam McGovern (A/CA) Paolo Leandri, Dominic Regan
Sad demon Plenilunio rules a haunted castle with his sleepwalking lover Lidia, and unwisely bargains with the evil Empyre to wake her. He's in a race for the mystic Soul Key with teen-from-hades Hotspot and the ruthless Hellena- agents of the Empyre with secret agendas. A four-part thrill ride to hell starts here, with humor, horror, tragic romance, and blockbuster monster fights, from the cult-hit team of ADAM McGOVERN & PAOLO LEANDRI (DR. ID, Idoru Jones).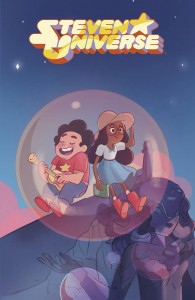 (The cartoon is awesomely positive and fun!)
STEVEN UNIVERSE #1 –
BOOM! STUDIOS
(W) Jeremy Sorese & Various (A) Coleman Engle & Various (CA) Bridget Underwood, Andrea Fernandez
WHY WE LOVE IT: STEVEN UNIVERSE™ is a show that captured our hearts almost  immediately. We've been fans of Rebecca Sugar's from her work on ADVENTURE TIME for years and as the first lady to run her own show at Cartoon Network, we couldn't wait to collaborate with her!
WHY YOU'LL LOVE IT: A comic about a boy and his friends living in a small beach community, who just happens to have magical powers and fight monsters on the side?! Fans of ADVENTURE TIME and Sailor Moon are gonna dig this series presented in a zine-like format of mini-comics, recipes, games, and more!
WHAT IT'S ABOUT: Steven really wants to enter the annual Beach City Bike Race but  everyone else is a little worried. Steven just makes the cut-off  for age, which means the other bikers will be a lot older than him. Connie agrees to help Steven the old-fashioned way through good ol' exercise but Garnet, Amethyst and Pearl have other plans…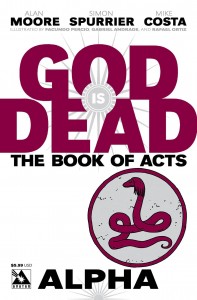 (because Alan Moore)
GOD IS DEAD BOOK OF ACTS ALPHA –
AVATAR PRESS INC
(W) Alan Moore & Various (A) Facundo Percio & Various (CA) Jacen Burrows
The greatest assembled team of writers unleash all-new tales of Gods and men in the biggest event of the summer!  Two giant-size issues could only be kicked off with the biggest writer in all of comics, ALAN MOORE, as he brings a tale only he could tell – when his personal God Glycon comes to Earth!  Reunited with Facundo (Fashion Beast) Percio, Alan himself stars in a story about where Gods really get their power.  Then SIMON SPURRIER redefines a lowly cherub into maybe the most destructive of all the Gods, one who knows how to use modern human weaknesses!  And ongoing series scribe MIKE COSTA finally reveals the greatest mystery of the series – who actually killed God?   The Alpha and the Omega, two epic tomes that you don't want to miss!
Here's the full list of stuff we'll have for you on Wednesday!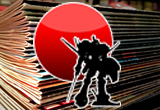 COMICS AND MAGAZINES
Action Comics #34




Action Comics Annual #3 




Alex + Ada #8




Angel And Faith Season 10 #5




Aquaman And The Others #5     




Archie #658 




Batman 66 Meets Green Hornet #3 (OF 6)




Batman Eternal #18  




Batwing #34      




Big Trouble In Little China #3 




Black Widow #9   




Blood Queen #3 




Bunker #5




Clone #19




Cyber Force #10     




Deadpool Draculas Gauntlet #5 (OF 7) 




Detective Comics #34       




Earth 2 #26   




Extinction Parade War #2 




Fairest #28




Famous Monsters Of Filmland #275 Planet Of The Apes 




Figment #3 (OF 5)  




Flash Gordon #4




Game Of Thrones #21 




GI Joe A Real American Hero #205 




God Is Dead Book Of Acts Alpha 




Grayson #2    




Green Arrow #34 




Green Lantern #34




Hack Slash Son Of Samhain #2




Harbinger Omegas #1




Haunted Horror #12   




Hinterkind #10




I Feel Sick #1 New Ptg 




Imperial #1                 




Invincible #113




Iron Fist Living Weapon #5   




Jason Shiga Demon #1 (OF 21) 




Jim Butcher Dresden Files War Cry #3 (OF 6)




Justice League 3000 #9   




Kick-Ass 3 #8 (OF 8) 




Lazarus #10




Legendary Star Lord #2




Madame Frankenstein #4 (OF 7)




Michael Avon Oemings Victories #14




Miles Morales Ultimate Spider-Man #4




Miracleman #9 




Moon Knight #6 




Nailbiter #4




New 52 Futures End #14 




New Avengers #22 




New Vampirella #3




New Warriors #8  




Nightworld #1 (OF 4) 




Original Sin #3.4 




Original Sin #5.3   




Painkiller Jane 22 Brides #2 (OF 3)




Popeye Classics Ongoing #25




Punisher #9  




Rachel Rising #27




Robocop 2014 #2 




Rocket Raccoon #2 




Rush Clockwork Angels #4   




Shadow Midnight Moscow #3 (OF 6)




She-Hulk #7     




SIP (STRANGERS In Paradise) Kids #1 




Sixth Gun Days Of The Dead #1 (OF 5)     




Sonic Universe #66 




Spread #2




Squidder #2    




Star Trek New Visions Times Echo




Steven Universe #1 




Suicide Risk #16        




Superior Foes Of Spider-Man #14   




Superior Spider-Man #32




Superman Wonder Woman Annual #1




Swamp Thing #34




Tales Of Honor #4




Terminal Hero #1




Tiny Titans Return To The Treehouse #3 (OF 6) 




Tom Clancy Splinter Cell Echoes #2 (OF 4)




Trinity Of Sin Phantom Stranger #22 




Uber #16




Usagi Yojimbo Senso #1 (OF 6) 




Woods #4 



TRADE PAPERBACKS, GRAPHIC NOVELS, HARDCOVERS AND MANGA
Battle Angel Alita Last Order Omnibus Vol 04




Bleach Gn Vol 61 




Bunker Tp Vol 01 




Constantine Tp Vol 02 Blight




Death Of Archie Life Celebrated Tp  




Dexter Down Under Prem Hc  




Fear Agent Tp Vol 05 I Against I 




Filler Bunny Collected Works Tp  




Fury Max Hc My War Gone By   




Ghostbusters Ongoing Tp Vol 08 Mass Hysteria Pt 1




GI Joe Americas Elite Disavowed Tp Vol 04 




God Is Dead Tp Vol 02




How The World Was California Childhood Gn




Invincible Hc Vol 09 Ultimate Coll




Iron Man Tp Vol 03 Secret Origin Of Tony Stark Book 2




Jim Hc




Jim Hensons Storyteller Hc Novel  




Knights Of Sidonia Gn Vol 10    




KoDT Bundle Of Trouble Tp Vol 45   




Marvel Comics Cover Art Hc




Marvel Universe Avengers Assemble Digest Tp Vol 02




Star Wars Jedi Academy Yr Hc Vol 02 Return Of Padawan  




Superman Tp Vol 03 Fury At Worlds End




Thanos Infinity Revelation Ogn Hc




Trillium Tp




Twisted Dark Gn Vol 01 




Uncanny X-Force By Remender Comp Coll Tp Vol 01




X-O Manowar Tp Vol 06 Prelude To Armor Hunters  



TOYS
Dc Comics New 52 Earth 2 Batman Af 




Dc Comics New 52 Earth 2 Superman Af 




Dc Comics New 52 Orion with Astro Harness Af




Friday The 13th Jason (ROY) 8in Retro Af




Fw Gundam Converge 15 Trad Fig 10pc Asst




Ultraman Ginga Ultra-Act Af 




Ultraman Ultra-Act Af




ODDS AND ENDS
Doctor Who Special Ed 2015 Wall Calendar 




Marvel Chess Fig Coll Mag #11 Kang Black Rook 




Marvel Fact Files Special #3 Captain America 




Simpsons 2015 Wall Cal




Star Trek Starships Fig Coll Mag #19 Uss Stargazer




Star Trek Starships Fig Coll Mag #20 Klingon V'Orcha Class




Walking Dead Amc 2015 16 Month Wall Cal