It's Saturday again! Let's look, once again, into the future of stuff coming to both BNW locations!…take a break from that 12 day Simpsons marathon…seriously now you've barely moved since Thursday…

FIRST ORDER OF BUSINESS! DON'T MISS DUANE SWIERCZYNSKI IN WILLOW GROVE ON SEPTEMBER 3rd!
Duane will be in store signing his new crime comic Ex-Con!More info here!

NOW HERE'S SOME NUMBER ONES THAT YOU SHOULD LOOK INTO THIS WEEK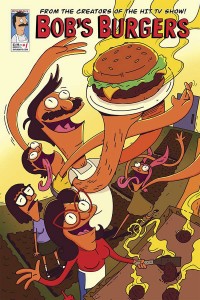 (all the hilarity you love from the show…just you gotta do the voices)
BOBS BURGERS #1 –
(W) Rachel Hastings & Various (A) Frank Forte & Various (CA) Devin Roth
All right! The very first Bob's Burgers comic book, a new series from the creator of the hit TV show, created by Loren Bouchard! Now you can read about the Belcher family (parents Bob and Linda, and their children Tina, Gene and Louise) in brand-new in-canon stories created by the TV show's producers, writers and animators creating all original stories appearing exclusively in this comics series. Each comic includes hilarious installments of: "Louise's Unsolved Mysteries," "Tina's Erotic Friend Fiction," "A Gene Belcher Original Musical," "Letters Written by Linda" and "Bob's Burgers of the Day."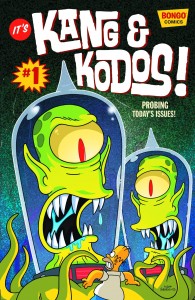 (The Simpsons marathon has infiltrated the comics update!)
KANG & KODOS #1 –
(W) Matt Groening (A) Various (CA) Jason Ho
It's time for everyone's favorite alien enslavers to take center stage. Experience these tantalizingly tentacled "things from another world" as Bongo pulls back the curtain and presents the Rigellian rapscallions, as you've never seen them before!
Now for a THREE SHOT of Dark Horse Number Ones!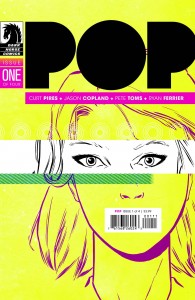 POP #1 –
(W) Curt Pires (A) Jason Copland (CA) Dylan Todd
What if the world's pop stars and celebrities were literally products, grown by the world's wealthiest (and most depraved) minds-and one of them escaped?
As unique as it is entertaining, POP is a white-knuckled thrill ride through the marketing-mastered, technologically tethered tragicomedy we call life.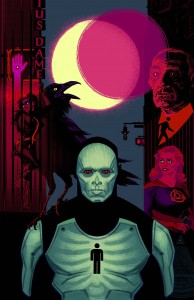 SUNDOWNERS #1 –
(W) Tim Seeley (A) Jim Terry (CA) Chris Brunner
Faster than lightning! Stronger than steel! Crazier than an outhouse rat? Enter the Sundowners-sworn to protect humanity from interdimensional invaders! But is the threat real, or is it all in their heads?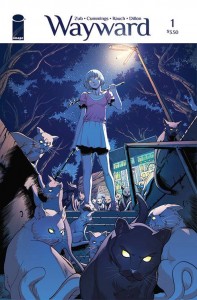 WAYWARD #1 –
(W) Jim Zub (A) Steven Cummings, John Rauch (CA) Steven Cummings, Ross Campbell
BUFFY THE VAMPIRE SLAYER FOR A NEW GENERATION!
Rori Lane is trying to start a new life when she reunites with her mother in Japan, but ancient creatures lurking in the shadows of Tokyo sense something hidden deep within her, threatening everything she holds dear. Can Rori unlock the secrets of her power before it's too late? JIM ZUB (SKULLKICKERS, Samurai Jack), STEVE CUMMINGS (Legends of the Dark Knight, Deadshot), and JOHN RAUCH (INVINCIBLE) team up to create an all-new Image supernatural spectacle that combines the camaraderie and emotion of Buffy the Vampire Slayer with the action and mystery of Hellboy. Don't miss it!
Those TMNT toys from last week's invoice are pretty awesome and based off the 1990 movie version!

The 50% OFF sections got some awesome new books this past week!
If you ask me the Wednesday Comics, Eartgh 2 and Superman Bizarro books are the best new things we've had for cheap in a while!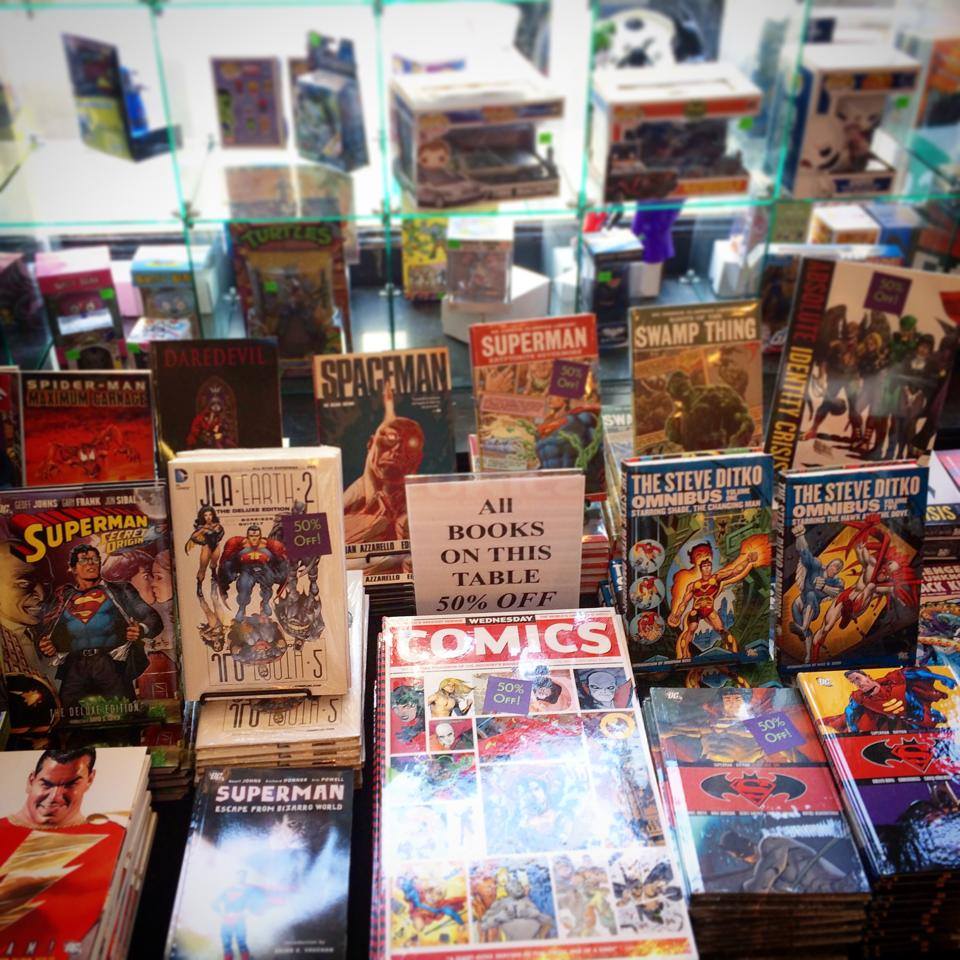 Goonies and Terminator ReActoin figures arrived too!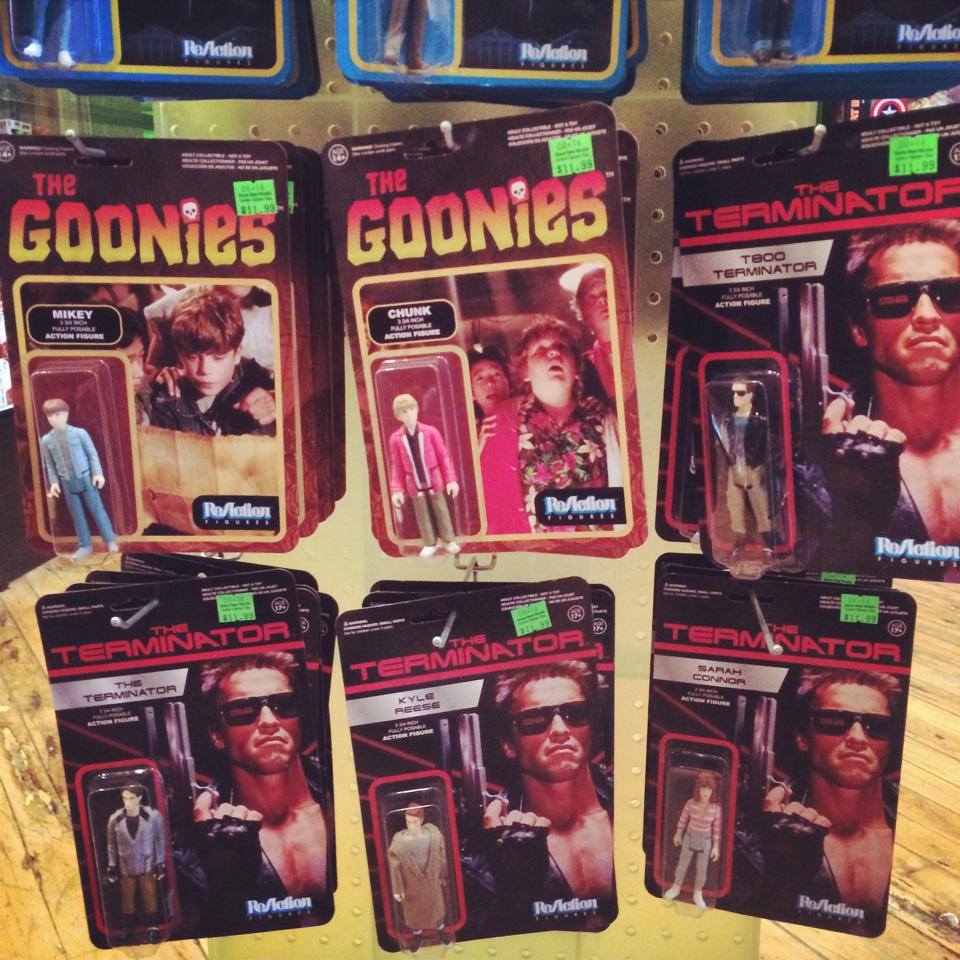 Mikey, Mouth, Data and Chunk meet up with Kyle Reese, Sarah Connor and 3 different version of the Terminator himself! You know you want these!
Now onto the full list of stuff!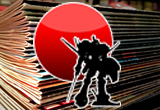 COMICS AND MAGAZINES
24 #5




Adventures Of Superman #16 




All New Invaders #9 




All New Ultimates #7   




All New X-Men #31   




All Star Western #34




Alter Ego #128 




Amazing Spider-Man #1.4 




Amazing Spider-Man #3 2nd Ptg




Aquaman #34




Army Of Darkness Hitched #2 (OF 4) 




Avengers #34




Avengers Undercover #9      




Back Issue #75




Baltimore Witch Of Harju #2 (OF 3)  




Batman 66 #14  




Batman Beyond Universe #13 




Batman Eternal #21  




Batman Superman #13  




Bee And Puppycat #3 




Bettie Page In Danger #0




Black Science #8 




Bo Plushy Gangsta #4 




Bobs Burgers #1  




Bodies #2 (OF 8)




Borderlands Fall Of Fyrestone #2 




Bravest Warriors #23 




Captain Midnight #14    




Cartoon Network Super Secret Crisis War #3 (OF 6)




Catwoman #34        




Chew Warrior Chicken Poyo #1 2nd Ptg 




Conan The Avenger #5 




Cowl #4




Cyclops #4  




Dead Boy Detectives #8 




Deep Gravity #2 (OF 4)  




Doctor Who 10th #2




Dream Police #4




Drumhellar #8




Emily & The Strangers Breaking Record #3   




Evil Empire #4




Fantastic Four #9  




Flash #34    




Ghostbusters #19




Godzilla Rulers Of The Earth #15 




Goon Occasion Of Revenge #2 (OF 4) 




Grayson #1 2nd Ptg 




Groo Vs Conan #2 (OF 4) 




Guardians Of Galaxy #18




Halo Escalation #9 




Harley Quinn #10 




He Man And The Masters Of The Universe #16 




Inhuman #4 




Injustice Gods Among Us Year Two #10 




Justice League Dark #34    




Kang & Kodos #1   




Kill Shakespeare Mask Of Night #3 (OF 4)  




Knights Of The Dinner Table #211




Letter 44 #9 




Low #2




Manhattan Projects #23  




Massive #26 




Mega Man #40




Mice Templar Iv Legend #13 




Mind Mgmt #25 




Ms Marvel #2 4th Ptg




New 52 Futures End #17




Original Sin #3 (OF 8) 2nd Ptg




Original Sin #5 (OF 8) 2nd Ptg




Original Sin #5.1 2nd Ptg




Original Sin #5.4 




Original Sin #6 (OF 8) 2nd Ptg




Outcast By Kirkman & Azaceta #3 




Pop #1   




Previews #312 September 2014 


       

Marvel Previews September 2014 Extras




Rai #4




Red Lanterns #34  




Regular Show #14 




Revival #23




Saga #22 




Savage Hulk #3 




Secret Origins #5




Sex #15




Silver Surfer #5  




Sinestro #5  




Sixth Gun #42 




Sonic Universe #67




Spawn #246  




Star Spangled War Stories Gi Zombie #2  




Star Trek City O/T Edge Of Forever #3 (OF 5)




Star Wars Legacy II #18 




Steed & Mrs Peel Needed #2 




Sundowners #1  




Superman #34 




Thunderbolts #30 




TMNT Turtles In Time #3 (OF 4) 




Tomb Raider #7   




Transformers More Than Meets Eye #32




Transformers Vs Gi Joe #2 




Uncanny Avengers #23 




V-Wars #5 




Wayward #1 




Wildfire #3




Wolverine #12     




Wolverine And X-Men #8 




WWE Superstars Ongoing #7 




X-O Manowar #28



TRADE PAPERBACKS, GRAPHIC NOVELS, HARDCOVERS AND MANGA
Age Of License Gn 




Art Of Princess Mononoke Hc 




Avengers Undercover Tp Vol 01 Descent




DC Universe Vs Masters Of The Universe Tp 




Deadpool Vs Carnage Tp 




Fables Tp Vol 20 Camelot




Fantastic Four Tp Vol 01 Fall Of Fantastic Four  




Fuse Tp Vol 01 




Green Lantern New Guardians Tp Vol 04 Gods Monster 




Hatsune Miku Unofficial Hatsune Mix Tp




Indestructible Hulk Prem Hc Vol 04 Humanity Bomb 




Kill My Mother Gn 




Lego Star Wars Dark Side Hc




New Warriors Tp Vol 01 Kids Are All Fight 




Oz Dorothy And Wizard In Oz Tp     




Sword Art Online Novel Vol 02 Aincrad 




Tomboy Graphic Memoir  




Turok Dinosaur Hunter Tp Vol 01 Conquest    




White Death Hc  




X-Force Tp Vol 01 Dirty Tricks 



TOYS
Avengers Infinite Series 3-3/4 In Af Asst 201404 




DC Comics New 52 Arsenal Af




DC Comics New 52 Red Hood Af  




Game Of Thrones Figure Arya Stark 




Game Of Thrones Figure Robb Stark 




Legend Of Zelda Twilight Princess Ganondorf 




Legend Of Zelda Twilight Princess Link 




Marvel Select Gambit Af (RESTOCK!)




Pacific Rim 7-In Essential Jaegers Dlx Af Asst




Sailor Jupiter S.H.Figuarts Af




Walking Dead Comic Series 3 Af Asst




Walking Dead Ser 3 Px Rick/Andrea Af 2-Pk 




ODDS AND ENDS
Amazing Spider-Man 2 2015 16 Month Wall Cal




Game Of Thrones 2015 Wall Calendar




Godzilla 2015 Premium Wall Cal




Legend Of Zelda 2015 16 Month Wall Cal