You're all probably enjoying Wizard World Philly right now, no sorry we wont be there but the Old City shop is just a short bus ride, subway ride, bike ride or walk away and we'd love to see you if you wanna swing by! Other than that here's some stuff to check out
oh yea one more thing…if you are going to the con this weekend don't be a jerk
Don't forget about Conspiracy Drafts in Willow Grove on Saturdays!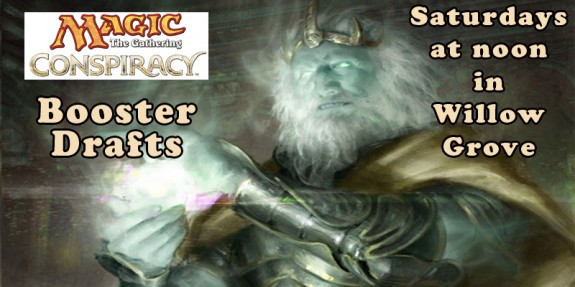 "Join us EVERY Saturday at our Willow Grove location to play Magic booster drafts with Conspiracy, the new multi-player booster draft set.
$15 drafts will begin at 12 noon with 6 – 8 player pods and continue throughout the day.  Players will win 1 booster pack for each player they eliminate; the last player standing wins an extra booster pack." -Eric "Been Caught Scootin' " Loyack
STUFF I THINK YOU SHOULD LIKE 'CAUSE I REALLY LIKE IT A LOT!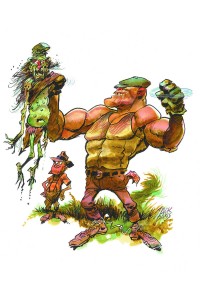 (Damn I'm so excited for my fave comic to be back!)
Goon One for the Road –
(W/A) Eric Powell (CA) Jack Davis
Goon and Franky meet a sailor on the hunt for his buddy . . . but trouble ensues when the trio go bar to bar in genre-hopping pursuit.
Revenge-what better way than to have a cover by one of the greatest humor cartoonists of all time, JACK DAVIS!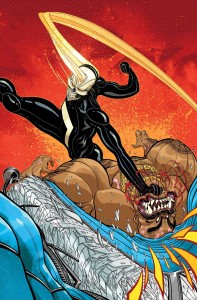 (Seriously there's some dynamic art in this book!)
All New Ghost Rider #4 –
(W) Felipe Smith (A/CA) Tradd Moore
"ENGINES OF VENGEANCE"
•  The streets of East LA flare up with drug-fueled gang violence form DR. ZABO's power-enhancing narcotic.
•  Will ROBBIE REYES submit to the spirit inside him and go too far in protecting the neighborhood?
•  What is MR. HYDE's diabolical plan to expand his underground empire?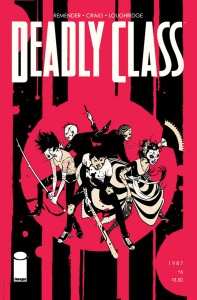 (The letter from Remender at the end of the last issue was so good…love this title!)
Deadly Class #6 –
(W) Rick Remender (A/CA) Wesley Craig
Hunted through the streets of Las Vegas, Marcus is about to learn a valuable lesson: sometimes the only way to wash away your past is with blood. Stylized violence featuring teenage assassins on acid! Don't miss the climax of the first arc of the smash-hit series!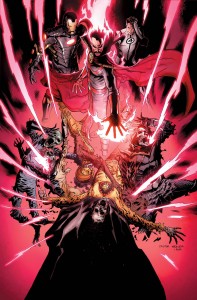 (the Illuminati vs the Justice League part 2!)
New Avengers #20 –
(W) Jonathan Hickman (A) Valerio Schiti (CA) Dustin Weaver
How far is Doctor Strange willing to go to protect the Earth from the Great Society? Too far…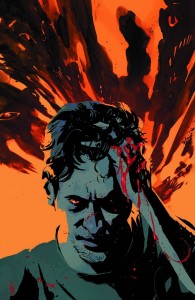 (You've been waiting for it! It's finally here!)
Outcast #1
–
(W) Robert Kirkman (A) Paul Azaceta, Elizabeth Breitweiser (CA) Paul Azaceta
NEW HORROR SERIES FROM THE WALKING DEAD CREATOR ROBERT KIRKMAN!
Kyle Barnes has been plagued by demonic possession all his life and now he needs answers. Unfortunately, what he uncovers along the way could bring about the end of life on Earth as we know it.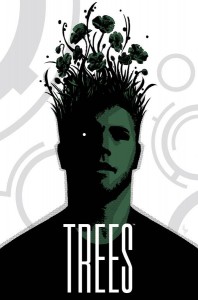 (The first issue was so good! You know you need to read #2!)
Trees #2 –
(W) Warren Ellis (A/CA) Jason Howard
An Arctic research station.  An Italian coastal town with an occult legacy.  A new city in China. The future is being written in these places, in the shadow of a strange alien invasion that has become an historical mystery.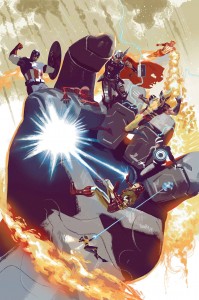 (This story has been so outta control I have no idea how it's going to end!)
Uncanny Avengers #21 –
(W) Rick Remender (A/CA) Daniel Acuña
AVENGE THE EARTH Finale!
•  This is it! The conclusion to an epic two years in the making and rest assured nothing will ever be the same again!
•  The final battle will not be with the enemy–it will be with ourselves.
•  In our darkest hour The Avengers Unity Squad unite entirely and the fate of the seven futures decided!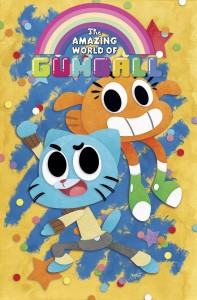 (Cartoon Network's insane shows lend themselves perfectly to comics!)
The Amazing World of Gumball #1
–
(W) Frank Gibson (A) Tyson Hesse (CA) Missy Pena, Zachary Sterling
WHY WE LOVE IT: Not only to we get to work with some of our favorite creators on this project, but nothing these days has the mixed-media look of THE AMAZING WORLD OF GUMBALL, and we are the lucky ones who get to bring it to comics!
WHY YOU'LL LOVE IT: Popular webcomic creators Frank Gibson (TINY KITTEN TEETH) and artist Tyson Hesse (BOXER HOCKEY) bring the wacky adventures of Gumball and his friends to comics for the first time!
WHAT IT'S ABOUT: Gumball, Darwin, and all of their friends take on the world of comics! Gumball thinks he's the coolest kid on the block, but his little sister Anais begs to differ, and Darwin just wants to keep them all out of trouble. There's always another adventure to be had in their mixed-up world!
COMICS AND MAGAZINES
Action Comics #31 2nd Ptg 




Adventures Of Superman #14   




All New Doop #3 (OF 5)  




All New Executive Assistant Iris #5




All New Ghost Rider #4




All New Ultimates #4   




All Star Western #32        




Amazing Spider-Man #1 2nd Ptg




Amazing Spider-Man #3




Amazing World Of Gumball #1 




Aquaman #32        




Avengers Undercover #6




Batman #32 




Batman 66 #12   




Batman Beyond Universe #11      




Batman Eternal #12




Bravest Warriors #21




Captain Midnight #12 




Cartoon Network Super Secret Crisis War #1 (OF 5)    




Catwoman #32 




Chew #42




Clive Barkers Nightbreed #2




Conan The Avenger #3 




Cowl #2 




Crossed Badlands #56 




Deadly Class #6




Deadpool Vs Carnage #4 (OF 4) 




Dejah Of Mars #2 (OF 4) 




Dexter Down Under #5 (OF 5) 




Doctor Who Essential Guide #1 The Cybermen




Dream Police #3 




Emily & The Strangers Breaking Record #1 




Famous Monsters Of Filmland #266 Wicked Witch Cover




Fantastic Four #6




Flash #32    




Fuse #5




Ghost #5 




Ghostbusters #17    




God Is Dead #15




Goon One For The Road Oneshot 




Guardians Of Galaxy #16       




Harley Quinn #0 Directors Cut    




He Man And The Masters Of The Universe #14 




Hi Fructose Magazine Quarterly #32




Injustice Gods Among Us Year Two #6 




Invincible #112 




Justice League #31      




Justice League Dark #32




King Conan Conqueror #5 (OF 6)  




Larfleeze #12  




Letter 44 #7   




Mark Waid Green Hornet #13  




Mass Effect Foundation #12    




Massive #24    




Mega Man #38




Mercenary Sea #5  




Midas Flesh #7 (OF 8)     




Mind MGMT #23  




Ms Marvel #5   




My Little Pony Friendship Is Magic #20  




New 52 Futures End #8 




New Avengers #20 




New Avengers Annual #1




New Warriors #6   




Original Sin #3.1    




Original Sins #2 (OF 5) 




Outcast By Kirkman & Azaceta #1




Peanuts Vol 2 #19 




Peter Panzerfaust #19 




Previews #310 July 2014 


     

Marvel Previews July 2014 Extras 




Rachel Rising #26




Red Lanterns #32   




Revival #21




Rush Clockwork Angels #3 




Saga #20 




Savage Hulk #1     




Secret Origins #3 




Serenity Leaves On The Wind #6 (OF 6)  




Sex #14




Shadowman End Times #3 (OF 3)




Sinestro #3 




Solar Man O/T Atom #3  




Sovereign #4




Spider-Man Spectacular #1  




Star Wars Legacy II #16 




Star Wars Rebel Heist #3 (OF 4) 




Stray Bullets The Killers #4




Superman #32    




Superman Doomed #1 2nd Ptg   




Superman Wonder Woman #8 2nd Ptg




TMNT New Animated Adventures #12




Tomb Raider #5  




Transformers More Than Meets Eye #30 




Transformers Spotlight Drift Directors Cut     




Transformers Windblade #3 (OF 4) 




Trees #2




Turok Dinosaur Hunter #5 




Uncanny Avengers #21 




Undertow #5 




Wolverine #9




X-Files Season 10 #13 




X-Force #6    




X-O Manowar #26



TRADE PAPERBACKS, GRAPHIC NOVELS, HARDCOVERS AND MANGA

Air Gear Gn Vol 31




Archie Comics Spectacular Summer Daze Tp 




Batman Detective Comics Hc Vol 04 The Wrath




Batman Detective Comics Tp Vol 03 Emperor Penguin 




Batman World Of The Dark Knight Hc




Before Watchmen Ozymandias Crimson Corsair Tp  




Dead Body Road Tp




Dead Boy Detectives Tp Vol 01 Schoolboy Terrors




Dog Butts Love Stuff Cats Gn 




Eternal Warrior Tp Vol 02 Eternal Emperor




Extinction Parade Tp Vol 01




Frank Millers Big Damn Sin City Hc




Girl Genius Tp Vol 13 Sleeping City




Godzilla Rulers Of Earth Tp Vol 03  




I Am Rosa Parks Hc




Injustice Gods Among Us Hc Vol 02   




Injustice Gods Among Us Tp Vol 01




Luba And Her Family Gn




Massive Tp Vol 03 Longship




Neil Gaiman Chus First Day Of School Hc 




New Avengers Prem Hc Vol 03 Other Worlds 




Outer Limits Filmgoers Gt Great Sf Films Sc




Sin City A Dame To Kill For Hc




Six Gun Gorilla Tp  




Sonic Mega Man Worlds Collide Tp Vol 03  




Unfabulous Five Hc




What If Tp Age Of Ultron  




WWE Superstars Ongoing Tp Vol 01 Money I/T Bank 




Youth Is Wasted Gn 




TOYS
Attack On Titan Mikasa Ackerman Figma 




DC Comics New 52 Earth 2 Flash Af      




DC Comics New 52 Earth 2 Green Lantern Af 




DC Comics New 52 Earth 2 Thomas Wayne Batman Af  




DC Comics Super Villains Captain Boomerang Af   




Marvel Select What If Captain America Af




POP Heroes Deathstroke Px Vinyl Fig 




POP Heroes Green Lantern Px Vinyl Fig New 52 Ver




Revoltech Yamaguchi Af #136 Evangelion Type-13




Simpsons Bumblebee Man Vinyl Fig





ODDS AND ENDS
Arkham Asylum Batman Px Bust Bank




Arkham Asylum Joker Px Bust Bank




Batman Black & White Harley Quinn Statue 




DC Batman Auto Fig Mag #33 Classic Tv Batgirl Bike




DC Batman Auto Fig Mag #34 Arkham Asylum Video Game




DC Comics Cover Girls Poison Ivy Statue 




DC Superhero Chess Fig Coll Mag #58 Cyborg White Rook