July is right around the corner! Like really right around the corner. Check out what's going on as we march towards the USA's birthday!

Here's some news we'll be beating into you head over the next few weeks or so: Bryan Lee "SCOTT PILGRIM" O'Malley has a brand new book coming out this month called Seconds and we'll be hosting a midnight release for it on July 16th! The event will start at 11pm on Tuesday July 15th and the books will go ON SALE @ MIDNIGHT! More details as we get closer!

There will most likely be a July 4th Sale happening next week on FIRST FRIDAY JULY 4th! (that's gonna be one crazy day in Old City!)…once again keep your eyes glued to this handy-dandy website for all your saving money on your favorite comics needs!
We got some new POP! Heroes in this week! They're pretty darn great too! Get yourself the entire Guardians of the Galaxy line-up as we all get pumped for this movie!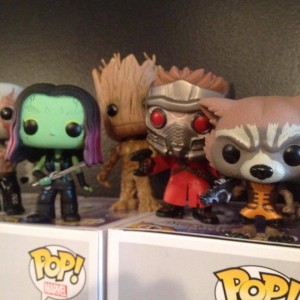 Also we just received all new Dunnys from KidRobot! Art of War series III!
 I'm really excited that we're getting these awesome younger reader graphic novels!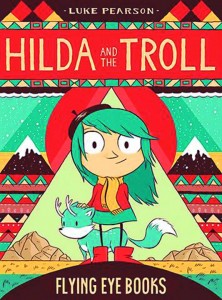 HILDA & TROLL  –
A new edition of Hilda's first magical adventure in the land of Trolberg, by British Comic Award winner Luke Pearson. Hilda can never sit still for long without setting off on another adventure. She can't resist exploring her enchanting world, a place where trolls walk, crows speak, and mountains move. While on an expedition to illustrate the magical creatures of the mountains around her home, Hilda spots a mountain troll. As the blue-haired explorer sits and sketches, she slowly starts to nod off. By the time she wakes up, the troll has totally disappeared and, even worse, Hilda is lost in a snowstorm. On her way home, Hilda befriends a lonely wooden man, and narrowly avoids getting squashed by a lost giant.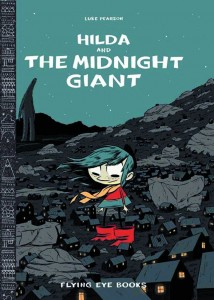 HILDA & MIDNIGHT GIANT –
Hilda finds her world turned upside down as she faces the prospect of having to leave her snowcapped birthplace for the hum of the megalopolis. But why do the "Hidden Elves" want her to leave? Why is it that only she can see them? And who is the giant that turns up in the night? This new edition includes an exciting illustrated glossary of giants!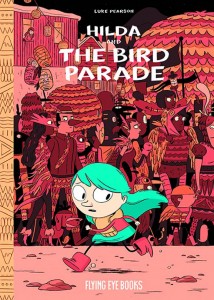 HILDA & BIRD PARADE –
Getting used to life in the big city is proving difficult for Hilda. The diminutive explorer is still missing the enchanted valleys and magical friends that surrounded her home in the fjords. But tonight is somehow different; tonight is the night of the mysterious Bird Parade. Finding herself lost on the streets of Trolberg, Hilda befriends a talking raven. Together they encounter all manner of bizarre creatures from outcast Trolls to ferocious Salt Lions and deadly Rat Kings – maybe the city isn't so boring after all. As the pair try to find their way home, it becomes clear that the amnesiac raven has an important mission to attend to, if only he could remember what it was.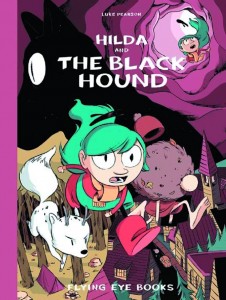 HILDA & BLACK HOUND –
In Hilda's new adventure from the multiple Eisner award nominated Luke Pearson, our little lady meets the Nisse: a mischievous but charismatic bunch of misfits who occupy a world beside – but also somehow within – our own, where the rules of physics don't quite match up. Meanwhile, on the streets of Trolberg, a dark spector looms!
COMICS SPOTLIGHT!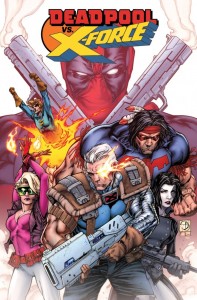 (Philly's own Duane!!! Can't wait!)
DEADPOOL VS X-FORCE #1 (OF 4) –
(W) Duane Swierczynski (A) Pepe Larraz (CA) Shane Davis
• Journey back to the heady days of the 1990s, when two characters debuted who would change the face of comics…Cable & Deadpool!
•  In this all-new tale, we learn of the pair's first meeting, well before New Mutants #98, as Cable and his soon-to-be X-Force race through the timestream to stop the reckless mercenary Deadpool before he destroys American history for good!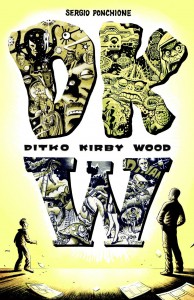 (Are you kidding me!?! This is gonna be awesome!)
DKW DITKO KIRBY WOOD ONE SHOT –
(W/A/CA) Sergio Ponchione
This gorgeous one-shot is an exquisite tribute to three of the most acclaimed comic book artists of all-time: Steve Ditko, Jack Kirby and Wally Wood. Acclaimed cartoonist Sergio Ponchione pays tribute to the "holy trinity" of DKW in this wildly imaginative book, split into three chapters, with each chapter drawn in a pitch-perfect homage to one of his idols. A must-have for fans of these Silver Age legends.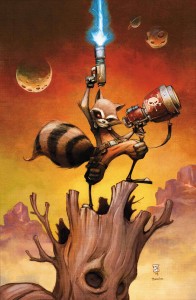 (Skottie Young! Rocket Raccoon! Yes!)
ROCKET RACCOON #1 –
MARVEL COMICS
(W/A/CA) Skottie Young
ALL-NEW, IN-CONTINUITY SERIES!
As defenders of the cosmos go, Rocket Raccoon has faced his fair share of galactic battles. He's been a hero to the weak, a champion of good, a protector of the innocent, a heartthrob to the many intergalactic female species and now–a raccoon on the run?! ( I'm sorry, I'm sorry, a "formidable-and-expert-Guardian" on the run. Rocket is NOT a raccoon, okay?) Rocket's high-flying life of adventure and heroism may soon be a thing of the past when he becomes a wanted man-and the authorities are not the only one on his TAIL! (We'll definitely be overusing that pun!)
Superstar creator Skottie Young brings his A-game as writer and artist on the series we've been waiting decades for. Because let's be real, this is the only Guardian of the Galaxy you actually care about. Am I right?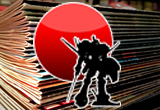 COMICS AND MAGAZINES
100th Anniversary Special #1 Fantastic Four 




Action Comics #33




All New X-Factor #10 




Alter Ego #126 




Angel And Faith Season 10 #4




Aquaman And The Others #4  




Atomic Robo Knights Of Golden Circle #2 (OF 5)




Avengers #29 2nd Ptg




Back Issue #73




Batman 66 Meets Green Hornet #2 (OF 6) 




Batman Eternal #13   




Batman Superman #12 




Batwing #33




Betty & Veronica #271




Big Trouble In Little China #2




Black Bat #12




Black Kiss XXXmas In July Special One Shot




Black Widow #8 




Caliban #4 




Captain America #22 




Chaos #3 (OF 6)




Clone #18 




Cosplayers #2




Daredevil #0.1 




Deadpool Vs Carnage #3 (OF 4) 2nd Ptg




Deadpool Vs X-Force #1 (OF 4)  




Dexters Laboratory #4 (OF 4)




DKW Ditko Kirby Wood One Shot 




Doctor Spektor #2  




Draw #28




Earth 2 #25 




East Of West #13 




Elephantmen #58




Extinction Parade War #1




Fairest #27




Field #3 (OF 4)




Figment #2 (OF 5)  




Green Arrow #33  




Green Lantern #33 




Guardians Of Galaxy Galaxys Most Wanted #1




Hack Slash Son Of Samhain #1




Harley Quinn #2 4th Ptg




Heavy Metal #269 




Hinterkind #9 




Indestructible #7




Iron Fist Living Weapon #4




Jack Kirby Collector #63 




Jim Butcher Dresden Files War Cry #2 (OF 6) 




Justice League 3000 #8  




Knights Of The Dinner Table #209 




Lazarus #9




Legendary Star Lord #1 




Madame Frankenstein #3 (OF 7) 




Magneto #3 2nd Ptg 




Magneto #6 




Michael Avon Oemings Victories #13 




Miles Morales Ultimate Spider-Man #3




Miracleman #8   




Moon Knight #5            




Morning Glories #39




Ms Marvel #3 2nd Ptg




Nailbiter #2 2nd Ptg 




Nailbiter #3




New 52 Futures End #9




New Vampirella #2 




New Warriors #7  




Original Sin #5 (OF 8) 




Protectors Inc #7 




Punisher #8 




Quantum & Woody #12 




Robocop 2014 #1




Rocket Raccoon #1




Satellite Sam #9 




Scooby Doo Team Up #5




Shadow Midnight Moscow #2 (OF 6)  




Sheltered #10  




Sidekick #7




Six Million Dollar Man Season 6 #4




Sonic Universe #65




Southern Bastards #3




Suicide Risk #15 




Superman Unchained #7   




Swamp Thing #33 




Thief Of Thieves #22 




Thor God Of Thunder #24 




Tiny Titans Return To The Treehouse #2 (OF 6) 




Tom Clancy Splinter Cell Echoes #1 (OF 4) 




Trinity Of Sin Phantom Stranger #21  




Twilight Zone #6




Uber #15




Weird Love #1 2nd Ptg 




Weird Love #2 




White Suits #4 (OF 4)




Woods #3     



TRADE PAPERBACKS, GRAPHIC NOVELS, HARDCOVERS AND MANGA

A Voice In The Dark Tp Vol 01




Ben 10 Classics Tp Vol 02 Ben A Pleasure     




Daredevil By Mark Waid Hc Vol 03       




Dexters Laboratory Classics Tp Vol 01 




Fear Agent Tp Vol 04 Hatchet Job (NEW Ptg)




Five Ghosts Tp Vol 02 Lost Coastlines 




Fox Tp Vol 01 Freak Magnet    




Frank Miller Art Of Sin City Tp 




GOTG Rocket Raccoon Groot Steal Galaxy Hc




Green Lantern New Guardians Tp Vol 03 Love & Death




Harlan Ellisons 7 Against Chaos Tp   




Hilda & Bird Parade Gn   




Hilda & Black Hound Gn 




Hilda & Midnight Giant Gn




Hilda & Troll Gn  




James Bama American Realist Hc Sale Book  




Lone Wolf & Cub Omnibus Tp Vol 05




Marvels Guardians Of Galaxy Prelude Tp    




Maxx Maxximized Hc Vol 01




Mighty Morphin Power Rangers Gn Vol 01




My Little Pony Friends Forever Tp Vol 01 




Naruto Gn Vol 66




Robocop Human Element Tp  




Robocop Vs Terminator Hc




Savage Wolverine Prem Hc Vol 03 Wrath       




Strain Tp Vol 04 The Fall




Superboy Tp Vol 04 Blood And Steel




Uncanny X-Men Tp Vol 02 Broken 




Usagi Yojimbo Tp Vol 28 Red Scorpion




Wonton Soup Tp Collected Ed



TOYS
Arkham Asylum Joker Harley Batman Scarecrow Af 4 Pack




Avengers Inf Series 3-3/4 In Af Asst




DC Comics New 52 Earth 2 Wonder Woman Af 




Doctor Who K-9 Px Medium Talking Plush




Marvel Select Captain America 2 Falcon Af 




MGS V Ground Zeroes Play Arts Kai Snake 




Spider-Man Infinite Legends Af Asst



ODDS AND ENDS