With Free Comic Book Day being tomorrow we're getting you the handy list of comics coming out on May 7th today (rather than the usual Saturday at some point)…

 Don't forget tomorrow!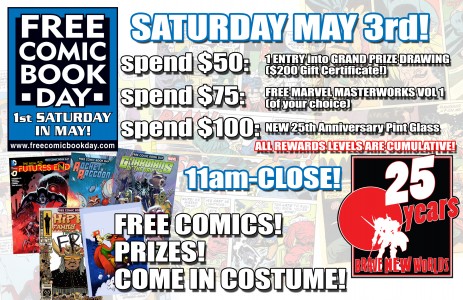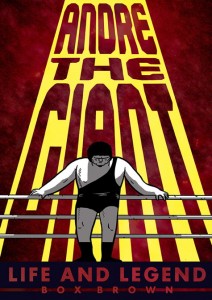 Coming this week is our pal Box Brown's Andre The Giant: Life and Legend graphic biography. You're going to want this…trust us! I've said it before and I'll say it again! This is going to be the year of Box Brown! So get in while the getting's good…don't jump on the Box Car (jokes on jokes on jokes!) late! Be a Box Brown hipster! ("I've been reading Box Brown comics since Bellen…you know years before the Eisner nom!"…that sorta thing!) also he'll be doing a signing at the Old City shop later this month! There'll be more details on that awesome night soon too!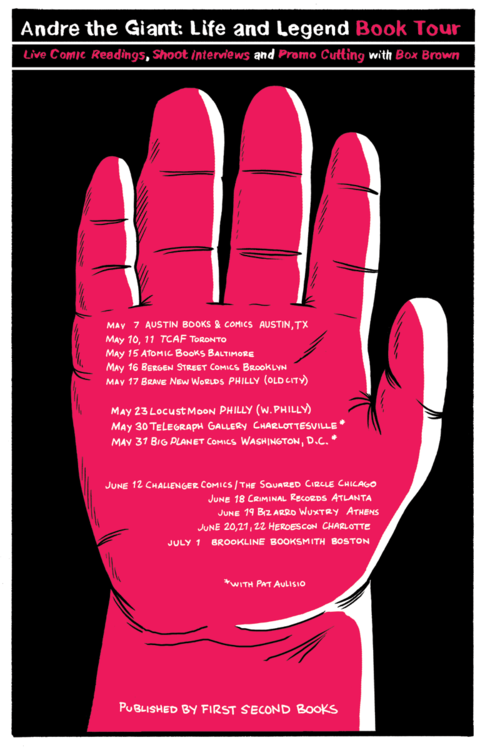 Other than that Original Sin and Future's End both begin this week kicking off the comics Summer Blockbuster season!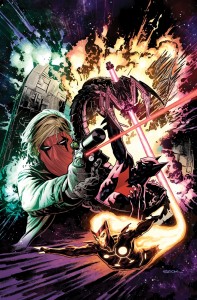 Future's End #1 – Five years from now, the DC Universe is reeling from a war with another Earth, leaving the world unprepared for an approaching evil that threatens to destroy the future. Can a time-traveling Batman Beyond help a massive cast of the DCU's finest avert the impending apocalypse? Find out in this new weekly series that will forever alter the direction of The New 52! In this debut issue of The New 52's weekly series, Batman Beyond arrives five years later! Grifter turns against humanity! And a Justice League member DIES!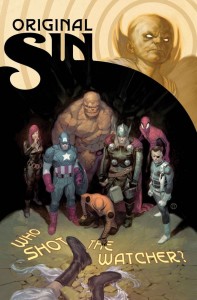 Original Sin #1 – WHO SHOT THE WATCHER? The Watcher, the mysterious space-god who's been watching us from the moon for as long as we can remember… is dead. Thus begins the greatest murder mystery in Marvel Comics history. As Nick Fury leads the heroes of the Marvel Universe in an investigation, other forces are marshaling as well and other questions are arising. Why is Black Panther gathering a secret team of his own, including Emma Frost, the Punisher and Dr. Strange? Who is the Unseen? What was the Original Sin? What was stolen from the Watcher's lair? And most importantly, who now holds the Marvel Universe's darkest secrets in the palm of their hand?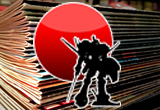 COMICS AND MAGAZINES
68 Rule Of War #2 (OF 4)




Adventure Time Flip Side #5 (OF 6)




Alex + Ada #6   




All New X-Factor #7 




Amazing Spider-Man #1.1 




Angel And Faith Season 10 #2




Aphrodite IX #10 




Apocalypse Al #4 (OF 4) 




Aquaman And The Others #2 




Archer & Armstrong #20 




Bad Blood #5 (OF 5)  




Batman Eternal #5    




Batman Superman #10




Batwing #31  




Black Bat #10  




Black Dynamite #2 (OF 4)     




Black Widow #6  




Burn The Orphanage Reign Of Terror #1 (OF 5)




Caliban #2 




Chaos #1 (OF 6) 




Clone #16




Crossed Badlands #53




Crow Pestilence #3 




Cyber Force #9 




Cyclops #1




DCComics Presents Harley Quinn #1 2nd Ptg




Dead Letters #2




Deadpool Vs Carnage #3 (OF 4)    




Detective Comics #31 




Earth 2 #23  




Fairest #26




Fatale #22




Garfield #25  




God Is Dead #12




Green Arrow #31    




Green Lantern #31




Grindhouse Doors Open At Midnight #8 (OF 8) 




Harley Quinn #2 3rd Ptg




Hinterkind #7 




Illegitimates #5 (OF 6)  




Iron Fist Living Weapon #2 




Justice League 3000 #6




Loki Agent Of Asgard #2 2nd Ptg




Loki Agent Of Asgard #4 




Madame Frankenstein #1 (OF 7) 




Magneto #3




Maxx Maxximized #7




Michael Avon Oemings Victories #11 




Miles Morales Ultimate Spider-Man #1




Miracleman #5    




Miss Fury #10 




Moon Knight #3 




Movement #12




Nailbiter #1




New 52 Futures End #1 




New Warriors #4     




Original Sin #1 (OF 8)     




Powerpuff Girls #9 




Punisher #5  




Rat Queens #6 




Real Heroes #2 C




Red Sonja #9




Revenge #3




Revival #20




Satellite Sam #8




Savage Wolverine #18   




Scooby Doo Team Up #4




She-Hulk #4




Sixth Gun #40 




Spawn #243   




Suicide Risk #13 




Swamp Thing #31 




Teen Titans Annual #3  




Terminator Salvation Final Battle #6 (OF 12)   




The Lone Ranger #24 (OF 25)




Trinity Of Sin The Phantom Stranger #19  




Turok Dinosaur Hunter #4




Vampire Diaries #5    




Veil #3 (OF 5)




Wake #8 (OF 10)




Woods #1 




WWE Ongoing #4 



TRADE PAPERBACKS, GRAPHIC NOVELS, HARDCOVERS AND MANGA

Age Of Ultron Tp    




All Star Western Tp Vol 04 Gold Standard 




All You Need Is Kill Gn Vol 01




Andre The Giant Life & Legend Gn 




Batman Hc Vol 04 Zero Year Secret City




Batman Tp Vol 03 Death Of The Family




Benito Mambo Dlx Hc 




Castle Unholy Storm Prem Hc




Fear Agent Tp Vol 02 My War (2ND Ed)




Fire Gn Hc




GIJoe A Real American Hero Tp Vol 09 




Godzilla Hc   




Indestructible Hulk Tp Vol 02 Gods And Monster 




Invincible Universe Tp Vol 02




Iron Man Fatal Frontier Hc     




Kyle Baker Nat Turner Sc New Ptg 




Murder Mysteries Hc 2nd Ed 




My Little Pony Friendship Is Magic Tp Vol 04




Ranma 1/2 2in1 Tp Vol 02




Saga Of The Swamp Thing Tp Book 06 




Shadowman Tp Vol 04 Fear Blood Shadows    




This One Summer Gn




Todd The Ugliest Kid On Earth Tp Vol 02




True Lives Of Fabulous Killjoys Tp 




Uncanny X-Men Prem Hc Vol 03 Good Bad And Inhuman




Watchmen Tp New Ed 




White Lama Hc 




X-Men No More Humans Ogn Hc




X-Men Vs Hulk Tp      



TOYS
PEZ BODEGA VINYL FIG GREEN VER




ODDS AND ENDS
DC Batman Automobilia Fig Coll Mag #32




DC Superhero Chess Fig Coll Mag #57 Atrocitus 




DC Comics Nightwing Artfx+ Statue New 52 Ver 




Gentle Giant Deadpool Px X-Force Ver Mini-Bust




Gentle Giant Thor Hammer Bookend




Marvel Chess Fig Coll Mag #6 Captain America 




Marvel Chess Fig Coll Mag #7 Red Skull 




Marvel Villains Playing Cards




X-Force Psylocke Fine Art Statue