Local man makes huge splash with comic about giant Wrestler! Don't be a jabroni! Read this post for news about the signing we'll be hosting!
ANDRE THE GIANT: LIFE AND LEGEND!
Just in case you missed all the hubbub that was all over the internet yesterday (May 7, 2014 if you're reading this in the distant future) Philadelphia's own Box Brown finally released his Andre the Giant bio comic Andre the Giant: Life and Legend!
We've known he'd been working on this book for quite some time, all while working on running his own publishing imprint (Retrofit Comics) as well as constantly pumping out other mini comics…and watching ALL the Wrestling and Andre related videos. And as long as we've known he's been working on it we've been wanting/waiting impatiently to read it.
Well, it's finally freakin' here! We've read it! We love it! We're calling this the year of Box Brown. Trust us when we say he's gonna be giant real soon.
Box will be appearing on Saturday May 17 from 5-8pm at our Old City location. Be sure not to miss this. Come get a copy of the book, get it signed and talk comics/wrestling/Andre with Box. Heck if you're awesome enough maybe you guys could shoot some kinda wrestling style promo together…who knows what madness can come of this! (costumes?!)
Do yourself a huge favor. Pick up a copy of this book ASAP. Read it. Maybe re-watch some classic Andre wrestling matches (like this one where my personal fave Macho Man takes on Andre). Then come out and support an awesome local comics creator/all around great dood! (you know you want to!)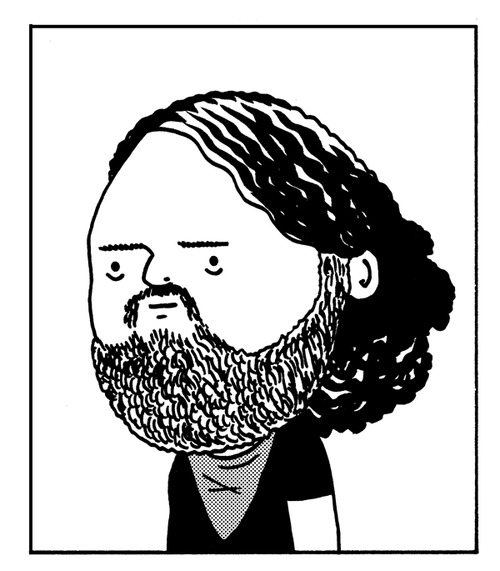 BOX BROWN IN STORE SIGNING
SATURDAY MAY 17
5-8PM
OLD CITY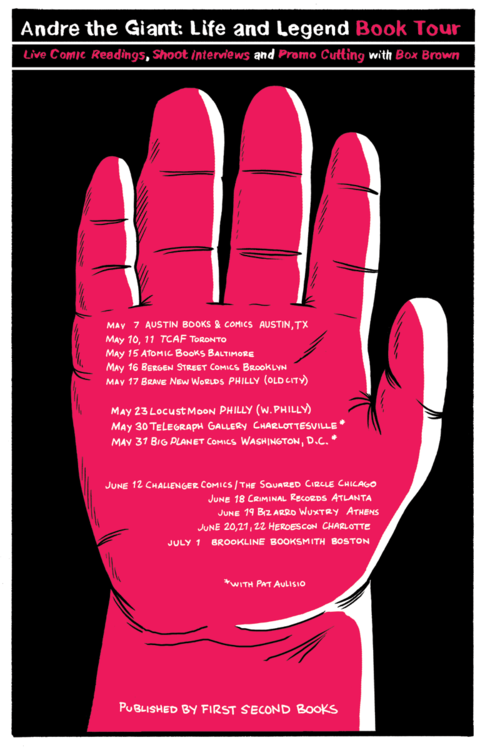 (Oh! If you need any further info on this book here's the blurb)
Andre the Giant: Life and Legend
W/C/A Box Brown
Andre Roussimoff is known as both the lovable giant in The Princess Bride and a heroic pro-wrestling figure. He was a normal guy who'd been dealt an extraordinary hand in life. At his peak, he weighed 500 pounds and stood nearly seven and a half feet tall. But the huge stature that made his fame also signed his death warrant. Box Brown brings his great talents as a cartoonist and biographer to this phenomenal new graphic novel. Drawing from historical records about Andre's life as well as a wealth of anecdotes from his colleagues in the wrestling world, including Hulk Hogan, and his film co-stars, Brown has created in Andre the Giant, the first substantive biography of one of the twentieth century's most recognizable figures.