So how about Captain America The Winter Soldier!? Ever since the house lights came on and we had to leave the theater it's all we've been thinking about (the Winter Soldier's theme has seriously worked it's way into my brain) Oh yea here's new comics for this week…
I recently made a promise to one of you loyal readers (in person/at a bar/a few beers in) to try to get some other content up on this site. So I'll be attempting to post more stuff on here than just my weekly post to keep you up to date on what's shipping. Let's hope I can keep true to that. (you can also get updates on other goofy stuff from us HERE and HERE and most recently HERE…if the website's a bit too slow  to update!)

There are some cool new number ones out this week that you should be paying attention to…only if you want to be reading good comics that is…
First off SHUTTER #1 from Image: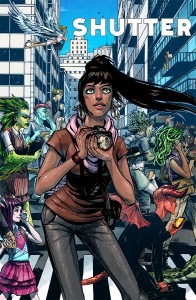 (W) Joe Keatinge (A/CA) Leila Del
INDIANA JONES FOR THE 21ST CENTURY!
Marvel Knights: Hulk and GLORY writer JOE KEATINGE teams up with artist extraordinaire LEILA DEL DUCA for her Image Comics debut in an all-new ongoing series combining the urban fantasy of Fables and the globe-spanning adventure of Y: The Last Man. Kate Kristopher, once the most famous explorer of an Earth far more fantastic than the one we know, is forced to return to the adventurous life she left behind when a family secret threatens to destroy everything she spent her life protecting.
Also starting this week is
BATMAN ETERNAL
! Get ready for a
WEEKLY
, yea you read that correctly weekly!, dose of BATMAN! Cant wait for more
Blue Bird
!)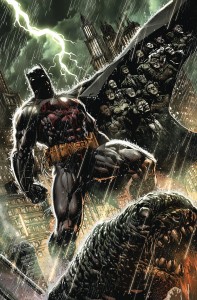 (W) Scott Snyder & Various (A/CA) Jason Fabok
Don't dare miss the start of the Bat-story so big it's going to take every week of the month to tell! A massive cast of Gotham City's best (and worst) examines the relationship between Batman, his allies and his city. In this debut issue, Commissioner James Gordon is caught on the wrong side of the law!
DOOP #1! Yup there's a new Doop comic!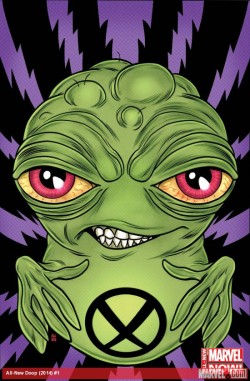 Doop. 'Nuff said.
Get Ready! LUMBERJANES #1 is here!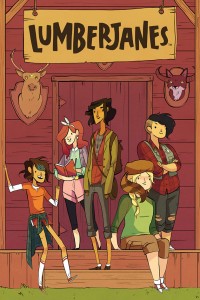 This is gonna be a book that gets everyone talking this week!  It's gonna be super BA (Michelle's already read it and loved it, btw!) Don't miss this one!
(W) Noelle Stevenson, Grace Ellis (A) Brooke A. Allen (CA) Noelle Stevenson
WHY WE LOVE IT: Five best friends spending the summer at Lumberjane scout camp…defeating yetis, thre-eeyed wolves, and giant falcons…what's not to love?!WHY YOU'LL LOVE IT: It's Buffy the Vampire Slayer meets Gravity Falls and features
five buttkicking, rad teenager girls wailing on monsters and solving a mystery with the
whole world at stake. And with the talent of acclaimed cartoonist Noelle Stevenson and
talented newcomer Grace Ellis writing and Brooke Allen on art, this is going to be a
spectacular series that you won't want to miss.WHAT IT'S ABOUT: Jo, April, Mal, Molly and Ripley are five best pals determined to
have an awesome summer together…and they're not gonna let any insane quest or an
array of supernatural critters get in their way! Not only is it the second title launching in
our new BOOM! Box imprint but LUMBERJANES is one of those punk rock,
love-everything-about-it stories that appeals to fans of basically all excellent things.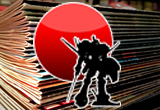 COMICS AND MAGAZINES
All New Doop #1 (OF 5)




All New Ghost Rider #2




All New Ultimates #1




All New X-Factor #6




All New X-Men #25  




Archie Comic Super Special #5




Astro City #11 




Avengers Ai #11




Avengers Undercover #2 




Batgirl #30




Batman Eternal #1




Bloodshot & Hard Corps #21 




Captain Marvel #2 (OF 6)




Clive Barker Next Testament #8 (OF 12)




Coffin Hill #7




Constantine #13 




Cosplayers #1 




Creepy Comics #16   




Daredevil #1.5




Deadpool #27




Deadworld Restoration #5 (OF 5)   




East Of West #11   




Famous Monsters Of Filmland #273




FBP Federal Bureau Of Physics #9 




Flash Gordon #1 




GI Joe Special Missions #14  




Great Pacific #14 




Green Lantern Corps #30 




Indestructible #5 




Invincible #110 




Iron Fist Living Weapon #1 




Iron Man #24




Judge Dredd #18




Justice League 3000 #5   




Kick-Ass 3 #7 (OF 8)




Kings Watch #5 (OF 5) 




Knights Of The Dinner Table #207 




Legend Of Oz The Wicked West Ongoing #17   




Lumberjanes #1 (OF 8)




Magnus Robot Fighter #2    




Manifest Destiny #6  




Maxx Maxximized #6




Mighty Avengers #9




My Little Pony Friends Forever #4 




Nightcrawler #1 




Powerpuff Girls #8




Regular Show Skips #6 (OF 6) 




Returning #2 (OF 4)  




Rocky & Bullwinkle #2 (OF 4) 




Royals Masters Of War #3 (OF 6)




Samurai Jack #7




Scooby Doo Where Are You #44




Secret Avengers #2




Shotgun Wedding #2 (OF 4)




Shutter #1




Sons Of Anarchy #8




Spawn #242   




Spongebob Comics #31




Star Wars #16




Superboy #30 




Superior Foes Of Spider-Man #11




Superman Wonder Woman #7




Thunderbolts #24  




Twilight Zone #4   




Unity #6




Walking Dead #125




What If Age Of Ultron #2 (OF 5)




Worlds Finest #22 




X #12
TRADE PAPERBACKS, GRAPHIC NOVELS, HARDCOVERS AND MANGA

100 Bullets Brother Lono Tp




Astro City Shining Stars Tp




Astro City Through Open Doors Hc     




Avengers Tp Vol 02 Last White Event 




Captain America Prem Hc Vol 03 Loose Nuke 




Climate Changed Personal Journey Gn




Daredevil By Mark Waid Tp Vol 05 




Days Of Destruction Days Of Revolt Sc




Earth 2 Hc Vol 03 Battle Cry




Earth 2 Tp Vol 02 The Tower Of Fate




East Of West Tp Vol 02 We Are All One




GI Joe Americas Elite Disavowed Tp Vol 03




Hayao Miyazaki Starting Point 1979-1996 Sc




Hayao Miyazaki Turning Point 1997-2008 Hc




Knights Of Sidonia Gn Vol 08




Marvel Universe Hulk Agents Of Smash Digest Tp




Quantum & Woody Tp Vol 01 Worlds Worst  




Shadowman Tp Vol 01 Birth Rites 




Three Tp




X-O Manowar Tp Vol 01 By The Sword 
TOYS
AVP Predator Wolf S.H.Monster Arts Af 




DC Comics Super Villains Power Ring Af    




DC Comics Super Villains Superwoman Af




DC Comics Super Villains Ultraman Af  




Scribblenauts Unmasked Bmb Mini Figures Ser 2
ODDS AND ENDS
Marvel Comics Avengers Now Hulk ArtFx+ Statue




New York Postcards Adrian Tomine




Superman Collage 1000 Piece Jigsaw Puzzle




Wonder Woman Collage 1000 Piece Jigsaw Puzzle