Here we are one week away from the insanity/fun/awesomeness/party that is Free Comic Book Day! But before we can get there we've gotta make it through a pretty awesome looking week of comics!
In a week jam packed fulla new comics, Free Comic Book Day and that Amazing Spider-Man 2 movie hitting theaters we also see the return of Peter Parker to the Amazing Spider-Man ongoing series! After having been lost in his own brain, while Doc Ock was in control of his body and screwing up his life, Peter is back in control and the new Amazing series starts Wednesday!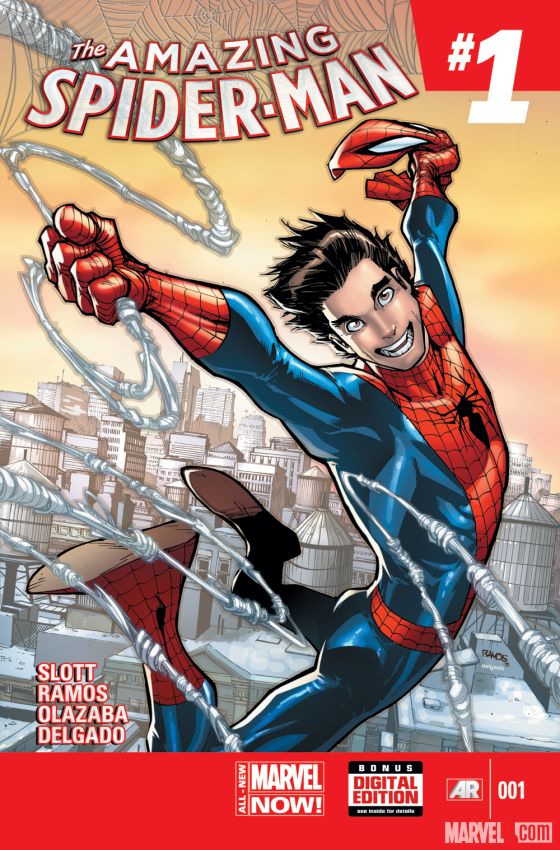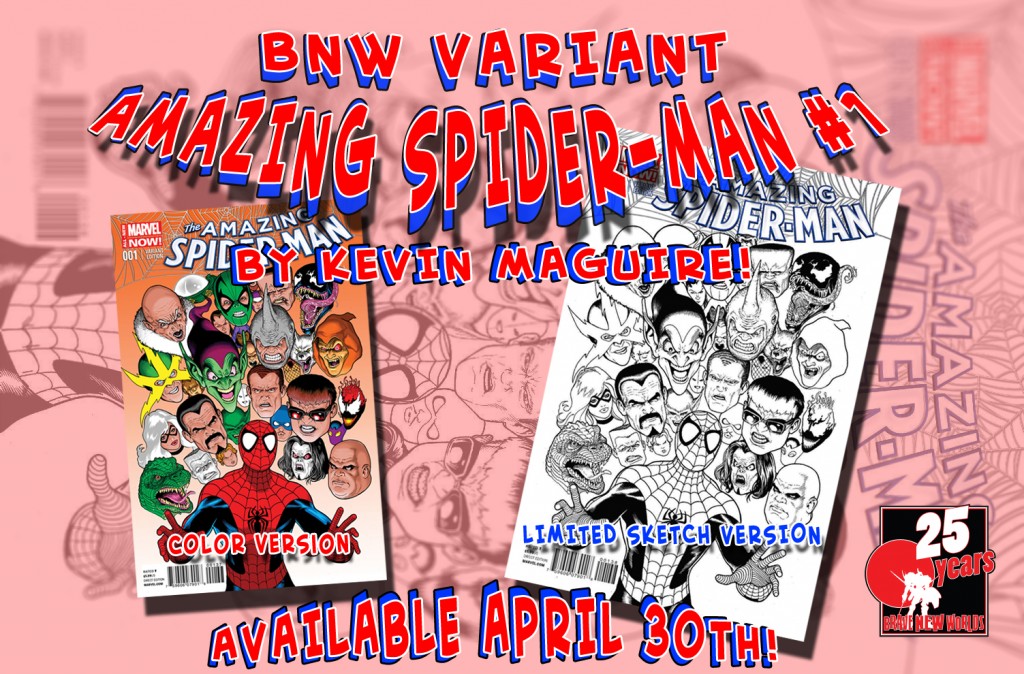 We at BNW are super psyched for this! We are so psyched that we've had a special variant made up for this occasion! The color version of this variant cover features art by comics all star Kevin Maguire (Justice League International!) and will be available for $14.99 when we open the doors at 11am.

Oh yea! If you didn't notice above there's an even harder to get your hands on the Limited Sketch version (ya know to showcase the sweetness of Maguire's linework!)! The B&W version will be available for $29.99!
Also, due to an overwhelming response from people who live too far away to make it to BNW we've added ways for EVERYONE to get their very own copy of this variant:
Use our Shopify store (where you can still get some sweet hard to find Ghost Variants if that's also your thing)
or
Check out our eBay store (where who knows what else you may find)
Be s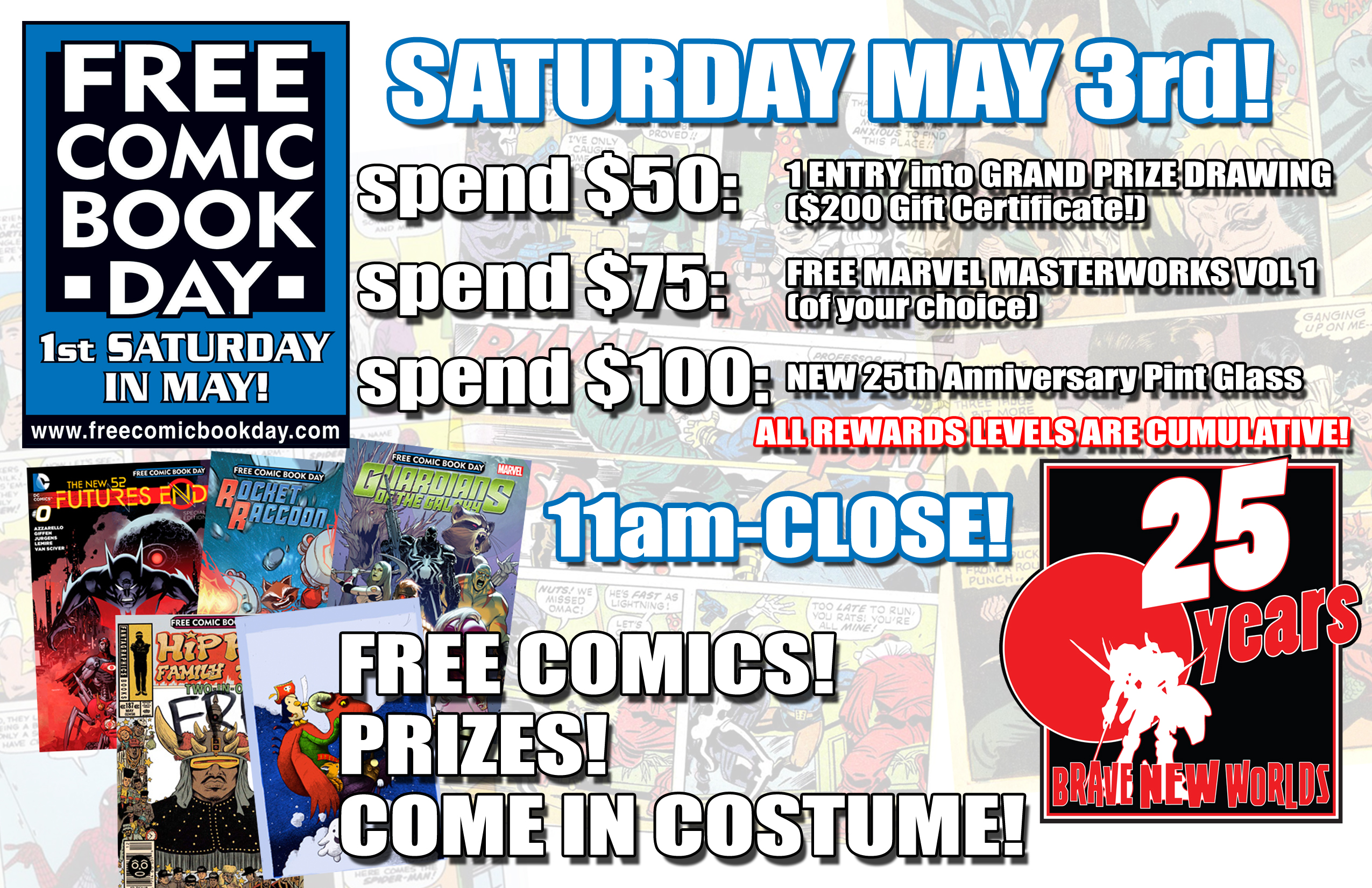 Other than things FCBD and Spidey this week finally sees the release of Jason Aaron and Jason Latour's SOUTHERN BASTARDS!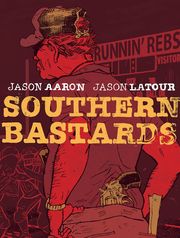 Southern Bastards #1 – Welcome to Craw County, Alabama, home of Boss BBQ, the state champion Runnin' Rebs football team…and more bastards than you've ever seen. When you're an angry old man like Earl Tubb, the only way to survive a place like this…is to carry a really big stick. From the acclaimed team of JASON AARON and JASON LATOUR, the same bastards who brought you Scalped and Wolverine: Japan's Most Wanted, comes a southern fried crime series that's like the Dukes of Hazzard meets the Coen Brothers…on meth.
And even though the finale of Forever Evil has been suuuuuper delayed this week we get the first Aftermath book!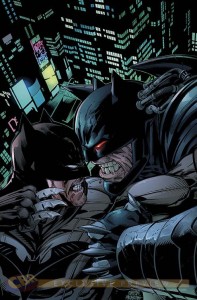 Forever Evil Aftermath Batman vs Bane – The title says it all! FOREVER EVIL is over! Now, Batman has returned to take Gotham City back – by force! The only thing standing in his way? BANE! Get ready for the grudge match of the year!
Just when you thought you were safe from Vampires here comes V-Wars!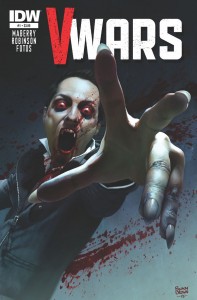 V-Wars #1 – When a sniper's bullet kills the pro-peace Speaker of the House and a terrorist vampire cell takes credit, the Vampire War erupts hotter and bloodier than ever. Join IDW and New York Times best-selling author, Jonathan Maberry, as we take you on a non-stop thrill ride of action, horror and suspense! Welcome to the V-WARS!
We also got some new POP! figures that are pretty awesome! There're some new Game of Thrones ones, which feature updated looks to some of your fave GoT characters, as well as these sweet Ghostbusters and Stay Puft figures! (with Winston w/ Ecto-1 and Slimer coming soon!)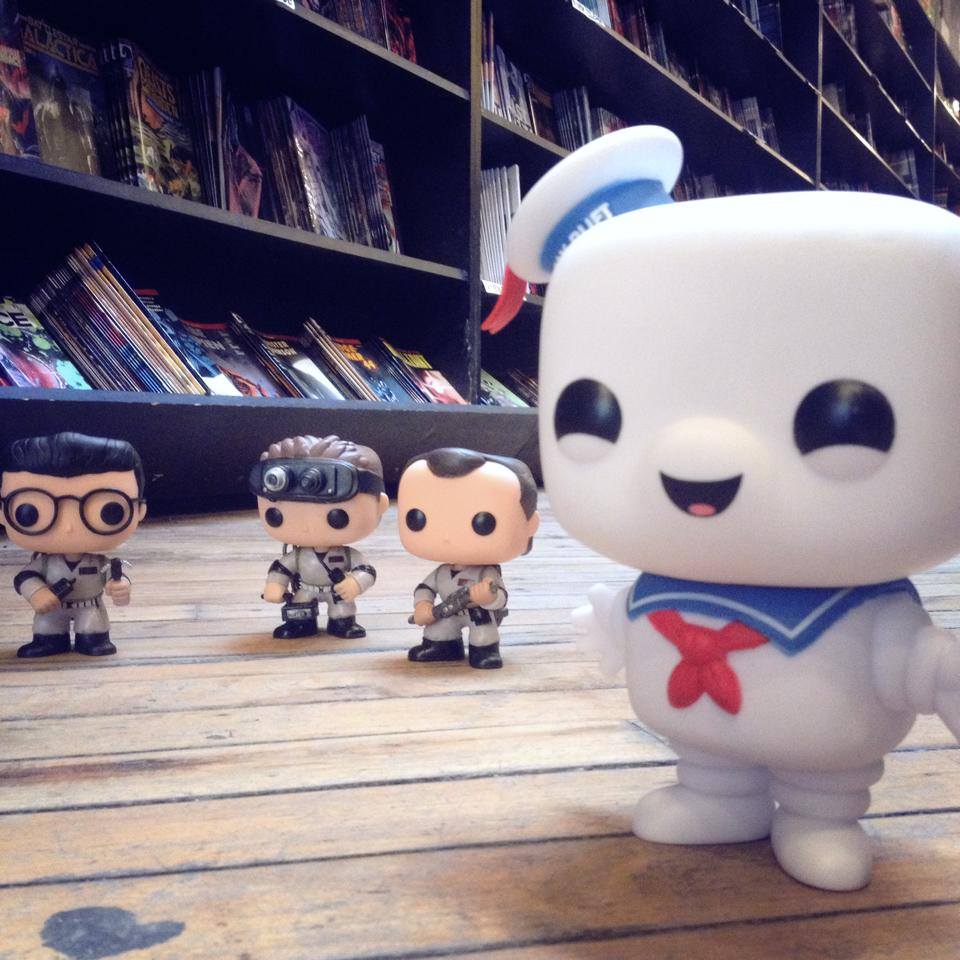 And finally, before we move onto the comics, when you stop into Old City check out the Eisner Award Nominee shelf for some awesome stuff to read that you may have missed this year! Now here's this week's comics list!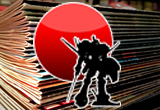 COMICS AND MAGAZINES
Adventure Time 2014 Annual #1




Adventures Of Superman #12




All New X-Men #26 




Amazing Spider-Man #1




Amazing Spider-Man #1 Brave New Worlds' Variant




Amazing Spider-Man #1 Brave New Worlds' Sketch Variant




Atomic Robo Knights O/T Golden Circle #1 (OF 5)




Avengers #28 




Avengers Ai #12   




Avengers World #5  




Batgirl Annual #2  




Batman 66 #10 




Batman Beyond Universe #9 




Batman Eternal #4 




Battlestar Galactica #10 




Battlestar Galactica Six #1 (OF 5)




Batwoman Annual #1 




Black Science #4 2nd Ptg 




Black Science #6




Blackout #2 (OF 4)




Captain Midnight #10




Chew #41




Deadly Class #4 




Dexters Laboratory #1 (OF 4)




Disney Kingdoms Seekers Of Weird #4 (OF 5)




Doc Savage #5        




Doctor Who Magazine #472 




Dream Police #1 




Egos #4 




Elephantmen #56 




Flash Annual #3 




Forever Evil Aftermath Batman Vs Bane #1 




Furious #4 (OF 5) 




GI Joe #15          




Green Lantern New Guardians Annual #2 




Hacktivist #4   




He Man And The Masters Of The Universe #12




Heavy Metal #268




Hulk #2




Injustice Gods Among Us Year Two #4 




Judge Dredd Mega City Two #4 (OF 5)




King Conan Conqueror #3 (OF 6)




Mega Man #36




My Little Pony Friendship Is Magic #18




New Avengers #17




Origin II #5 (OF 5) 




Previews #308 May 2014 


     

Marvel Previews May 2014 Extras 




Rachel Rising #25 




Rai #1




Scribblenauts Unmasked Crisis Of Imagination #4 




Serenity Leaves On The Wind #4 (OF 6)




Shadowman End Times #1 (OF 3)




Silver Surfer #2 




Southern Bastards #1 




Star Wars Rebel Heist #1 (OF 4




Tales Of Honor #2




Ten Grand #9




Transformers More Than Meets Eye #28




Uber #12




Umbral #6




Uncanny Avengers Annual #1  




V-Wars #1 




Vertigo Quarterly #1




What If Age Of Ultron #5 (OF 5)   




Wolverine #5   




X-Files Season 10 #11 




X-Force #4  



TRADE PAPERBACKS, GRAPHIC NOVELS, HARDCOVERS AND MANGA

28 Days Later Omnibus Tp Vol 01




All New X-Men Prem Hc Vol 04 




Atomic Robo Tp Vol 08 Savage Sword Of Dr Dinosaur




Batman Superman Hc Vol 01 Cross World




Complete Peanuts Tp Vol 01 1950-1952 




Darkstalkers Off Comp Works Sc




Deadpool By Daniel Way Complete Coll Tp Vol 03




Eiji Tsuburaya Master Of Monsters Sc 




Flex Mentallo Man Of Muscle Mystery Tp 




Jericho Tp Season 4 




Mesmo Delivery 2nd Edition Hc 




Pretty Deadly Tp Vol 01 




Secret Tp Vol 01 Never Get Caught  




Star Wars Dark Times Tp Vol 07 Spark Remains




Suicide Squad Tp Vol 04 Discipline And Punish




Walking Dead Novel Hc Vol 04 Fall Of Governor Pt 2




Wolverine And X-Men By Jason Aaron Tp Vol 08




X-Men Tp Vol 02 Muertas  




TOYS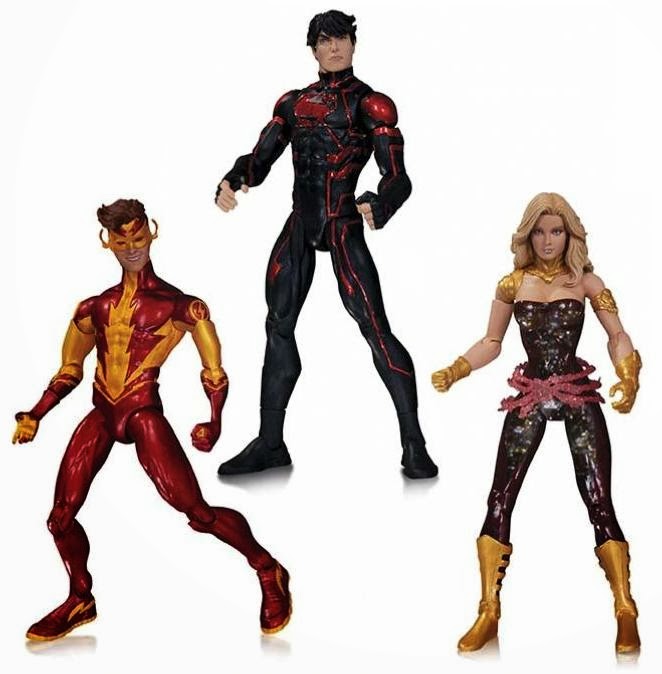 DC Comics New 52 Teen Titans Kid Flash Af




DC Comics New 52 Teen Titans Superboy Af




DC Comics New 52 Teen Titans Wonder Girl Af




Marvel Select Captain America 2 Af 




ODDS AND ENDS
Godzilla Light & Sound Miniature Book Kit