It's been quite the crazy week! Let's take this opportunity to look past all that Easter Candy a lot of you will be getting cavities from and into what comics will be on our shelves April 23, 2014!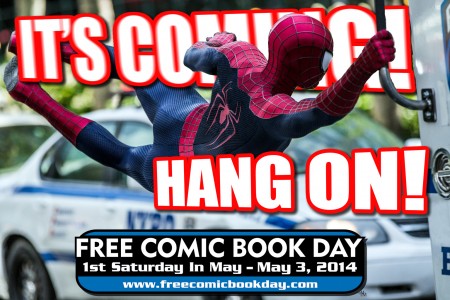 Be sure to spend the greatest comic book holiday with us!!!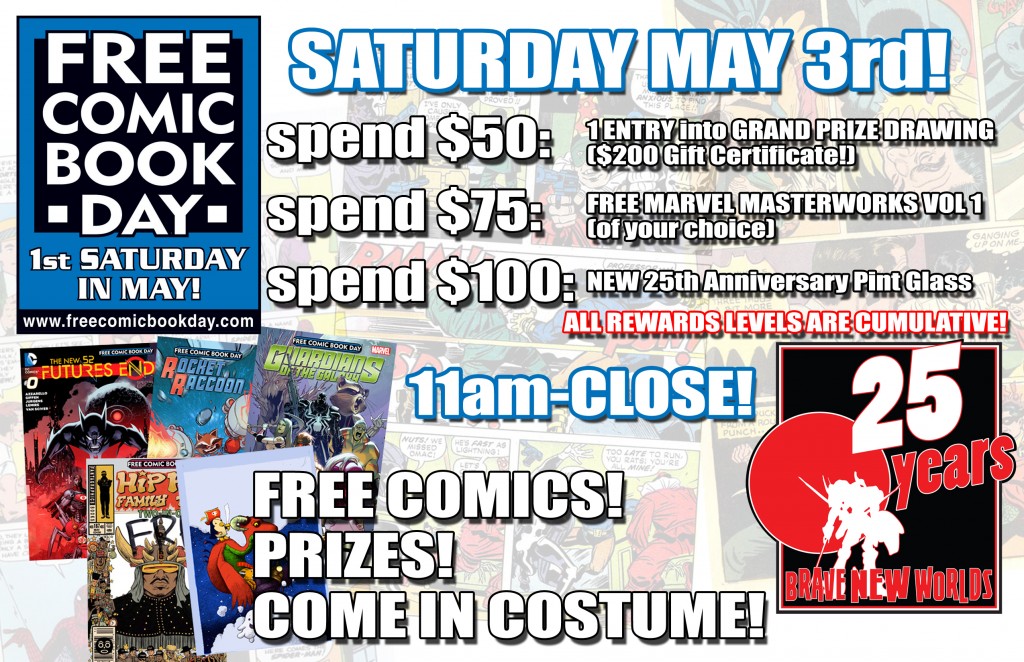 You've all been asking about it…and here it is! It all starts this week!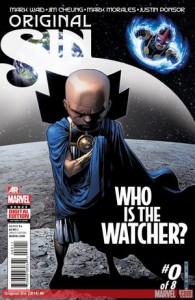 Original Sin #0– "IT'S THE PROLOGUE TO THE BIGGEST MARVEL SERIES OF THE SUMMER! WHO IS THE WATCHER? That's what Nova is wondering after his latest brush with the moon-dwelling enigma he's encountered before! But what he discovers will have a profound effect on the young hero, as well as priming the pump for the most cataclysmic event in Marvel history! WHAT DID HE SEE?"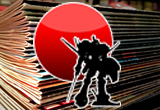 COMICS AND MAGAZINES
24 #1




All New Invaders #4 




All New X-Men #23 2nd Ptg




All New Soulfire #4




All Star Western #30 




Aquaman #30 




Ash & The Army Of Darkness #6




Avengers Undercover #3




Batman Eternal #3 




Batman Superman #9 




Betty & Veronica #270 




Bo Plushy Gangsta #2




Bravest Warriors #19




BTVS Season 10 #2




Bunker #3 




Catwoman #30 




City The Mind In The Machine #3 




Conan The Avenger #1  




Crossed Annual 2014




Crossed Badlands #52 




Danger Girl Mayday #1 (OF 4)




Daredevil #2




Dead Body Road #5 (OF 6)




Dead Boy Detectives #5    




Deadly Class #2 2nd Ptg




Deadly Class #3 2nd Ptg 




Dexter Down Under #3 (OF 5)




Duffman Adventures #1




Elektra #1




Eltingville Club #1 (OF 2) 




Eternal Warrior #8 




Evil Empire #2 




Fantastic Four #3




Five Ghosts #11  




Flash #30  




Fuse #3 




George Romeros Empire Of Dead Act One #4 (OF 5)




Ghosted #9




GI Joe A Real American Hero #201




Godzilla Rulers Of The Earth #11 




Gravel Combat Magician #3




Guardians Of Galaxy #14




Halo Escalation #5 




Harbinger #22




Iron Patriot #2




Justice League Dark #30 




Justice League United #0




Lady Rawhide #5 (OF 5) 




Larfleeze #10  




Lazarus #8




Letter 44 #6




Mad Magazine #527   




Manhattan Projects #20       




Marvel Universe Ultimate Spider-Man #25




Mass Effect Foundation #10 




Massive #22 




Mercy Sparx #5




Mice Templar IV Legend #9 




Midas Flesh #5 (OF 8)




Mind MGMT #21 




Moon Knight #1 2nd Ptg




Original Sin #0 




Peanuts Vol 2 #17  




Popeye Classics Ongoing #21




Powers Bureau #9 




Protectors Inc #6 




Red Lanterns #30 




Regular Show #12




Robotech Voltron #3 (OF 5) 




Savage Wolverine #17




Saviors #4




Secret Origins #1 




Shadow Now #6 (OF 6)




Sheltered #8  




Shotgun Wedding #4 (OF 4)




Sonic The Hedgehog #259




Sovereign #2




Star Trek Ongoing #32




Star Wars Legacy II #14 




Superior Spider-Man Team Up #12 




Superman #30




Teen Titans #30 




Teen Titans Go #3    




Thief Of Thieves #20




Thunderbolts #25




TMNT New Animated Adventures #10




TMNT Ongoing #33




Tomb Raider #3  




Transformers Robots In Disguise #28




Uber #11




Uncanny Avengers #19




Undertow #3 




Walking Dead #126 




Warlord Of Mars #35




What If Age Of Ultron #4 (OF 5)




Witcher #2 (OF 5) 




Zero #7 
TRADE PAPERBACKS, GRAPHIC NOVELS, HARDCOVERS AND MANGA

Brilliant Prem Hc Vol 01




Buddy Buys A Dump Gn




Gantz Tp Vol 31




Green Lantern Hc Vol 04 Dark Days




Green Lantern Tp Vol 03 The End 




Higurashi When They Cry Gn Vol 25 




Love Bunglers Hc 




Over Easy Hc




Rocketeer Spirit Pulp Friction Hc 




Skyward Tp Vol 02 Strange Creatures




Sword Art Online Novel Vol 01 Aincrad




Umineko When They Cry Gn Vol 06




X-Men Legacy Tp Vol 04 For We Are Many
TOYS
Avengers 6in All Star Af Asst
ODDS AND ENDS
Elvira Mistress Of The Dark Maquette 




Marvel Captain America Shield Silicone Tray




Munsters Herman Munster Maquette




Shield Logo 16oz Pub Glass