This week it's gone from 60 degrees and sunny to 10 degrees and windy and add onto that the Shirt Corner almost fell on a portion of the B-Team (see Adam's comments on the news)! Let's use this time to look into the future of comics!

We got some new POP! Vinyl figures this past week: TEEN TITANS GO!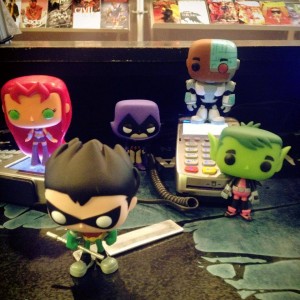 Lookit how adorable this team is!
We also just received Game of Thrones Blind Box Series 1 from Funko, so come collect all your favorite Westeros' characters! (We all know that no one wants Joffrey Baratheon)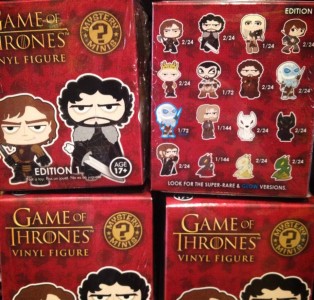 Ok now onto the comics!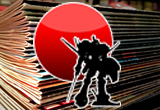 COMICS AND MAGAZINES
A Voice In The Dark #5 




Adventure Time #26




All New Invaders #3




American Vampire Second Cycle #1 




Animal Man #29




Aphrodite IX #9 




Avengers World #4




Bad Ass #3 (OF 4)




Bart Simpson Comics #89




Batman 66 #9   




Batman And Aquaman #29




Batman Beyond Universe #8  




Battlestar Galactica #9   




Batwoman #29 




Birds Of Prey #29




Bprd Hell On Earth #117   




Btvs Season 10 #1




Crossed Badlands #49




Curse #3 (OF 4) 




Daredevil #1




Dark Horse Presents #34




Dexter Down Under #2 (OF 5)  




Disney Kingdoms Seekers Of Weird #3 (OF 5) 




Femforce #166      




Five Ghosts #10                 




Fuse #2 




Ghosted #8




GI Joe #14    




God Is Dead #9 




Gravel Combat Magician #2




Green Lantern New Guardians #29




Harbinger Bleeding Monk #0.2014




Harley Quinn #4




Illegitimates #4 (OF 6)  




Iron Man #23.NOW




Lazarus #7 




Legenderry A Steampunk Adv #3 (OF 7) 




Letter 44 #5      




Loki Agent Of Asgard #1 2nd Ptg 




Loki Ragnarok & Roll #2 (OF 4) 




Magic The Gathering Theros #5 (OF 5)




Marvel Knights Hulk #4 (OF 4)  




Maxx Maxximized #5 




Ms Marvel #1 2nd Ptg




Ms Marvel #2




My Little Pony Friendship Is Magic #17  




New Avengers #15 




Nova #15 




Other Dead #6 (OF 6)




Prophet #4




Red Hood And The Outlaws #29    




Revolutionary War Warheads #1  




Rocket Girl #4    




Rush Clockwork Angels #1           




Samurai Jack #6 




Scribblenauts Unmasked Crisis Of Imagination #3   




Sex Criminals #5 




Shadow #23




Shadowman #16 




Simpsons Comics #210 




Sixth Gun #39




Skyman #3 (OF 4)     




Sonic The Hedgehog #258 




Sovereign #1 




Star Wars Darth Vader & Cry Of Shadows #4 (OF 5)




Star Wars Dawn O/T Jedi Force War #5 (OF 5)




Strain The Fall #9   




Suicide Squad #29 




Supergirl #29 




Superior Foes Of Spider-Man #10   




Superior Spider-Man Annual #2 




Superman Unchained #6




Ten Grand #8 




Terminator Enemy Of My Enemy #2 (OF 6) 




The Spider #18 




Thor God Of Thunder #20




Thunderbolts #23  




TMNT Utrom Empire #3 (OF 3)




Transformers Regeneration One #100    




Trinity Of Sin Pandora #9 




Uncanny X-Men #19.NOW




Undertow #2 




Unwritten Vol 2 Apocalypse #3 




Wasteland #52




White Suits #2 (OF 4)   




Winter Soldier Bitter March #2 (OF 5)




Witcher #1 (OF 5)




Wolverine And X-Men #2




Wonder Woman #29




Wwe Ongoing #3




X-Men #12




X-O Manowar #23 




Zero #6
TRADE PAPERBACKS, GRAPHIC NOVELS, HARDCOVERS AND MANGA

Batman Bruce Wayne Murderer Tp New Ed 




Batman By Doug Moench And Kelley Jones Hc Vol 01 




Death Tp




Deathblow Deluxe Edition Hc 




Doctor Who 11th Doctor Sonic Screwdriver Book Kit 




Green Arrow Tp Vol 04 The Kill Machine




Green Lantern Rise Of The Third Army Tp 




Hellboy First 20 Years Hc




Justice League Beyond In Gods We Trust Tp




Marvel Encyclopedia Hc 75th Anniv Ed




Masters Of The Universe Tp Vol 02




Mighty Avengers Tp Vol 01 No Single Hero




Nemo Roses Of Berlin Hc




New Avengers Tp Vol 01 Everything Dies




Noah Hc




Saga Tp Vol 03




Smallville Season 11 Tp Vol 04 Argo 




Trinity Of Sin Pandora Tp Vol 01 The Curse 




William Shakespeare Empire Striketh Back Hc




XXXholic Omnibus Tp Vol 01




Young Avengers Tp Vol 03 Mic Drop Edge Time And Sp Ace
TOYS
Arrow Oliver Queen Deathstroke Af 2 Pack




Avengers Infinite Series Af Asst




Batman Arkham City Two Face Af




Berserk Guts Figma Af Band Of The Hawk Ver




Pacific Rim Gipsy Danger 18in Af (RESTOCK!)
ODDS AND ENDS