Check out the comics that'll be on shelves this Wednesday (2.12.14)…maybe there'll be a Valentines Day gift on or two on this list!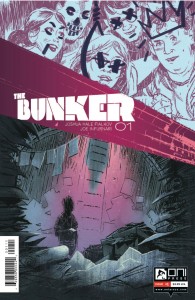 BUNKER #1 – This one sounds kinda cool: "THE SMASH HIT DIGITAL COMIC COMES TO PRINT WITH A DOUBLE-SIZED DEBUT ISSUE! When five friends go to bury a time capsule before going their separate ways, they find a mysterious bunker stamped with their names and containing artifacts from a time
that has yet to come. Will their discovery save the world or doom it? From Joshua Hale
Fialkov (I, VAMPIRE; ULTIMATES) and Joe Infurnari (MARATHON) comes a new ongoing
series that proves outrunning your future is no easier than escaping your past."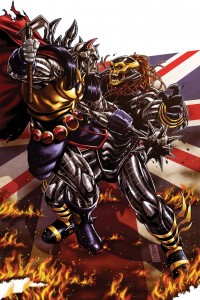 REVOLUTIONARY WAR DEATH'S HEAD II #1 – When I was younger I loved Death's Head II because he was a bad@$$ robot bounty hunter thing that I didn't know anything about really…AND he looked like Predator! Anyway this week's chapter in the war on Mys-Tech sees Death's Head and Death's Head II together for the first time ever. I'm in.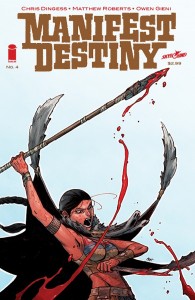 MANIFEST DESTINY #4 -If you've been enjoying this Image Comics revolution in awesome new titles and series and you're not reading this one you're missing out. Buffalo centaurs, plant people, murdered settlers and…in this issue…it looks like in this issue we get to see a Sacagawea do some serious ass kicking! Seriously check this book out.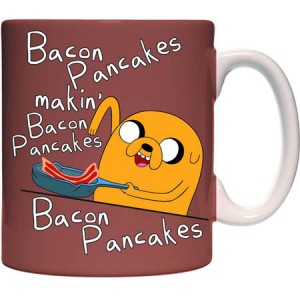 Oh yea…we're also getting these mugs!
COMICS AND MAGAZINES
Abe Sapien #10




Accelerators #5 (OF 6 )




All New Soulfire #3 




All New X-Factor #3 




All New X-Men #23 




Astro City #9  




Avengers #26




Batgirl #28  




Batman #28  




Batman Lil Gotham #11 




Battlestar Galactica #8  




Bunker #1 




Cavewoman Deadly Venom One Shot




City The Mind In The Machine #1 (OF 4 )




Clown Fatale #4 (OF 4 ) 




Coffin Hill #5




Constantine #11 




Creepy Comics #15     




Crossed Badlands #47 




Deadpool #23    




Egos #2   




Eternal Warrior #6 




Executive Assistant Assassins #18




Fatale #20




Forever Evil Rogues Rebellion #5 (OF 6 )  




Fubar Guts And Glory One Shot  




Fuse #1




Gravel Combat Magician #1




Great Pacific #13




Green Lantern Corps #28 




Harbinger #21 




Injustice Year Two #2 




Justice League 3000 #3 




Justice League Of America #12 




Kick-Ass 3 #6 (OF 8 )




Legenderry A Steampunk Adv #2 (OF 7 )




Letter 44 #4     




Manifest Destiny #3 2nd Ptg 




Manifest Destiny #4 




Marvel Knights X-Men #4 (OF 5 ) 




Marvel Universe Avengers Assemble #5




Maxx Maxximized #4    




Mercenary Sea #1  




Nightwing #28    




Protocol Orphans #4 (OF 4 )  




Rachel Rising #23   




Red Sonja Berserker One Shot  




Regular Show Skips #4 (OF 6 ) 




Revolutionary War Deaths Head II #1




Robocop To Live And Die In Detroit One Shot 




Royals Masters Of War #1 (OF 6)




Secret Avengers #15




She-Hulk #1




Sherlock Holmes Moriarty Lives #2 (OF 5 )  




Sixth Gun #38 




Smallville Season 11 Alien #3 (OF 4 )  




Sonic The Hedgehog #257 




Sons Of Anarchy #6




Spongebob Comics #29  




Star Wars #14 




Stitched #19




Suicide Squad #28 




Superboy #28 




Superior Spider-Man #27.NOW 




Superman Wonder Woman #5




Ten Grand #7




Think Tank #12   




Thor God Of Thunder #19.NOW




Transformers Robots In Disguise #26 




Uncanny #6  




Vampirella Southern Gothic #5 (OF 5 )       




Walking Dead #121 




Winter Soldier Bitter March #1 




Wolverine And X-Men #41




X #10 




X-Files Season 10 #9 




X-Force #1




X-Men Legacy #24
TRADE PAPERBACKS, GRAPHIC NOVELS, HARDCOVERS AND MANGA

Adventure Time Tp Vol 04




Avengers Tp Vol 01 Avengers World  




Batman Dark Victory Tp New Ed 




Battle Angel Alita Last Order Omnibus Vol 03




Bojeffries Saga Gn




Bravest Warriors Tp Vol 02   




Captain America Tp Vol 01 Castaway Dimension Z Book 1




Constantine Tp Vol 01 Spark And The Flame




Daredevil By Mark Waid Hc Vol 02 




Down Set Fight Gn  




Fatale Tp Vol 04 Pray For Rain




Fearless Defenders Tp Vol 02




Flash Hc Vol 03 Gorilla Warfare




Invisibles Hc Book 01 Deluxe Edition




Iron Man Tp Vol 01 Believe 




Judge Gn Vol 03




Legion Of Superheroes Great Darkness Saga Tp New Edition




Legion Of Superheroes Tp Vol 03 Fatal Five




Lobster Johnson Tp Vol 03 Satan Smells A Rat 




Mocking Dead Tp Vol 01




Modern Masters Sc Vol 29 Cliff Chiang 




Power Girl Power Trip Tp 




Prophet Tp Vol 03 Empire   




Scarlet Spider Tp Vol 04 Into Grave




Spaceman Tp




Supergirl Tp Vol 03 Sanctuary 




TMNT Ongoing Tp Vol 07 City Fall Pt 2
TOYS
Ghostbusters Minimates I Love This Town Box Set
ODDS AND ENDS
Adventure Time Bacon Pancakes Mug




Adventure Time Fionna & Cake Mug




Astonishing Wolverine Statue




FW Gundam Converge 13 Trad Fig 10pc Asst 




Green Goblin Museum Statue




Red Skull Action Statue




Star Trek Spock Bust Bank 




Star Wars Luke Snowspeeder Pilot Dlx Mini-Bust