I'll admit I typed 13 instead of 14 on my first attempt at this post. Welcome to 2014! Here's the list of stuff we will have for you on the first new comics day of the new year!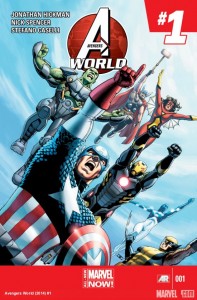 AVENGERS WORLD #1 – It's an Avenger's world and we're all just living in it…Nick Spencer joins Jonathan Hickman (seriously how many books can Hickman write by himself?!) on writing chores as they tell the story of the Avengers returning from the stars and realizing there's all sorts of new stuff they've gotta deal with…you know you already want to read it so why am I explaining any of this to you.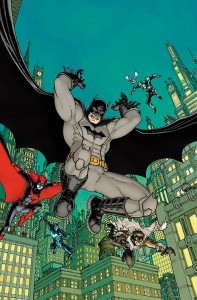 Detective Comics #27 – Here it is! The first appearance of the Batman! It's May 1939 and no one has ever read a Batman story…Actually this issue kicks off a new storyline in the pages of Detective Comics called "Gothtopia" as well as serving as a tribute issue featuring some top talent telling shorts or doing pin-ups! A can't miss for Bat-fans everytwhere.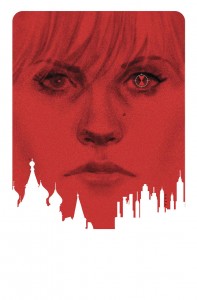 Black Widow #1 – Nastasha Romanov. Femme Fatale. Avenger. Woman of many (deadly) talents. Nathan Edmonson and Phil Noto are bringing us a new ongoing series staring everyone's favorite ginger KGB Assassin!
COMICS AND MAGAZINES
100 Bullets Brother Lono #7 (OF 8) 




A Plus X #16




Abe Sapien #9 




Action Comics #27  




Adventure Time Flip Side #1 (OF 6) 




Afterlife With Archie #3




All New Marvel Now Point One #1 




All New X-Factor #1 




Aphrodite Ix #7 




Ash & The Army Of Darkness #3    




Avengers Ai #8.NOW




Avengers World #1




Batman Black & White #5 (OF 6)    




Batman Superman #7 




Batwing #27




Bettie Page In Danger #11




Black Widow #1 




Bloodshot & Hard Corps #18




Buck Rogers In 25th Century #4 (OF 4)




Cable And X-Force #18 




Cataclysm Ultimate Spider-Man #3 (OF 3) 




Cataclysm Ultimates Last Stand #3 (OF 5)     




Crossed Badlands #44 




Cryptozoic Man #3 (OF 4)




Daredevil Dark Nights #8 (OF 8) 




Darkness #112




Deadpool #22 




Detective Comics #27




Drumhellar (PREVIOUSLY Strangeways) #3 




Earth 2 #19




Elephantmen #53




Fairest #22




Fantomex Max #4 (OF 4)




Fatale #19 




FBP Federal Bureau Of Physics #7




Five Ghosts #8  




Forever Evil Arkham War #4 (OF 6)




Fox #3




Game Of Thrones #18




GI Joe Vs Cobra Special #6




Green Arrow #27   




Grimm Warlock #2 (OF 4)




Halo Escalation #2 




Heavy Metal #266




Hinterkind #4




Hoax Hunters #13 




Infinity Heist #4 (OF 4)




Inhumanity Awakening #2 (OF 2)




Invincible Universe #9 




Iron Man #20 




Kevin Keller #12




Legend Of Oz The Wicked West Ongoing #14 




Letter 44 #3     




Lords Of Mars #6 (OF 6) 




Manifest Destiny #2 2nd Ptg 




Manifest Destiny #3   




Marvel Knights Spider-Man #4 (OF 5)                      




Marvel Universe Avengers Assemble #4 




Mercy Sparx #3




Minimum Wage #1 




Morning Glories #36




Movement #8  




Painkiller Jane Price Of Freedom #3 (OF 4)




Protocol Orphans #3 (OF 4)




Quantum & Woody #7 




Regular Show Skips #3 (OF 6)




Revolutionary War Alpha #1 




Robocop Last Stand #6 (OF 8)




Savage Wolverine #14.NOW




Scooby Doo Team Up #2    




Scream Magazine #21 




Sex Criminals #1 4th Ptg




Sex Criminals #2 3rd Ptg




Sex Criminals #3 2nd Ptg




Sex Criminals #4




Shadow #21




Shadowman #14




Shaolin Cowboy #4    




Sheltered #6 




Smallville Season 11 Alien #2 (OF 4)  




Sons Of Anarchy #5 (OF 6) 




Spawn #239




Spongebob Comics #28  




Star Trek Khan #4 (OF 5)




Star Wars #13 




Stormwatch #27




Suicide Risk #9 




Swamp Thing #27 




Three #4   




TMNT Color Classics Series 2 #3 




Transformers Timelines #8 Termination




Trinity Of Sin The Phantom Stranger #15 




Vampire Diaries #1    




Walking Dead #119 




Wolverine #13   




X-Files Season 10 #8  




Young Avengers #15   
TRADE PAPERBACKS, GRAPHIC NOVELS, HARDCOVERS AND MANGA

All New X-Men Indestructible Hulk Ssm Arms Octopus




All New X-Men Tp Vol 01 Yesterdays X-Men  




Artifacts Tp Vol 06




Attack On Titan Gn Vol 10




Batman 66 The Tv Stories Tp 




Batman Dark Knight Tp Vol 02 Cycle Of Violence 




Bloodshot Tp Vol 04 Hard Corps  




Deadman Tp Vol 04  




Demon Knights Tp Vol 03 The Gathering Storm 




Doctor Solar Archives Tp Vol 02




Green Lantern The Animated Series Tp Vol 02 




Guardians Of Galaxy By Jim Valentino Tp Vol 01




Halo Initiation Hc 




History Of Sonic The Hedgehog Sc 




Naruto Gn Vol 64




Prison Pit Gn Vol 05




Simpsons Comics Shake Up Tp  




Skyward Tp Vol 01 Into The Woods




Sonic The Hedgehog Legacy Vol 03 




Superior Spider-Man Team-Up Tp Friendly Fire 




Superman Hc Vol 03 Fury At The Worlds End




Superman Tp Vol 02 Secrets And Lies 




Swamp Thing By Brian K Vaughn Tp Vol 01




Tmnt New Animated Adventures Tp Vol 01  




Trigun Maximum Omnibus Tp Vol 02




Will O The Wisp Hc 




X-Men Battle Of Atom Hc 
TOYS
Adventure Time 3in Finn & Jake Af Comic Pack




Batman 89 Michael Keaton 1/4 Scale Af 




Captain Action Captain America Dlx Costume Set




Captain Action Loki Dlx Costume Set




LoZ Skyward Sword Link Figma Af 




Marvel Universe Af Asst 




Revoltech Yamaguchi Af #131 MGS PW Snake




Revoltech Yamaguchi Af #139 Evangelion Type-08 




Revoltech Yamaguchi Af #140 MGR Revengence Raiden 




Star Trek Select Picard Af 
ODDS AND ENDS
DC Batman Automobilia Fig Coll Mag #23




DC Batman Automobilia Fig Coll Mag Special




DC Superhero Chess Fig Coll Mag #48 Aquaman White 




DC Superhero Chess Fig Coll Mag Special Superman 




Marvel Psylocke Bishoujo Statue X-Force Ver 




Star Trek Starships Fig Coll Mag #4 




Star Trek Starships Fig Coll Mag #5




Star Trek Starships Fig Coll Mag #6