We may have faced ice and extreme cold this week but it's currently in the 60s and rainy outside right now. Take a break from crazy weather conditions by checking out this weeks shipping list!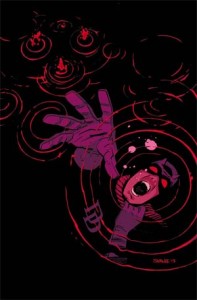 Daredevil #35 – It's almost the end! Well until they restart it again in a few months…with the same creative team!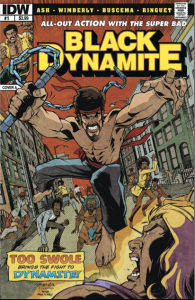 Black Dynamite #1 –
http://www.youtube.com/watch?v=96Y24a0cyCE 
That…but as a comic. Read it.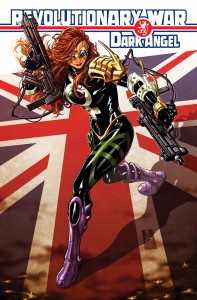 Revolutionary War: Dark Angel #1 – I may be one of the few who're excited for the Marvel UK characters making their return to current Marvel comics but I'm excited the Marvel UK characters are coming back to Marvel Comics…Deal with it!
COMICS AND MAGAZINES
A Voice In The Dark #3




Adventure Time #24 




Alex + Ada #3




All New X-Men #21       




Amazing X-Men #3 




Archer & Armstrong #17 




Astro City #8    




Batgirl #27 




Batman Lil Gotham #10 




Ben 10 #3




Betty & Veronica #269




Black Dynamite #1 (OF 4) 




BPRD Hell On Earth #115




Carbon Grey Vol 3 #2 (OF 2)




Cataclysm Ultimates #3 (OF 3)  




Clive Barker Next Testament #7 (OF 12)




Clown Fatale #3 (OF 4)




Coffin Hill #4




Constantine #10




Curse #1 (OF 4)




Daredevil #35    




DC vs Masters Of The Universe #4 (OF 6) 




Disney Kingdoms Seekers Of Weird #1 (OF 5)




Doctor Who Magazine #468




Egos #1  




Fantastic Four #16 




Forever Evil Rogues Rebellion #4 (OF 6) 




Gate Way #1 (OF 4) (FORMERLY Purgatory)




Ghosted #6 




GI Joe A Real American Hero #198 




GI Joe Special Missions #11




God Is Dead #5




Green Lantern Corps #27




Harbinger #20




Hellraiser Dark Watch #12




Henry And Glenn Forever And Ever #3




Illegitimates #2 (OF 6) 




Indestructible #2




Inhumanity Spider-Man #1




Injustice Year Two #1




Jennifer Blood #35




Justice League 3000 #2




Justice League Of America #11 




Kiss Me Satan #5 (OF 5) 




Lenore Volume II #9   




Magic The Gathering Theros #3 (OF 5)




Marvel Knights Hulk #2 (OF 4) 




Maxx Maxximized #3  




Mega Man #33 




Miracleman #1 




My Little Pony Friendship Is Magic #15 




Night Of Living Deadpool #1 (OF 4)  




Nightwing #27




Noir #3 (OF 5)  




Nova #12




Peter Panzerfaust #16




Powerpuff Girls #5 




Prophet #42




Protectors Inc #3




Rat Queens #4 




Regular Show #8 




Revolutionary War Dark Angel #1 




Rover Red Charlie #2 (OF 6)




Scooby Doo Where Are You #41




Secret Avengers #14  




Shadow Now #4 (OF 6)




Shoot First #4 (OF 4)




Simpsons Comics #208   




Sixth Gun #37




Skyman #1 (OF 4)  




Sonic The Hedgehog #256




Star Trek Magazine #48 Px Ed




Star Wars Darth Vader & Cry Of Shadows #2 (OF 5) 




Star Wars Dawn O/T Jedi Force War #3 (OF 5) 




Stitched #18




Strain The Fall #7 




Suicide Squad #27




Superboy #27   




Superior Spider-Man #25 




Superman Wonder Woman #4 




Thor God Of Thunder #17




Thunderbolts #20.NOW




TMNT New Animated Adventures #7




Tomarts Action Figure Digest #202




Transformers More Than Meets Eye #25




Triple Helix #4 (OF 4)




Uncanny X-Force #16 




Uncanny X-Men #16 




Unity #3 




Velvet #3




Warlord Of Mars #32 




Wolverine Max #15




Worlds Finest #19 




Wraith Welcome To Christmasland #3 (OF 7) 




X #9




X-Files Conspiracy #1 (OF 2)




X-MEN LEGACY #22
TRADE PAPERBACKS, GRAPHIC NOVELS, HARDCOVERS AND MANGA

Avengers Arena Tp Vol 03 Boss Level




Avengers Prem Hc Vol 04 Infinity 




Batman Dark Knight Hc Vol 03 Mad 




Creature Commandos Tp   




Dexter Prem Hc




Garfield Tp Vol 03




GI Joe Special Missions Tp Vol 02




Rage Of Poseidon Hc 




Ten Grand Tp Vol 01 




Warren Ellis Gun Machine Sc
TOYS
Bad Ass 9in Vinyl Fig Stealth Ed




Bomb Hugger 6in Vinyl Fig Blk & Pink Ver




Captain America 2 Infinity Legends Af Asst




DC Comics Super Villains Captain Boomerang Af




DC Comics Super Villains Deadshot Af




DC Comics Super Villains Harley Quinn Af




Game Of Thrones Daenerys Figure 




Game Of Thrones Jon Snow Figure




Mini 10-Doh Fig Ser 02




My Little Pony Mystery Minis 12pc Bmb Disp




Spider-Man 2 Legends Af Asst 




ST IV Hms Bounty Klingon Bird Of Prey Ship




Star Wars Saga Legends Af Asst 
ODDS AND ENDS
DC Batman Automobilia Fig Coll Mag #24 Classic Tv 




DC Comics Super Heroes Batman Bust




DC Superhero Chess Fig Coll Mag #47 Martian Manhunter




Doctor Who 10th Doctor Dynamix Vinyl Fig