The last issue of the third story arc of Image's fan favorite re-imagining of the story of Peter Pan in a World War II setting hits shelves today and will now feature a Ghost Variant done by comic book legend Geoff Darrow!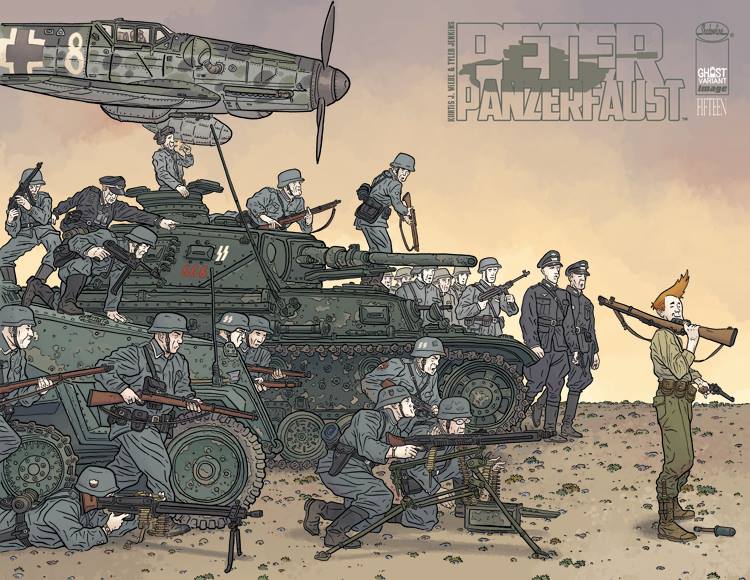 Would you just look at that cover!
Eisner Award Winning artist Geoff Darrow (Big Guy and Rusty, Hard Boiled, Shaolin Cowboy)  has teamed up with Eisner Award Winning Colorist Dave Stewart on this amazing and latest installment in the collection of Ghost Variants.
If you haven't been reading Peter Panzerfaust: Kurtis J. Wiebe (w) and Tyler Jenkins (a) have created this "critically acclaimed reimagining of the Peter Pan story set in the backdrop of World War II France. Peter leads a band of orphans in their desperate attempt to escape the city of Calais as the Nazi army presses its advance deeper into the country. With impossible odds against them, the Lost Boys survive a series of dangerous adventures on their road to Paris, and to freedom!" (WHOA!)
Now is the perfect time to pick of the first two collections and catch up on the rest of the story! Also check out Rat Queens #1 which came out two weeks ago which was also written by Kurtis J. Wiebe!
And for just for good measure (if you're STILL sitting there wondering "What a Ghost Variant?"):Ghost Variants are limited edition and rare variant covers to awesome comics, whether they be first issues that you should be checking out (East of West  or 12 Reasons to Die) or comics you already know and love (Walking Dead or Fatale). GVs feature eye catching art by some of the industry's best artists and can only be found at exclusive retailers nationwide! Both of our BNW locations count ourselves lucky to be two of those retailers!
Oh yea…if you need to check for that Ghost Variant you may have missed just head over here!